On the first Tuesday in July, Linda LaFontaine's paddle cut through the hot, heavy air and sliced back into the murky water of Perche Creek. Keeping pace with her teammates, her strokes were quick and methodical, powering the bright blue paddleboard toward the Missouri River.
On board was Cami Ronchetto, LaFontaine's former coworker and cherished friend. Paddleboarding is a new challenge for the pair, but their team chemistry is rock solid. They have raced together competitively in kayaks and canoes over the last decade.
The first competition they tackled was the Missouri American Water MR340, commonly known as the Missouri River 340. That was in 2009.
This year, just like old times, the pair has been preparing for the same race.
The MR340 challenges racers to conquer the unpredictable 340-mile stretch of water that starts in Kansas City and ends in St. Charles. The race website warns: "This ain't no mama's boy float trip."
Any type of canoe, kayak, paddleboard or pedal boat is allowed, and participants have 88 hours to finish, hitting nine checkpoints along the way.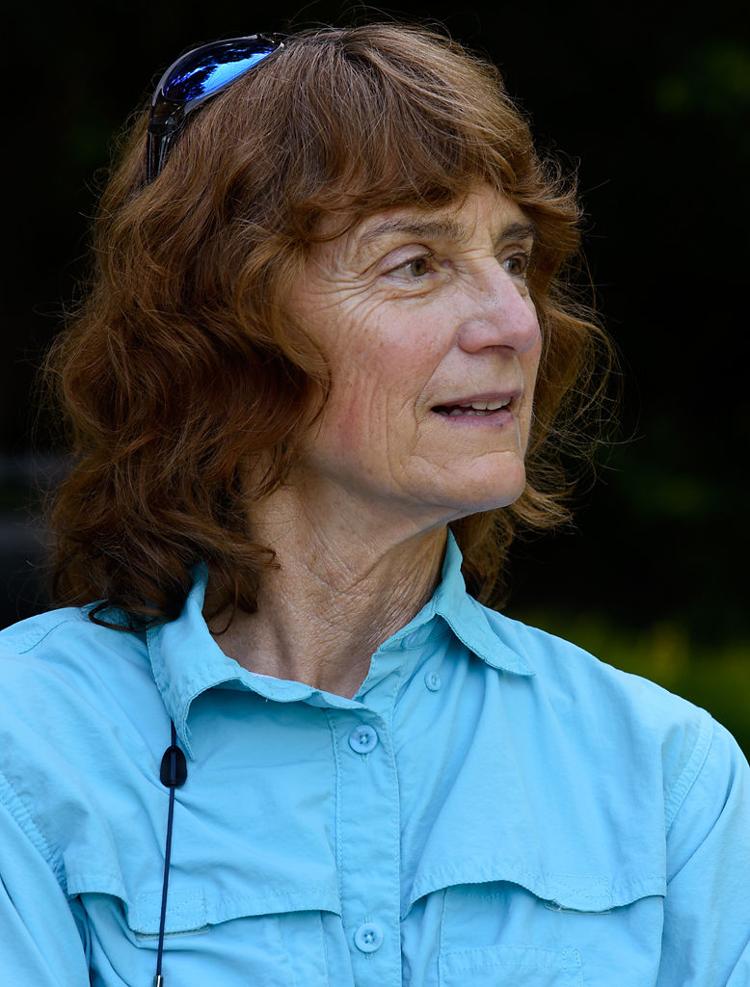 For LaFontaine, now 67, finishing has never proved to be an issue. She's completed the race in kayaks and canoes, solo and with partners every summer since 2009 when she and Ronchetto took first place in the women's tandem division.
"It's like having a baby," LaFontaine said. "You just forget about the pain and do it again."
This year, she hopes to beat another record. She and 11 others will compete in the Dragonboat Division on a 12-person paddleboard designed and built by team member Shane Perrin.
The team is made up of friends, friends of friends and anyone else fit enough to finish the course. Team members come from Missouri, Wisconsin, Tennessee and Canada. Due to busy schedules and location constraints, they have been training separately in the weeks leading up to race.
"The river just brings people together," LaFontaine said.
The only other team in the Dragonboat Division, which requires at least 11 paddlers, is named Colter's Run. They will be paddling a handmade wooden canoe that LaFontaine knows well — her team came in first with that boat in 2015.
"That's a pretty fast boat, but we're going to do our best," she said. "We'll have to see what happens."
On her own path
When LaFontaine and Ronchetto, 58, raced for the first time nine years ago, they were one of four teams in the women's tandem division. This year, there are 16, an indication of the growth and interest in women's sports.
In LaFontaine's high school, before the creation of Title IX, there was no women's track team. So she organized one with the help of a physical education teacher. LaFontaine continued running for decades after that.
She was professionally coached in running for the first time when she turned 65, and that same year, she broke the state record for her age group in the Show-Me-State 5K. At 65, LaFontaine also broke three world records in weightlifting.
In the basement of her Columbia home, medals and trophies line the walls and drape over mirrors, a testament to LaFontaine's dedication and perseverance. In 2016, she became the oldest woman to complete the Missouri River 340 as a solo racer.
"I'm probably the oldest female paddler in the whole thing," she said. "That's usually how it goes."
Proving that age doesn't have to be a barrier, she is now gearing up to complete the MR340 for the 10th time.
"I think my goal is, as I age, just to stay active as long as I can," she said.
12 on a paddleboard
Shane Perrin, one of LaFontaine's teammates this year and the builder of their paddleboard, navigated the river in 2016 with two friends on a six-person paddleboard he designed.
"We just loved it," he said. "It kind of becomes a fun event because you're just out there together, commiserating."
He was also the first person to complete the 340 on a paddleboard. This year, he thought, why stop at six people on a paddleboard when it's possible to fit 12? So he devised a way to design a board with that capacity.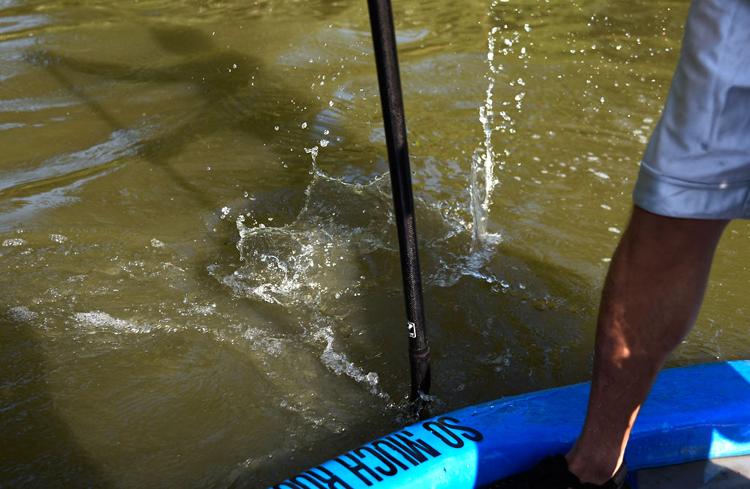 When completed in the week leading up to the race, the paddleboard will take some getting used to for the paddlers. Two narrow boards, 30 feet long and 25 inches wide, will be connected in the middle. Perrin concocted the idea of coupling the boards using the lateral support system that stabilizes outrigger canoes. He fashioned the outriggers on his paddleboard as arches made of wood and fiberglass.
The paddleboard will thus be very stable, Perrin said, so "finding a rhythm" within the team will be the main challenge when they first paddle together.
"We are still pretty green," LaFontaine said. "Learning how to paddle with each other will be a first during the race."
Worth the struggle
A three-day river race across the state of Missouri can be a grueling endurance test for the competitors.
"Once you start getting past mile 100, everything starts breaking down," LaFontaine said. "You get nauseated, and then you can't really eat."
She said she has never rested much during the MR340, so the lack of sleep paired with the inability to eat calls for a great deal of physical and mental toughness. Although teams have 88 hours to finish, LaFontaine's team hopes to complete the course before the 38-hour mark.
Some participants rest in hotels or bed-and-breakfasts, but for LaFontaine, speed is more important than sleep.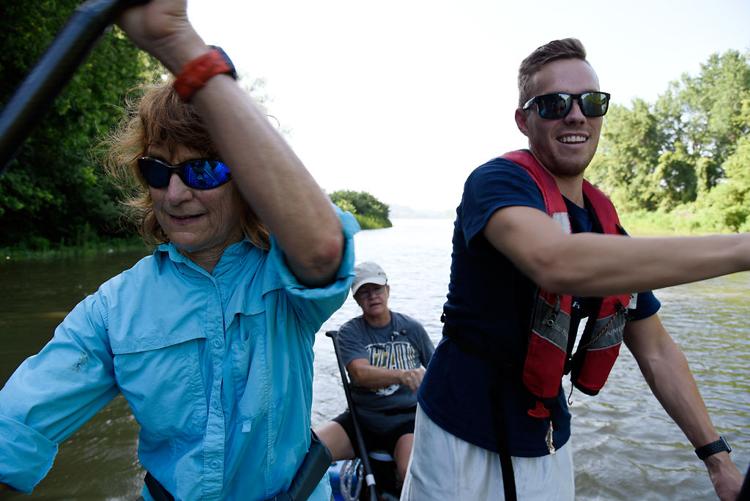 "The physical demands are pretty strenuous, but it's really the mental game that's the toughest," she said.
This year, Perrin said, the team will try to sleep in turns on the paddleboard to save time. He designed it so the middle of the board sits 5 inches below the edge to stop people from falling overboard when catching up on sleep.
Due to exhaustion and lack of sleep, hallucinations are common. In 2009, LaFontaine said she thought Doberman pinschers were jumping out of the river to grab her paddle.
"You have to be willing to suffer," she said.
The pain pales in comparison to "the sense of adventure and the beauty of the environment," LaFontaine said. Those sensations keep her coming back.
"You hear the coyotes howl and the owls hoot," she said. "It's cool little moments in nature that I really enjoy."
One summer, LaFontaine witnessed fireflies brightening a patch along the river like Christmas lights. Another year, swarms of bats congregated near the front of her boat to eat insects attracted to the flashlight on her boat.
Last year, she watched a meteor shower where falling stars filled the sky as she and partner Kyle Patrick paddled through the night.
"Out there on the river, it's spectacular," she said.
Help along the way
During the race, teams are required to check in at nine points along the route where they can make brief stops to get food and a change of clothes from their ground crews— or just get some rest.
Ground teams of friends and family show their support by providing food and supplies. For LaFontaine, the help may come as plates of fried pickles and apple turnovers.
"In the past, I've had a lot of support with people fixing meals and bringing fresh food, just things you wouldn't even think of," she said.
One summer, friends in her weightlifting club, Older Women on Weights, set up a buffet at the checkpoints.
This year, Perrin's wife, Elisa, and two of his friends will handle ground support for the team of 12. Because the group is so large, LaFontaine said they are aiming for practicality. Paddlers will pack individual bags for each checkpoint with crackers, peanut-butter-and-jelly sandwiches, potato chips, Gatorade and other high-carb food.
"You eat junk food that you would never eat," she said.
One year, Ronchetto became LaFontaine's feet on the ground. She was able to get some sleep at checkpoints in the comfort of Ronchetto's air-conditioned van.
Their friendship has strengthened over the years, bonding by adventuring together and challenging each other, LaFontaine said. The medal they won together in 2009 sits in the main room of her home.
"Some day, she and I will do it again as a tandem," LaFontaine said. "That's our goal."