In 2003, Pat Roberts got a call from her cousin. She told Roberts, who lived in New York, that she should read a series published by a newspaper in Columbia, Missouri.
The paper had just printed a decades-old family secret — one that neither of them knew.
"Legacy of a Lynching," which ran in the Columbia Missourian in May of that year, told the story of a black man's murder at the hands of a white mob 80 years before. It went something like this:
On April 20, 1923, a 14-year-old white girl was attacked on the MKT Railroad tracks near MU. The girl identified a black man named James T. Scott as her attacker, and he was charged with attempted rape.
But his case never went to trial. Instead, a white mob broke into his jail cell, dragged him through the streets and hung him from the Stewart Road bridge. No members of the mob were ever convicted of a crime.
Scott was killed on April 29, 1923.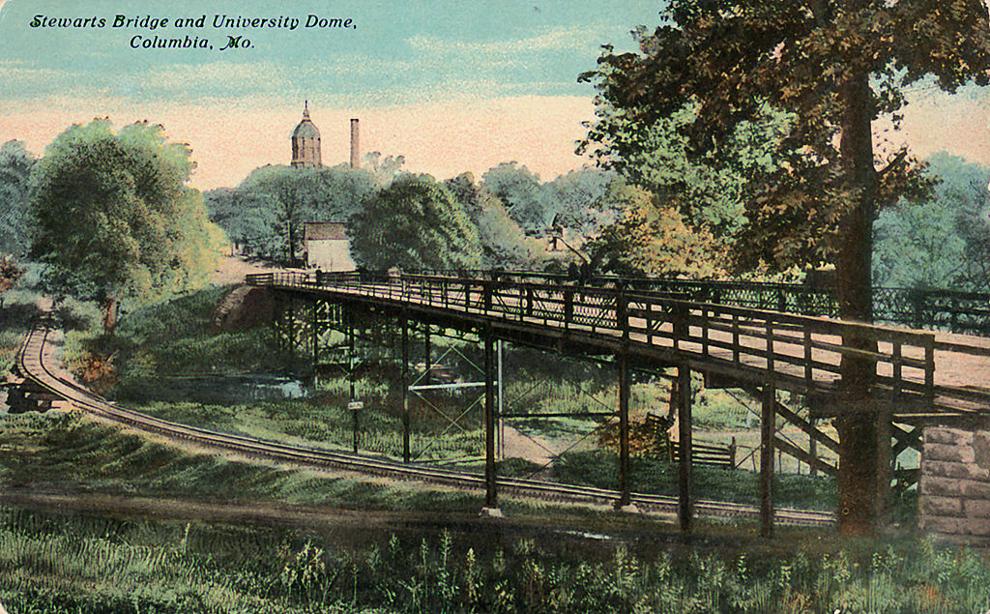 "Legacy of a Lynching" was a story that many in Columbia had never heard. It'd been told before, but the tellings apparently hadn't stuck in public memory.
"Today, just over 80 years after the lynching of James Scott, the city of Columbia seems to have largely buried the event," the author of the 2003 series wrote.
But the cousin hadn't called to surprise Roberts with Columbia's shame. The Missourian had also revealed a fact Roberts never knew about her family's history: Regina Almstedt, the 14-year-old girl who accused Scott, was Roberts' aunt.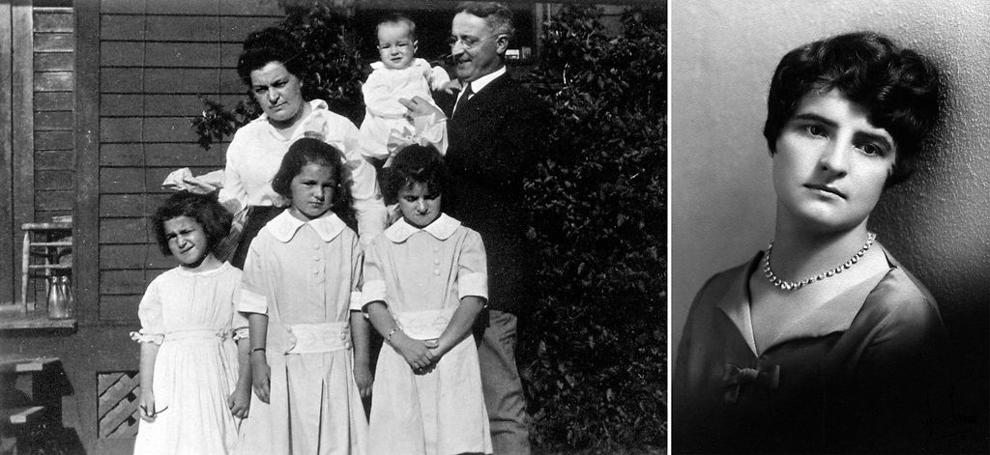 "It was such a shock," Larry Roberts, Pat's husband, said. "That everybody (in the family) had shut up about it — that was the shock."
After the phone call, Pat Roberts began researching Scott's life and death. She delved into census records, newspaper archives, histories and other documents, and she spoke with scholars and Columbia residents who were engaged in the same task. Some of those sources helped with her research and with writing the book.
Two questions drove her: Who was James T. Scott, and why would a crowd of hundreds gather in a Midwestern college town to watch his murder?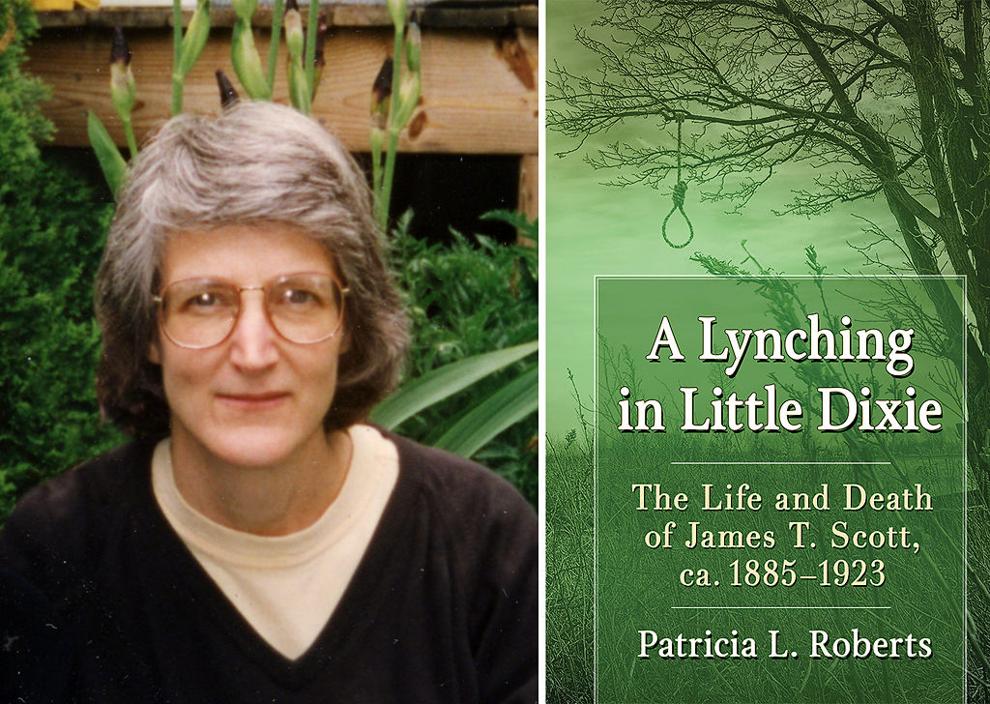 Roberts is far from the only one interested in Scott's life. In the nearly 96 years since his death, Scott's story has been narrated in essays and plays, etched onto monuments and analyzed in academic work and journalism. Almost all these efforts have come from local historians and community members; and while Roberts never lived in Columbia, her book has contributed to the collective retellings of Scott's story.
"What I offer here is not a document written by a scholar," she wrote. "Nor have I managed to find out a great deal about James Scott's actual life. What I have tried to do instead is place his life in a context."
James T. Scott: 'A man to be admired'
It was noon Aug. 4, 1922, and in downtown Columbia, Scott was leading a parade.
The procession of men and automobiles kicked off Columbia's Emancipation Day and was followed by a ballgame, speeches and fireworks, all to celebrate the abolition of slavery. It drew at least 1,000 people from across mid-Missouri.
"Many of the negroes who witnessed today's celebrations can remember the days of slavery when such a day as Emancipation Day was only dreamed of," wrote an unnamed reporter in the Missourian (then called The Columbia Evening Missourian).
Scott helped organize it. Along with his co-organizers, he even sued a man who'd set up his merry-go-round to capitalize on the celebrations without paying an agreed-upon price for doing so.
For Roberts, Scott's role in the celebrations is evidence that he was a prominent citizen in Columbia. It's also a step toward one of her book's stated goals: remembering Scott as the hero of his own life story.
"We can view him mainly as a victim, but that would be a mistake," Roberts wrote. "The James Scott I have tried to describe here is a man to be admired."
The historical record shows Scott was, among other things, a veteran and a father.
He married three times and had five children, two of whom died young. He kept up his relationship with his eldest daughter, Anna, throughout his life. In the moments before he was killed, Scott pleaded with the mob that he could never have attacked the 14-year-old Regina because he had a daughter about her age. Anna would've been around 15 at the time.
While living in Chicago in the 1910s, Scott enlisted in the all-black 8th Regiment of the Illinois National Guard. When the U.S. entered World War I in 1917, the regiment was deployed to fight in France, and historical evidence suggests that Scott went with them.
After the war ended and his regiment was disbanded, Scott moved to Columbia and brought the two children from his second marriage, Carl and Helen. When Scott and their mother divorced in 1921, he was given custody of them.

To fill out her portrait of Scott, Roberts also traced his ancestors back as far into the past as she could.
His parents, James T. Scott Sr. and Sarah Akers, were married in the same church Scott would later attend, what is now Second Missionary Baptist Church at Broadway and Fourth Street. Roberts was unable to find his father's relatives, but she found that his mother's family had deep roots in Columbia.
Gilbert Akers, Scott's maternal great-grandfather, was brought to the city as a slave in 1842, but he purchased his freedom several years later. He also purchased his family's freedom.
His son and Scott's grandfather, Thomas Akers, became business partners with the successful black businessman John Lange Sr., who owned a butcher shop, grocery store and dairy.
Today, Scott's grave lies within sight of his great-grandfather's at the back of Columbia Cemetery.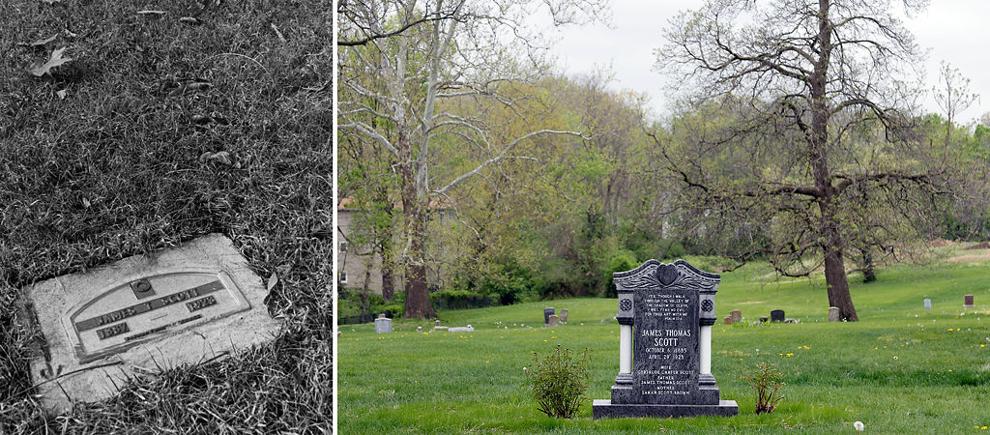 Gaps in the record
Like the man himself, some of Scott's ancestors were prominent and prosperous. The fact that Pat Roberts found their names at all is significant.
Most black lives in the period were erased or forgotten, she wrote in the book. Scott's family "would have been nameless if they had shown up on the slave schedules of 1850 and 1860; there men, women and children were listed only by age, sex and color."
But despite his family's social standing, Roberts couldn't answer all the questions about Scott's life.
Some are factual, like his date of birth. Official documents, including census records, Scott's draft card and his death certificate, offer a wide range of possible years, from 1884 to 1891. The date chiseled on his headstone in Columbia Cemetery, "October 6, c.1885," seems the most likely date, but it remains an unstable reference point.
There are also deeper uncertainties about Scott.
What Roberts gathered, ultimately, was a handful of facts about him and his family scattered throughout public records. Scott left no published memoirs or public speeches, apart from the words captured in newspaper reports on the lynching.
"I will never be able to tell you how James Scott felt about what was happening around him as he made his way in the world," Roberts wrote. "If he communicated those thoughts and feelings to others, nothing beyond the words he uttered at the end of his life were saved (and those were transcribed with uncertain veracity by white reporters)."
Scott's descendants could, perhaps, offer insight, but Roberts was unable to trace any living branches of his family tree. The closest Roberts came was a Social Security death index for son Carl. He died in 1993 in Gary, Indiana.
Roberts couldn't trace Helen, Scott's youngest daughter, past the 1940 census. Nor could she find many details about his eldest child, Anna.
She was able to give a slightly more detailed account of Gertrude Carter, Scott's widow.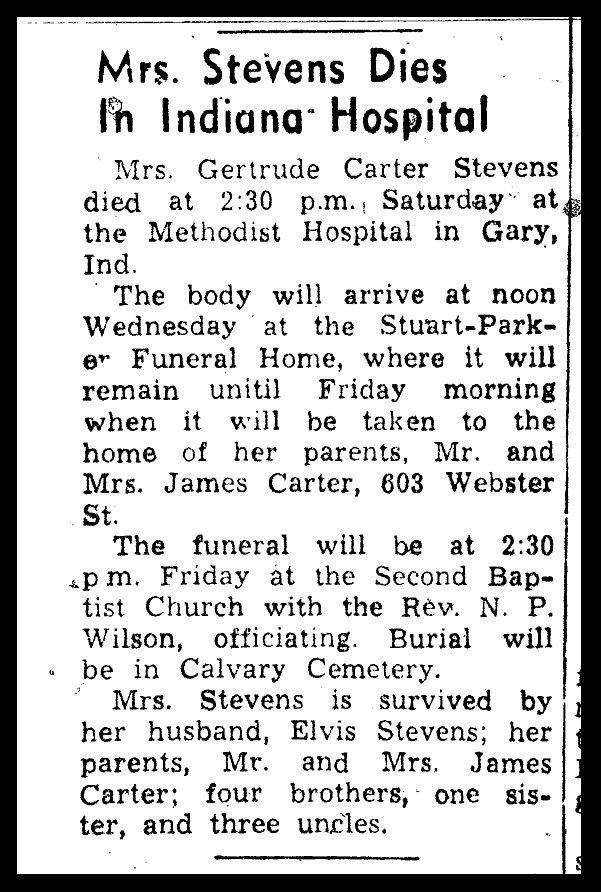 Roberts noted what she found in the written historical record: Gertrude remarried on Sept. 6, 1930. She was listed as the owner of a Ford sedan that her new husband wrecked in 1936. She was working as a maid at Stephens College at the time of the 1940 census.
Roberts wrote that some said Gertrude never recovered from the trauma of her husband's lynching. The 2003 Missourian series published some of these unverified rumors. But what Roberts found doesn't exhaust what other researchers have learned about Scott's survivors.
Traci Wilson-Kleekamp, who is pursuing a doctorate at MU, has done genealogical research into Scott's life and family. She tracked down obituaries for Carl Scott and his wife and learned they had 10 children. She also found Gertrude's death certificate as well as an obituary in the Missourian, among other documents.
Like Carl Scott, Gertrude died in Gary, Indiana. She was 52. Her death certificate stated that she was working at a toy factory. But while she died outside Missouri, Gertrude was buried in Columbia. Wilson-Kleekamp's great-grandfather, then the minister of Second Baptist, presided over her funeral.
Gertrude's headstone, partially hidden by dirt and grass, lies in the historic Calvary Cemetery, a black burial ground plotted in 1929 during segregation.
A city's sordid history
To compensate for the paucity of information about Scott, Roberts wove in a wealth of historical context.
The way Roberts wrote about Columbia history is, perhaps, most revealing. She wanted to know why its citizens let Scott's lynching happen, and she paid attention to the role racism played in shaping the city.
Columbia, considered part of "Little Dixie," was first settled by emigrants from the South, and slavery traveled with them. James Rollins, the "father" of MU, owned 34 slaves, and the university itself didn't admit black people until 1950, after black students sued to be admitted.
In the decades before Scott moved to the city, the white community's condescending and racist attitudes toward people of color played out in newspaper editorial pages and sociological research at MU — the "negro problem," as they called it.
"Columbia, all sob stories to the contrary, does not treat her black children shamefully," an editorial in the Missourian (then called University Missourian) said on Dec. 28, 1915.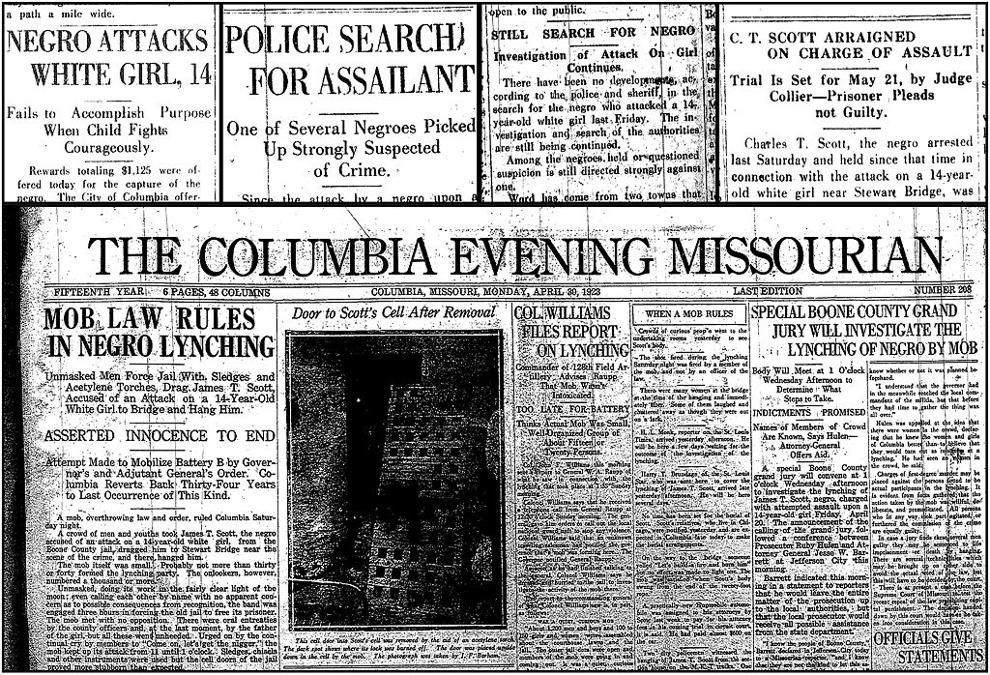 Scott's lynching was not the first in the area. In 1853, a mob hanged a slave named Hiram in a grove. In 1889, a 17-year-old boy named George Bush was hanged at the Boone County Courthouse.
Fear that black people who asserted their equality would break out of their place drove the lynchers, Roberts wrote.
Others have proffered stronger reasons — namely, that economically successful black people, like Scott, were stepping beyond their defined roles.
Bill Thompson, a former Parks and Recreation employee who has gathered oral histories in the black community, said many shared this opinion.
"People I talked to had always said it was sending a message: 'Don't try and get too big for your britches,'" he said.
"There is no mystery why the men who broke into the jail and dragged James Scott out to be lynched acted the way they did," Roberts wrote. "The mystery was why so few tried to stop it."
The amount of historical information Roberts included in her book makes, at times, for a demanding read. At points, such as her discussion of the 8th Regiment's time in World War I, there is so little direct evidence of what Scott was doing that the background becomes the narrative.
But in earlier drafts, there was even more detail.
The book's editor, John Vernon, said the publisher, McFarland, asked for some of the historical background to be cut. In her original draft, Roberts had even more information about the Civil War, slavery and World War I. It was stuff the publisher thought most readers would already know, Vernon said.
Vernon's job was to compress. He told himself he wasn't going to change a word of what Roberts had to say.
"Everything has to be hers, not mine," he said.
After all, the book's author didn't have a say in what would be changed.
On May 6, 2016, Pat Roberts died with her book not yet published. She was 72.