No county in Missouri will be without a health insurer providing a policy through the Affordable Care Act marketplace in 2018, the Missouri Department of Insurance confirmed Tuesday.
Health care provider Cigna will offer plans through the government-run exchange in 2018 in several Missouri counties, including Boone. The company filed its rates with the department in July.
Anthem Blue Cross Blue Shield, the only insurer providing care through the marketplace in Boone County this year, announced in a news release Friday that it will stop offering plans in 2018 to the city of St. Louis and 16 counties in Missouri, including Boone.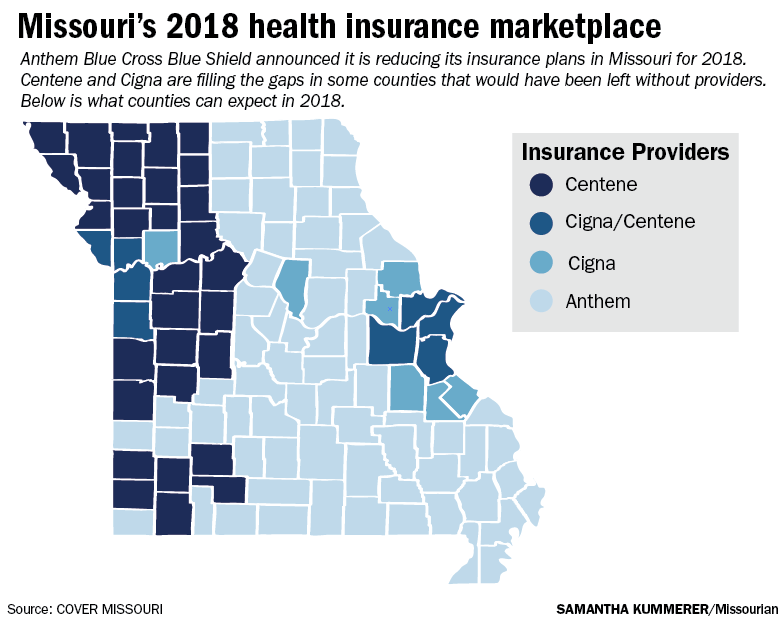 With Cigna planning to enter the exchange here, Boone County will still have one provider offering plans with the Affordable Care Act. The act established the government-run health insurance marketplace when it passed in 2010.
Most counties in Missouri will have only one health care provider offering exchange plans in 2018, said Nancy Kelley, program director with the Missouri Foundation for Health. She said residents in those counties will still have multiple plans to choose from despite just one carrier.
"The good news is that they will have options, and so when you hear that there's just one insurer ... that doesn't mean there's just one plan," Kelley said.
Despite the variety in plans, she said, limitations come with having only one carrier in the county. Residents insured through Cigna will be limited to the provider networks the company partners with, and Kelley said she didn't have details yet on which doctors and hospitals would contract with Cigna.
The insurer did not respond Tuesday to requests for interviews.
As for prices, Kelley said changes in rates would vary by region. While average rates may be going up, she said, the size of the increase would differ depending on location.
Cigna estimates that on average, its Missouri customers will see an increase of nearly 42 percent, according to a written justification for the increase submitted to the Missouri Department of Insurance.