Johnny Clippard is frustrated. As a trash collector for the city for the past four years, he's fed up with having to clear items that often go beyond a household's normal trash. He's hoisting couches, chairs, window blinds, rolls of carpet, old appliances, broken glass, metal rods and thorn bushes into the back of his garbage truck.
The problem grows far worse during this time of year, when college students are moving in and out of apartments and leave the city's trash collectors with all the stuff they don't want to take with them. It can make for a tough time, especially when you consider that Clippard and other refuse workers have to make up to 950 stops in a single day. The city trash utility's policies place no limit on the amount of waste people can set at the curb.
"I feel in my heart, that they (the city) really don't care about us," Clippard said.
You can learn a lot by following a city garbage crew around for a few hours. Clippard was a busy man on Monday morning, when he was doing not only his normal duties but also training Isaiah Williams, who is new to the job. While running his route, Clippard clung to a railing on the passenger side of his trash truck, jumping off and onto the truck in front of every house.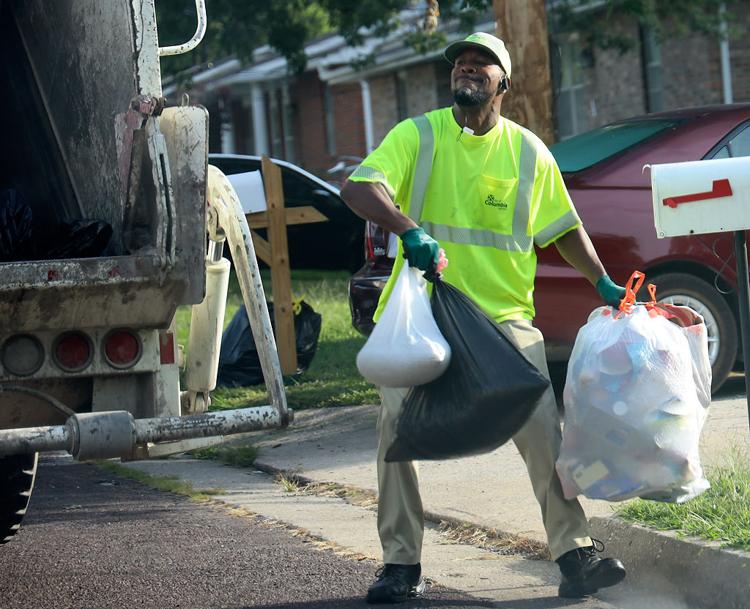 Clippard's Monday route starts in the Valley View neighborhood of northwest Columbia and includes 700 stops. In just his first half-hour he had to deal with several large pick-ups, garbage bags that easily exceeded the 50-pound limit and others that were overstuffed and broken. Clippard said it was a pretty normal Monday. Some days can be far more difficult.
Clippard's frustration is two-fold. He said Columbia's trash workers aren't paid nearly enough given how hard they work and the dangers they face. He also said he believes residents who think it's OK to dump just about anything at the curb are being disrespectful.
In certain areas during the summer months, especially East Campus, the pile-ups are a real problem for trash workers. Clippard said he has hundreds of pictures documenting the situation. He vented in a now-deleted message he posted to the Facebook group called "You know you're from Columbia Mo when..." The post prompted hundreds of comments.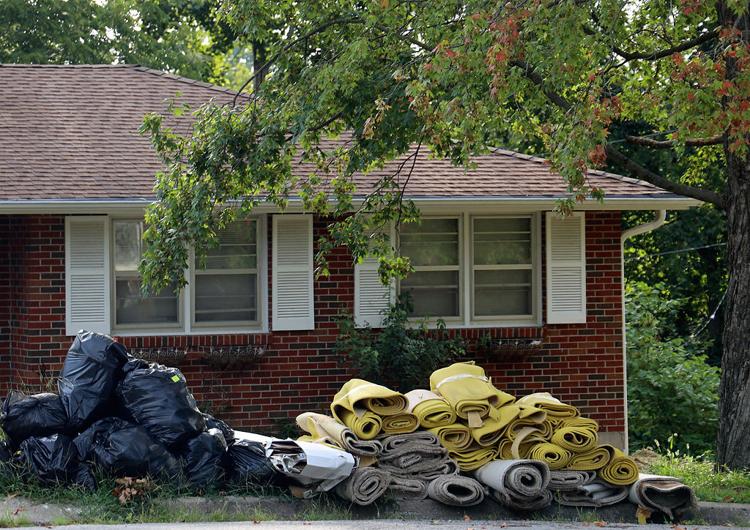 "The city of Columbia treat their refuse (workers) like the trash they get $scraps$ to pick up. Don't they know without us Columbia would be a bio hazardard (sic). We're worth way much more than were paid... I say you know from Columbia when you show no respect for your refuse collectors."
A photo with the post showed a stack of mattresses and box springs in a house's driveway along with piles of loose trash and a mountain of busted boxes full of refuse such as toilet paper, cat litter and hangers.
Clippard said he deleted the post because he was threatened by one of the commenters.
Patricia Weisenfelder, a spokesperson for city utilities, said in an email to the Missourian that "every year around this time there is an increase of materials placed out for collection due to the high volume of turnover in rental properties. During move out, large amounts of materials are set out for collection which adds time and stress to an already time consuming and physical job."
Weisenfelder, however, said the challenges aren't new or unique to Columbia. She noted that the city of Lawrence, Kansas, the home of the University of Kansas, was posting pictures of similar problems on Twitter.
Clippard also said the problem in Columbia isn't limited to East Campus or other neighborhoods near MU. It happens all over Columbia. He recalled large pileups on Nikki Way in southwest Columbia.
City officials are trying to help, at least when it comes to trash collectors' wages. The Columbia City Council last year boosted trash collectors minimum wage to $15 an hour. And Interim City Manager John Glascock is pitching minimum trash collector pay of $17 an hour, and $18.70 for senior trash collectors in his proposed budget for fiscal 2020.
The dangers of picking up trash have been well documented. Columbia has paid or is scheduled to pay nearly $500,000 in workers compensation claims in fiscal 2019 alone.
Clippard himself has filed three such claims in his four years on the job, seeking compensation for injuries to his hip, back, shoulder and ankle. He said that he's suffered far more injuries but that he often has to push through because the utility is short on help.
That was the case Tuesday morning when Clippard hurt his ankle again. Unlike the morning before, Tuesday was a mess, he said.
Weisenfelder said in an email that there is a chance of injury "anytime workers are dealing with large, unorganized piles of materials."
City regulations state that "all material for collection must be in a bag, disposable containers, or securely bound bundles not greater than four feet in length, two feet in diameter, and shall not exceed fifty pounds total weight each."
"When large furniture or other unbagged materials exceeding this criteria are in play, the chances of injury could increase," Weisenfelder said.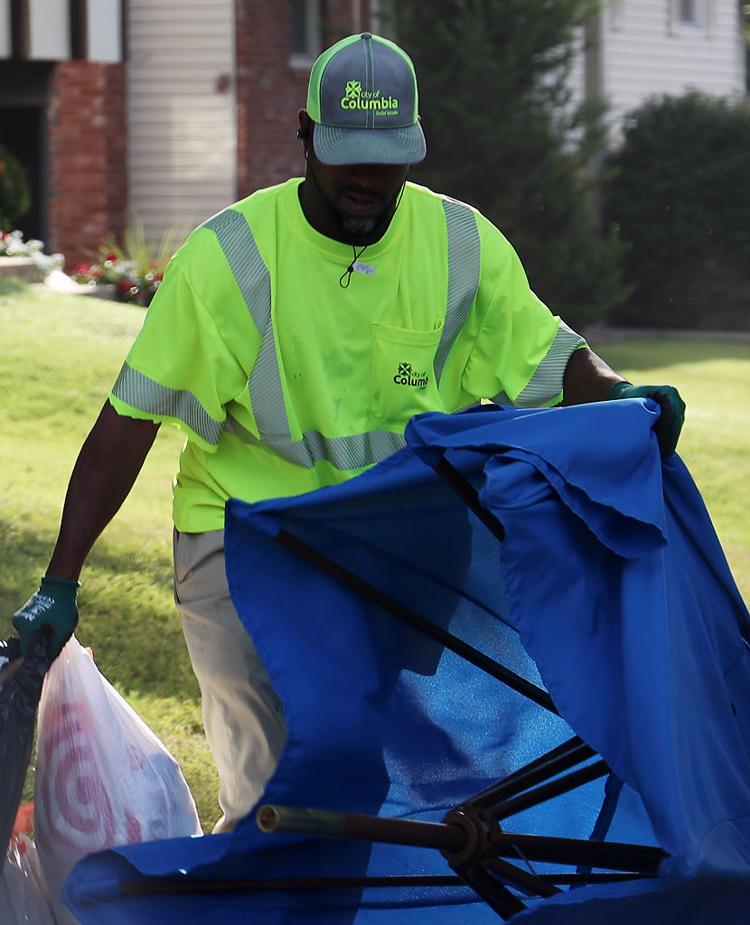 Large items such as beds, tables, chairs and some electronics are considered special pickups, and residents are supposed to notify the trash utility in advance if they have the need for one. Too often, though, they fail to do so. Clippard said he was scheduled for just two special pickups on one of his routes last week, but instead there were 20.
There is a no extra fee for oversized items or special pickups, nor is there a fine if residents fail to notify the city in advance, Weisenfelder said. She noted there is no policy in place in terms of refuse workers picking up unscheduled special items.
The relatively low pay and significant dangers trash collectors face contributes to the consistent number of job vacancies the utility has had over the years. The city used to fill the gaps through temporary employment agencies, but they will no longer send people to collect trash.
As of June 24, Weisenfelder said, the city had 59 refuse workers and nine vacancies.
Clippard said he only planned to collect trash for five years, and he plans to leave the job by next June.
"I don't want anyone who will replace me to go through what I've had to go through," Clippard said.
Supervising editor is Scott Swafford.