COLUMBIA — Hussam Aljaff, 38, drinks a cup of tea while showing the work he's done in his backyard at Bear Creek Townhomes over the past four years.
"It's much better in summer," he says, sighing as he shows pictures of his work. There's the raised garden beds his family built to grow tomatoes, cucumbers and garlic. There's a landscaped patio-like area where tables and chairs allow him and his wife, Marwa Aljaff, to lounge in warmer weather and watch their two daughters, 8-year-old Danya and 6-year-old Deema, play in the inflatable pool. The front yard features a swing and a hammock, along with their daughters' toy motorcycles.
Aljaff also has invested a lot of time and money fixing up the inside of his apartment in the Columbia Housing Authority complex, which comprises 78 residences on Elleta Boulevard in north Columbia.
Soon, though, he will be required to leave.
PHOTO GALLERY: Hussam Aljaff and his backyard progress
Hussam Aljaff worked on his backyard at Bear Creek Apartments for three years. The series of photos show the progress he has made since moving in. Two areas that he focused on in the backyard include a three-box raised garden and a mulched lounge area.
Photos courtesy of Hussam Aljaff
The Housing Authority is gearing up for a $9.8 million project to completely renovate the apartment complex. Seventy-six of the homes will be completely transformed, 38 years after they were built. The other two were converted into an Early Head Start Center for children.
Aljaff is conflicted. Although he's happy the work will be done, he worries that his family will be displaced and lose all that they've invested in their home. The Housing Authority has told neighbors that they will be relocated to another apartment. Renovations are scheduled to begin in April.
"I'm excited about the renovations, but I wish they (would) give me the same backyard, the same area," Aljaff said.
Fixes will be extensive
Money for the Bear Creek project will come from several sources, including federal low-income housing tax credits, state tax credits and Housing Authority reserve funds. The Columbia City Council approved a Housing Authority plan on Dec. 7 to issue $4.75 million in revenue bonds to support the project.
The authority also is participating in the federal Department of Housing and Urban Development's Rental Assistance Demonstration program, a 20-year rental assistance contract that provides financial stability, allowing the organization to be competitive in applying for low-income housing tax credits.
"Now we have a stable financial model, … but it doesn't pay for everything, so we had to leverage other funds," Housing Authority CEO Phil Steinhaus said. The tax-exempt bonds for Bear Creek will be placed with a local bank, but the deal hasn't been sealed yet, he said.
Renovations will begin this spring on vacant apartments within the complex and will take from six to eight weeks per residence, Steinhaus said. The goal is to have all the apartments fixed up by the end of 2017.
The scope of the work is impressive and the scale of the challenge enormous. All the apartments will get new doors, windows, flooring, drywall and interior paint. In the kitchens, all appliances, cabinetry and ventilation fans will be replaced. Bathrooms will get new fixtures and plumbing. Every apartment will get a new water heater and heating, ventilation and air conditioning equipment.
Steinhaus said the residents are eager to see the work done.
Aljaff agrees the improvements, including the flooring, have been necessary for a long time. He's already used his own money to install hardwood tile in the bathroom and carpet throughout the home.
"The tile for the bathroom is nothing. I mentioned to them many times and … they don't change it," he said. "I said, 'Please, there are bugs; the smell is not good.'"
Aljaff estimated he's spent a total of $2,000 on his apartment and yard. "My neighbor, he told me, 'You're crazy, man.'"
Brenda Crowell has lived at Bear Creek for three years.
"I'm going to love the renovations," she said. "The floors have shifted; (there are) cracks on the doors, air circulating through," Crowell said. She's especially excited about the kitchen renovations.
"I love to cook, and if they're going to make it wider, … some people are going to love it," she said.
Marwa Aljaff said she's looking forward to new kitchen cabinets and a new kitchen hood. The one they have doesn't work.
Spesioza Wibigira has been living with her husband and two children at Bear Creek for four years and is happy about the project. She said her doors don't close properly and the lock on her bedroom doesn't work. Her toilet has backed up twice in the last month.
"They come here, they fix it, and then it breaks (again)," Wibigira said.
The puzzle game
Renovating the apartments will be cheaper than tearing them down and building new ones, Steinhaus said.
"The cost to renovate them will be $54,683 per apartment and to build them new was $185,000," he said.
Some renovations have been done over the past four years, including a new heat pump system, weatherization work and plumbing upgrades. Those things will have to be replaced again, but Steinhaus said it's still more affordable and less disruptive to upgrade them now, with all the renovations, than coming back and doing it in the future.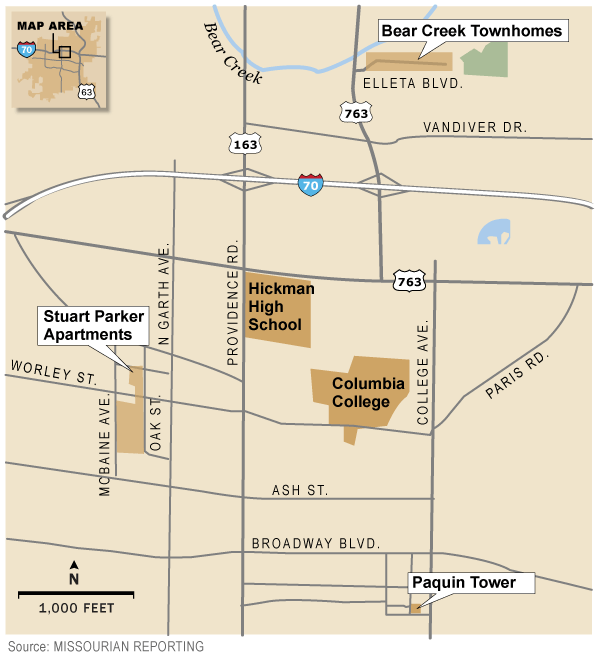 The actual construction represents only a fraction of the price of the total project. Steinhaus noted there are also architectural and other professional fees, along with consulting and developer fees. The project also involves a complex financing arrangement in which the Housing Authority will actually sell the property to itself, a move it must make to qualify for the tax credits.  
The Bear Creek renovations come on top of work the Housing Authority is already doing at the Stuart Parker Apartments and Paquin Tower downtown. Renovation of Oak Towers on Garth Avenue is expected to start in November. The next step will be to renovate the remaining 210 public housing apartments on East Park Avenue, Bryant Street and Providence Road.
The main thing residents at Bear Creek worry about is whether they can stay in their current homes.
"Our answer is, well, unfortunately, no," Steinhaus said. The housing authority froze its one-year waiting list and stopped accepting new residents for vacant Bear Creek Apartments so it would have places for residents to relocate to while renovations are being completed.
Steinhaus said that relocating people within Bear Creek was the least disruptive option.
"We knew we needed to relocate people, and it's more cost-effective to do it on-property because it's only temporary …," Steinhaus said. "If they were fully occupied, where do we relocate them? And it's only going to take me six to eight weeks to renovate your property, so where am I going to relocate you? It was easier to let these vacancies occur and relocate people in this puzzle game."
That "puzzle game" frustrates Hussam Aljaff and his family, who have lived at 1123-B Elleta Blvd. since they arrived from their native Iraq five years ago.
Aljaff used to work for the U.S. Embassy in Baghdad, and after five years he got a special visa to come to the U.S. He came to Columbia expecting to finish his engineering degree at MU, but the credits he earned back home were deemed invalid. Now he's working on a dual degree in graphic design and math, which he hopes to finish this year. He's also working at the World Harvest international food store and delivering the Columbia Daily Tribune on weekends. Marwa Aljaff works at Derby Ridge Elementary School.
The Aljaff family worries about when and where they'll be moved. They still haven't been given a schedule or a plan.
"We don't want to lose our home," Marwa Aljaff said. "We love this place."
The Housing Authority staff planning the relocations has tried to take note of residents' current amenities, including whether they have a backyard, a garden or cable television. The Bear Creek apartments vary in size from one to four bedrooms. Some have backyards; others don't.
The authority will help move residents' raised gardens to their new apartments, but Aljaff said some of the changes he's made can't be moved. When he complained about that, the staff reminded him that he doesn't own the property.
"They don't care. It's not your house, it's the government's house, so don't spend that money," Aljaff said they told him.
Looking ahead
Aljaff and his family expect to stay at least another year at Bear Creek. Then they might move to San Antonio, where his family lives. They have yet to decide. One thing Aljaff knows for sure is that he won't put as much effort into his family's new Bear Creek home or yard.
"I'm pretty sure that when me move we will do no more decoration, no more backyard," he said. "It's not worth it."
When renovations end, the Housing Authority will again welcome new applicants for Bear Creek, Steinhaus said. Public housing residents pay 30 percent of their adjusted household income for rent, and the goal is to attract more working families.
"What we do know is that everybody wants to live in a safe neighborhood, and working people are less likely to cause disturbances, be involved in problems, etc.," Steinhaus said.
Crowell, however, said she will probably look to move on after the renovations. The Housing Authority also offers Section 8 Housing Choice vouchers that subsidize residents' rent for private apartments and houses around town.
"The people still pay 30 percent of their adjusted household income for rent, and then we pay the balance of what the rent is to the contract," Steinhaus said. "So these people, if we don't have any vacancies and they prefer to have a voucher rather than relocate them on property, then that's what we'll do with them."