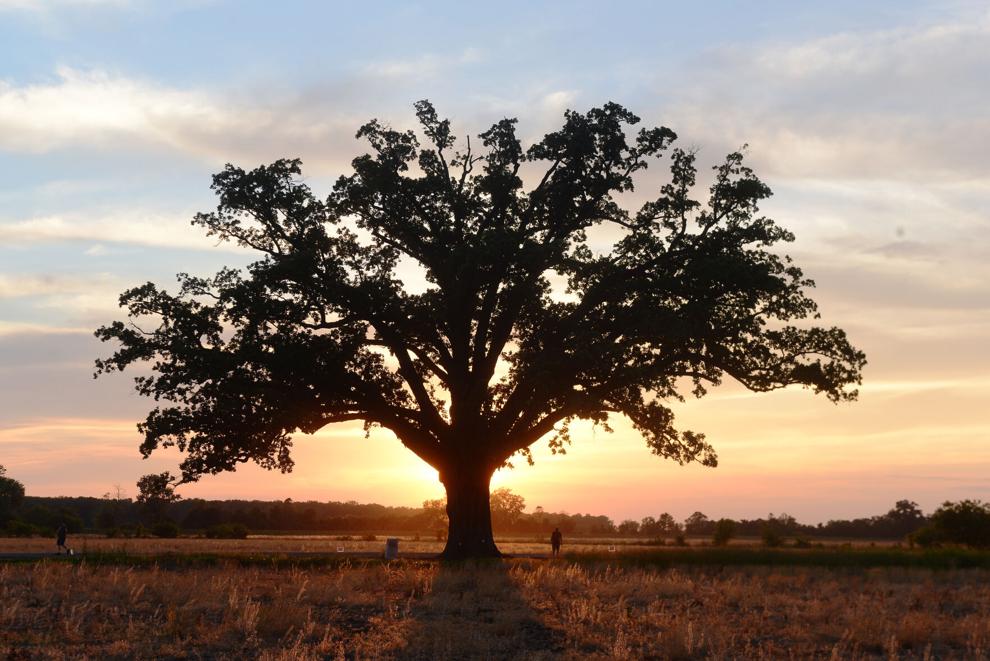 The champion bur oak in the McBaine River Bottoms is healing after it was struck by lightning about eight months ago.
"It will live longer than we will," John Sam Williamson, owner of the farm where the tree stands, said. "Yes, it is in decline, but it's kind of like a person getting older."
Williamson said the bur oak's good condition is due to both genetic superiority and luck.
The bur oak, known simply as the "big tree" by locals, is anywhere between 350 and 400 years old.
Williamson said it has been hit by lightning at least six times. Last October, it caught fire after a lightning bolt struck it, and firefighters with the Boone County Fire Protection District cut holes in its trunk to reach the fire in the tree's core, the Missourian reported.
Limbs and bark have fallen off, leaving a trail of fresh scars along the trunk. On Saturday, a ray of sunshine beamed through the bur oak's foliage. Lobed leaves crowned the tree's expansive branches, and a shadow stretched across the field.
"Man, it's leafed out so pretty," Linda Perry, a tree visitor, said. "You would not believe it had been struck by lighting, but I had heard that."
She and her husband, Dale Perry, said it was their first time seeing the bur oak.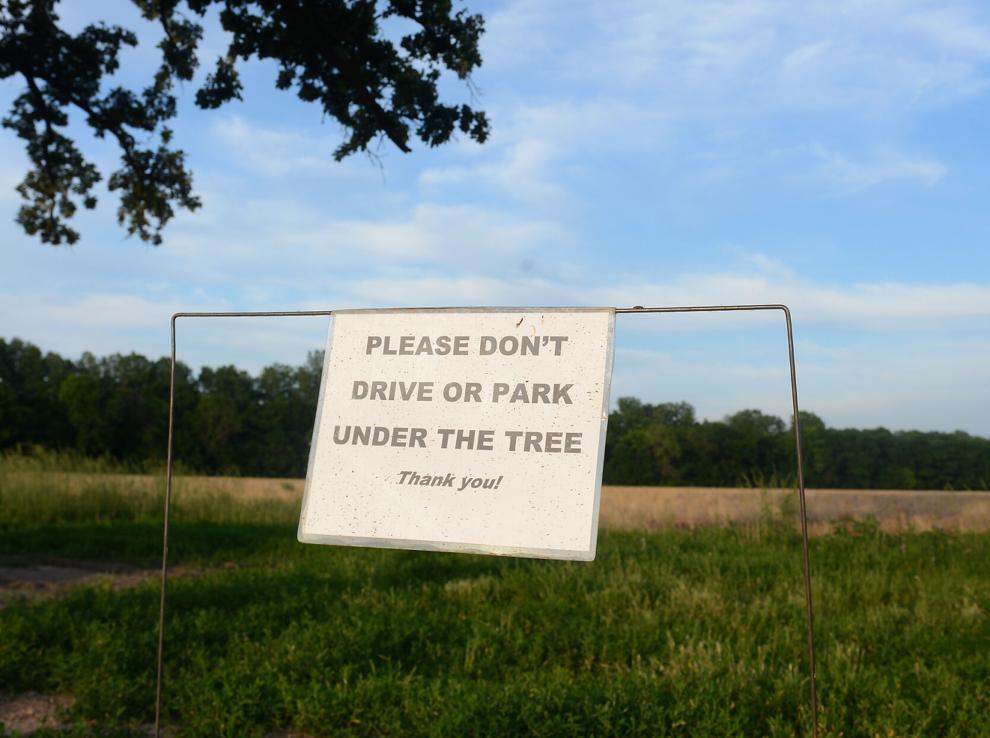 Meanwhile, Williamson is pondering some new features at the site of the tree. He's interested in adding some small parking lots, vehicle barriers, lights and security cameras, although nothing is set in stone.
The parking lot would encourage people not to drive too close to the tree and prevent vehicles from compacting the soil around it.
Williamson first approached the Boone County Commission with his plans.
"It's on a county road, and we would like to see the tree protected," Boone County Presiding Commissioner Dan Atwill said.
Williamson also is working with Boone Electric Cooperative to get electricity to the site for the cameras and lights. The bur oak has been vandalized many times over the years.
Williamson and The Giving Branch, a foundation arm of Flat Branch Home Loans, are setting up a way to collect tax-deductible donations to finance the projects. Foundation administrator Erica Bressman said that would provide a resource for people to donate to the projects for the tree.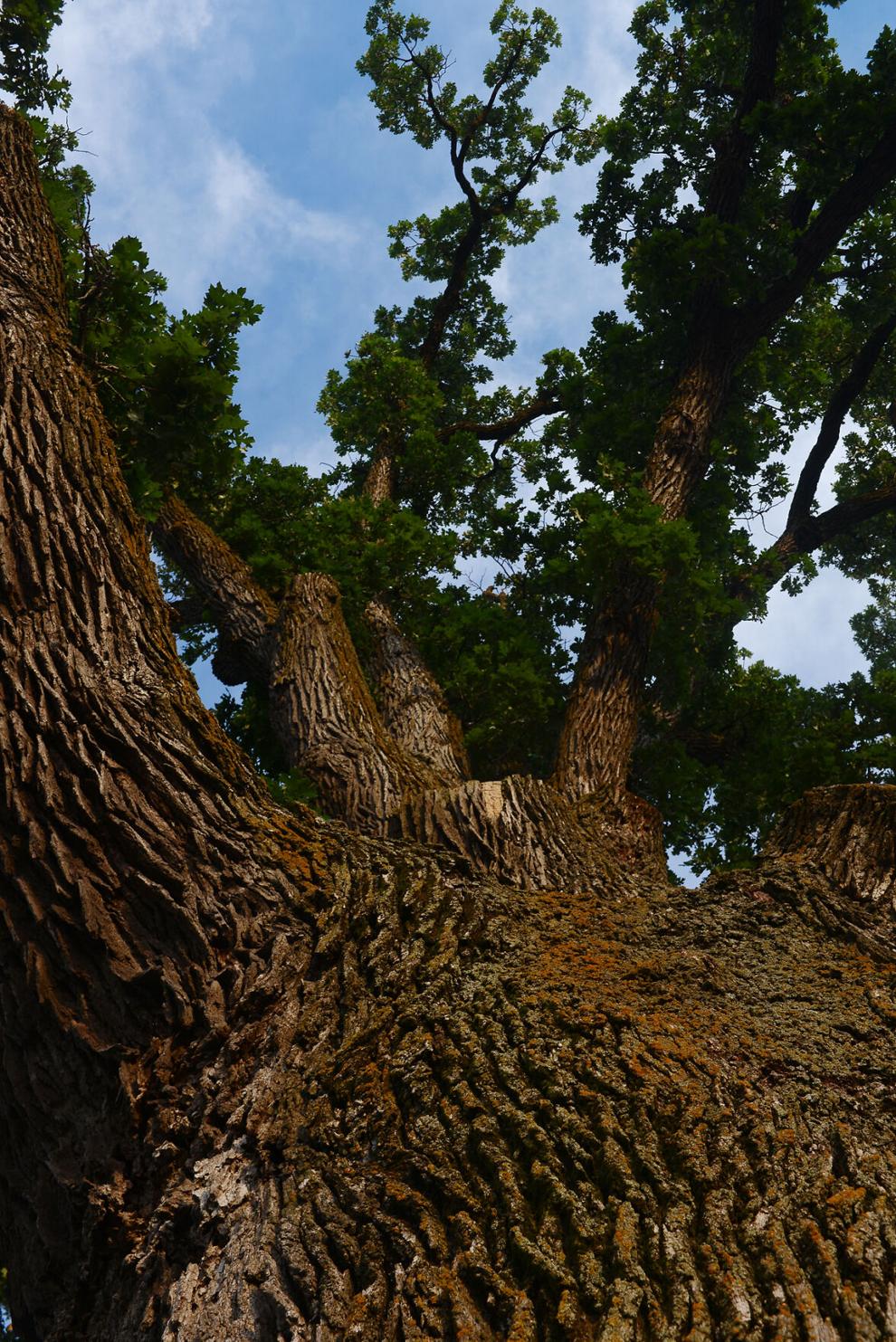 "We thought the big tree is such an iconic thing in Columbia and even mid-Missouri," Bressman said.
Bressman said the foundation is waiting to hear cost estimates from Williamson. The Giving Branch, which is funded by Flat Branch employees, was established in 2019 and has raised a total of $1.8 million and donated $1.3 million across initiatives.
"A lot of people are interested in helping with the tree, and we are just going to try to make it look nicer around the tree," Williamson said.
"Even if they had a sign with some pertinent information, that would be really cool," Linda Perry said. "A lot of times when we take pictures of trees, then we take a picture of the sign that has information on it."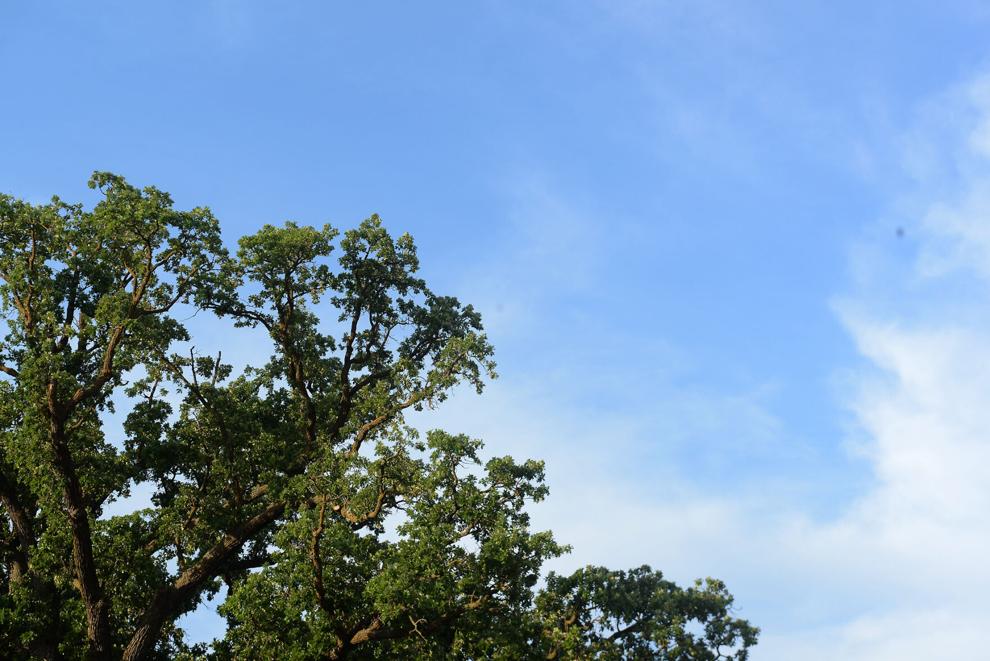 Kurt Lanno was also visiting the tree for the first time. En route to Nebraska, Lanno was making his way around Columbia to visit several local attractions.
"It's always just impressive to see something that old that's still alive," Lanno said. The lack of signs, barriers and lights add to a more natural aesthetic, he added.
"It feels like a local landmark rather than something more touristy," Lanno said.
Reina Tyl said she often rides her bike by the bur oak tree from the Katy Trail.
"I think it is a good idea to build a parking lot, so people aren't driving where the roots are, but I feel like lights kind of detract from the natural experience of it," she said.
Tyl said if the overall goal is protecting the tree then she supports those ideas.