COLUMBIA — Four-year-old Henry Burks hugged the right leg of his dad, Taylor Burks, while he was sworn in Monday afternoon as the first Republican Boone County Clerk.
To Burks' left was his wife, Elyse, who held their 2-year-old son, Thomas, and is expecting their next child.
Gov. Eric Greitens announced Burks' appointment earlier Monday afternoon, according to a news release from the governor's office. The appointment followed the June resignation of Wendy Noren, who served as clerk for 35 years.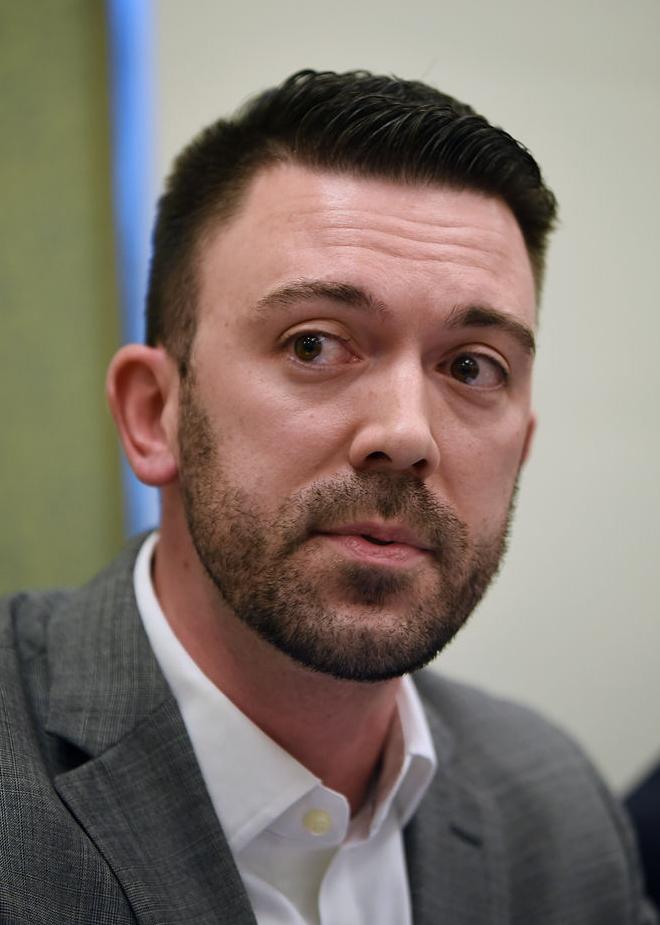 Burks, 29, said he was at home on Monday afternoon when he got a call from the governor's office telling him he had been appointed to the position. He said it was a relief to hear he got the job.
Burks' candidacy was endorsed by the Boone County Republican Central Committee on July 1.
"The committee and myself are tickled pink that he's been named Boone County Clerk," said Mike Zweifel, chairman of the Boone County Republican Central Committee. "Taylor is right for the job."
Burks is the UM System's director of distribution, inventory and asset management. He served as a lieutenant in the U.S. Navy and continues to serve in that branch's Reserves. Burks graduated from Truman State University in 2008 and earned master's degrees from Washington University and the University of Oklahoma.
He lost a bid for a seat on the Boone Hospital Center Board of Trustees in April.
Noren was elected in 1982 and re-elected eight times. Between 2004 and 2017, she served as the National Association of Counties' representative to the U.S. Election Assistance Commission. Well-known nationally as an elections expert, she traveled to Albania and Bosnia to serve as an international election observer.
Locally, Noren developed software that let Boone County become part of a federally mandated Missouri voter registration database. By making her own software instead of buying it from the state, she saved county taxpayers almost $125,000.
After the ceremony at the Boone County Courthouse, Burks said there are no plans for immediate changes to the Boone County Clerk's Office.
"I have big shoes to fill," Burks said. "The first few weeks will be spent getting the lay of the land and continuing the exceptional work Wendy did."
According to the county website, the clerk is the elected official responsible for keeping accurate records of the orders, rules and proceedings of the County Commission and also inspecting and reviewing all voter precinct boundaries within the county and conducting elections.
Administrative responsibilities also include maintaining payroll files, administering employee benefits, administering the Records Management budget and procuring adequate insurance and bonding for county assets and elected officials.