To warm up this winter, try out three of Columbia's latest bars and restaurants.
Two bars, Twain Missouri Taproom and Pressed, and one restaurant/bar, Park, have opened between late October and Dec. 1.
Twain Missouri Taproom
Those in Columbia who like local craft beer and liquor are in luck.
Owned by and located right next to the Tiger Hotel in downtown Columbia, the Twain Missouri Taproom is a new bar that features alcohol exclusively from Missouri. Be it beer, wine or whiskey, general manager Josh Bowles says you don't need to go far to find good quality.
"You don't necessarily have to go to Kentucky to get a great whiskey, or go to California to get an awesome wine," Bowles said. "We do have those in our own backyard."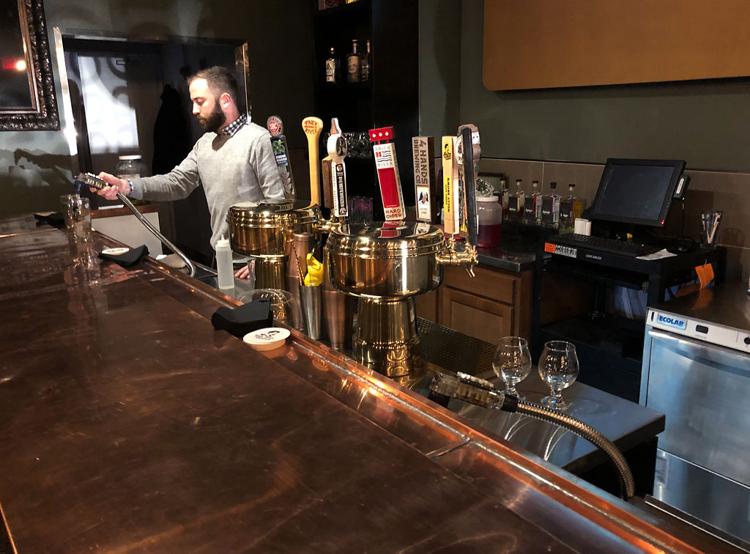 It's not just the drinks that are from Missouri. Almost all of the wood inside the taproom is from neaby Amish communities in Sturgeon.
Even Bowles himself is local. Originally from Rolla, he came to Columbia for college at MU. While in school, Bowles worked at Mojo's, which is now Rose Music Hall, and at local Logboat Brewing Co. from its opening in 2014.
Bowles said the idea for Twain started when Tiger Hotel owner Glyn Laverick approached him for ideas for an empty space next to the hotel. Bowles said he was inspired by the community response to Logboat and wanted a place to showcase Missouri products.
In addition to operating as a bar, Twain will also sell packaged beer and other alcoholic beverages from Missouri.
"Basically, it's a gift shop for the state of Missouri that you can also have a beer in," Bowles said. "We just want to feature all those local products and celebrate the producers we have here in this state."
The name was a natural choice.
"(Mark Twain) is the quintessential cool Missourian," Bowles said.
The walls are dark green and have pictures of Mark Twain and landscapes that resemble Missouri. The bar is copper-colored, and there are two tables with checkerboards on top.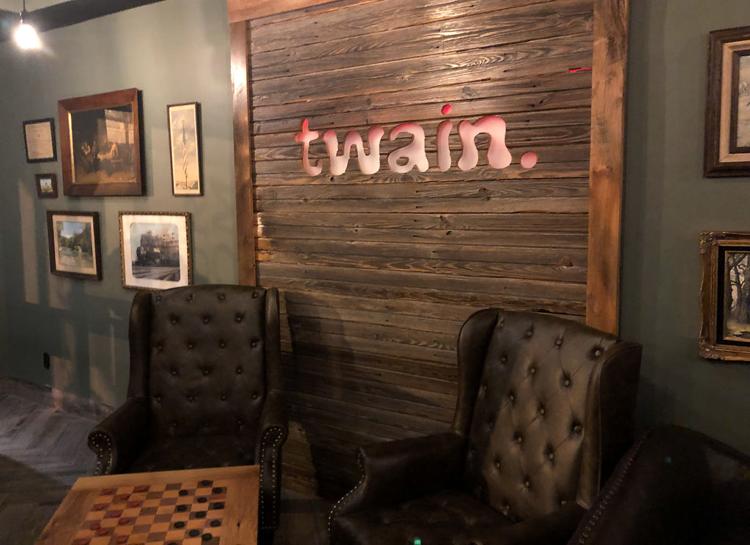 "We just wanted to make it a cozy feel. Not going for a college bar, by any means," Bowles said. "Just sort of a warm space to go and enjoy a drink."
The bar currently has 10 taps that Bowles said will be changed frequently. Missouri cities currently represented on tap are, among others, Columbia, Hannibal and St. Louis.
Nov. 30 was Twain's soft opening. Its grand opening will be in January, though no official date has been set.
Pressed
Walking into Pressed, Columbia's newest rooftop bar, visitors are welcomed to a warm experience in a sophisticated atmosphere, surrounded by black-and-white decor and a bar counter that glows.
The cocktail bar, located on the roof of 803 Walnut St., is the brainchild of Bleu Events, which started as Bleu Restaurant & Wine Bar in Columbia 10 years ago. Its owners wanted to bring a sleek cocktail bar to town that allowed its customers to sit back and relax with friends over drinks. Pressed opened at the end of October.
Bar Manager Kelsey Parker said Pressed brings a different environment compared to other bars in Columbia.
"It's super chill but a little bit upscale," Parker said. "It's a place where people can go and actually talk to friends without getting drinks spilled out of their hands."
Pressed caters to the young business professionals and the business community downtown, located on the patio of the building next to where Bleu Restaurant & Wine once occupied space.
It offers various hors d'oeuvres to hold visitors over, from house-toasted pretzel chips and Logboat Mamoot Beer Cheese to Rosemary Buttered Nuts. It also offers desserts that combine flavors, like Cold Brew Coffee Marshmallow Cream and Nutella Ganache.
Pressed offers a full cocktail list, including non-alcoholic options. Selections rotate seasonally, as it focuses on craft cocktails. The results combine unlikely pairings, like jalapeño and rosemary, iced tea and whiskey, or lime and chartreuse "kissed with chili syrup."
It also offers a full wine and beer menu, partnering with Columbia breweries to bring local beers to tap.
The view, Parker said, is one aspect of Pressed that locals can't find anywhere else. Customers can view the Tiger Hotel from the provided seating, staying warm by the fire with blankets provided at the door.
"I think it'll be something that brings people in the door," Parker said, "and gets them to come back."
Park Restaurant & Bar
A new restaurant built from the ground up opened its doors to Columbia on Dec. 1. Park Restaurant & Bar, located just off of Discovery Parkway in southern Columbia, focuses on new American style sharable plates with an Asian inspiration and a communal bar layout.
Inside, the walls are wood panels and modern art pieces hang across the ceiling. At many restaurants, "the bar space feels like an afterthought," said Jack Cardetti, Park's spokesman. And at a lot of bars, "the only people you can talk to are the people to your right and to your left."
The way Park's bar is designed "allows four people to sit together and still be all served by the bartender." The bar area also has a 16-seat community table, according to its Instagram account.
Park's menu focuses on small shareable tapas-style plates.
"I love to go eat with friends and when you get to try different items on the menu," Cardetti said.
Items like pork belly sliders with local pork from Patchwork Farms are smoked and paired with house-made Korean BBQ sauce, topped with pineapple cabbage slaw and served on a Hawaiian roll.
"Having fresh local ingredients in a unique setting is going to be a forte at Park," Cardetti said. "We're really excited joining what is obviously a thriving Columbia restaurant scene."
Park allows for reservations through OpenTable. It will also cater to the traveling crowd.
"When they wanna go eat in a new town, the first thing they do is go on their phone and go online and make a reservation," Cardetti said of out-of-towners.
Park is open seven days a week, Sunday through Thursday from 11 a.m. until 11 p.m. and Fridays and Saturdays from 11 a.m. to 1 a.m.
"A park to us means a gathering place where friends meet, and that's really what we want the restaurant to become."
Supervising editor is Claire Mitzel.