Ragtag Cinema shows at least one film a month directed by a woman.
That may not seem like much, but without the efforts of the Citizen Jane Film Festival, there could be none on the marquee.
The project, called Citizen Jane Suggests, is just one way the festival has worked to combat inequality in the film industry over the past decade.
Known for celebrating "independent film by independent women," the Citizen Jane Film Festival turns 10 on Thursday when it begins its annual exposition of films by female directors — 80 films in all.
In addition to feature-length films this year, there is a program of short films called Ms. Ouri Made that highlights projects filmed in Missouri.
The festival will also screen a series of shorts called Fests Like Us!, a collaboration with eight other festivals that support women and diversity in film. In addition, Family Fun! will present animated films and others suitable for children.
Founded at Stephens College in 2008, Citizen Jane was built on a tradition of championing women in the film industry. Over the last decade, it has kickstarted careers, amassed a total audience of 6,000 attendees and attracted mainstream talent with Lena Dunham's "Tiny Furniture" and this year's "Landline," starring comedienne Jenny Slate, among others.
This year, the festival has a new policy where each film on the schedule will screen just once, urging people to prioritize early-bird ticketing. Festivalgoers can also enjoy the Citizen Jane Film School's Screen Grab, a screenwriting competition where the winner can have her work produced and table-read at the end of the weekend at the Greenhouse Theatre Project.
There will also be the presentation of a lifetime achievement award to screenwriter Linda Woolverton, the highest-grossing female screenwriter in the world, who had a hand in blockbusters like "The Lion King" and "Beauty and the Beast."
Citizen Jane was born out of an appreciation for women filmmakers, who were often overlooked in the industry. A lecture series in 2005 at Stephens College and a Fem Film Women's Symposium the following year provided a platform for female filmmakers to share their experiences.
The festival arrived in 2008 and gave voice to a community of aspiring filmmakers, often referred to as "Janies."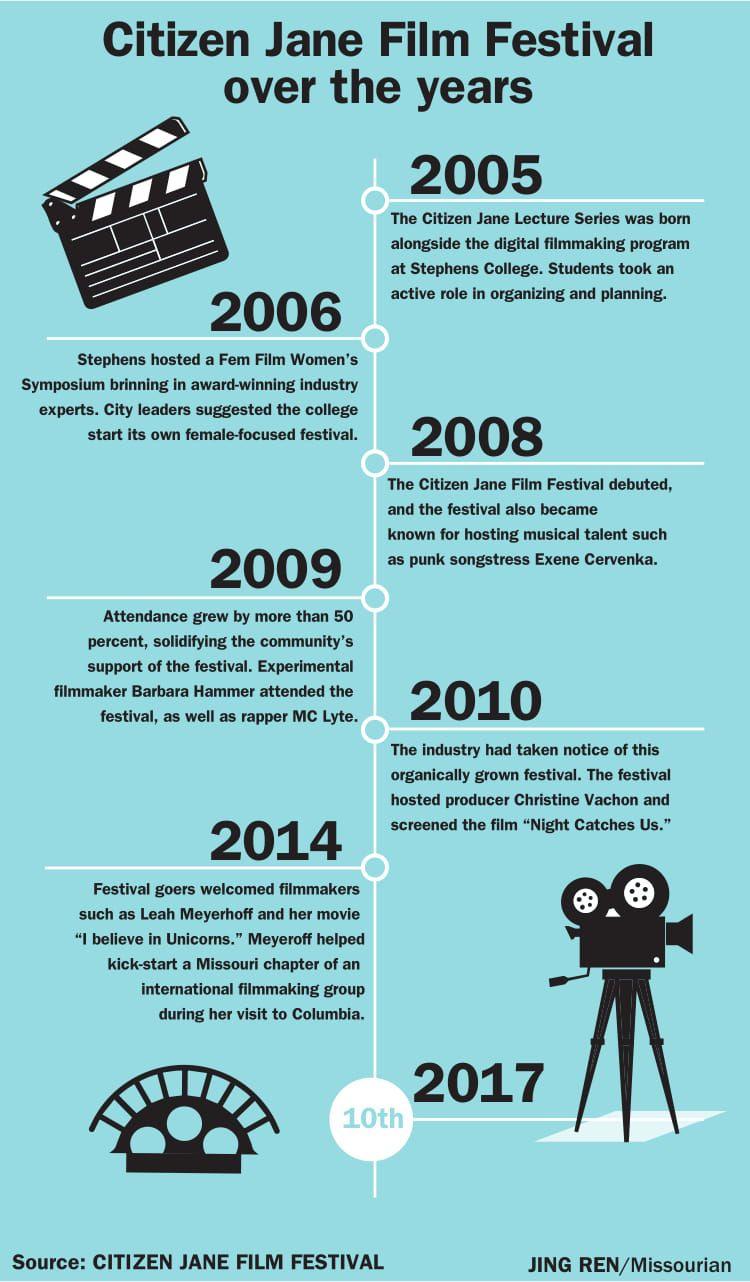 "One of the reasons there's fewer women in jobs in the film world is that there's not really a pipeline or mentorship that happens," said Barbie Banks, director of the festival.
"Men who have had these positions for a long time hire people who look and act like them. They mentor people they have a connection with, who tend to be like them."
So, two festival founders, both from Stephens, began to create a space where collaborations could grow.
One founder was associate professor of digital filmmaking Kerri Yost. The other was Ken LaZebnik, director of the television and screenwriting MFA program, who used his connections in the business to develop the early years of Citizen Jane.
He remembers the collaborative nature of the inaugural fest: "The thing that's great about Citizen Jane is that it embraces the filmmakers and the community," LaZebnik said. "There's a great energy around it. We're all in this together, trying to figure out ways to do better work, and more work."
He said the "essence" of the festival has thrived, largely due to people like Yost who crafted workshops and summits around pressing issues in the film community.
Another factor is the students at Stephens who found their footing at the festival. Art director Erika Adair discovered the festival in 2009 as a freshmen at Stephens, in a class that helps organize the festival.
For her, the festival bonded not only the film community, but with many students.
"Much of Citizen Jane's foundation, from terms, design, ideas, activities, opportunities, have been spearheaded and inspired by Stephens students," Adair said.
Diversity in film
Banks' roots with the festival began in 2010 as a volunteer driving filmmakers to and from the airport. She rose through the ranks in hospitality services before becoming director last year.
One of her central goals has been the ability to not only open up opportunities for filmmakers, but expand the public's perception of the festival.
Though Citizen Jane's brand honors independent film by independent women, Banks and first-year features programmer Donna Kozloskie stress that the programming itself is not exclusive to a female audience.
"When I approach the programming, I want it to have the broadest array of representation, and I feel like I want the audience to reflect that as well," Kozloskie said. "I wanted to have a really broad sense of both industry — from indie to Hollywood — and genre."
Though a respected festival in the community, the team admits there is still work to be done in spreading the word.
"I think anytime there's the woman label on something, like a woman's film festival or a music festival, there's always people who think it's not for them," Banks said. Which is silly because we watch men-centric stuff all the time."
"We have for decades," Kozloskie echoed.
Common misconceptions persist that the festival is only for Stephens students, that it screens only student films and that Columbia has room for only one film festival.
"I think sometimes the big elephant in the room is that True/False is this giant film festival, and people think film festivals only show documentaries — or that is how a film festival has to be done," Banks said.
She said they welcome those who enter the festival looking for "pure entertainment," as much as those who "immerse themselves completely." No matter the intention, audience members can support a cause that's important, she said.
"It's an accessible entrance into film in general," Kozloskie said. "Having a one-liner pitch of what our festival is doesn't work."
Forward motion
In forging the path to a more inclusive film industry and festival audience, the team behind Citizen Jane has had to address a larger conversation about the treatment of women in Hollywood.
From unequal pay to the recent Harvey Weinstein sexual assault allegations, Citizen Jane has thrived, sometimes in spite of, and other times because of, the controversies.
"It makes our cause more visible. Which kind of sucks because it's like I don't want to have these terrible examples you know, so I keep sort of framing the fest as the answer to the problem," Kozloskie said.
At the time of the first festival, she said, the big problem was the low number of women making films, an issue that remains, although they're making progress.
"I was reading our mission statement the other day, and it was like, we work to fight for gender equality in the film industry, and I think that's what we've always done," Kozloskie said. "I do think that we're always fighting for the same goal. It's just that the way it's taking shape is really dependent on how awful the film industry wants to be."
Banks believes there's power in numbers, and she hopes the festival can reach 10,000 attendees some day. She also wants Citizen Jane to continue to exert real influence in the community and the film world at large.
"I would like to see (a day) where people say 'the Citizen Jane standard,'" she said. "I don't know what that exactly looks like yet, but I feel like we're making strides."
Inherent in Citizen Jane's DNA is forward motion, whether in the turnover that can happen with Stephens volunteers as they migrate to film industry jobs or through an inventive approach to the future.
"I feel like what the 10-year (anniversary) has done is when we're out in the community talking, people are like 'oh you are going to be around.' We're like 'yeah, we're going to be here,'" Banks said. "We're just really excited to celebrate these women."