They are members of the Devil's Icebox Cave Institute, an organization founded two years ago by Park Naturalist Roxie Campbell.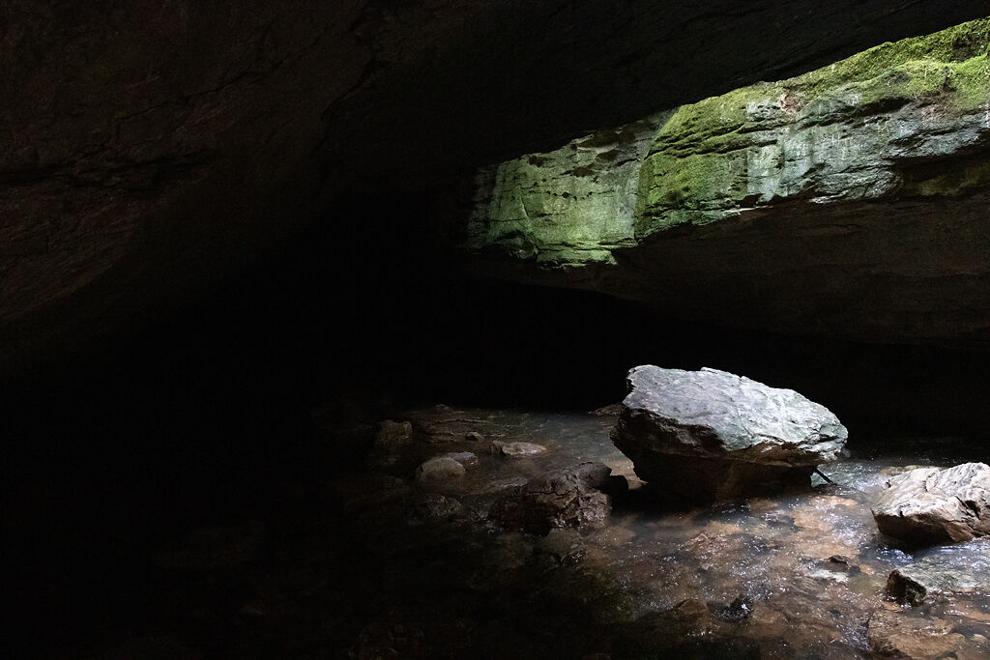 They have been trained to map the caves; collect data about water quality, bats and aquatic animals; and track the pink planarian, a type of flatworm not found anywhere else in the United States except in the Devil's Icebox cave. In the fall and spring, Cave Institute volunteers conduct a census of the flatworms.
Trips through the underground network of passageways at Rock Bridge Memorial State Park are limited to protect the bats in the Devil's Icebox cave. Tours for the general public came to a halt in 2010 to slow the spread of white-nose syndrome that appeared in caves in the eastern United States and Canada.
Despite precautions, the usually fatal white fungus hit the Rock Bridge caves in 2013.
"Prior to white nose syndrome, when we did hibernating surveys, we would find around 900 to 1,200 little brown bats hibernating with us," Campbell said. "I think it was three years ago we found eight little brown bats, and three had white fungus on their noses."
Another bat species, the gray myotis, seems not to have been affected by the fungus. About 2,000 of those bats live in the Devil's Icebox caves during the summer.
To continue cave trips and monitor the pink planarian, about a dozen leaders were certified, but over the years, the number dwindled.
"A couple of them had moved away, and then a couple were getting older," Campbell said.
Hoping to create a new generation of volunteers, Campbell created the Devil's Icebox Cave Institute.
The group's most recent trip found that the pink planarian count had increased compared to previous spring numbers — eight pink planarians and three egg cocoons.
The volunteers check three survey plots that are 5 meters long in the stream, Campbell said.
"We kneel down and pick up every rock and count every critter."
The trip also helped the new volunteers become familiar with the 1.8-mile trail to the cave's Chert Bridges Room, referring to the foot bridges made of a rock called "chert" that cross the cave stream several feet above the ground.
Another project that's keeping volunteers busy is expanding the map of the Devil's Icebox cave system. The original map is more than 60 years old, and many side passageways have been discovered since then, Campbell said.
"We had even mapped some of those side passages, but we weren't able to tie them to the main passage without doing more mapping work," she said.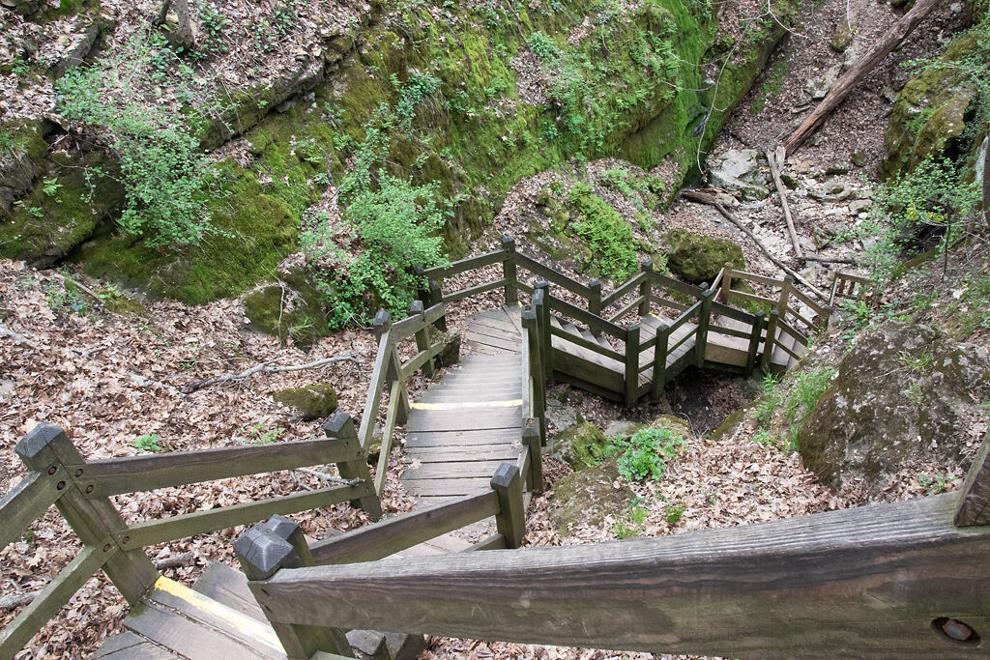 Drawing a new map meant reaching out to mapping experts. A crew was assembled to help draw out the passages, do compass bearings and determine measurements.
"There's techniques and skills to this," Campbell said. "Once we got the Cave Institute going, it facilitated doing trips for cave mapping purposes."
One of the Cave Institute tour leaders, Kathy Christensen, had helped discover a passage in the Devil's Icebox cave.
It was during a research trip in the early 2000s, before the Cave Institute was created. About 2½ miles into the cave, Christensen and another volunteer ventured into what appeared to be a side passage, but it was "sumped," or filled with water, preventing further exploration.
"That felt like (a) main passage," Christensen said. "But nobody had explored it."
In response to the discovery, Rock Bridge brought in professional cave divers to explore the passage in 2007. Beyond the water-filled passage, the divers discovered another air-filled passage they could walk through.
They traveled at least 2,000 feet and could have continued but hit a time limit to return to base to ensure their safety. Still, they had learned enough to corroborate Christensen's initial assumption that it was a main passage.
Christensen says moments like that demonstrate how many unanswered questions about Devil's Icebox remain.
"It's still not completely documented, not completely explored," Christensen said. "She still holds her secrets, and that's so fun."
Although access to the caves requires a time commitment and considerable training, members of the Devil's Icebox Cave Institute say it's worth it.
"I can honestly say that when people ask me what's the coolest thing about myself, I always say the Cave Institute," said Jadelyn Weed, a senior at Columbia College.
"Not a lot of people get to do that, and it's very life-changing, very unique."