COLUMBIA — Catharsis, anger and confusion were on display Monday night as about 70 Columbia residents, police officers and activists met at city hall to discuss the community impact of racial profiling with City Manager Mike Matthes and Columbia Police Department Chief Ken Burton.
Organizers scrambled to find additional chairs for attendees at the event, the latest in a series of forums the police department said will help inform its policy initiatives going forward.
While many members of the public voiced their personal experiences with racial profiling, many questions for Burton were redirected or avoided.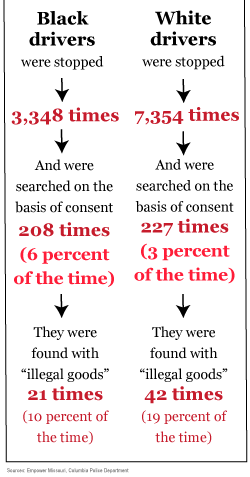 A central talking point of the meeting focused on statistics compiled by the Missouri Attorney General's 2015 Vehicle Stops Report, a document that clearly shows African-Americans bear the brunt of negative interactions with police.
According to the data, black motorists in Columbia were stopped nearly 3,350 times, a disproportionate amount considering blacks make up about 10 percent of the city's population. Additionally, the total amount of vehicle searches by race is nearly identical between whites and blacks, 608 and 593, respectively.
Columbia police are three times more likely to search a black motorist in a vehicle stop, but figures show contraband is four times more likely to be found in a white motorist's car when adjusted for population size.
Despite these figures, Burton said he still is not convinced that racial profiling is a problem among Columbia police.
"I believe that if the public believes that, it is my responsibility to figure out why that is. I'm not convinced yet, all right?" Burton said. "I told you I've got issues with the data for different reasons, I don't think we've drilled down deep enough, OK?"
Burton pointed to a Columbia police policy instituted in October that requires officers to provide motorists with a consent slip when attempting to search their vehicle, explaining in plain language that the individual is not legally compelled to allow the officer to begin a search.
David Tyson Smith, a Columbia lawyer, voiced concern during the meeting that officers could easily find ways around this policy by claiming the smell of contraband inside the vehicle gave them probable cause.
"I want to know what the department is going to do about the issue of officers stating they smell marijuana, because there is no way to verify if they did or not," Smith said. "Some of the substances they find in the car, the officer would have to be a canine to find that, there's just no way."
Smith said many of his black clients have experienced this subjective form of policing and that the tactic undermines the police department's consent slip policy.
Burton also said the department has made great strides in eliminating "the intimidation factor" that many people experience when confronted by an officer. Audience members said they had experienced this in their own lives, but many of their stories did not reflect that stated change.
Columbia lawyer John Clark said Matthes and Burton were not listening enough during the meeting and took too long to answer questions.
"In my belief, there is legitimate intent to hear, but they are going to decide what they got out of all of this in a closed room with city staff, and that's the one-sided thing," Clark said.
Matthes and Burton said the city will finish its listening tour with another meeting organized in conjunction with the Columbia branch of the NAACP. That meeting has not yet been scheduled.
Supervising editor is Katherine Reed and Tyler Wornell.