The nonprofit It's Our Wild Nature is defending a case opposing the city's effort to acquire property for a controversial trail after a court hearing Monday regarding the potential use of eminent domain.
Boone County Circuit Judge Jeff Harris granted a motion to substitute It's Our Wild Nature as the proper defendant for Klifton R. Altis Trust because the nonprofit purchased the 37.1-acre tract from the trust in July.
Harris also gave the group 60 days to conduct discovery, which It's Our Wild Nature Chairwoman Sutu Forté said is a success for the group.
"It allows us more time to substantiate our case that this trail is unnecessary," Forté said.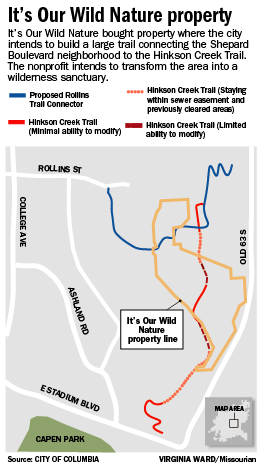 The proposed trail will cost an estimated $2.8 million, excluding the cost of procuring easements.
Forté acknowledged she and members of her organization are "not fans" of the planned trail because of the destruction that would come with building it, and because there's already a trail in place that accomplishes the city's goal.
She said the group's decision to buy the Altis Trust property wasn't driven by a desire to block the trail. Rather, it fulfilled a longtime goal of the nonprofit to create an "everlasting wilderness sanctuary" where nature would be untouched, she said.
The group bought the entire Altis tract, which is densely forested and lies west of Old 63 and north of Stadium Boulevard. The purchase happened in July after a "benevolent angel" in June donated money to It's Our Wild Nature, Forté said.
"We can't create a wilderness sanctuary with so many trees cut down and cement poured," Forté said.
The city said in its initial court petition, filed July 10, that it was unable to negotiate an appropriate purchase price with Altis Trust representatives for the land it needed to build the trail. That precipitated the condemnation proceeding.
The city also said that the trail has been approved by the council and that the city needs the land to provide the trail for "public use, benefit and convenience and as a public necessity."
Forté said that the city has not tried to negotiate with It's Our Wild Nature but that the group would now be unwilling to yield the land for the trail.
Deputy City Counselor John McManus said in court Monday that the city wants to accelerate the condemnation process. He had asked that the court allow just 30 days for discovery.
"Our real interest here is having the hearing as early as possible," McManus said during the hearing.
McManus' office referred questions to Community Relations Director Steven Sapp, who did not respond Monday to comment.