Kathleen Thompson used to walk across the Grindstone bridge every day, often grasping grocery bags and sometimes making the trip with her young kids in tow. Without a car, it was the only option to get food for her family.
It took Thompson, who lives in the Woodstock Mobile Home Park east of the bridge, 15 minutes to walk to the nearest PetroMart. It was another 30 if she wanted to reach the closest Walmart or bus stop.
But when Grindstone bridge over U.S. 63 closed Monday morning, it rendered her on-foot trips nearly impossible.
"Now we can't go to PetroMart unless we want to play Frogger on the interstate," she said.
Thompson, a mother and student, moved to the mobile home park in April. The 186-home community off East New Haven Road — what Grindstone becomes at the bridge — is full of families like hers.
For the next two months, residents who relied on crossing the bridge to reach the string of shops along Grindstone Parkway, as well as the nearest bus stop, will have to reroute their travels. Drivers who routinely take the bridge will have to take detours using either Discovery Parkway or Stadium Boulevard, causing longer commutes. And for those without a car, like Thompson, errands will not only be more time-consuming but also physically demanding.
The bridge is one of seven stretching over U.S. 63 in Boone and Callaway counties that will undergo rehabilitation this year by the Missouri Department of Transportation. MoDOT called the 60-day construction project preventive maintenance, which will extend the life of the bridge.
Melissa Wilbers, transportation project manager for MoDOT, said the bridge is closed to pedestrians and bicyclists as well as drivers.
"I think about how many people this affects because if it were just me, it wouldn't be a big deal, but there are people now who can't get to a grocery store," Thompson said. "They can't get food, and they can't walk to get anywhere they need to go because it's just so much farther."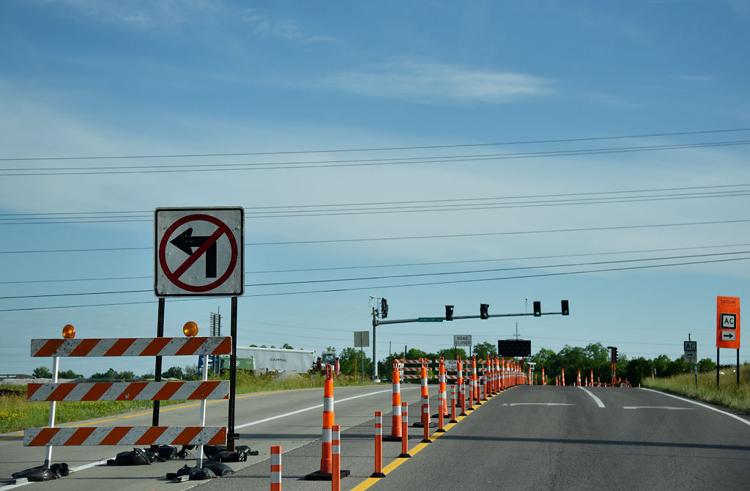 Closing the bridge might have had a different impact a year and a half ago, back when a bus stop on the city's pink route was a half-mile west of the mobile home park, just before the bridge.
Because of low ridership, the pink route became a pilot flex route in November 2017, where riders could call for service. Six months later, it was cut from the GoCOMO public transit system for low ridership. Now, the closest bus stop for Woodstock mobile home residents is over two miles away, at Green Meadows and Gray Oak roads, tucked behind the Grindstone Parkway Walmart.
Before the bridge closure, the bus stop was 45 minutes away by foot, 15 minutes by bike. But now, walking or cycling is a five-mile haul.
"It totally displaces people," Thompson said of the bus routes. "The bus services alone are impacting people horrifically."
When Thompson and her two children walked to Stephens Lake Park this week, the 2½-hour, four-mile trip was closer than it would've been to catch a bus.
The cost of getting around
Thompson said she's concerned about the hazards the longer walk times and inconsistent sidewalk access will pose to residents who don't have cars.
"We have students here, we have elderly here, we have a high percentage of disabled population here, people don't have the means to call a cab," Thompson said. "And if they call a cab, how much less are they going to eat that month?"
Based on Uber's website, to reach the bus stop would cost Woodstock residents between $13 and $14 for a one-way trip. That doesn't take into account traffic delays,which would increase the cost by 25 cents per minute.
Now, the Break Time convenience store on East Stadium Boulevard is the closest food source to the mobile home park. Two miles away via Lemone Industrial and Maguire boulevards, it would take about 40 minutes to walk for an able-bodied adult, 15 minutes to bike or cost $8 for a one-way Uber.
For residents who do have cars, the bridge closure causes financial strain in a different way.
Lorena Espinoza has lived with her children in Woodstock Mobile Home Park for the past five years. She drives every morning to drop off her 6-month-old daughter with a babysitter and her 3-year-old son at day care before turning around to work at the mobile home park office.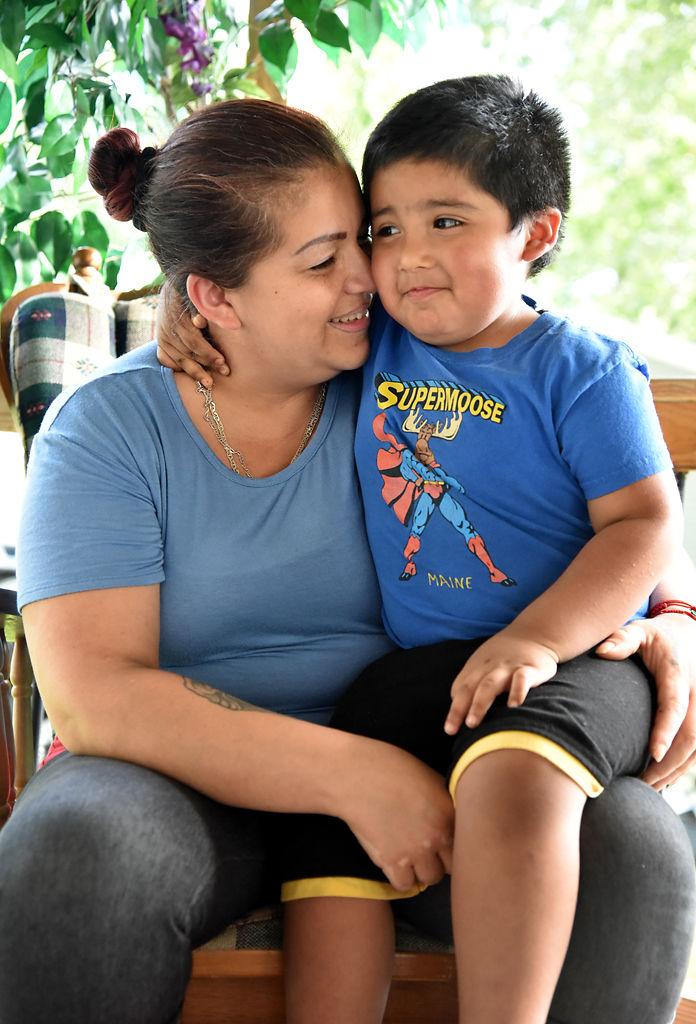 Her commute used to take 30 minutes, but the bridge closure caused it to double. Although Espinoza said the new route takes more time and gas, she's more concerned about the toll the extra hour will take on child care costs. Over the next two months, she will have to pay her babysitter an additional $120.
"That's a lot, plus gas — we have to use more going around," Espinoza said. "That's going to be everybody's complaint: gas and money and time."
Before the bridge closed, Espinoza and her older children went to the PetroMart almost daily to pick up milk and other groceries. Now, they'll have to take U.S. 63 north to the Stadium exit in order to turn back onto southbound 63 just to get there.
In addition to time and finances, Espinoza said she is also worried about her teenage daughter, who has just begun driving.
"I'm afraid of that," Espinoza said. "She's been driving four months by herself, so that's kind of dangerous for her, especially with the traffic."
The 'obstacle course' of safety
Espinoza said many of the kids in the mobile home park like to bike across the bridge to get to the PetroMart.
Juan Rios, 13, is among the teens who often crossed the bridge. Now he stays east of the bridge, his neon-green and black bike zigzagging through the mobile home park streets and around the parking lot of New Haven Elementary School.
Juan said he and his friends would cycle over to the PetroMart or Walmart twice a week for a soda or Gatorade. He isn't frustrated with the temporary bridge closure because the reroute to Break Time only takes an extra five minutes.
"We know we can't go over it," Juan said. "It would be like an obstacle course."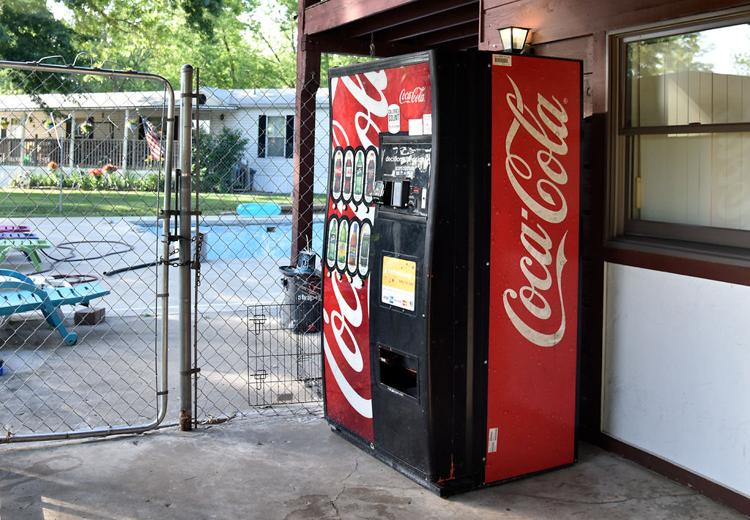 Grashus Ellis, who lives in the mobile home park with her two daughters, faces a different obstacle course while driving: the orange traffic cones that snake along the U.S. 63 ramps. She finds them misleading and said that on the first day the bridge was closed, she saw a car that had been run into the median, its front bumper dislodged.
"The cones confuse you because it's cutting that lane off. There's no little markers for it to be shown," Ellis said.
This is the first time any construction has affected travel from her home since Ellis moved to the mobile home park in 2009, she said.
"I use it (the bridge) in every way; to go to Walmart, to go to McDonald's, to go to my bank," she said. "It's the main way out, and now I have to go on the highway."
But for those on foot, the highway detour isn't a safe option. To get groceries, they'll have to wrestle between finding a ride, making the 40-minute trek to Break Time or walking the five miles to Walmart.
"There's really no way to get groceries, unless some poor soul would like to take me ," Thompson said. "I can't do it for myself and walk anymore, and that's an inconvenience. It increases the number of walks, and that takes away time with my kids."