For thousands of years, clothing was made only from plants and animals — cotton, fur, linen, wool, silk, leather, even grass and pineapple leaves.
That changed in the 1930s when DuPont invented nylon. It was durable and inexpensive, and it revolutionized the apparel industry.
But it also evolved into today's disposable clothing mentality where fast fashion is worn, tossed and quickly replaced.
The Missouri Historic Costume and Textile Collection at MU has something to say about that.
Two textile curators have put together a series of exhibits that take a loving look at the age-old practice of using natural elements to produce environmentally friendly clothing.
The series was designed to illustrate the enduring qualities of natural fibers and serve as a healthy contrast to the perils of our throwaway culture.
On display since late September in Gwynn Hall are shirts, dresses, pants, shoes and accessories, all made from plants, in an exhibit called "Flora and Fashion." The exhibit continues through February from 8 a.m. to 6 p.m. weekdays.
It is the second in a three-year display of clothing that highlights textile fibers and dyes. Last year visitors could see "Endangered: Fauna and Fashion," an exhibit with items made from fur, feathers, leather and other animal fibers.
The final installment, "Earth to Body," opens next September to showcase the use of minerals in manufacturing apparel.
On Friday night at the Museum of Art and Archaeology, a "fashion experience" will be held as a fundraiser for the Costume and Textile Collection with exhibits, music and a silent auction.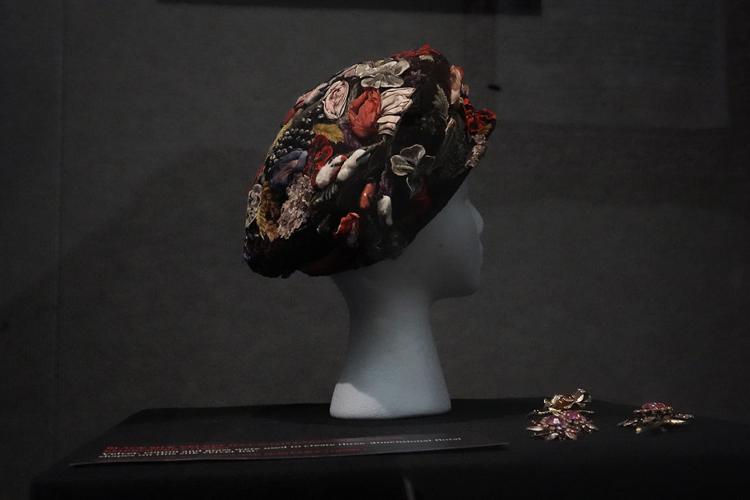 Clothing from plants
"Flora and Fashion" displays Western and non-Western dress items from the Costume and Textile Collection, the Museum of Anthropology, the Museum of Art and Archaeology and the Victoria and Albert Museum in London.  The online exhibit itself shows at least 180 items.
The clothing is made from leaves, bark or bast fibers like jute, cork and bamboo, and seed fibers like cotton. Other materials in the display include paper, wood, rubber, amber, grass, husks and nuts.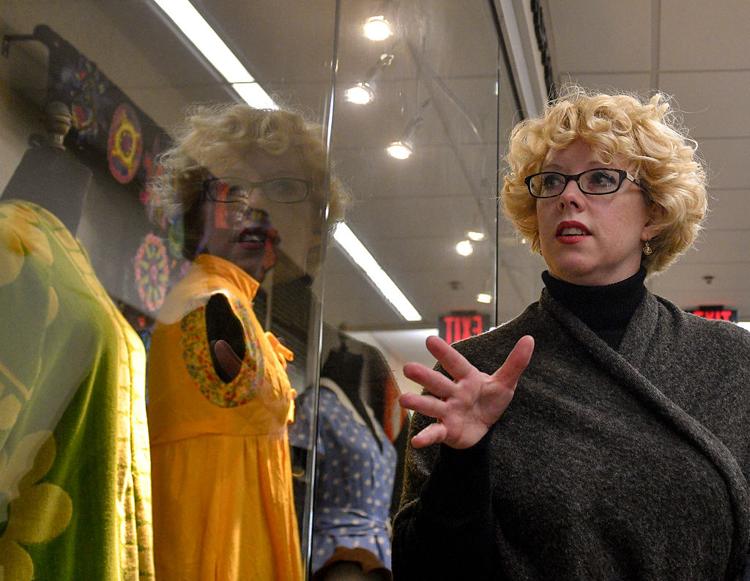 A gorgeous yellow translucent shirt made from pineapple in the display shows the possibilities of using leaves, for example. A vibrant yellow dress of cotton in the seed section has its origins in the 1960s.
A pair of sandals made from jute and cotton originated in South America in 1975. The exhibit even displays a dress called "Yellow Pages," made entirely out of paper from the late 1960s.
Many of the items are much older — handwoven cotton trousers from the 1840s, a cotton christening gown from the 1850s and a patchwork shirt from a Seminole Indian tribe, circa 1920.
"I had to do a lot of research on the more unusual textiles," said Nicole Johnston, an MU professor who researched and curated the museum. "It was eye-opening for me to see how resourceful some of the items this exhibit displays are, versus how damaging the pieces that we wear more normally are."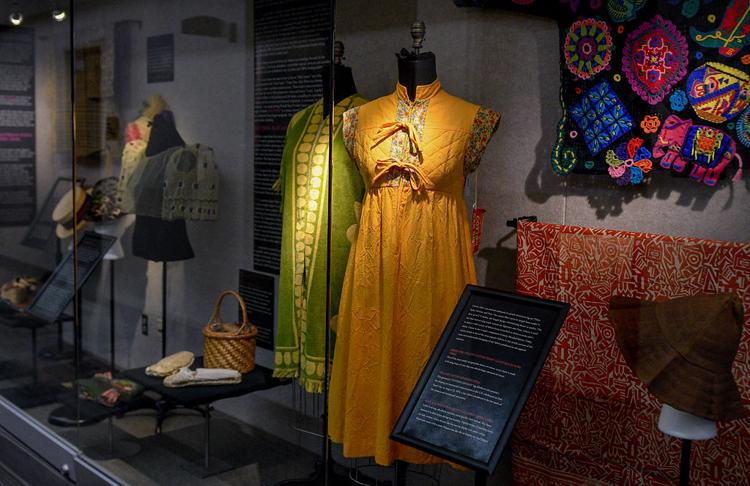 Fast fashion
Americans throw away more than 68 pounds of clothing and textiles per person per year, representing 4% of municipal solid waste, according to the EPA Office of Land and Emergency Management.
This is the reality of today's clothing industry, which relies on the quick fashion turnover popularized by brands like Forever 21, H&M and Zara.
By introducing new products to consumers every few weeks at very low prices, international clothing companies are able to stimulate impulse purchases and generate a high volume of sales.
The average consumer bought 60% more items in 2014 than in 2000 and kept each garment for half as long, according to the World Resources Institute.
Most of the 150 billion pieces of apparel produced every year are made of synthetic materials or a combination of synthetic and natural fibers. Synthetic materials, even when mixed with natural fibers, are not biodegradable.
Every time a consumer throws away a piece of cheaply produced clothing, a non-disposable item goes back into the environment. The World Resources Institute found that one garbage truck of clothes is either burned or stuffed into a landfill every second.
According to Johnston and co-curator Jean Parsons, the fast-fashion industry is worth $2.4 trillion globally and is "considered to be the second most polluting industry after oil."
"In the past few decades, we've shifted into an era of fast fashion," said Parsons, MU professor of textile and apparel management.
"But the raw materials and labor that go into clothing should cost a lot more than what people are paying for it."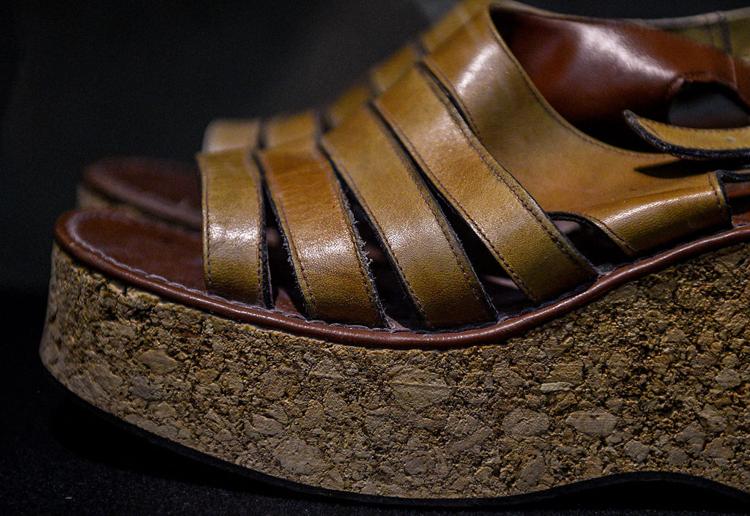 The environmental damage starts with all the energy and waste needed to produce low-cost synthetic fibers. Made from petrochemicals like oil, coal or natural gas, the fibers are created through a spinning process and then treated, often with heat, to improve their performance.
"The manufacture of polyester and other synthetic fabrics is an energy-intensive process requiring large amounts of crude oil and releasing emissions including volatile organic compounds, particulate matter, and acid gasses," according to Waste Couture: Environmental Impact of the Clothing Industry.
Synthetic fabrics can also cause pollution when contaminated water used in the process is returned to the oceans, seas and rivers. This contamination leads to harmful waste that is not only toxic to the environment, but can be harmful to humans.
Alternative shopping
The textile exhibit in Gwynn Hall was proposed as a lesson about the impact of clothing production and consumer buying habits.
Johnston spent at least 18 months of research to put the exhibit together and collected nearly 400 pieces to consider for the three-year series.
"We're trying to introduce people to what the clothing they wear every day is made of, and where their clothing is coming from," Parsons said.
Johnston said she hopes people will become more aware of the type of materials used in everyday clothing and the impact it has on the environment. She would be happy if the outcome was persuading consumers to make smarter choices.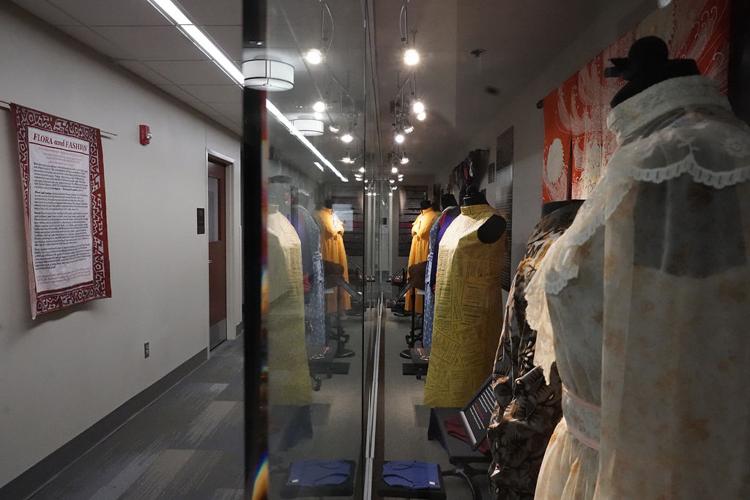 "It's really about training ourselves," she said. "I would love to see us educate children at a young age, particularly in middle and high school, on reusing and repurposing and recognizing quality over quantity."
There are ways to make wiser selections and stick to a budget, Johnston said. Try thrift shopping, for example. Recycle clothing from garage sales, or donate items to consignment outlets. Or buy a few pieces of pricier clothing every once in a while that will last longer.
"Alternative materials are fairly pricey because it's not a standard material that the industry utilizes," Johnston said. "But if there's a demand for those alternative materials, it will hopefully lead to lower prices."
Even though there are alternatives to synthetic clothing, it can be challenging for many people to afford more sustainable brands.
"Frankly, we have done it to ourselves," Johnston said. "We have created a system where we want it new and we want it now, and the quality is having a hard time keeping up with the demand."