For Chuck Crews, creating a space where people with disabilities can socialize and find employment has been a huge goal.
"I've been coaching Special Olympics for 20 years, and I've met many individuals who have lots of skills," he said. "I had been spending some time trying to do something to help employment, and it seemed to be a coffee shop."
The idea inspired Crews to create Love Coffee, a coffee shop that will open soon and is dedicated to helping people with physical and mental disabilities find employment and socialize with their peer group.
Love Coffee, to be located at 15 Business Loop 70 E., is a new project from Columbia's Love INC, a nonprofit organization dedicated to raising awareness about caring for those in the community who are disadvantaged. Love INC also owns The Love Seat, a furniture bank located next to Love Coffee, that helps provide furniture for families in need.
The idea for Love Coffee came from a variety of places. One was Bitty & Beau's Coffee, a North Carolina coffee shop created to help build acceptance for people with physical and mental disabilities. According to its website, founders Amy and Ben Wright want to make the world a better place for their children, two of whom have Down syndrome, and others who have disabilities. The North Carolina location opened in 2016, with three more spots having opened since in different states.
Crews was also inspired by fellow Love INC board member Rebecca Llorens' son.
"One of our board members has a 28-year-old son who is on the autism spectrum," he said. "One of the things she mentions is that, in addition to employment issues, there are not a lot of opportunities for him to get out and socialize in the broader community, though he is able to socialize with his peer group."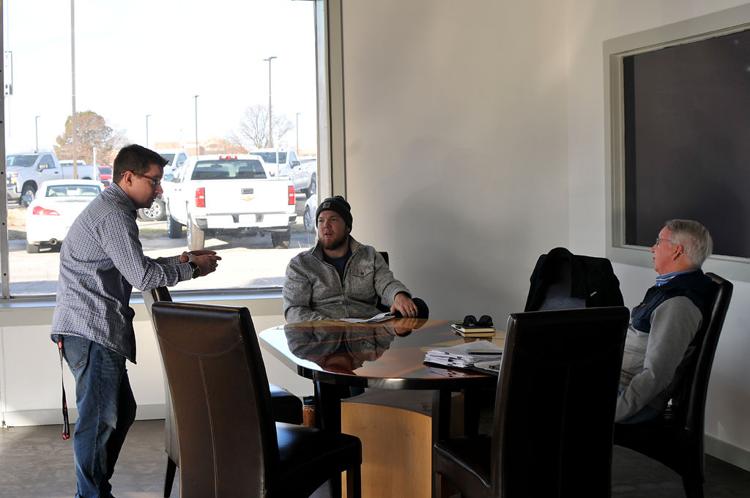 Micah Baker, Love Coffee food service manager, hopes the shop will be able to provide job skills training for people who have barriers to employment, including money counting, baking, cooking, customer service and espresso and coffee making.
Having been a pastry chef for 18 years, Baker has created a menu he hopes will satisfy Columbia's cravings.
"We'll have a full pastry case, with everything being made from scratch daily," he said. "We'll have cinnamon rolls, fresh fruit stuffed scones, cookies, pecan sticky rolls, different sweet breads and probably a special dessert each day."
He said the shop plans on having a small breakfast and lunch menu, including little breakfast sandwiches made out of scones, called "sconewiches," yogurt parfaits, fresh crepes and other options. Soups, salads and sandwiches will be served for lunch.
"We hope to provide artisan quality food and coffee to the Business Loop in Columbia," Baker said.
Part of the cafe will include furniture and other items being sold by the Love Seat: couches, tables and chairs.
"You can come in, drink a cup of coffee, shop and choose furniture," cafe manager David Wilson said.
"So if you're sitting there while having a meeting and like a couch with a price tag on it, you can take it with you."
Planned events will help bring the community together and create a fun space for everyone.
"We're thinking about possibly having a karaoke night, or maybe a class on baking or cooking skills on other nights," Baker said.
Love Coffee expects a soft opening by invitation the first week of February. After that, employees said the shop should be fully open in a month or two.
"Because we're training people with disabilities, it could be a slower process to train than it is in the average store," Wilson said. "That is why we're giving ourselves some time to open to the public."
Love Coffee has been supported by the help of businesses and members of the community, including QuesTec, Socket, the Tom Bradley Show, Cumulus Radio Group, Air & Water Solutions and many more, the three said.
"We still get requests for volunteers all the time," Wilson said. "They don't want to get paid. They just want to come volunteer."
Crews said he wants Love Coffee to bring people together and give them an opportunity to get to know people they wouldn't otherwise get to know.
"Hopefully, it will be a wonderful meeting place for all of Columbia and, in the process of doing that, we'll get folks that have issues with finding employment and training," Crews said. "It's an opportunity to open the door for people through skills they have learned here."
Supervising editor is Fred Anklam Jr.