The evening of June 1, two protesters were struck by cars in separate instances while demonstrating against police brutality at the intersection of Providence Road and Broadway. One of the instances was captured on video and has been viewed over 300,000 times on Twitter. Both were witnessed by around 40 individuals also protesting against the death of George Floyd at the hands of a Minneapolis police officer.
Since that day, more than two weeks ago, the Missourian repeatedly asked the Columbia Police Department for more information about the two drivers involved in the very public incidents. A week after the two women were hit, local organization Race Matters, Friends sent a letter to the Police Department and city of Columbia officials asking them to "swiftly identify, charge and prosecute any person or persons who use(s) a vehicle to intimidate or injure protestors and to be completely transparent to the public about their response."
Behonsay Williams was one of the people hit by a car that evening and sustained a leg injury. She said the police did not reach out to her about the incident until nearly five days after. They have provided both her and her attorney with little information about the driver, a minor, who hit her, and whether he will go to trial. The driver in the other incident has not been identified.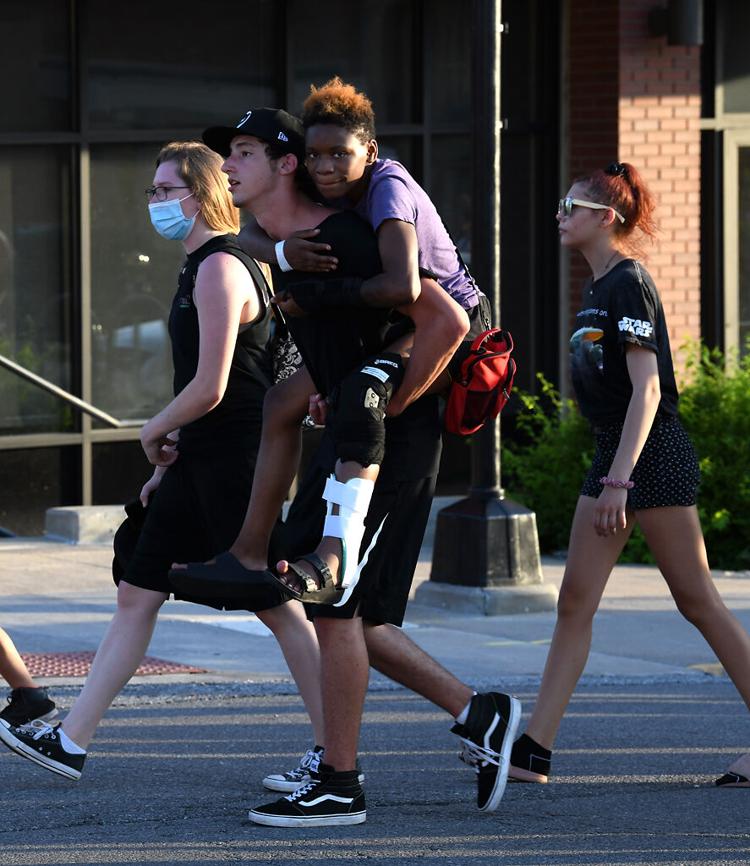 "I feel like the cops aren't doing their job; they're trying to just push it under a rug," she said. "I deserve justice."
Since June 1, the Police Department has sent only one brief news release about the incident, despite the public's demand for more information. The release only detailed what time the hit-and-runs occurred, the ages of the women who were hit, the status of their injuries and that "there are no additional details to provide." However, they have sent news releases about incidents such as accidents or burglaries, often containing much more information than was provided about the incidents involving the protesters.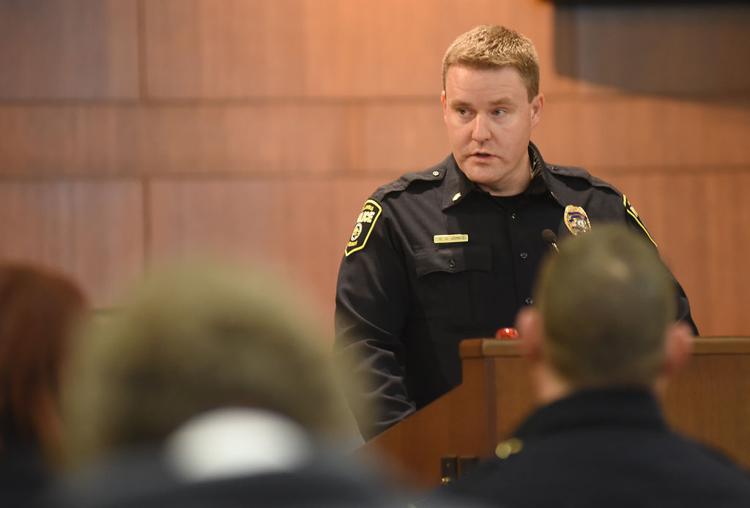 Police Chief Geoff Jones has repeatedly ignored the Missourian's requests for comment. KOMU 8 had to submit an official records request to receive copies of the police incident reports.
The police reports from the night of June 1 were minimal. Both reports about the hit-and-runs that evening were one sentence each. The reports contained no additional information: no officer observations and no interview details from witnesses. The reports did not even contain license plate information about either of the drivers, despite the fact that multiple protesters observed a partial plate number of one of the cars, and the Missourian's photographer on scene was able to capture a partial photo of one of the car's plates.
Jean Maneke, owner of the Maneke Law Group in Kansas City and an attorney for the Missouri Press Association, said partial or minimal police incident reports could have legal implications under the state's Sunshine Law.
While there has not been a specific case in Missouri that would set a precedent for this, Maneke said it is clear under the law an incident report should include more than just basic details.
"I think a bare report that just has date, time, place and the name of the victim, that's not enough," she said.

This is just one of many examples of how the Columbia Police Department is selective about how and when it shares information with the public and disregards citizens' right to information about public incidents. The Police Department consistently makes it difficult to access information that should be public record. This is not an isolated incident; it is just the most recent example of a years-long problem exhibited by a department that flouts transparency.
The Police Department has evaded transparency under the administration of Mayor Brian Treece, who has made "open and transparent" government a benchmark for his time in office.
"We don't make arrests based on public opinion or public pressure," Treece said in an interview with the Missourian.
Treece praised the Police Department for finding one of the men involved in the June 1 hit-and-runs but recognized all city departments can improve in terms of transparency.
"That process is never over," Treece said.
June 1 is not the only recent instance in which the Police Department has remained quiet on matters of public interest. On June 3, a man in a red pickup truck with "Trump!!" painted on the back drove into a crowd of protesters gathering and was arrested on the spot. The Missourian was only able to learn that the man would be charged with resisting arrest and imprudent driving because a reporter was on the scene. Subsequent attempts to learn more information from police were unsuccessful.
On June 8, multiple eyewitnesses have reported a Black Lives Matter protest scheduled to take place that evening was delayed after a black man, who appeared to be on edge, threatened to harm himself and had both a machete and knife in his hands. Eventually, around a dozen white police officers arrived, surrounded the man and pointed weapons at him. According to eyewitnesses, three fellow protesters were eventually able to calm the man down, and he was taken into custody.
The Police Department has not sent out a single news release about this incident described by onlookers as police escalation, and Jones again ignored Missourian requests for comment. The only information has come from multiple eyewitnesses who were on scene at the time. At 6:14 p.m. Monday, the Police Department posted on its Facebook page a community video of how the department handled the incident. The video notes that non-lethal weapons were pointed at the man and discusses how officers used de-escalation practices to address the situation. There is no reference to the role of bystanders in calming the man. At a time when the country is demanding more police accountability, Columbia's own department remains mostly silent on details of a situation observers on the scene that night say its employees potentially escalated.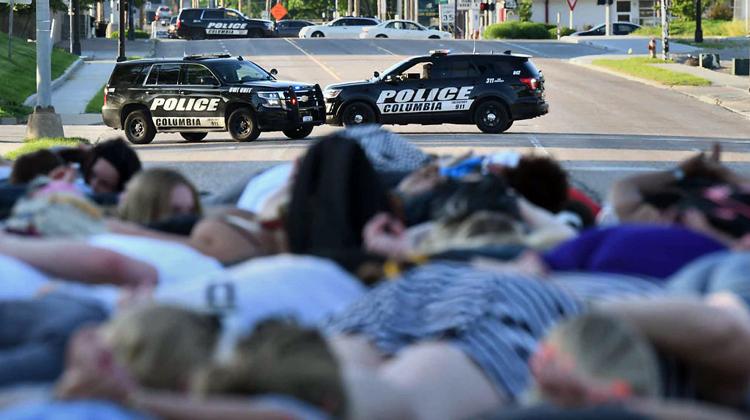 Traci Wilson-Kleekamp with Race Matters, Friends said there is no reason to have faith in the Police Department if it can't be transparent with the public.
"If you're a good leader, no one has to tell you to be transparent," she said.
While the recent protests in Columbia have highlighted the Police Department's lack of transparency, it is a problem that has been on display for months.
In December, the Police Department announced it was implementing measures that would make it more difficult to receive information related to public safety. On Dec. 20, Columbia spokesperson Steven Sapp emailed news outlets they would no longer be able to access probable cause statements related to arrests directly from the Police Department.
Probable cause statements provide important information regarding the arrest of an individual and are used by the press to report on crime. As of December, the Police Department no longer provides detailed information regarding an arrest besides the initial incident report, which often includes scarce information. News organizations must now obtain probable cause statements directly from the court of record, which only make them public after charges have formally been filed. Often, this can be days or weeks after the initial arrest has occurred, delaying when news organizations can provide information to the public.
"They may not be as accessible, but they're still available," Treece said when asked about the new probable cause statement procedure.
Probable cause statements are especially important when a police department, like Columbia's, resists turning over public information. The Columbia Police Department's public information officer, Jeff Pitts, has told the Missourian to not call him with information requests. Instead, he wants questions to be emailed. However, Pitts either ignores email requests, responds hours or days later or directs the Missourian to a police news release, despite the fact that release contains little substantial information.
If the Missourian finds the name of someone who has been arrested from the Boone County Sheriff's Department's online 0700 report, reporters monitor Casenet, the online database of the Missouri court system, to see if a particular name enters the system. This can take up to several days with no help or guiding information from police.
The process is further delayed, as reporters must physically go to the Boone County Courthouse for probable cause statements. However, probable cause statements themselves are often extremely unhelpful. They are a police officer's report of the events of an arrest, and so, they contain as many or as few details as the officer would like to include. Large portions of the statements at times are redacted, meaning those who wish to know more about an arrest must piece together the non-redacted information. They often do not answer reasonable questions the public might have.
Providing minimal information about arrests and public incidents only serves to decrease the public's trust in law enforcement, Maneke said.
"We're in a period of time where trust in law enforcement is not high," she said. "Any time law enforcement declines to provide information or skimps on the information they do provide, it leads the public to wonder if there is something they're hiding."