Madelyn Hughes-Payne vividly remembers walking up the hill to Dalton Vocational School, laughing with her friends, playing basketball on the dirt court and learning from teachers she had grown quite fond of.
The Dalton School served as a beacon at the top of a hill northwest of its namesake town in Chariton County from the early 1900s to the mid-1950s.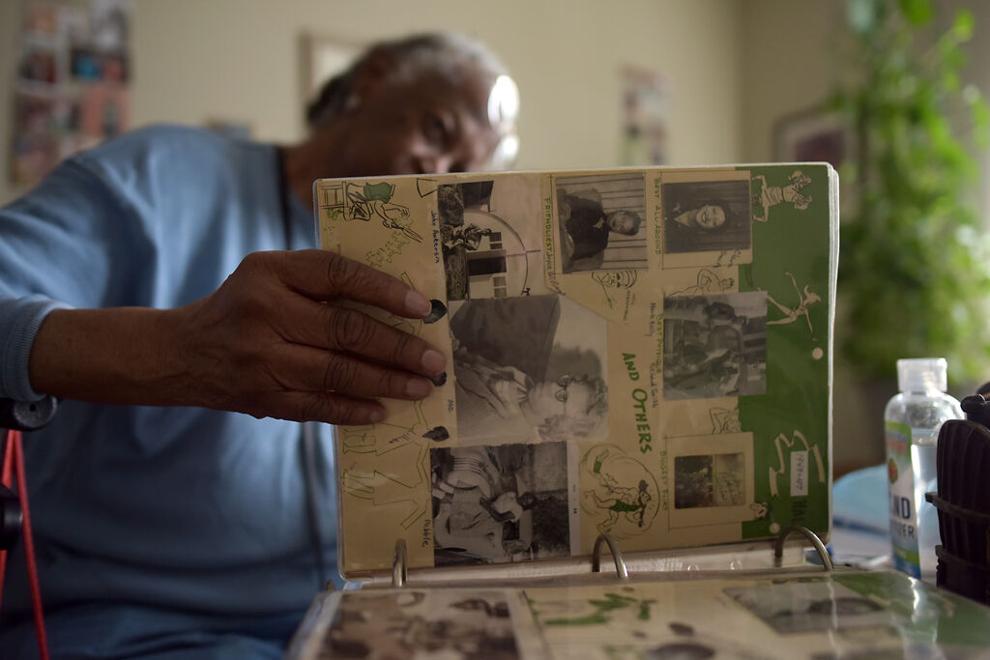 Nathaniel C. Bruce founded the school, which he dubbed the "Tuskegee of the Midwest," according to the U.S. Department of the Interior's National Historic Register. Bruce had a passion for education and dedicated most of his life to it. For decades, the Dalton School was the only choice for African Americans from five counties to attend.
Bruce shared Booker T. Washington's philosophy of African American education. Instead of protesting against discrimination, he believed Black people had to strive for recognition and the rights of citizenship by elevating themselves through industrial education, hard work and the accumulation of property, the historic register says.
The Dalton School has many connections to Columbia. Several existing and former Columbia residents attended the school. MU owned it for a time, and esteemed Columbia educator Eliot Battle was its last principal.
Back in February, members of the Chariton County Historical Society and others gathered in the Dalton Cemetery where Bruce is buried to commemorate the man and the legacy of the school he established. Society President Wendy Littrell recounted Bruce's life in a keynote speech, and the group erected a sign in Bruce's honor.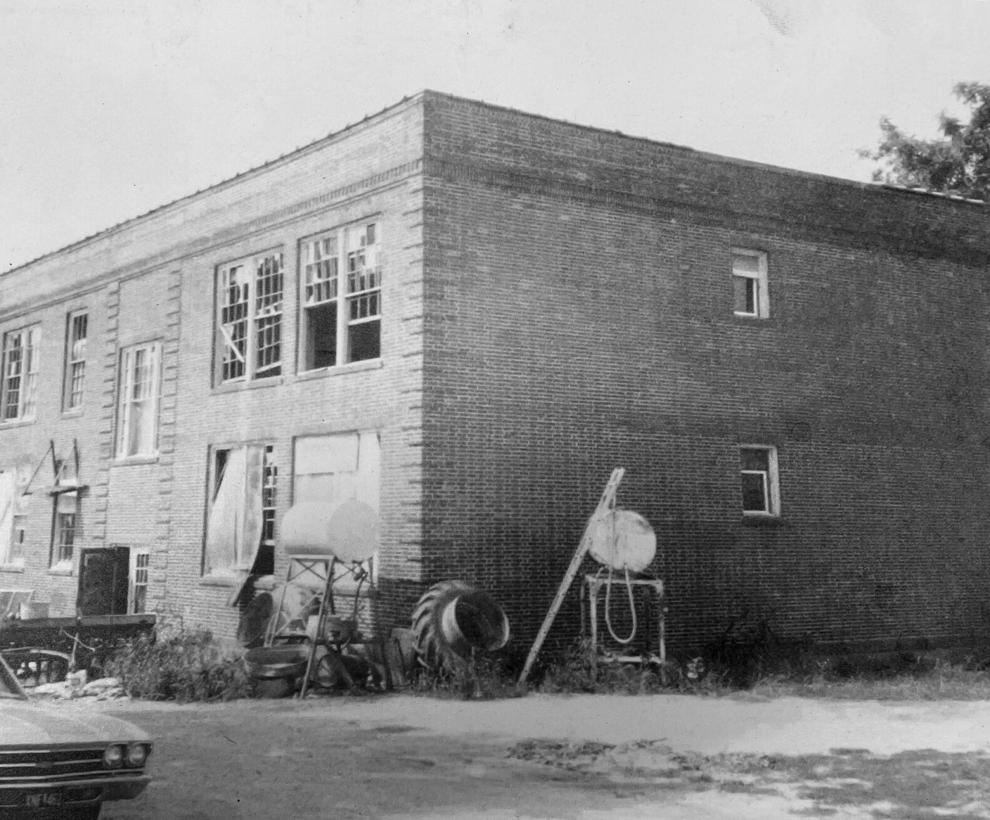 Sam Wilson, whose family owned a grocery store near the Dalton School, said it played a crucial role in African American education. Had it not been established, he said, "many of the people that were up in smaller towns wouldn't have had an option for a high school education."
A controversial figure
Born in Virginia, Bruce earned a bachelor of arts degree from Shaw University in Raleigh, North Carolina, according to a document provided by the Chariton County Historical Society and Museum. He went on to study at Harvard, the Hampton Institute in Virginia and Washington's Tuskegee Institute in Alabama. He also earned a bachelor's degree from Bates College in Maine and began his career in education as the principal of an African American high school in St. Joseph in 1902.
In 1907, the Dalton Vocational School consisted of a log barn on 8 acres owned by John Ewing, a formerly enslaved person.
After a flood occurred around 1909, Bruce, along with generous benefactors including Herschel Bartlett, moved the school to higher ground. The first permanent building, the Busch Building, was built after Bruce purchased 12 acres. In 1911, the school was reorganized under a board of trustees.
The school was originally called the Bartlett Agricultural and Industrial School, until the name changed to the Dalton Vocational School in 1924. As the years went on, it began to expand and eventually resemble what looked like a small college campus.
The teachers' salaries and operating expenses were paid by private donations and money earned from crops and livestock raised at the school. In 1913, Bruce was encouraged to enter a statewide contest and won first place with a yield of 114 bushels of corn per acre. Bruce and the Bartlett school again won a prize for best Missouri corn in 1915 and second place at that year's San Francisco Exposition. That distinction earned the school a $3,000 prize.
"Place Missouri Black boys on Missouri Black land behind the world-famed Missouri mule," Bruce said at the time, "and nothing can beat the combination for raising corn and other crops," according to the historic register.
In 1918, Bruce sought the position of president at the Lincoln Institute. Bruce hoped that he would be able to reorganize Lincoln, an African American vocational and industrial college that he thought could provide resources to the Dalton School. Instead, Clement Richardson became Lincoln's president and focused on expanding industrial training. The Dalton School did eventually win financial support from the state.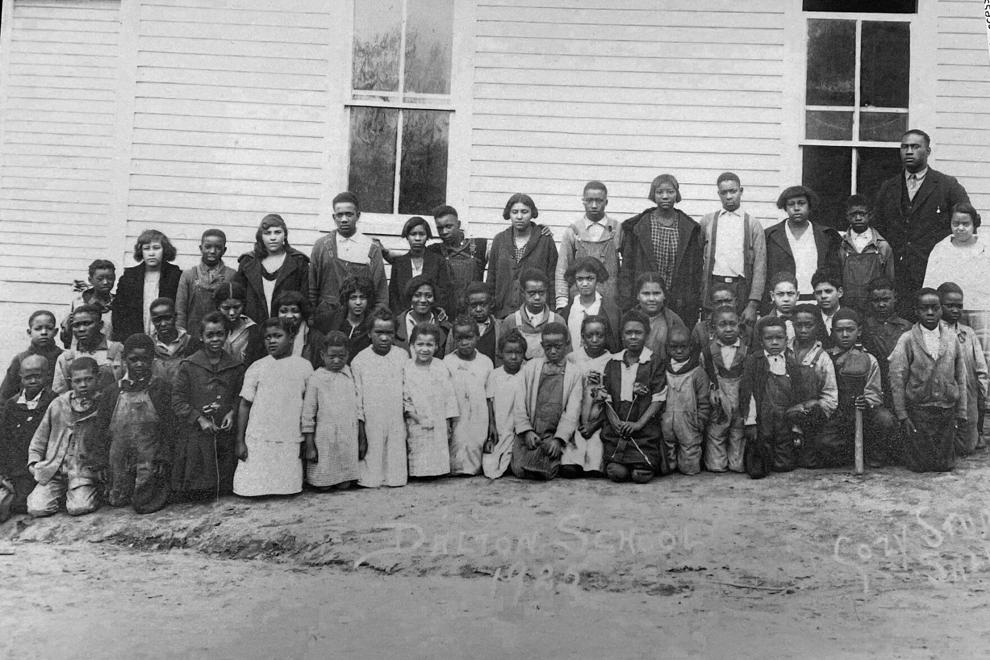 Other African American leaders of the time, including W.E.B. Du Bois, had an opposing philosophy to Bruce's and Washington's on vocational training. Du Bois, who made a key contribution to the evolution of African American protest, thought the most effective way to open the doors for African Americans to gain opportunities was by adopting tactics of militant protest and agitation and to strive for higher academic learning.
In 1924, Roy Wilkins, a columnist for the Kansas City Call, wrote about his opposition to Bruce's views on vocational training and attacked Bruce for his "narrow mindedness." That was the same year that the MU College of Agriculture acquired the school.
Bruce at the time had left the Dalton School to become state inspector for Missouri Colored Public Schools and was traveling the state to campaign for his program of vocational schools. Bruce resigned from the inspector's position in 1925, but it remains unclear whether Wilkins' editorial contributed to his decision.
Missouri was a border state during the Civil War, and its residents had mixed attitudes about the status of African Americans. In 1870, however, Missouri had more schools for African American children than any of the former slave states.
By 1920, more than 500 students had been enrolled at Dalton School, and by the time it closed in 1956, it occupied 123 acres. Students came to the school from nearly 20 surrounding towns, according to Frances Regina Robinson's "Mystory of Dalton Vocational High School."
Fond memories
Students at the Dalton School studied agriculture, industrial arts and home economics.
William Payne studied industrial arts, traveling from 25 miles away. After graduating in 1952, he left Dalton and served in the Navy for 22 years. In 1986, he married Hughes-Payne, who graduated from the Dalton School in 1953. They live in Columbia now and are 87 and 85, respectively.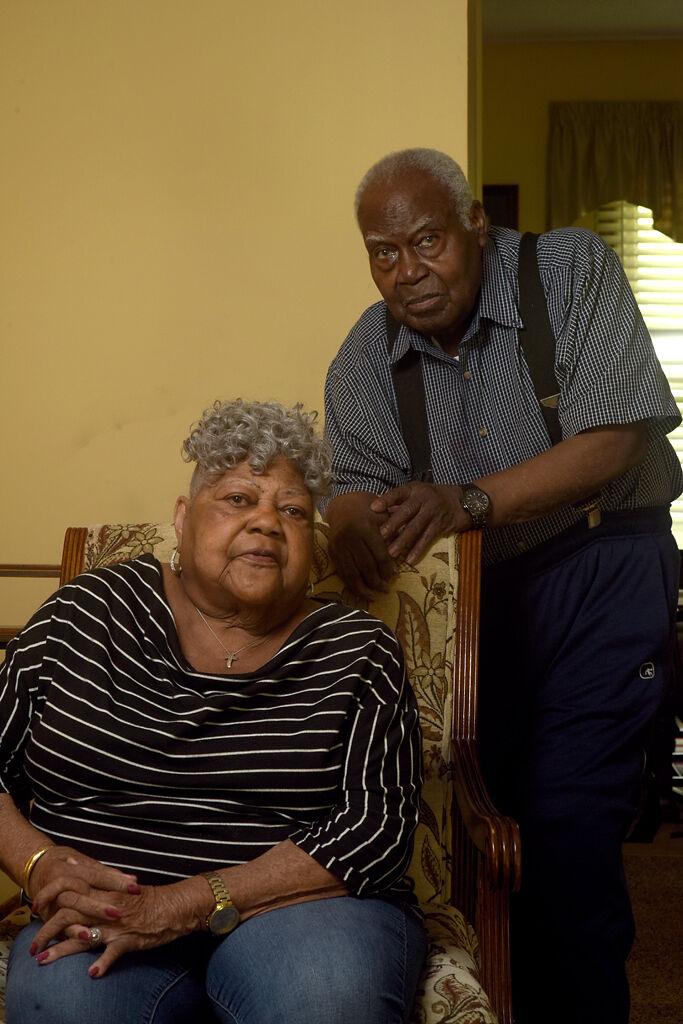 Robinson graduated from the school in 1947 and had studied home economics. Her father, R.S. Robinson, taught at the school. Sitting in her apartment, Robinson, now 92, flipped through a scrapbook and reminisced about some of her best friends she went to school with.
Robinson's scrapbook includes photos of her family and friends during their time at Dalton School and after. She and her friends took part in photo shoots in front of cars and would take group photos before school dances. She also kept invitations to school dances and her past report cards. She said her father gave her the lowest grade she ever received.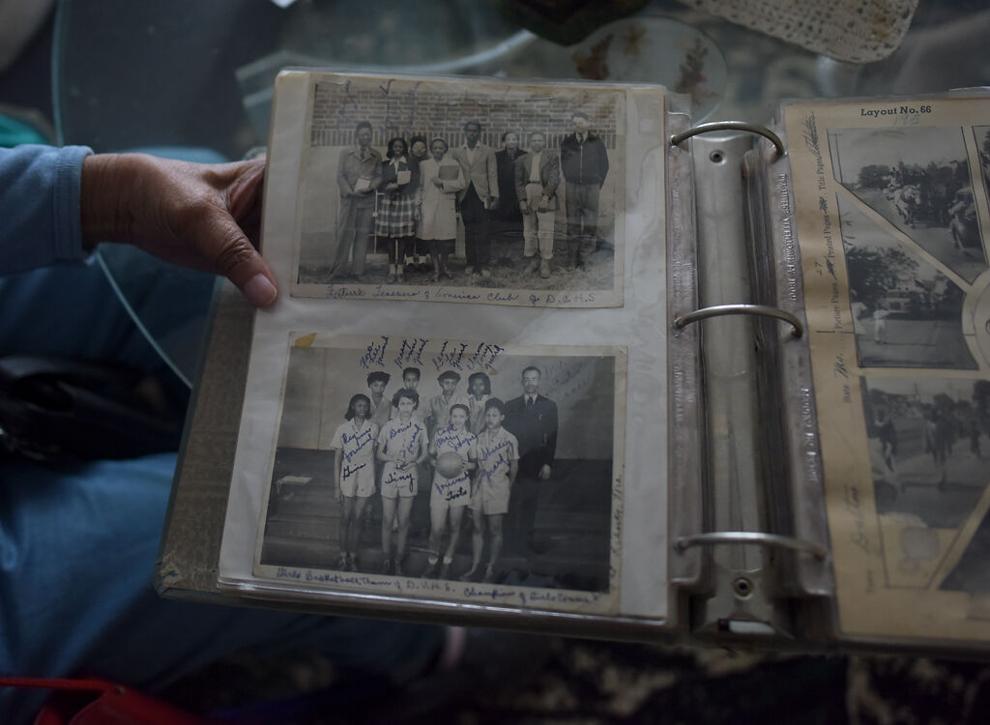 One photo shows Robinson standing by the school bell, which was used to wake up everyone, call men working in the fields in for meals and as an emergency alarm.
"I would say the most distinguished and memorable object on the campus was the bell," Robinson said, describing it as about 18 to 20 inches in diameter and "as high as the trees."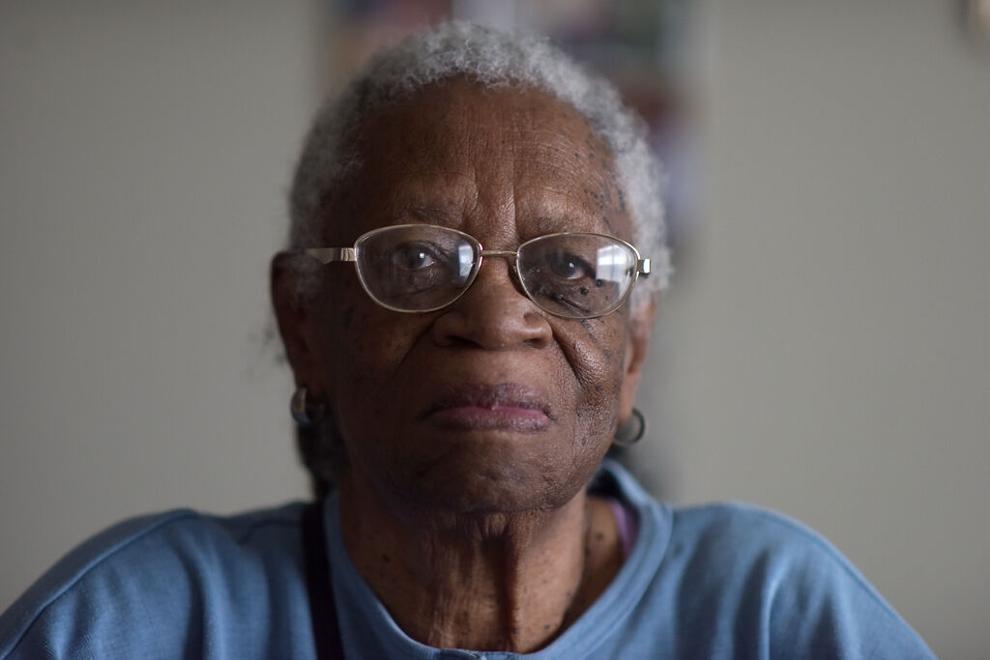 Arlene Hall Kimble lived in Dalton while she attended the school. She graduated in 1952 and later moved to Kansas City. She said while she enjoyed many activities at the school, her favorite was track.
"In the spring of the year we had track," Hall Kimble said. "We had a big field behind the school."
The Dalton School became a point of pride in the community and was a magnet for those from surrounding towns.
"I would say one of my best memories is there were so many children coming from so many different places," Hughes-Payne said.
Desegregation spells school's demise
The 1954 landmark decision by the U.S. Supreme Court in Brown v. Board of Education led to the desegregation of schools and eventually forced the Dalton School to close.
"It was very fast, and it may have been for the best, so everyone could get an equal education," Hughes-Payne said.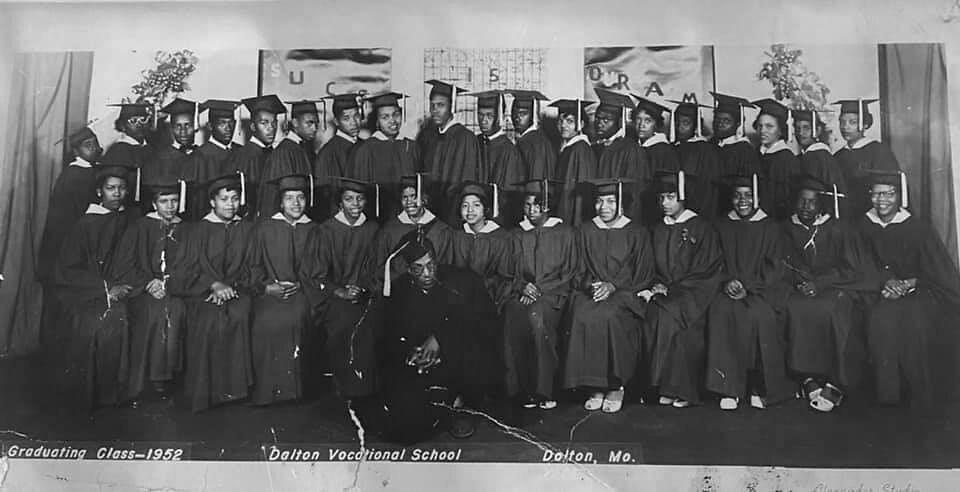 Wilson, however, said the impact of desegregation early on was nuanced. It was a great idea but didn't truly bring about integration. Black students now were attending schools that had no Black teachers or counselors, and they had to assimilate to a new environment.
"We adopted another culture, so to speak, but that culture never really adopted us," Wilson said of African Americans.
Once the school closed, Dalton's population declined. In 2018, a sign at the entrance to town said it had 17 residents. Students who were attending the school when it closed wound up at schools closer to them. The graduates, though, often revisited the town.
"They would always come back to Dalton because there was a commonality of a kinship to the village of Dalton," Wilson said.
Lincoln University had acquired the school from MU in 1929 and owned the property when it closed. After a failed attempt authorized by the General Assembly to transfer the land and buildings to another state agency, Lincoln finally sold the school.
Once the school closed, the university's board of curators recommended that the state sell the property. Lincoln University made its own attempts to sell the property as it sat idle for years. In 1971, Dalton School alumnus Roland L. Hughes and his wife, Rosia, bought the property for $20,000. Later, the property was bought by Jeff Faes.
How to restore history
Time has taken a toll on the abandoned buildings that remain from the Dalton School. The Kansas City Star in a 2007 Star Magazine feature story said that some former students and faculty, including Battle, refrained from visiting the former campus because of its condition.
Wilson moved back to Missouri in 2015 and took an interest in breathing life back into the former campus. He became involved in the effort to establish a non-profit organization that intended to convert it into a museum.
"My objective was to acquire the property and then to renovate it and then work with the University of Missouri, Lincoln University, Tuskegee University and sort of create a living, breathing organism out of it," Wilson said.
The group reached a deal with the current owner, Jeff Faes. Although they won grant money from the Missouri State Historical Society, the deal eventually fell through, and the buildings remain dilapidated and abandoned. Nevertheless, the group remains dedicated to preserving the school's history and chronicling African Americans' contributions to Chariton County.
Wilson said one idea is to collect oral history interviews of those connected to the school that could be shared virtually. Another is to recreate the school by replicating some of the buildings elsewhere so people could learn about the school. Some still aspire to restore the original buildings.
Wilson said the foundation exists to do something to acknowledge the importance of the school.
"I just think that facility deserves more notoriety than just the buildings that have fallen down because of the contribution it made to society and the community," he said.
"It's more than a school," Wilson said. "It's a cultural icon for Chariton Country at that point in time for African American people."
After spending time outside of Dalton — records from the 1940 U.S. Census indicate Bruce was a teacher in Jefferson City at that time — Bruce returned and died June 27, 1942, according to the Chariton County Historical Society. It shared a document that tried to sum up Bruce's contributions in a single sentence.
Bruce, it said, was a "laborer, professor, teacher, principal, inspector, director, son, brother, husband, father, leader, educator, farmer, practical, unselfish, honorable, successful, modest and humble.