Diane Richardson of Main Street Moberly recognizes that to many outsiders, Moberly is just another small town they pass while traveling north or south on U.S. 63. But for a resident of the "Magic City," Moberly is the place to shop, to seek adventure and to settle down with a family.
The town has made it a goal to bridge that gap.
"I think we will see some big changes real soon," Richardson said. "People drive right past us. My goal is to get people to want to stop as they are traveling through."
Moberly is named after Col. William E. Moberly, who was the first president of the Chariton and Randolph Railroad Co. The town, which is about a 40-minute drive from Columbia, dates back 151 years to 1866, when the North Missouri Railroad held a lot sale that established the city at its junction with the Chariton and Randolph track, which it had purchased two years before. By 1880, Moberly's population was approaching 6,100. Today's it's home to just shy of 14,000 people.
Although Moberly's population has been relatively stagnant in recent years, it hopes to strengthen its tourism through a specialist who will try to bolster events, enhance interest in the amenities offered by the town's parks and develop programs to attract both out-of-towners and locals.
Moberly has a parks system that boasts about 40 facilities, including three miles of asphalt trails, 2.5 miles of nature trails, a campground with 24 full hookup sites, two disc golf courses, three lakes for fishing and three indoor venues for rentals, including the Municipal Auditorium.
Lion's Beuth, Fox, Tannehill and Rothwell parks cater to visitors and locals, hosting an annual rodeo, corporate parties, school picnics, bicycling events, movies in the park and more. The Lodge, one of three indoor venues, is rented four to five times per week, with half the summer weekends booked six months out, Parks Director Troy Bock said.
At the 447-acre Rothwell Park, visitors can take a stroll, lace up for a run or ride a bicycle on the paths that wind through rolling hills. Moberly bills the park as "one of the largest municipal parks in the state." It also offers tennis courts, the disc golf courses and a playground for the kids.
Anglers can cast their lines in Waterworks Lake or Rothwell Lake, and the city provides canoes for people to paddle. Folks can also enjoy the swimming pool in summer. On Sundays, kids and their families can ride a train that curves through the park's natural areas.
Park visitors can also get a history lesson by visiting the statue of Omar Bradley, a World War II general and chairman of the Joint Chiefs of Staff under President Harry S. Truman. Bradley commanded more troops than any other general in U.S. history, according to history.com.
360 story by Alex Li and Gabe Dubois
Downtown Moberly is in some ways a page out of history, too. Think of the six-block stretch of Reed Street as the prototypical "Main Street America." Even when the crowd of locals scattered Saturday after the Veterans Day Parade, Reed Street remained lively as people visited antique shops and service businesses.
The post office anchors one end of Reed Street, while a railroad museum and park at the other end — complete with an old Pullman railcar — illustrate the history of the town. In between, visitors can stop by the Moberly Antique Mall, the This & That Shoppe, Bogard's Antiques and Collectibles and other stores that take one back in time.
At the antique mall, a collection of decades-old Kentucky Derby glasses leads to a vintage Marlboro cigarette machine in one secluded room. A second-floor space features a room full of sports memorabilia and old kitchen utensils. A few storefronts away, the workers at the mom-and-pop Dot's Bakery make doughnuts, creative cakes and other goods that prepare customers for a day of shopping and touring the town.
Moberly likes to hold onto its past; a sign on one vacant storefront refers to the structure as the "Old JCPenney Building."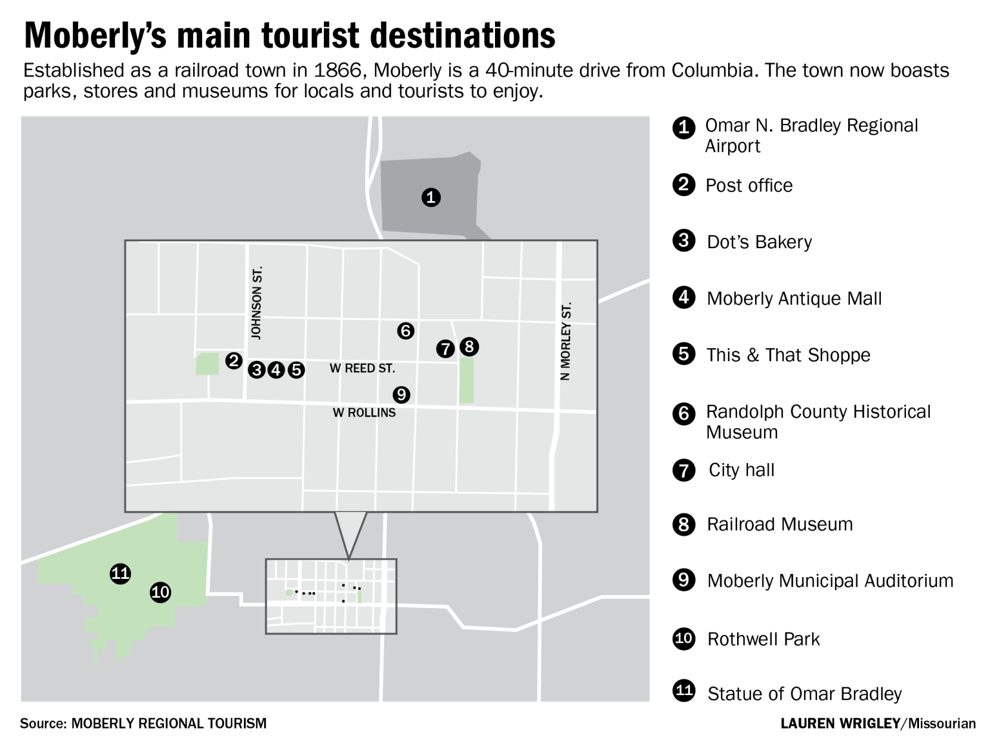 At the 78-year-old Moberly Municipal Auditorium, an art deco structure a block away from Reed Street, the city and other organizations host about two events per week. Remodeled in 2010, the auditorium hosts weddings, job fairs, community meetings, birthdays and other events.
Todd Walker, a maintenance worker for Moberly Parks and Recreation who works at the auditorium, said he'd like to see more events at the once-bustling city center. Big-name musicians such as Tina Turner have performed there.
"The loss of the train stopping here affected the town's growth for many years," Walker said.
Amish shops, the Moberly Five and Drive drive-in theatre, the Randolph County Historical Museum, hunting lodges and other sites around town are featured on the Moberly Regional Tourism website.
Getting the word out
Moberly is eager to share its treasures with the public and boost the number of visitors. It proposes paying for a tourism specialist with revenue from a 4 percent lodging tax paid on rooms in its three hotels and on sites in the one campground within city limits.
The tax generates about $110,000 per year, Moberly City Manager Brian Crane said. Crane estimates that each year $40,000 has been contributed to advertising, and the remaining $60,000 to $70,000 has been allocated to promoting local events and capital projects, such as a new mural of a railcar on a downtown building.
For the past five years, the Moberly Area Chamber of Commerce has worked with the city to advertise the town in newspapers, on the radio and through social media. After reviewing the allocation of resources, Crane said, the City Council and the Tourism Commission found it'd be better for Moberly regional tourism if one all-encompassing position handled promotions for the city, its many departments and local groups that bring in non-residents.
Moberly also looked to other Missouri cities that collect a lodging tax, including Columbia and Jefferson City, to learn how to rejuvenate its tourism industry. Columbia's Convention and Visitors Bureau, Crane noted, restructured in fall 2016 to include an industry relations specialist.
The chamber will be tasked with hiring the tourism specialist, pending approval at Monday's City Council meeting. With more than 100 member businesses, the chamber stood out among the three groups that responded to the city's request for proposals to promote tourism.
The contract is slated to start Jan. 1 and last for one year, with two one-year options to renew.
Chamber President Jaime Morgans has lived in Moberly for nearly 30 years and has been on the chamber board for five. Originally from Houston, Texas, she said she's not a small-town girl, but she quickly fell in love with the 1950s charm of downtown, which is in the beginning phases of a revitalization.
"I applaud the city for their foresight," Morgans said, adding that a lot of small towns lack the forward thinking to devote money to a tourism specialist.
Moberly is modeling the tourism specialist's job description on the Columbia position. Morgans said few of the chamber's board members grew up in Moberly but that it doesn't take long to develop a feel for the town. That's why the chamber plans to open the position to candidates from anywhere in the country.
"We're a blue-collar town," Morgans said, "but there's a lot of hardworking people that have some great ideas, and we're not afraid to implement them."
Moberly also wants to grow. Crane said it's working hard to secure a fourth hotel. A recent feasibility study concluded Moberly could house a minimum of another 50 to 55 hotel rooms.
Richardson, executive director of the nonprofit Main Street Moberly, grew up in the town and has seen its downtown change with the influx of super centers and malls and an ever-increasing online retail market. She recalls going downtown on Saturdays to shop. These days, downtown is less about retail and more about service businesses, she said.
Main Street Moberly works with local groups such as Moberly Parks and Recreation to organize events such as an annual trick-or-treat trail, which Richardson said brought in about 1,500 people this year.
"Our focus has been reaching out beyond Moberly to get people interested in coming to our community," Richardson said. "I hope to work with the tourism specialist. We have not had that role in our community for a long time."
Sarah Gutz, public relations manager for Moberly, said the "authentic greetings" and feeling of family is what she likes about Moberly.
"There's pride within the community," she said. "People care about each other genuinely."