SYRACUSE, Mo. — Bats, bugs and midnight bathers are among the hazards to water towers, the source of many people's drinking water in Missouri.
Drones might be part of a solution to the problem of keeping the towers inspected and the water safe. That idea has been getting a thorough test since last fall by MU assistant professor of science journalism Bill Allen and his two students, Kristopher Corbett, an MU graduate student, and Muhammad al-Rawi, a recent MU graduate. The three have driven across Missouri inspecting water towers with a DJI Inspire drone, looking for potential sanitary defects or flaws.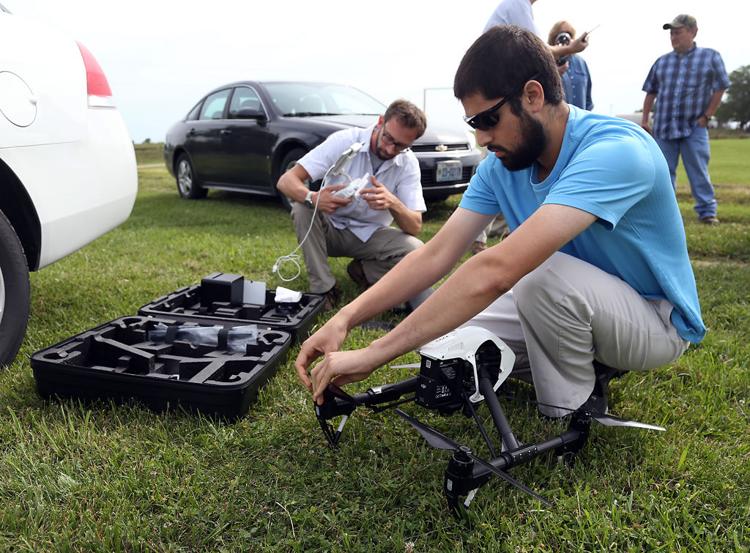 Early Wednesday, local cattle farmers gathered in a small crowd as Allen and his team piloted a drone around a water tower in rural Syracuse, near Boonville.
"When's my turn to fly it?" a cattle farmer asked over the buzzing sound of the drone.
Inspections of water towers and tanks used for public drinking water are not required by law. Yet contamination of public water from towers has been linked to cases of salmonella, and boil orders — where people are told to boil their water before use to avoid contamination — are fairly common throughout Missouri, Allen said. In Gideon, Missouri, in 1993, seven people died and an estimated 650 people got sick from salmonella contamination because pigeon droppings fell through a gap in the hatch of the tank ceiling, according to an article in the Kansas Lifeline. More recently, a boil order was issued in Cedar County in November 2016 because the water tower had a dead bat and other debris in it.
"Towns that can afford inspections and cleaning of water towers do it, and those who can't do the best they can," Allen said. "If you don't inspect these towers, problems can occur and people can get sick."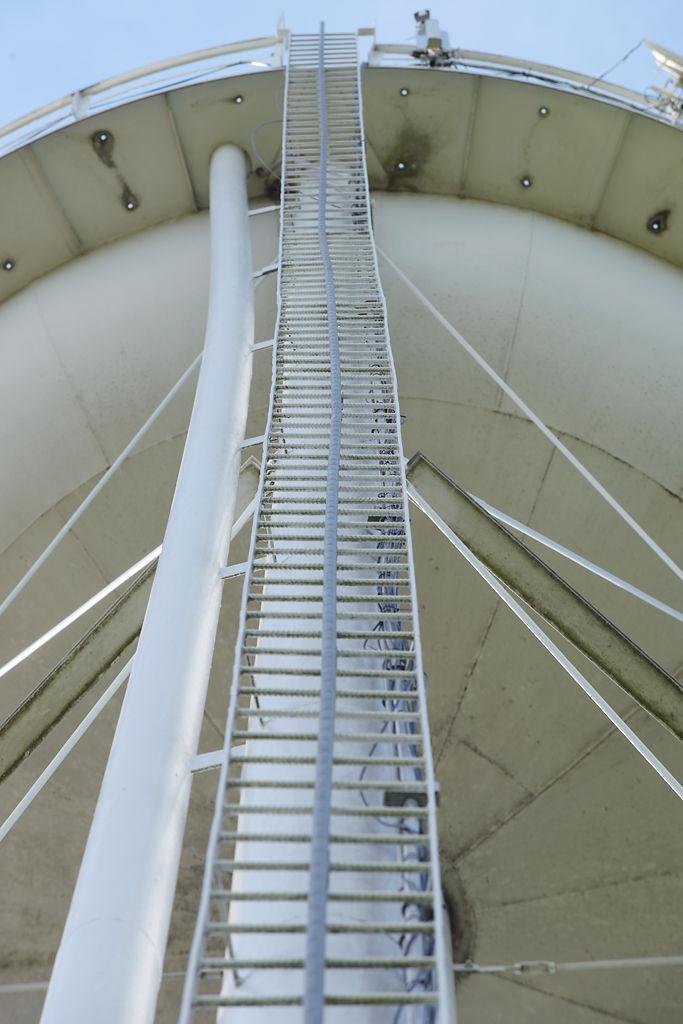 Holes caused by weather or rust can allow animals, insects and bird droppings to enter the water tower. Some hatches on the top of water towers do not have locks or are not locked correctly, which can allow people to climb up and in, using a tower as their personal swimming pool, Allen said. If trespassers don't close the hatch door when they leave, serious problems can result. Vents with screens can come loose, get blown out by wind or bend when freezing and thawing occurs.
"You don't really think about this when you're drinking tap water," Allen said. "But there are people out there thinking about keeping this from happening."
An idea in the air
Steve Sturgess, director of the Kansas City regional office of the Department of Natural Resources, came up with the idea to use drones to inspect water towers after reading about MU's drone journalism program. In 2014, he contacted Bill Allen and asked if drones could possibly be used to inspect the towers and ensure water quality. Allen said he thought they could.
Allen and his students are nearing the end of their inspections of 27 water towers throughout Missouri. They have inspected 25 since the fall of 2016.
"Several of the towers so far have had flaws, but we haven't analyzed all of the images yet," Allen said.
Allen and his team use both a regular, high-definition camera and an infrared camera to capture pictures and video. They chose 25 of the 50 water towers that the Department of Natural Resources recommended for inspection, with five chosen in each of the five regions of the DNR. Two more towers were added later.
The criteria for choosing the water towers included flight safety issues such as proximity to houses, airports, power lines or trees.
"We worry a lot. This is like flying a cargo aircraft," he said.
Allen said drones get negative publicity, but his team is being very cautious with their use.
They put the cargo on — in this instance, a camera — and take it where it needs to go and then bring it home, Allen said, repeating "slowly and safely" after each step.
Corbett, one of the students, has his FAA license, which means he can commercially fly a drone and must be present for anyone without a license to legally fly one. One student usually flies the drone while the other is in charge of taking pictures and video, Allen said.
"If the tower is big enough, we have spotters on the small chance it takes off on its own," Allen said.
After the drone is off the ground, the pilot sets weight points when the drone is at the top of the tower to set a flight radius, Allen said. This way, the drone can fly in a perfect circle around the water tower, which it does at three different heights to get several angles.
Wednesday morning, Corbett piloted the drone and Al-Rawi took pictures and video while two DNR employees acted as spotters. While taking footage, both looked for any possible sanitary defects or problems like lack of a lock, whether the lock was secure or whether the hatch had a good seal.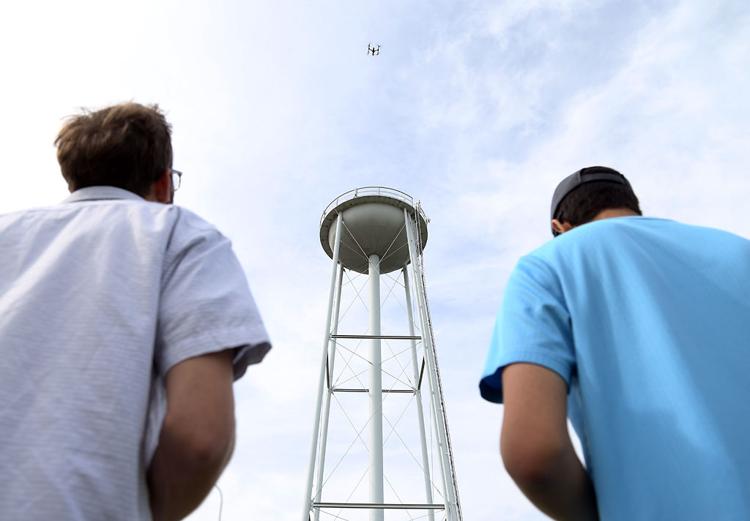 A train whistled loudly as it passed through Syracuse and birds were flushed out of the underbrush, but Corbett and al-Rawi remained focused on the drone overhead.
"I'm so proud of these guys, I couldn't tell you," Allen said.
Down to earth
Both Corbett and Al-Rawi knew Allen before starting the project. Corbett knew him from a trip to Costa Rica, where they helped train forest firefighters to fly drones. Al-Rawi met Allen at a conference. Both students have been flight lab instructors for drone classes at MU.
"They look really calm, but you have to have your whole head for this," Allen said, watching Corbett and Al-Rawi pilot the drone. "They get a little nervous, but that's their job."
After the drone made its two flights — one with the regular camera and one with the infrared — it landed softly on the freshly mowed grass.
"We don't know everything we found right now; it's possible the hatch is only latched with a bolt instead of an actual lock," Corbett said.
Corbett and Al-Rawi downloaded the data from the micro-SD cards and onto hard drives. After briefly reviewing the pictures and video, they said it seemed that there were no obvious sanitary problems.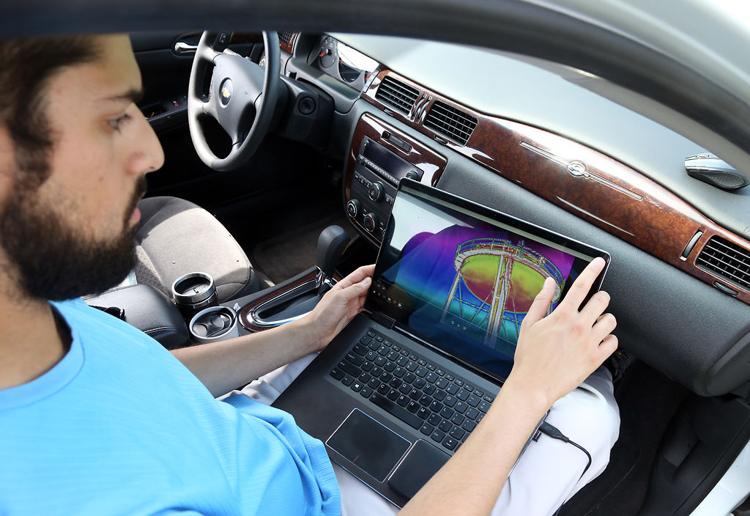 "The hatch is bolted, not locked, and there seems to be a wider gap on one end, but it's hard to tell if it's not properly sealed," Al-Rawi said. Despite these minor findings, "this tank was excellent," he said.
The work has been funded by a $63,000 DNR grant to MU's now-defunct science and agricultural journalism program. The money was used to buy the drone and two cameras, pay for a rental vehicle and gas, meals while traveling, and motel rooms for necessary overnight stays. The grant also pays for the students' hourly wage and a small stipend to Allen. Flying insurance costs around $10 per hour, and the grant helps pay for that as well, Allen said.
He's also used the field trips to educate bystanders about the use of drones. The cattle farmers Wednesday, who watched the students and the drone for about five minutes, seemed impressed with what they saw.
"We need one of those to check cattle," one of the men said.
"That's already being done by other researchers," Allen replied.