Half a world away, in India and parts of Bangladesh, millions of Bengalis this week have been celebrating the biggest autumn festival in the world — Navratri.
In Columbia, Bengalis have little opportunity to celebrate the way they can back home.
"It is celebrated differently in every state in the country," said Hema Srinivasan, a professor of mathematics at MU. "In the eastern state of West Bengal, it is celebrated as Durga Pujo, which is inarguably the most important festival for Bengalis."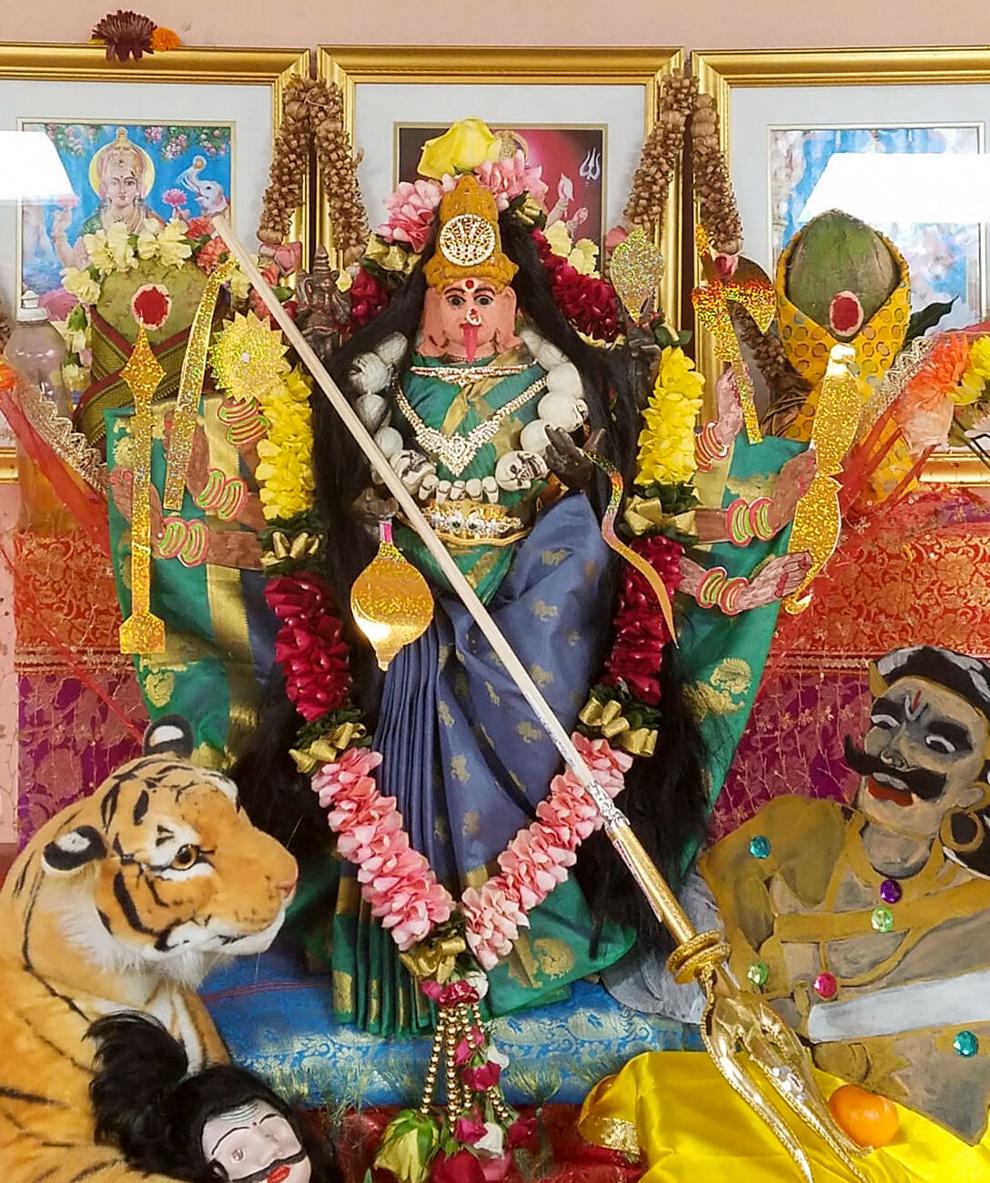 According to the mythological story in Hindu scriptures, the goddess Durga defeated a shapeshifting Mahishashur (buffalo-headed demon), marking the beginning of the 10-day-long festival. Each day is named according to its mythological significance, with specific customs and rituals.
On the sixth day, Shosti, the goddess is said to descend from the heavens to the mortal realm, which is officially the beginning of the festival in Bengal. In recent years, celebrations have kicked off as early as the third day.
On the tenth day, Doshomi, the worshipers perform the immersion of the idol in the holy river Ganges. This marks her return to her heavenly realm and the end of the festival.
Celebrations abound in the City of Joy
At this time each year, Bengal gets decked to the brim with shimmering LED lights and festive decorations. But nowhere is Durga Pujo celebrated like it is in the state's capital city of Kolkata.
There are more than 2,500 Pujo committees in the city that erect temporary marquees housing the goddess, called pandals. Each year, these committees come up with different decorative themes.
Some of the bigger Pujo committees compete with each other in terms of grand, innovative themes and decorations. This makes pandal-hopping one of the main attractions, especially in Kolkata.
It is also a time when schools and offices are closed and friends and families who have left return to celebrate.
For a whole week, the city doesn't seem to sleep. Streets are teeming with people; traffic turns into a complete mess; shops, restaurants and bars remain open all night; and there is constant festive music, instrumental dhaak beats and the sound of conch shells blaring.
Subdued celebration for Columbia families
For those in Columbia, far from their homes, the Shanthi Mandir at Holly Avenue offers a small celebration.
"The festival of Navratri is celebrated at Shanthi Mandir for 10 days," said Srinivasan, chair of the devotional committee at the temple. "We celebrate it with the alankaram (traditional decoration) of the Hindu goddess Durga in nine different forms."
Because of the COVID-19 pandemic, the festival was online last year.
Despite in-person celebrations being allowed this year, the Bengali community here is not able to experience its most important festival again.
Pandit Siva Shankar Phani Kumar, the priest who performs the customs and rituals for the festival at Shanthi Mandir, is going through the process of receiving his green card.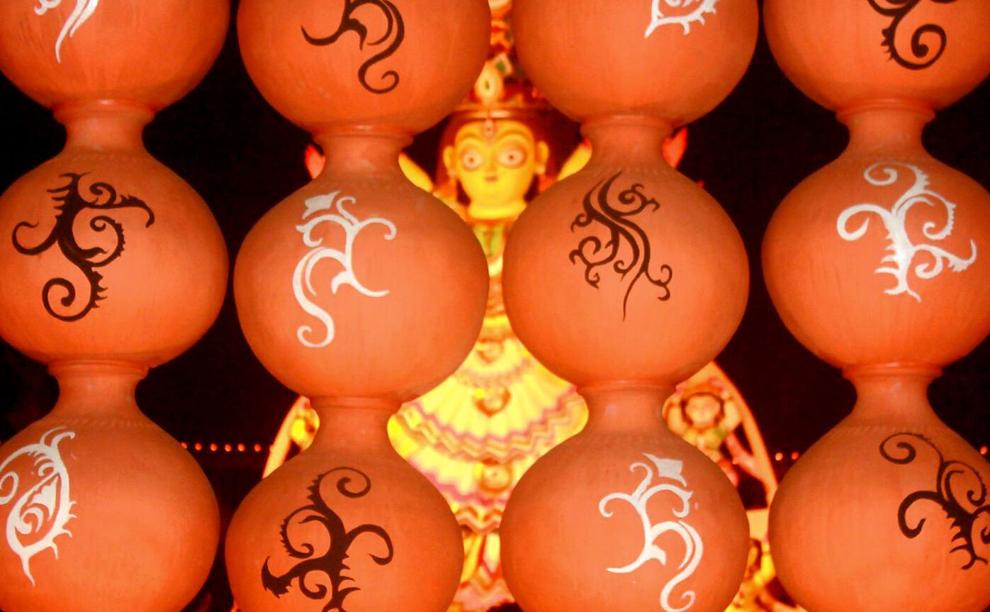 "He is not allowed to work or perform any puja at the temple until he gets his card," said Latha Krishnan, who volunteers at Shanthi Mandir and helps Kumar with the rituals.
Krishnan noted that the committee is still hosting aarthi (a Hindu ritual offering), bhajans (devotional song offerings) and prasad (food offering) every day for Indian communities here.
"We expect anything between five and 30 people at the Mandir, and more on Zoom. On one day, Telugu families and Gujarati families, on another day, Punjabi and other North Indian families, and on the last day, Bengali families will gather at the Mandir to highlight their own special style of celebration," Srinivasan said.
A community deprived of joy and connectivity
For Gourab Nandi, a doctoral student of astronomy at MU, the festival is an embodiment of pure emotion that no other can match.
This will be his first time missing Durga Pujo back home in Kolkata. He arrived on campus in December.
"Durga Pujo has always been very special, and I've always looked forward to those days of absolute happiness and grand celebrations that happen only once a year," Nandi said. "I hope I'll be able to cope with missing it, at least to some extent, by getting involved with Bengali communities here."
Payal Bhattacharya, an MU doctoral student of physics, said that the experience of growing up in Kolkata programmed her to associate the festival with joy.
In comparison, missing five consecutive Pujos has made her feel like she has made a difficult life decision.
"Durga Pujo is not a festival, but an all-expansive emotion for the people of West Bengal," Bhattacharya said. "The extensive shopping sprees, the snacking at roadside stalls, planning for months on end, the painful blisters after hours of pandal-hopping in new, uncomfortable, albeit in-fashion footwear is such an intrinsic part of growing up in Kolkata."
While last year's celebrations in Bengal were stalled by the courts for the fear of a COVID-19 surge, this year's celebrations are being allowed with preventive measures.
This is especially hard for Angira Roy, who is doing her doctorate in chemistry at MU.
Roy hails from an ancestral household that has celebrated the festival at their homes for more than 150 years. This will be her third year of missing the grand affair.
"In this country, everything is celebrated only during the weekends. It is difficult for me to accept how no one celebrates Durga Puja properly, and I can't blame them either. It involves a lot of work, and lasts for more than a week," Roy said.
Nandi said there are Bengali communities in St. Louis and Kansas City that organize Durga Pujo over the weekend before or after the festival in Bengal. He said they incorporate all the Bengali rituals and are open to all.
But this year, there are COVID-19 regulations in place.
This is the fifteenth or sixteenth year of missing the festival for Sruti Banerjee, the lead research analyst at MU's School of Medicine. Between COVID-19 restrictions and being used to life in a different country, the festive times hardly make a difference to her now.
She said that Durga Pujo for her is about the vibe, the smell and the atmosphere in Kolkata that she doesn't get to experience in Columbia.
"Instead, it is always the usual day of work, coming back home and looking forward to the weekend celebration," Banerjee said. "Even when celebrating with close friends and immediate families here, it is not the same."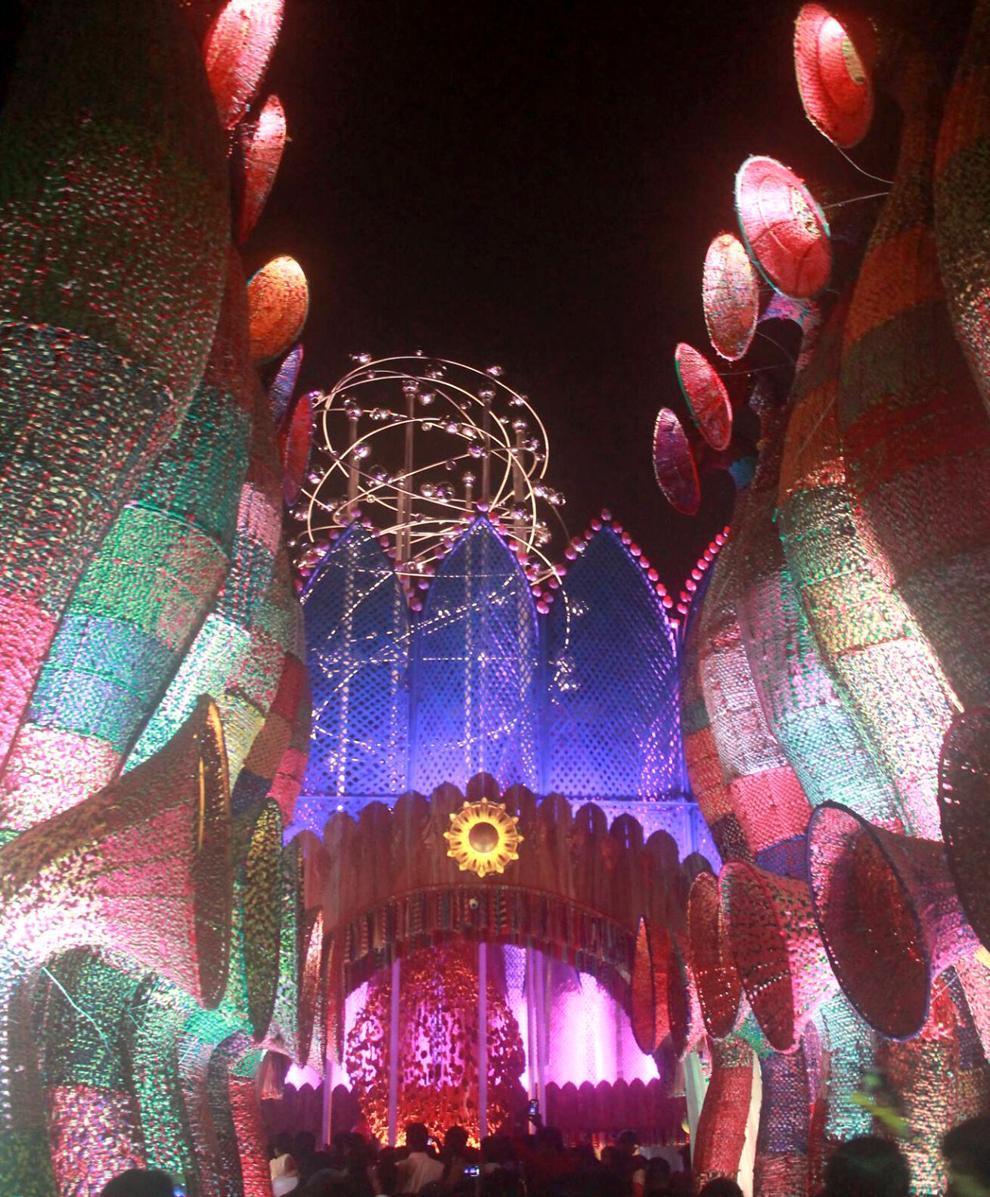 Bhattacharya has plans to visit Kansas City's Pujo, for what she believes will be a completely watered down taste of the festival. But she needs to do something, she said.
"There is an undeniable emptiness that can't be filled no matter what I do," Bhattacharya said. "Durga Pujo is a state of mind for Bengalis, and rituals or not, the charisma of Durga Pujo can never be marred in our hearts."