COLUMBIA — Bridget Everson and her parents found out she was allergic to peanuts and tree nuts at a family party. She was 2 years old when her throat swelled up and she stopped breathing.
Her parents called 911. By the time the paramedics arrived, Everson was "flat-lining," she said. Her parents think that some sesame sticks she had eaten had been contaminated with nuts.
She was given a shot of adrenaline in the ambulance, to counter the anaphylactic shock. She spent the night at the hospital for stabilization and testing. Ever since then, she has carried an EpiPen with her everywhere.
"I know how serious it can be when you don't have access to an EpiPen when you need one," said Everson, who is now 20.
Rising costs
EpiPens deliver a dose of epinephrine, also known as adrenaline, to stabilize the user until the person can get professional help. If Everson's tongue ever starts feeling funny, or she has a hard time swallowing or breathing, she knows to give herself an EpiPen shot and call 911.
The life-saving ability of EpiPens is what has users like Everson so outraged at the medicine's recent price increase. Mylan N.V. bought EpiPen in 2007 when the price for a standard pack of two was $93.88, according to Elsevier Clinical Solutions' Gold Standard Drug Database. In less than a decade the price has increased 548 percent.
At Kilgore's Medical Pharmacy on Providence Road a standard EpiPen 2-Pak can cost clients $638 when paying out of pocket, said Beth Stubbs, pharmacist and partner at Kilgore's. Prices vary from as low as $616 to as high as $840 at pharmacies in the Columbia area, according to GoodRx.
Most insurance deductibles are high enough that they don't cover the price of an EpiPen "2-Pak." The insurance offered to UM System employees, for example, has a $1,500 deductible for individuals and $3,000 for families at in-network providers. The deductibles double for out-of-network providers. Someone on the system's insurance plan would have to buy three EpiPen 2-Paks before their insurance would begin to pick up most of the tab.
Price isn't even the only problem for allergy sufferers. When buying new EpiPen 2-Paks, they have to be vigilant about expiration dates as well. EpiPens might only be good for seven months, or less, instead of a year.
Mylan does provide My EpiPen Savings Card coupons that cover up to $100 — the company increased the limit to $300 Thursday after customers expressed outrage over the increasing price. But for some, that still isn't enough.
Mylan announced Monday it would be releasing a generic version of the EpiPen with a list price of $300 for a two pack. The generic is identical to the branded option.
Kilgore pharmacists and cashiers make sure their clients are using Mylan's coupons. If a client doesn't already have the savings card, employees will help them access it online before their purchase.
Even with the coupons, though, some patients are choosing to risk it, Stubbs said. Kilgore's has seen a 20 percent decrease in sales from this time last year when the 2-Paks cost $461 each.
The plan? Go to the emergency room if they have an allergic reaction.
"It's frustrating," Stubbs said, "because you want to make sure the clients are taken care of. And there's no reason behind the increase in price."
Other options
Fortune Magazine said the increase was most likely a byproduct of the fact that the company has a monopoly on the product. There's just one alternative to the EpiPen, and it's not a good one. The drug epinephrine can be bought in vials for $5 according to Emergency Medical Products, Inc. and administered with syringes. That comes with its own challenges.
Unlike the plastic EpiPen, which can be jammed into a user's thigh with little thought, epinephrine comes in small glass vials that have to be kept safe and unbroken, said Tammy Backman, office manager at Columbia Allergy and Asthma Specialists. Second, the allergy sufferer needs to keep a supply of syringes and be willing and able to use them. That entails drawing up just the right amount of the drug in a syringe and injecting it while having an allergic reaction.
"It's pretty impossible for someone inexperienced to do it in anaphylaxis or a stressful situation," Backman said. "So for the general public, it is really risky."
Regina Blanchard-Walker, a student loan counselor in Columbia, knows what Backman is talking about.
Last summer, Blanchard-Walker was eating marshmallows while driving to an appointment when she noticed her lips were starting to tingle. Then her tongue and lips began to swell. Blanchard-Walker searched for her EpiPen, which she'd been carrying for about five years, but couldn't find it. She quickly decided to take a gulp of water and swish it around in her mouth until she reached her appointment, and the symptoms began to slightly subside. When she got home that day, she took some Benadryl.
That was the day Blanchard-Walker discovered she was allergic to marshmallows and had to add it to her allergy list with seafood, strawberries, tomatoes and oranges. Measuring out a certain amount of a drug in a glass vial would have been almost impossible, even if she hadn't been operating a vehicle. 
For Everson, even though it has been 18 years since she almost died at a party, she still asks servers at every restaurant she walks into to check if her desired meal could possibly be cross-contaminated. Even if she's been to that restaurant before.
"You put a lot of reliance on people," she said.
Without an EpiPen, that reliance increases significantly. That's what's so terrifying about the prospect of not being able to afford it, Everson said, even though she still can.
EpiPen users who decide to risk it are essentially playing Russian Roulette, Backman said. Blanchard-Walker said she would never take that risk.
"That's my life, and I'm not willing to take a chance," she said.
That means doing whatever is needed to pay for her EpiPens. Sometimes she has to wait, depending on the price and how much money she has in her bank account.
Looking ahead
Madeleine Sutherland, a junior at MU, is still trying to figure out what to do when her current EpiPen expires.
She had to use one in the spring, after going into anaphylactic shock on a sand volleyball court. She has been relying on the second one since then.
"I was going to die without using my EpiPen, there in front of my friends and a lot of strangers," she said. "The fact that now it'll cost me around $600 to save my own life is ridiculous." She's not sure how she'll afford her next pack.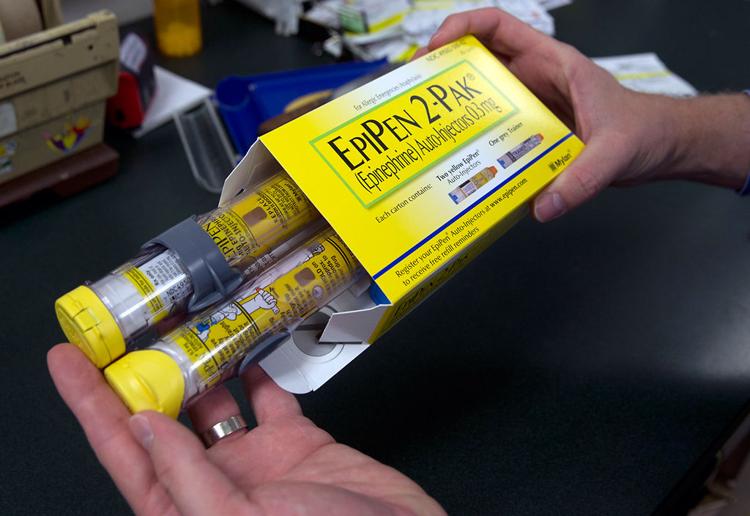 Allergy sufferers and their advocates have not passively accepted the price increase. Blanchard-Walker and 261,468 other people have signed a petition on MoveOn.org to "stop immoral price gouging for life-saving EpiPen."
Missouri Sen. Claire McCaskill and Maine's Sen. Susan Collins, among other lawmakers, sent a letter Wednesday to Mylan CEO Heather Bresch requesting answers and information about the dramatic price increase of EpiPens.
But there's no guarantee that anything will change. Net spending on prescription drugs increased 20 percent between 2013 and 2015. More broadly, U.S. citizens spend approximately twice as much on drugs than citizens in 19 other industrialized nations, according to a study published in the Journal of the American Medical Association
"The system is definitely built to benefit someone," Sutherland said. "But it's definitely not allergy sufferers."