Millie Lovett had four doctors in Columbia between 2002 and 2010.
She told them she had chronic pain, like lower back trouble.
Doctors want patients to feel better, so they wrote her prescriptions for opioids. When Lovett ran out of pills, they wrote her more prescriptions.
The only pain Lovett ever had was when she went into withdrawal after running out of pills. Night sweats, vomiting and the feeling of her skin crawling left her feeling miserable.
So she would go back to a doctor and get another prescription to end the withdrawal, and the cycle would start again.
Lovett, 46, hasn't touched a pill since Dec. 25, 2010, when she decided to seek treatment. The cravings are few and far between now, she says, but she won't forget the years she spent hiding her opioid addiction from friends and family.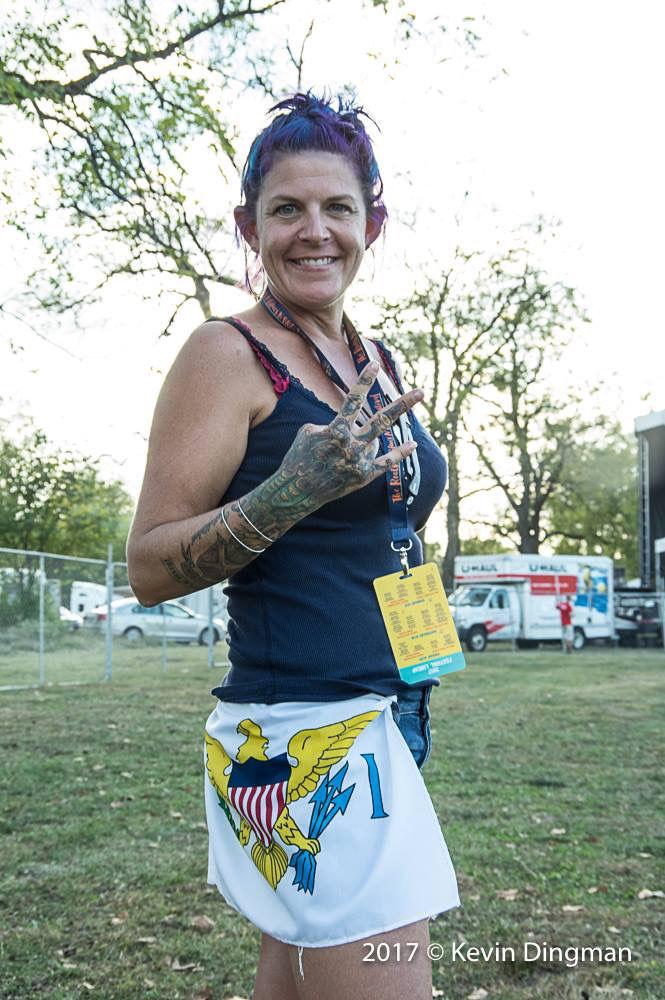 That comes out to 15.9 overdose deaths per 100,000 people in Missouri, higher than the national rate of 13.3 deaths per 100,000 people. That puts the state at 19th in the nation for overdose deaths per capita.
In Boone County alone, 43 people died from an overdose between 2012 and 2016. But that number might be a low estimate.
Death certificates don't always specify if the overdose-inducing drug was an opioid, journalist Sam Quinones wrote in "Dreamland," a book about the roots of the opioid crisis. Another complication of knowing the exact number of drug-induced deaths is that sometimes, heart attack is listed as the cause of death. Or poisoning.
The overdose death numbers also don't necessarily include the myriad contributors to addiction-related deaths, like infections contracted from dirty needles.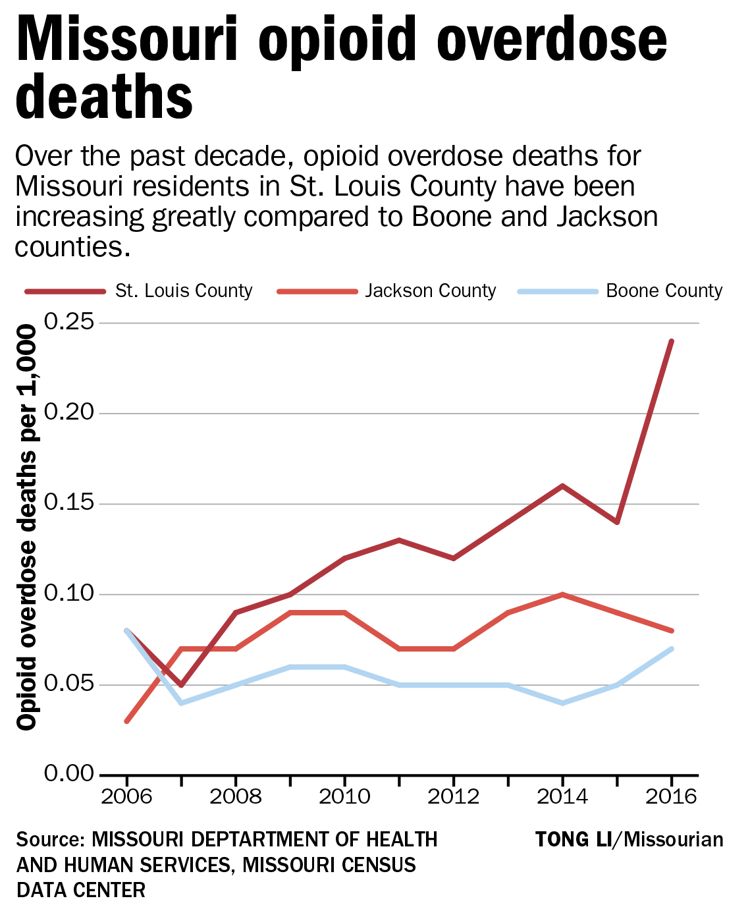 In the face of the shocking numbers, groups around the state are working to improve prevention, treatment and recovery services. One of the most powerful tools in treatment and recovery, it turns out, is other drugs, like Suboxone. Other pieces of the puzzle include making it easier to track prescribing, changing emergency room protocols in treating people with addiction, and harm reduction approaches like needle exchanges.
No one expects overdose deaths to drop to zero, but people on the front lines of the addiction crisis think they can lower the rate of Missouri residents who become addicted and increase the number of those who enter and remain in treatment.
Beating the system
It was real pain that first landed Lovett in the world of opioid use. Prescribed Vicodin after surgery in 2002, she noticed the pills amped her up.
She found she could easily knock out mundane chores after taking a pill. So she saved them up and "that's where it all started." She became addicted and maintained a rotating supply of tramadol, Vicodin, Percocet and OxyContin until 2010.
As her tolerance increased, so did the number of pills she took.
"It got to the point at the end where for tramadol I would take 10 pills at a time," Lovett said. "And at the same time, I would couple it with a few glasses of wine or whatever, and then I was ready to rock and roll."
She doesn't think her doctors suspected a thing.
"Being in the live music business, I always had tickets to shows and meet and greets that people wanted," she said. "So I used that to my advantage. I befriended one of the nurses, and I'd call her and she'd fill all (of the prescriptions) with no problem. I befriended one of the doctors and his wife, and they'd come over to my house for dinner parties."
As part of her recovery, she told her doctors what she'd done. They weren't surprised, she said, but they were shocked she lied.
At one point, Lovett had a 180-pill tramadol prescription with multiple refills. Taking 10 pills at a time two or three times a day, she'd run out in about nine days. She knew she couldn't get it refilled without alerting a pharmacist that she was abusing the pills. So she used a calendar and her supply of doctors to beat the system.
"I had a color-coded calendar and I would put it on the calendar: This is when logically your script should end. So if you call them at a (prior) date, it's going to trigger them to know that I'm taking too many," she said. "Then I'd go to the next doctor and start that prescription. I'd space it out to where it'd be hard for them to pick up on it."
Over 80 percent of the state's population resides in areas that use the PDMP, said Leslie Porth, the Missouri Hospital Association's senior vice president of strategic quality initiatives.
Columbia has "dipped its toe in the water" of addressing opioid misuse in a public health mindset by joining the St. Louis County PDMP, said Stephanie Browning, director of the Columbia and Boone County Department of Public Health and Human Services.
The database includes around 620 Boone County medical professionals, and the department plans to train more. Browning said the department is encouraging surrounding counties to join the program because it's not as useful if neighboring counties aren't part of it; patients could go to one of those counties to get prescriptions.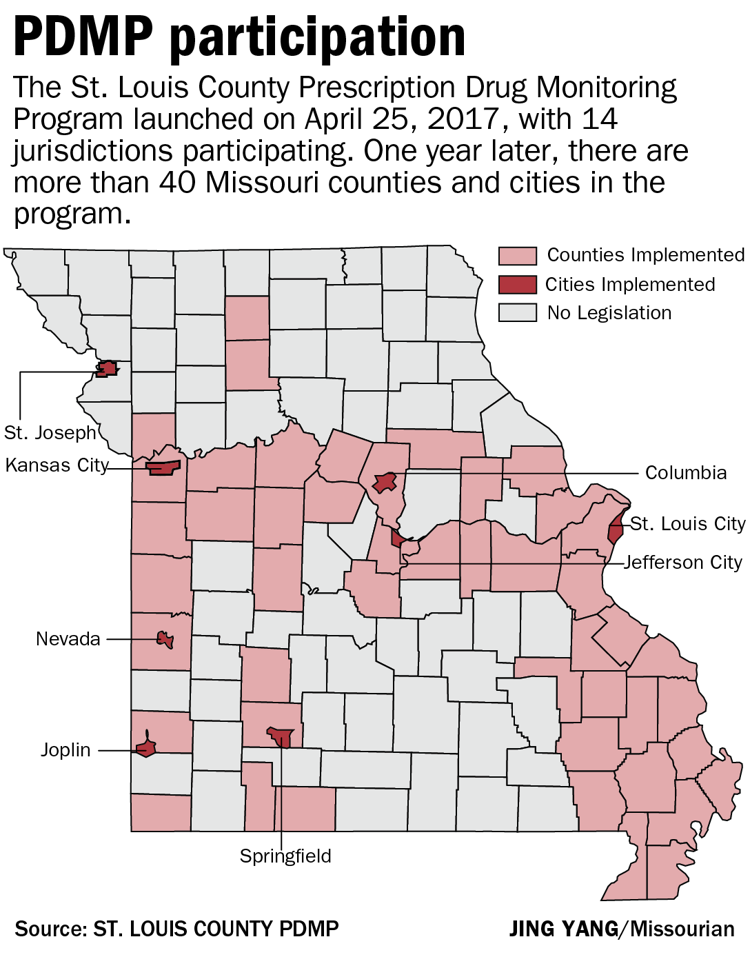 Addiction is a new issue for the health department, Browning said, and staff have spent months learning as much as possible about the opioid crisis through a public health lens.
She's learned enough to know she doesn't have solutions to every question about treating addiction, but she says it's important to not treat it as a moral failing.
"Addiction is a disease, and it can be a chronic disease," she said. "It's not different from treating diabetes. If we want to normalize treatment, then we should view this the same as we view treating hypertension, diabetes. We don't need to stigmatize it."
One man's way out
Denny Sercu will be the first to tell you the havoc he wreaked on his family and friends when he was addicted to opioids was his fault. He'll also point out that becoming addicted in the first place was also his fault.
"Nobody twisted my arm to do what I did," he said.
But, he added, "it's the devil, and once it gets ahold of you, shaking it is almost impossible doing it by yourself."
Opioid addiction is a recognized disease called opioid use disorder. The American Psychiatric Association's Diagnostic and Statistical Manual of Mental Disorders classifies it as "a problematic pattern of opioid use leading to clinically significant impairment or distress" within a 12-month period with several criteria, such as cravings and unsuccessful efforts to stop using drugs.
Opioids interfere with the brain's communication system. They mimic naturally occurring neurotransmitters. As a result, the opioids create euphoria, which reinforces the behavior and creates addiction. Over time, the brain gets used to the opioids. When they're taken away, withdrawal occurs.
Sercu, 65, had an on-and-off addiction for more than three decades. Before it began, he was a record-earning pitcher for the local Boonville Ban Johnson amateur baseball league team, and three baseball teams scouted him. A broken leg ended his baseball career and started his painkiller experience.
He went on to become a "jack of all trades and master of one," earning the title of master plumber. He also spent time as a carpenter, truck driver and worked on the Katy (Missouri-Kansas-Texas) railroad.
The Boonville native started out on Percocet before moving to Dilaudid, morphine, OxyContin and heroin. He funded his habit by stealing — both money and drugs themselves — but also managed to keep working while using.
"I would take my lunch, and I'd have a sandwich, a banana, and I would have a loaded syringe of Dilaudid in my lunch box. (Everyone else would) go to lunch, and I'd sit there on the backhoe, eat my sandwich and my banana and get off," Sercu said. "And they'd come back and we'd go right back to work."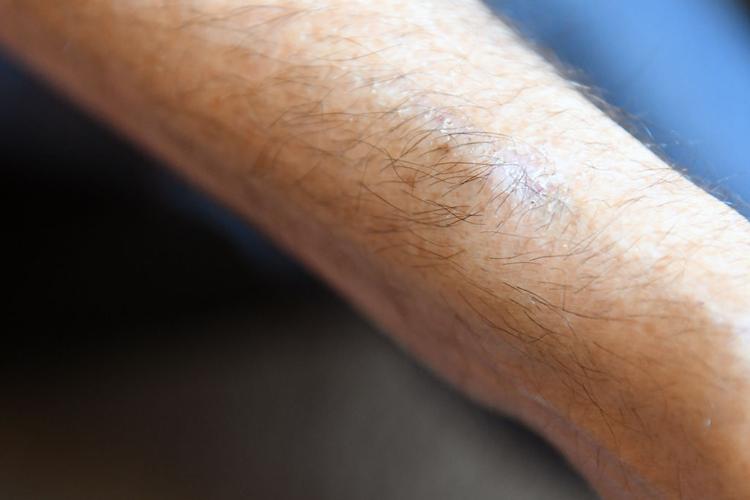 Drug use led to four divorces and several surgeries on his knees for infections he contracted from dirty needles. He also served 18 months in prison for robbing a drugstore in downtown Boonville to get more Dilaudid.
His biggest regret is not being there for his four kids. He missed holidays, birthdays and baseball games. For a while, his kids didn't speak to him.
"It got to the point where (they) just wrote me off and expected to see my name in the obituary column," Sercu said.
He would get clean, but he'd always end up using again. He spent time homeless, living in halfway houses, under a bridge and on friends' couches.
Twice, doctors prescribed him medication, Suboxone, to ease the cravings. It worked.
But doctors would taper down the dosage, and he'd relapse.
After going through the Phoenix Health Programs treatment 10 times — "probably more" — he met Laura Cameron, a treatment counselor. She convinced him to try Suboxone again.
That time, no one tried to taper him off it.
"Three years later," Sercu said, then paused for a deep breath, "here I am. Everything's going good now. With the Suboxone, it's a lifesaver."
Medication-based approach
Sercu now lives in an apartment in downtown Boonville. His disability check goes toward paying the bills instead of for drugs. He spends his time with his family and nine grandchildren, whom his children now allow him to see. He has a Husky, Aspen, to whom he gives the credit for helping him through the tough times. He walks her three times a day, which has also helped his health.
"Everything's coming my way, now," he said.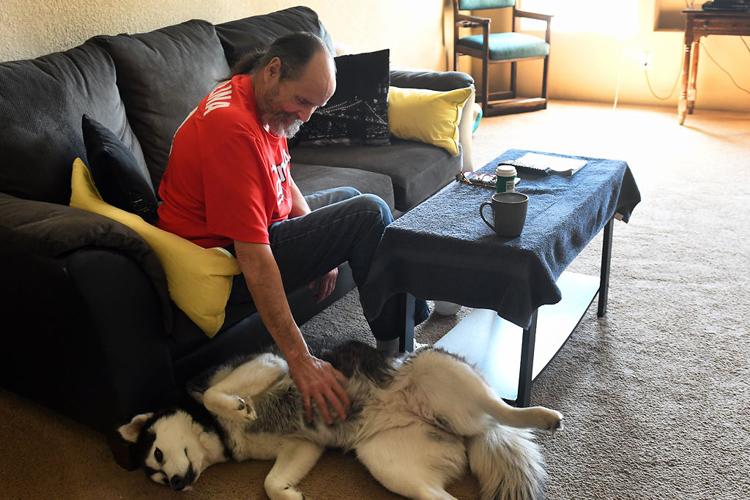 Increasing the number of people who use medication during treatment is one goal of the Missouri Opioid State Targeted Response project, a statewide coalition. Funding comes from a $20 million two-year grant awarded in 2017 by the Substance Abuse and Mental Health Administration. The money came from the 21st Century Cures Act passed by Congress in 2016. The act designated $1 billion to help states fight the crisis.
The Missouri Department of Mental Health partnered with the Missouri Institute of Mental Health at the University of Missouri-St. Louis for the project. Other health care agencies, physicians, policy experts and organizations also work on the project.
The Opioid STR project has four main goals:
To promote and increase access to opioid-related and overdose education to schools, health care providers and the community.
To increase access to medication-assisted treatment for uninsured people.
To expand and support recovery services.
To promote policy changes that will support treatment and recovery efforts after the grant ends.
The bottom line: They want to save lives.
Medication-assisted treatment is a combination of therapy and FDA-approved medications that reduce cravings and withdrawal by tricking the brain into thinking that it's getting a high. That makes it easier for people to focus on recovery.
But every person is different, and some people can quit opioids without medication, said Fred Rottnek, a St. Louis doctor who's a consultant on the Opioid STR project.
Lovett is one of those people. She didn't use any medication to ease cravings. She detoxed at home and then enrolled through the outpatient treatment program at Phoenix. She took classes, went to a therapist and attended twice-daily Alcoholics Anonymous and Narcotics Anonymous meetings for nine months.
"If you mask it with something else, I'm not going to learn my lesson," Lovett said about wanting to quit cold turkey. "And that was my thought process going into it. I just did it alone, at home with my husband, and every now and then a doctor would swing by and check my vitals and check on me once every few days."
For Sercu, on the other hand, meetings or classes held no attraction when he'd finished the Phoenix program, which requires clients to attend some classes and counseling.
Columbia doctor and Opioid STR consultant Dan Vinson said 12-step programs work for some of his patients. Others take medication and taper off it. The first patient for whom he prescribed buprenorphine nine years ago still takes it.
"We need to be flexible and open-minded and encouraging, so if we see somebody who's wanting to have an abstinence-based approach, hey, yeah," he said.
Lovett and Sercu agree withdrawal was one of the hardest parts about recovery.
"You're vomiting and you have constant diarrhea and you have night sweats like you couldn't believe," Lovett said. "You're not ever comfortable. Every joint hurts, every muscle hurts. You're irritable. You can't eat. It's horrible."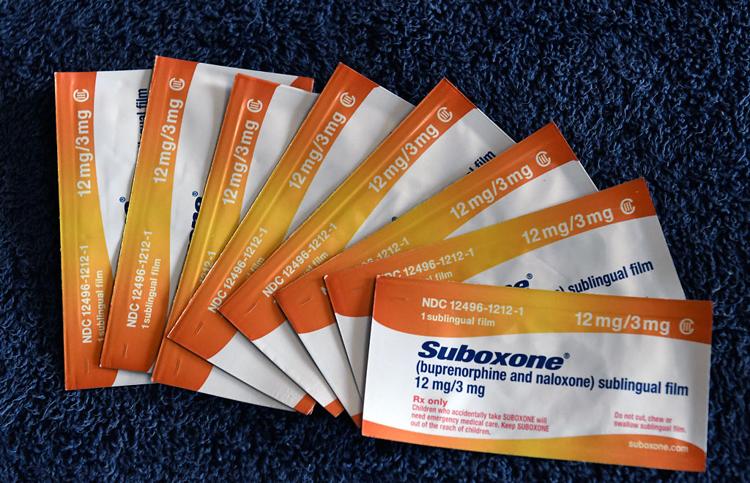 Withdrawal is the reason relapse is so common. The only thing that cures it, Sercu said, "is the thing that put you there in the first place."
"At a certain point, you don't get high. You're just trying to stay out of withdrawal," Sercu said. "Like B.B. King says, 'the thrill is gone.'"
Medication allows people to not have to "white knuckle it," Sercu said. These days, he has no desire to use drugs.
"Critics say you're substituting one drug for another," he said. "But as you're going through rehabilitation, one of the first things they tell you is to do whatever it takes by any means to stay clean. So that's what I'm doing. Cancer patients get morphine. Blood pressure medicine, I take every day. Suboxone is a maintenance drug for me."
Benefits of buprenorphine
One focus of the Opioid STR project is expanding the use of buprenorphine. It's branded as Suboxone and Subutex. But Suboxone is a combination of buprenorphine and the overdose reversal antidote, Naloxone.
Rottnek said buprenorphine has two big virtues: It has a "ceiling effect," so patients don't receive any additional benefits when they've reached a certain dosage. That makes it harder to abuse than other medications, like methadone. It's also easier to dispense than methadone, which requires patients to travel to a clinic. Only a few cities in Missouri have methadone clinics, and Columbia is one of them.
"If, let's say, ... someone addicted to pain pills or a heroin addict who lives in Rolla or Kirksville decides they need methadone maintenance, they've got to drive every morning, Monday through Saturday, and show up at the methadone maintenance clinic by about 5:30, take their dose of methadone, get back in their car, drive home, go to work, do whatever," Vinson said. "It's just very unavailable."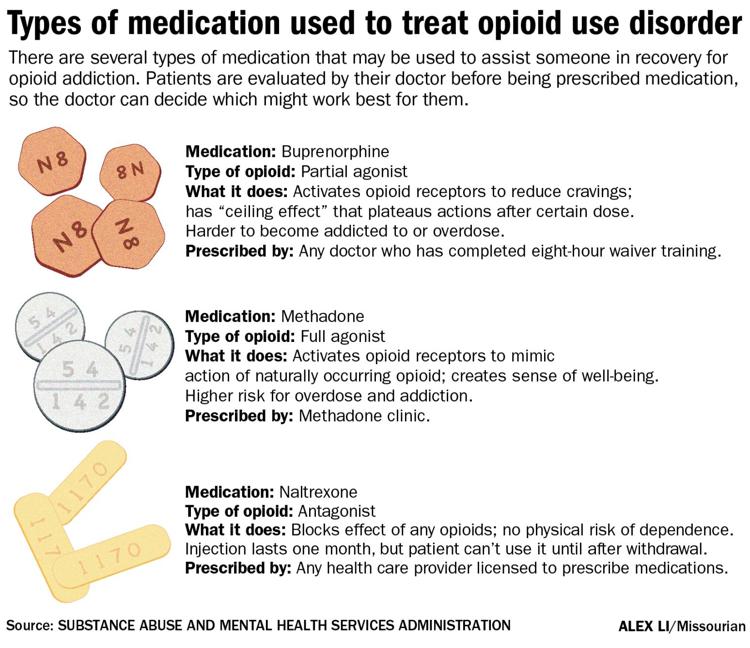 Buprenorphine can be prescribed by any doctor under the Drug Addiction Treatment Act of 2000 — if they have the proper training. To prescribe the drug, physicians must receive eight hours of "waiver training," according to the act. Nurse practitioners and physician assistants became eligible to prescribe the medication in 2016 with 24 hours of training.
So while buprenorphine could become more accessible than methadone — and it is, in some places — the training can be a barrier. The Opioid STR project wants to make it easier.
Vinson was the first doctor with MU Health Care trained to prescribe buprenorphine. He said the required training has misled some people to believe that it's a dangerous drug.
"It has a couple of pharmacological quirks, but it's not a difficult medication to manage," he said.
He thinks Congress could and should revise the initial law to eliminate the training, which is especially difficult for rural physicians who might not have time to travel.
"It's a means of educating the practice so they get more comfortable with treating addiction and with the medications involved, so it's a real culture change," said Rottnek, the consultant on the Opioid STR project. "Because that way, they get more and more comfortable with the medications, with what they need to do to prescribe them and to work with patients on them."
Rottnek is part of a team that delivers talks to medical providers around the state about the importance of medication-assisted treatment and buprenorphine.
"We're really working on creating a community so providers have very hands on nuts and bolts of resources for treating folks with addiction," he said.
Getting help in the ER
Most people with an addiction end up in the emergency department for an overdose. But most hospitals can't start medication-assisted treatment at that point. So a patient with an addiction might just be sent home with a pamphlet about how to find recovery services.
That's beginning to change.
Engaging Patients in Care Coordination — Project EPICC, for short — gets St. Louis-area patients started on medication in the ER and into treatment either the same day or day after. Peer recovery coaches, people in long-term recovery, serve as the catalyst. The six-month pilot program, funded by the Opioid STR grant, was launched in December 2016. The program was so successful, it received an extension.
The program matches patients with peer recovery coaches who are recovering from addiction. The coach meets with the patient in the ER, and if the patient is interested, the person gets into a treatment center either that day or the next. The peer recovery coach then follows up with the patient at regular intervals.
"We provide a little bit of experience, a little bit of strength and a little bit of hope to these people," peer recovery coach Kael Maness said. "It helps them to see someone who's been where they're at and now in recovery and on the other side of that. People get real emotional, but they get really receptive to taking suggestions or at least hearing someone out who's been where they're at."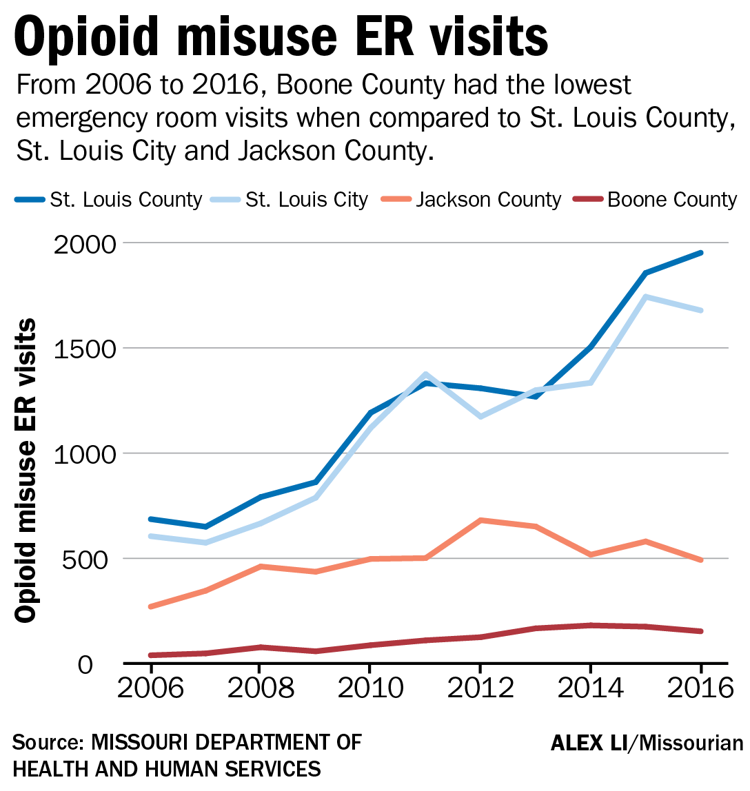 Launched by the Behavioral Health Network of Greater St. Louis, the project began at Barnes-Jewish Hospital with the help of emergency department doctor Evan Schwarz. Now, multiple doctors at Barnes-Jewish have the waiver training to prescribe buprenorphine, Maness said, and other area hospitals also participate. Several treatment centers are part of the program, and each has peer recovery coaches.
There were 785 referrals to the project between December 2016 and January 2018, according to project data. Patients who received medication remained in treatment at the 30-day mark at 11 times the rate of people who didn't.
"It's lowering the volume and stress of ER workers, social workers, and it's obviously saving a lot of people," Maness said. "And aside from hooking them into treatment, we also do a little bit of overdose education and we distribute naloxone to these folks."
Several peer coaches are on call at all hours. When they're not meeting with patients, they're filling out data collection forms or "beating the drum" to local organizations about how the project can make the referral process easier.
Maness said he thinks this approach will be adopted nationwide.
"I think the whole country will be doing this eventually, and I'm not exaggerating," he said. "Everywhere you go, people are like, 'What is this, where has this been?' So as long as legislators are cool with it and they keep giving us funds, we're going to keep expanding it."
A local launch
Columbia will start its own version of Project EPICC within the next few months.
Schwarz and Dr. Jonathan Heidt both serve on the board of the Missouri College of Emergency Physicians. Heidt is University Hospital's emergency department medical director. The idea came up at the group's January meeting, Heidt said, and Columbia seemed like the next logical location.
Heidt said he had an initial conversation about what worked in St. Louis and what could be adapted in Columbia with Shawn Billings, who was then the project manager for EPICC. Billings has since started in a new position at the Missouri Hospital Association as the Opioid STR grant project manager.
In his role at the association, Billings said he identified treatment providers willing to work with University Hospital.
"I'm having all these back-door conversations and meetings with the faith-based community, with treatment providers, with health care systems to basically leverage all that talent and then have a collective meeting where we can start to better address any gaps and start building the program and design," he said.
The program, while similar to Project EPICC, won't be a replica. Billings said it's important for the project to be "grass-fed" and develop "organically" based on Columbia's resources, needs and strengths.
Heidt said the emergency department doctors at University Hospital are on board.
"We're kind of at that stage right now where MHA is working on finding treatment facilities, we're working on scheduling training for our (emergency department) docs and then bringing those together to have a model program like they did in St. Louis," Heidt said.
Vinson will provide the waiver training for the physicians and physician assistants to prescribe buprenorphine. Heidt said they hope to train around 10 doctors and physician assistants in the first round.
One of the treatment centers that would, ideally, provide peer coaches is Phoenix, Heidt said.
"That coaching piece is absolutely critical," Billings said. "Those peers really serve as the silver bullet, if you will. They literally respond to the (emergency department) when the patient is in acute crisis to be that support that oftentimes patients don't have. Without that layer, tons of patients just fall off the map. I don't see it being successful without something very similar."
Heidt said he hopes the program will provide a more long-term approach for addiction treatment.
"Our overall goal now is that with this in place, we can actually take the next step with patients who are identified with this diagnosis is to actually offer them some sort of treatment long-term beyond just patching up their acute need and sending them off again," Heidt said.
Reducing harms
Boone County hasn't had as sharp an increase in opioid deaths as other Missouri counties. The 43 deaths from 2006–16 were five deaths per 100,000 people, according to the Department of Health and Senior Services. In comparison, St. Louis City had a rate of 33 deaths per 100,000 people.
But local health care and treatment providers have noticed an increase in people who have become addicted to opioids. Needle use has become more prevalent, especially with the rising incidence of heroin use after opioid addiction.
The inclusion of fentanyl in heroin has caused a spike in the number of deaths over the past few years, Phoenix treatment counselor Laura Cameron said. Fentanyl, a synthetic opioid, is 30–50 times more powerful than heroin, according to the Drug Enforcement Administration. Fentanyl is much more lethal at lower dose than heroin. And people who use heroin don't necessarily know if it's laced with fentanyl; the two drugs look identical.
Cameron said Phoenix has started to give kits to clients and families that contain naloxone, known as Narcan, and offer overdose education. They're considering including fentanyl test strips in the kits so people can determine if they're at an even higher risk of overdose.
"I don't want to encourage them to use, but if they're gonna use, I'd rather they use safely — or rather, safer," Cameron said. "It's not the ideal situation, but if we can save a life, it's worth it."
Preventing overdoses is in the realm of harm reduction. Its focus is to reduce negative consequences from drug use.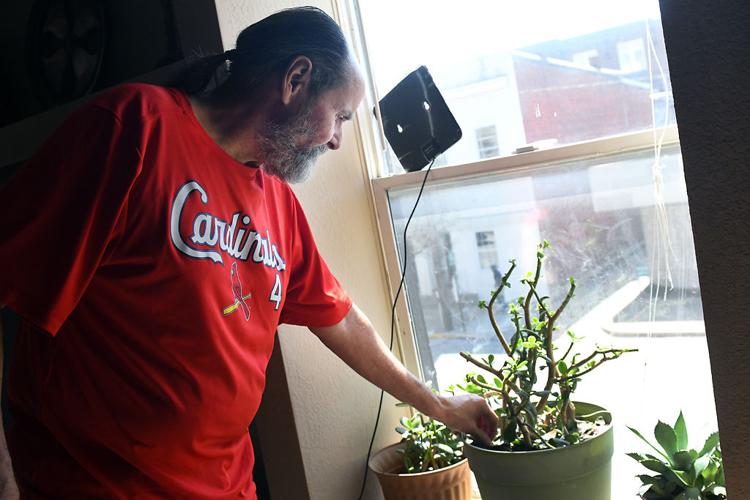 Stephanie Browning said in addition to increasing the number of buprenorphine providers and collecting more data, she wants to see Columbia try more harm reduction approaches.
Through the Opioid STR grant, the public health department can purchase Narcan, which comes in packs of two nasal sprays, at a reduced rate. A standing order signed in August by the Department of Health and Senior Services allows naloxone to be bought by anyone at a pharmacy without a prescription as long as they receive training on how to use it.
The price can sometimes be prohibitive, Browning said, so buying it at a reduced cost would be helpful to the public. But the department still has to find the funding.
"That's one of the biggest challenges with all this," Browning said. "Here's this important issue, coming at a time when our city budgets have been cut year after year after year, so there's no new sources of staff. Everything that we're doing, we're trying how do we do it with what we have."
First responders with the Columbia Police and Columbia Fire departments and the Boone County Fire Protection District carry naloxone. Browning said the Columbia City Council on April 16 approved an agreement between the Department of Health and Senior Services and the local health department that allows naloxone to be transferred from the state department to Columbia for distribution to first responder agencies that have completed the training.
Browning also wants to improve overdose reporting. The MO-HOPE Project, which advocates for increased access to naloxone and overdose education, has an overdose form that anyone can fill out when naloxone is administered.
"The more we understand where these things are occurring, the better decisions we can make about how we get the Narcan out," Browning said.
For example, if the health department knows that overdoses are occurring in a certain part of the city, it can focus more response and preventative efforts there.
Browning and Cameron both want Columbia to begin a needle exchange program — another harm reduction tool. Needle exchanges allow intravenous drug users to obtain clean needles and safely dispose of dirty ones. Critics say the exchanges encourage drug use, while proponents say such programs reduce disease.
"I know there's a lot of controversy surrounding that, but if we can stop the spread of HIV, Hep C and who knows what else is coming down the pipe... I consider it a win," Cameron said.
Needle exchanges also give the health workers who staff them an opportunity to make a positive connection with a drug user.
"Somebody's at that window talking to them, asking if they're ready for treatment," Cameron said. "It's not just, 'Here you go, have a good time!' It's like, 'I'm here, and I'm not judging you, but when you're ready, we can make this work.'"
People who use needle exchanges are five times more likely to enter treatment, according to the Centers for Disease Control and Prevention. Cities that have needle exchange programs don't see an increased crime rate either, according to the CDC.
Needle exchanges in Missouri are illegal because distributing hypodermic needles in that way is considered "unlawful delivery of drug paraphernalia." House Bill 1620 would exempt entities registered with the Department of Health and Human Services, which would legalize needle exchanges. The bill passed the House, and the Senate held a public hearing on it on April 25.
A 'year 2020 model' of recovery
Phoenix has some goals of its own, and a central one isn't new: treating the patient as a whole person and not just patching one problem up. Medication is only a "tiny piece" of recovery, Cameron said. But with an increase in patients, the center wants to increase the number of doctors on staff.
Vinson spends Friday mornings at Phoenix prescribing buprenorphine. He's the only doctor at the center who has the training to prescribe it, and he plans to retire in December. More doctors with the waiver training would mean treatment for more patients.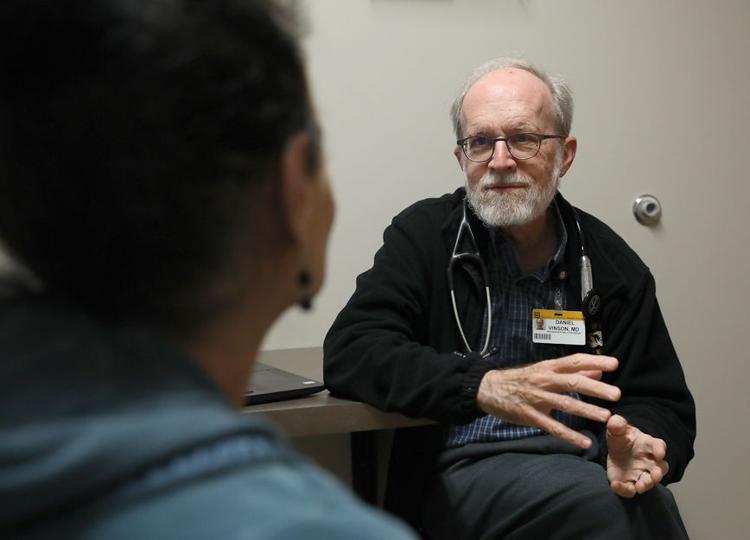 The center also wants to create a 24/7 hotline for people who need resources or treatment information.
Rottnek, for his part, wants more data. It'll be several years until it's clear that the push to reduce overdoses and get people into treatment from the ER is working, he said. Once the data are in, more changes can be made.
"Then we can inform our legislators, we can inform our policy experts to say, 'How can we rework the system?'" he said. "How do we move around our resources to move from a 1970s model of recovery to a 2020 model?"
Denny Sercu has taken his experience on the road, talking on panels throughout the state.
"Anything I can do as far as trying to turn people around or get to the point where they won't even start doing drugs, I'm willing to do whatever I can," he said. "God only knows I've been there."
Millie Lovett, who now lives in the U.S. Virgin Islands, cautions people who are in recovery to try not to pick up a replacement addiction. She said after smoking cigarettes for years, she stopped for 11 years while married to her ex-husband, but that was when she was taking pills. She started smoking again in recovery.
Above all, she wants people to avoid becoming addicted to opioids in the first place.
"If you haven't been around it, go and sit with somebody who's addicted. For an hour. Or go watch somebody go through detox," she said. "Do that, and maybe that would change your mind on getting started on anything like that."
While addiction is a dark cloud that hangs over a person, recovery can lead to hope.
"It's like a patient told me ... who's rather new to buprenorphine. She said, 'I feel normal,' and then she almost burst out laughing," Vinson said. "It's just wonderful to feel normal. To not feel high. To not be in withdrawal. Not be craving, not be struggling against cravings."
That's not to say recovery is a perfectly straight line; Sercu can attest to the fact that it might take a few tries and decades to stick. But the payoff, he said, is life-changing.