David Nykodym takes a gamble whenever he brings his daughter, Lily, into town.
He constantly worries about "whether they have an accessible restroom for her."
The plans took shape a month ago, "when we were discussing with a group of parents who also have children with disabilities, about how difficult it is," said Ingoglia, an associate professor at Columbia College.
Interactive map
Lily has Mowat-Wilson syndrome, a cognitive and speech impairment diagnosis. Whenever they take Lily out for dinner or to the library, they don't have many options if their daughter needs to change clothes.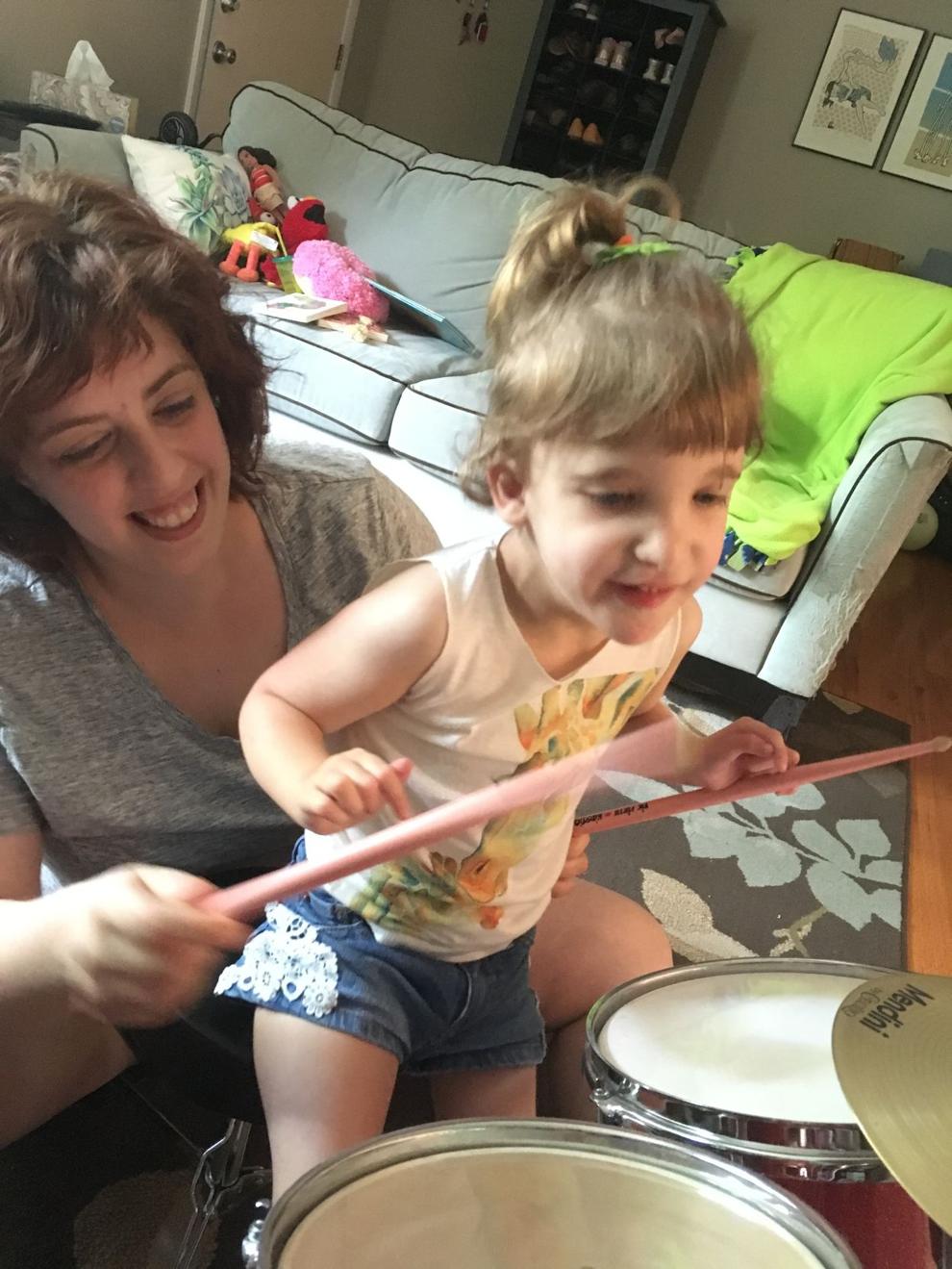 "We try to remember the places such as, 'This restaurant has a very good restroom,' or, 'The Childrens Hospital in St. Louis also has a suitable one,'" Ingoglia said.
On typical days, Nykodym has to bring Lily into the men's restroom or change her diaper in the back seat of the car in a parking lot ... or even in her stroller.
"Lily is 30 pounds and very long," Ingoglia said. A changing table "is technically still fit for her, but she is too big for it. So, we cannot use it anymore."
Ingoglia and Nykodym, and families with similar situations, are looking for restrooms that are either unisex or for families, large enough for someone to change clothes and, if possible, equipped with an adult-size changing table.
Ingoglia came up with an idea to create an interactive map for people to submit the locations with gender-neutral or family restrooms.
"I just thought that, 'Wow, it's really great if we can crowd-source the restroom information,'" she said.
As a professional geographic information system specialist, it doesn't take Nykodym much time to create a map. He said people can submit the name and address of the location with an accommodative restroom.
The next step is verification. A person could find the phone number or email address of the building and contact a manager or staff member about whether the restroom is accommodating.
Nykodym and Ingoglia have received 36 submitted points and verified 34 of them in Missouri. The map includes several points in Columbia because it hasn't been promoted in many other areas. Parents are reaching out to disability rights groups and agencies that serve people with disabilities and asking them for help.
"We are trying to get it known to people in other cities, such as St. Louis and Kansas City, in order to receive more suggestions. Although we are busy with our full-time jobs and taking care of Lily, we try to do the verification as quickly as possible," Ingoglia said.
It would be difficult to change the legal requirements for restrooms throughout Missouri because the issue is governed at the city level, Ingloglia said. "So, you cannot have a state law to address accessible restrooms," she said.
'She needs to feel safe'
Maria Rose Thomas, 11, has lived with her adoptive parents for six years. Her mother, Lisa Charlie Thomas, describes her daughter as "our little ray of sunshine." She and her husband didn't hesitate when making the decision to adopt Maria.
But the couple become frustrated when they try to look for a suitable restroom to change Maria, who has a disability, when they go out. As their daughter has gotten older, Charlie Thomas has had to ask her husband, Jerry Thomas, to come into the women's restroom and help change Maria in her wheelchair.
"One time, I heard a kid (say) to her mom that, 'Hey, Mommy, there is a man here. Why is the man in a woman's bathroom?'" Charlie Thomas said.
She said that problem happens many places, like the Columbia Mall, restaurants, movie theaters and more.
She said it would be very helpful to know in advance if a facility has a family restroom.
"Maria has the right to have her bodily needs met while out in public just like any other child," Charlie Thomas said. "And she needs to feel safe, and not have people stare or make rude comments why we are trying to tend to her."
Privacy, dignity and tolerance
Citing the Americans with Disabilities Act of 1990, Robyn Schelp, president of the grassroots group Missouri Disability Empowerment, said some standards for accessible restrooms — such as a certain width for the stall and height for the toilet — don't cover everyone's needs.
An issue arises when a person needs assistance from someone of the opposite gender.
Schelp needed a changing table for her second son, Nathan, when he was 5 years old.
"Sometimes I change him in the car," Schelp said. "As he gets older, he still needs some help and he goes with me. Now, I think it's not suitable for an 11-year-old boy to go to (the) women's restroom."
Nathan was diagnosed with an unknown genetic disorder and cerebral palsy. However, Schelp said that if people don't know Nathan well, they may not realize that he has a disability because it is not visible.
She said she receives concerned looks when she brings her son into the restroom, because others "don't know what you have to deal with."
"Besides, we have some conversations in the restroom, and we don't want other people to hear it. For us, privacy is the huge issue," she said.
Ingoglia said even family restrooms sometimes don't have suitable changing tables.
In some situations, some people have to be changed right on the floor of the restroom.
"In terms of Columbia, as far as I have learned, there are no restrooms that have an adult-sized changing table. There may be somewhere, but we don't know yet," Ingoglia said.
Lily is almost 4, and Ingoglia said they want their daughter to have some privacy and dignity. It's the reason that they recently decided to stop flying in an airplane with Lily.
"Before that, we have to change her diaper right in chairs because we have no other options," Ingoglia said. "She is still young, she is adorable. But it's not really fair to her. There is no privacy and dignity at all. It is very exposed."
Raising awareness
Besides creating a map, Ingoglia and her friends are trying to normalize the issue within her community.
"We have many friends and families who have kids who we call 'typically developing,' so they don't think much about this issue," she said. "It's not because they don't care, but because they don't have to think about this."
Ingoglia believes the map will benefit not only parents and children with disabilities, but also transgender people, those who don't identify as a specific gender, and older people who may need assistance.
Promising signal
When Schelp took her kids to the state Capitol several times last year, she realized the building didn't have a family restroom. She brought the issue to Rep. Martha Stevens, D-Columbia.
Stevens contacted Capitol administrators, proposed the idea and explained how the family restroom would be beneficial for the privacy and for accommodating people from the community.
"They decided to look into how the existing restrooms could be converted," she said.
Stevens also mentioned how it would be very beneficial to have an adult-size changing table. "It would help people who need assistance and personal care easier," she said.
The renovated restroom opened earlier this year.
One thing that Schelp wants to point out is even the Missouri Capitol, a 100-year-old building, can create a family restroom. She challenges others to do the same.