A gentle and steady snow overnight into Friday created hazardous road conditions and school and business closures and delays.
Boone Electric Cooperative reported shortly before 10 a.m. that about 4,000 residents were without power. By 1:30 p.m., that number had been reduced to 1,800.
"Most of our outages are caused by blown fuses due to power lines touching from the snow," the company tweeted. "We've also had a few downed lines." 
Later the company thanked other power cooperatives — Cuivre River Electric Cooperative, Ralls County Electric Cooperative, Gascosage Electric Cooperative and Three Rivers Electric Cooperative —for sending 10 trucks and 20 workers to help bring power back.  
MU officials announced the school would close for the day in an email sent around 8:45 a.m. The message came after an earlier announcement stating that campus would delay opening until 10 a.m.
Tim Schmidt, the morning meteorologist at KOMU/NBC, Columbia said snowfall since last night has "been in that 4- to 6-inch range for Columbia and Boone County."
Schmidt said temperatures are expected to stay around 32 degrees, but even warming up to 33 degrees would help melt some of the snow.
"From now until noon, we're still getting snow accumulation," he said. 
As of Friday morning, "main roads are passable," said Barry Dalton, community relations specialist for the Columbia Public Works Department. Plow crews continued to work on Columbia roads even as snow continued to fall through Friday morning.
"They've been working hard," Dalton said. Shortly before noon, Dalton sent out an email advising that with priority routes deemed passable, crews would expand their work to other city streets as long as the weather kept improving. 
Boone County Fire Protection District tweeted at 10:30 a.m. that by that point it had made 16 responses for traffic accidents since the storm began Thursday evening.
In efforts to make roads safe, Dalton said plow crews have been applying salt to priority routes at a rate of "100 pounds per lane mile," though crews will adjust that rate accordingly as the storm and snowfall vary.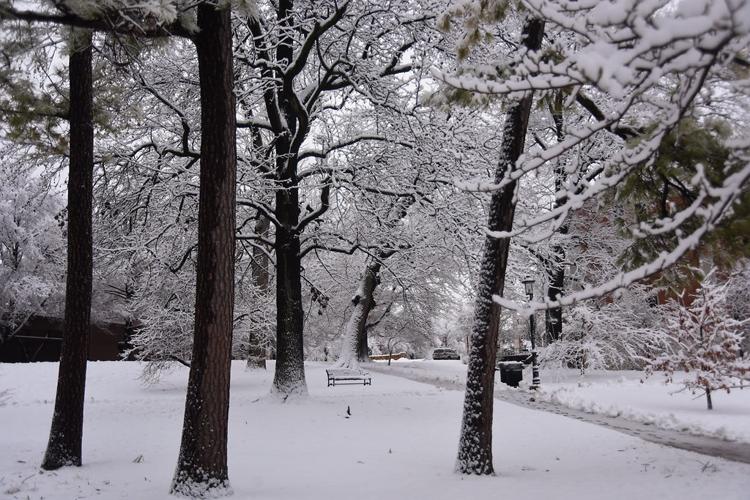 Adam Pulley, communications manager for the Missouri Department of Transportation, said that Interstate 70 is either "partly covered or mostly covered" both east and west of Columbia, with "a lot of opportunity for slick spots." He said U.S. 63 between Columbia and Jefferson City is much the same.
"It's definitely a good day to stay home," Pulley said.
Boone County Joint Communications sent out a tweet at 6:45 a.m. cautioning residents about road conditions and urging travel only if necessary: "The snow has created hazardous road conditions city/countywide creating dangerous situations. Use caution, if at all possible avoid travel."
MoDOT Central District also tweeted that road conditions were slick and snow covered.
Stay in if you can and use EXTREME caution if you must go out this morning," MoDot tweeted.
Missouri State Highway Patrol Troop F was direct in its tweet:
A number of American Airlines and United Airlines departures from Columbia Regional Airport were delayed or canceled.
Just after 5 a.m. Friday, MU and the UM System sent an alert that they would delay the start of classes until 10 a.m. Less than four hours later the campus was closed for the day.
Columbia Public Schools announced Thursday night on its website that Friday's classes are canceled.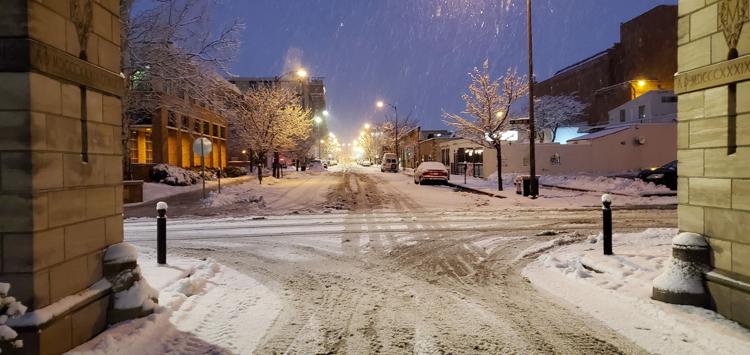 "Due to inclement weather and the timing of continued snowfall, Columbia Public Schools will not be in session tomorrow, Friday, Jan. 24," read a banner atop the CPS website.
Tolton Catholic High School also canceled classes.
Columbia College and Stephens College delayed the start of classes until 10 a.m.
The wintry weather caused slick conditions on various Columbia roads. Multiple accidents were reported.
The National Weather Service, meanwhile, put its predictions around 3 to 4 inches of snowfall for the Columbia area by Friday night.
By 9 p.m. Thursday, MoDOT reported a great number of Missouri's central district roads as covered or partly covered. All of Boone County's had "covered" status. The department urged caution to anyone embarking on night drives.