COLUMBIA — Seven-year-old Daven Mumma hops from his grandma's car with zeal, ready to accompany her on a lakeside stroll at A. Perry Philips Park. His sneakers and red cartoon T-shirt stand in stark contrast with the autumn scenery. Daven regularly goes on walks with his grandma, Marty Teckemeyer, an exercise activity of hers since she underwent stomach surgery last month.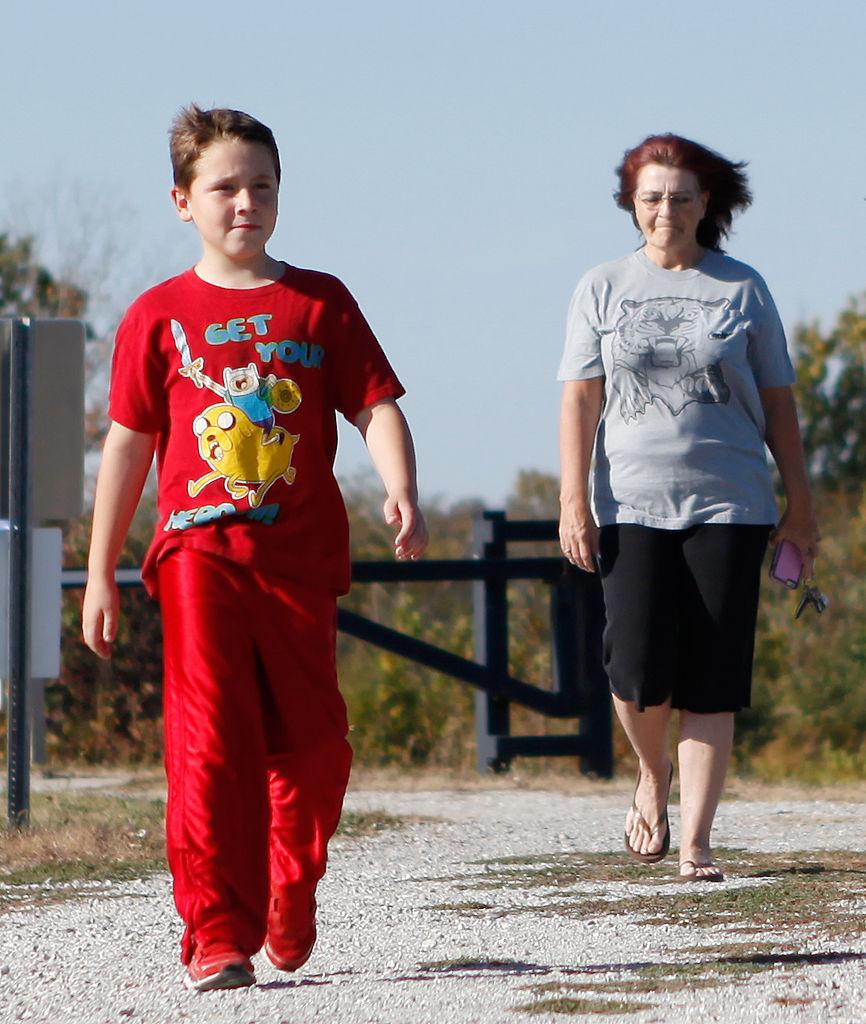 Daven gets excited when asked what he'd like to see at the park besides the trail. He hardly knows whether to suggest more benches, more parking or a new playground first. It should come as no surprise then, that Daven — if he could — would support renewing the city's park sales tax. 
Daven is among several people who frequent Philips Park and Gans Creek Recreation Area who said they would support a six-year-extension of the one-eighth-cent sales tax for parks that appears on the Nov. 3 ballot. If voters approve the measure, it would generate a total of $18.4 million for parks projects, including $4.35 million for projects at Philips Park and Gans Creek. Together, these properties make up a southeast regional park that has been in the works since the city acquired the properties in 2004 and 2007, respectively.
The city's sales tax for parks totals one-quarter of a cent. Half of that is a permanent tax for operations; the other half is for parks development projects and is put up for renewal every several years. Voters last approved an extension of that part of the tax in 2010.
Projects promised for the combined parks include:
A four-court tennis complex that with private donations could be expanded to eight or 12 courts.
A concession stand for multipurpose athletic fields.
A restroom building.
An indoor pavilion that would have space and parking for up to 300 people.
A sports field house that would accommodate youth basketball.
Both Philips Park and Gans Creek Recreation Area have proven popular in the years since the city bought them. The city bought the Gans Creek property, which used to be a cattle farm operated by the Crane family, for $8 million. It bought 77 acres of the Philips tract for $1.2 million, and developers donated the lake and 23 acres surrounding it.
City officials said when the properties were acquired that it would take years to develop them into a regional park akin to Cosmo Recreation Area in northwest Columbia. They also said that if the tax is approved the public will have a chance to offer feedback on the list of proposed projects over the next six years.
Thomas Schroeder said he loves to take his dog to the Gans Creek area to play fetch and give him fresh air. He said it's parks like Gans Creek that will prompt him to vote for the parks sales tax extension in November.
"I enjoy the parks and use them all the time," Schroeder said. "It's money well spent, for me at least, since I use them a lot."
Schroeder said that if the tax is renewed he would like to see more picnic tables added to Gans so he can eat food at them instead of having to bring a blanket.
Ted May, who walks his dog on the lake trail at Philips, said he supports the tax, too.
"I've lived in a lot of places, and we have a great parks department here," May said. "The trails are flat and easy to walk on. My dog, Cooper, likes it. He's an old dog, so he can just sniff around and do whatever he likes."
May said he likes the setup at Philips but would like to see more landscaping.
Kim Kite, who on a recent weekend was biking with her family on the MKT Nature and Fitness Trail, said she would probably favor the tax, and approves of what it has accomplished for Gans so far. She wants to see the city maintain existing parks and trails before it builds new ones.
"I think they do a great job, they've done a lot of nice things to enhance the park system," Kite said. "I think just keeping what we have, it's great. My family was talking as we were out riding today. A lot of people don't even know what we have in our own backyard. What they have, they ought to concentrate on making better."
Park user Stuart Cunningham said he would definitely vote to renew any tax that maintains and improves local parks.
"While I haven't been using the parks as much as I'd like, the recent addition of resistance training stations are great for promoting a healthy society," Cunningham said, adding that more facilities that encourage youth to be active would be nice.
Tennis and basketball complexes
The city has yet to decide whether to locate the tennis complex on either Philips Park or Gans Creek Recreation Area. The early budget for the project is $250,000 for the construction of four courts.
Mike Snyder, park planning and development superintendent, said the public will be consulted.
"It's an interesting process we go through," Snyder said. "Once it's funded, we plan on putting together concept design plans and having public input meetings for other details. Then, we'll put together a finished design based on this input."
Snyder said the park could get more courts if Parks and Recreation can solicit private donations.
"We do a needs assessment citywide and try to spread facilities out throughout the city," he said. "In the southeast part of Columbia, there aren't really any tennis courts. The courts were one of our most requested amenities during the long public input process we've had in the past."
The department is also proposing to spend $2.7 million on a field house that would house courts for the Columbia Youth Basketball Association. That project, which would cost a total of $4 million and rely on some private donations, is slated for Philips Lake Park.
Gans Creek Recreation Area
The 320-acre Gans Creek Recreation Area has dazzled locals with its rocky bluffs, thick forests and ravines. The first phase of its development as a park began in 2013, thanks to $3.5 million in proceeds from the 2010 tax extension.
Parks and Recreation Director Mike Griggs and his staff has a handful of plans outlined for the property's further development.
"We're in the process of building a parking lot and seven multi-purpose athletic fields that we anticipate being used by various sports teams," Griggs said. "This second phase (of funding) will include funds to add a concession stand, a restroom and a playground."
Four of the athletic fields had been completed as of Monday, while three others are slated to receive the needed sod, topsoil and grass by next week, bringing them almost to completion.
Griggs said the new amenities will benefit the recreation area by serving as anchors for the sports fields and, by extension, turning them into an economic boon.
"There's some reluctance for teams participating in big tournaments to use the Gans fields," Griggs said. "For example, we host a big collegiate Ultimate Frisbee tournament each fall. We've tried to encourage the teams to use Gans, but when they went, they said: 'There are no bathrooms and no shelter. If it rains, where will we go for cover?' You have to have these kinds of amenities to attract and support these larger events."
Snyder said the park projects are intended to turn the southeast parks into "our new Cosmo Park," which features 19 soccer fields as well as lacrosse fields; softball and baseball complexes; a skate park; trails for joggers, pedestrians and mountain bikes; and even a place for people to play with remote control cars and trucks.
Snyder said that Cosmo has been under construction for around 50 years and that it might take that long to develop Gans and Philips.
"These large scale projects have multiple phases over many, many years," Snyder said. "The seven soccer fields have their development ongoing and that'll probably be completed next summer, but that's just the first phase. There'll be future phases if this tax passes, and who knows what we'll include… potentially hiking trails or baseball fields, too."
Griggs said that a handful of amenities will also be left at residents' discretion if the tax passes. He said none of the projects will happen, though, if citizens do not renew the sales tax.
"Citizens may want a walking trail, maybe they'll give the OK for a dog park. We want to see what the priorities are for the citizens," Griggs said. "We know there are some key items we have to do, but there are some other things we want to here about from the public."
Philips Park
The 40-acre Bristol Lake, with its fishing and boat dock and ramp, is the gem of A. Perry Philips Park. There's also a 1.44-mile gravel trail that winds all the way around the lake. Although Parks and Recreation might add new roads, restrooms and stormwater controls, as well as a dog park and more trails, the $800,000 listed in its tax proposal is for an indoor pavilion that it hopes will attract significant events and actually make money.
"Through the park sales tax and some grant funding, we put in a fishing dock, a boat dock and a boat ramp, a parking lot, a restroom and a trail around the lake," Snyder said. "We'd like to incorporate some open-air shelters as well as an indoor one like the Riechmann Pavilion at Stephens Lake Park, so people can reserve it for weddings, receptions, or different club meetings."