COLUMBIA — The spiky hairdos of bee balm flowers in Mike Gerard's garden on Park Hill Avenue imitate punk rockers. Bees with pollen-laden legs buzz around their purple, pineapple-shaped blooms. Butterflies flit among the blossoms as they blow in the wind. 
Bee balm is one of many native plants — others include milkweed, columbine and Culver's root — that sustain pollinators. That's one of the reasons Gerard plants them in gardens around Columbia.
Gerard was talking to his friend Ann Mehr at one of his gardens and pointed toward the Culver's root.
"Bumblebee, firefly, two native bees and honey bees on one plant. Talk about biodiversity," he said.
"Talk about a hub," Mehr responded.
Gerard is well aware of the plight of pollinators, which have been in decline over the past several years. Piles of magazines and books on the subject litter his red Volkswagen van. He's one of a growing number of gardeners, activists and scientists who are trying to do something about it.
It's a pretty simple equation. If pollinators disappear, plants will go next. Then more insects. Eventually, people and wildlife would face a food crisis. It's ecosystem Jenga. How many species can we take away before the ecosystem falls apart?
Doug Tallamy, a professor of entomology and wildlife ecology at the University of Delaware, says not many. He was among several speakers at a Native Pollinator Symposium on June 23 at MU. About 150 people showed up.
Tallamy is passionate about pollinators and native plants. His talk focused on the importance of biodiversity, which boosts the likelihood of pollinators coming to a yard or garden.
Pollinators often gravitate toward specific plants, so the more variety of native plants one has, the better. But biodiversity is important for more than just pollinators. 
"E.O. Wilson told us decades ago that 'a world without biological diversity is a world without humans,' and that's why this is an important message for everybody," Tallamy said. "Whether you are tree hugger or not, everybody on the planet, whether you're from the center of Beijing or Manhattan, it doesn't matter. Everybody needs a biologically diverse, rich world, and we are not treating the world that way." 
Wilson, an American biologist, researcher, conservationist and author, was a member of the faculty at Harvard University for 40 years. He is known for his scientific career, his role as "the father of sociobiology" and "the father of biodiversity" and his environmental advocacy.
Gerard is a big fan of Tallamy. He noted Tallamy's advice while working on two of his gardens on Park Hill: Try to have at least 25 species of native plants. Gerard had 15 in one garden and 10 in another. He wanted more.
So he started pulling some new ones from his van. "I've got all kinds of stuff in here," he said. "These are mostly ones I grew."
A concerted effort
The June symposium was just one of the ways MU is striving to become more pollinator friendly. It focused on what organizations around the state — and everyday people — can do to promote pollinator populations. The University's Botanical Garden and Sustain Mizzou also are working together to help bees, butterflies and birds flourish on campus. 
Megan Tyminski is on the executive board for Sustain Mizzou and has been instrumental in bringing bees to campus. One of the group's projects is setting up two honey bee hives in the campus butterfly garden behind Eckles Hall. The group also is trying to buy or make several bumblebee and butterfly houses to bring in other pollinators. 
Bumblebee houses can be similar to bird houses with backs that look like wasps' nests. They can also be as simple as an upside-down pot stuck in the ground. Butterfly houses look almost exactly like a bird house, but they have slits instead of circular entrances.
Sustain Mizzou offers classes throughout the year to teach students how to maintain bee hives and help pollinators. Members were out in force at the pollinator symposium. They hope MU will eventually become a certified bee campus that acts as a sanctuary for bees, offering hives, friendly plants and other types of habitat.
Across the state
Ed Spevak manages the St. Louis Zoo's Center for Native Pollinator Conservation. He works with several groups around Missouri on a variety of fronts to help pollinator populations — especially bees — thrive.
The zoo helped establish the International Union for Conservation of Nature's bumblebee specialty group to identify bumblebee status worldwide. It's also working with the city of St. Louis to create pollinator gardens and with the Missouri Department of Transportation to establish pollinator habitat along roadsides.
"There was some modeling done by the U.S. Geological Survey looking at if we want to save the monarch butterfly, where do we get the most bang for our buck?" Spevak said. "The only way it worked is for everybody to be involved, and that's the beauty about pollinator conservation. Everybody can get involved, and everybody can be a pollinator conservationist."
Missourians for Monarchs is coalition of organizations dedicated to the preservation of monarchs and other pollinators. Columbian Nadia Navarrete-Tindall is a co-founder. The monarch population hit an all-time low in 2014, when only 25 million butterflies were counted, according to the Center for Biological Diversity. The numbers have started to climb, but they remain unfavorable: 150 million monarchs were counted this year, far below the average of 235 million.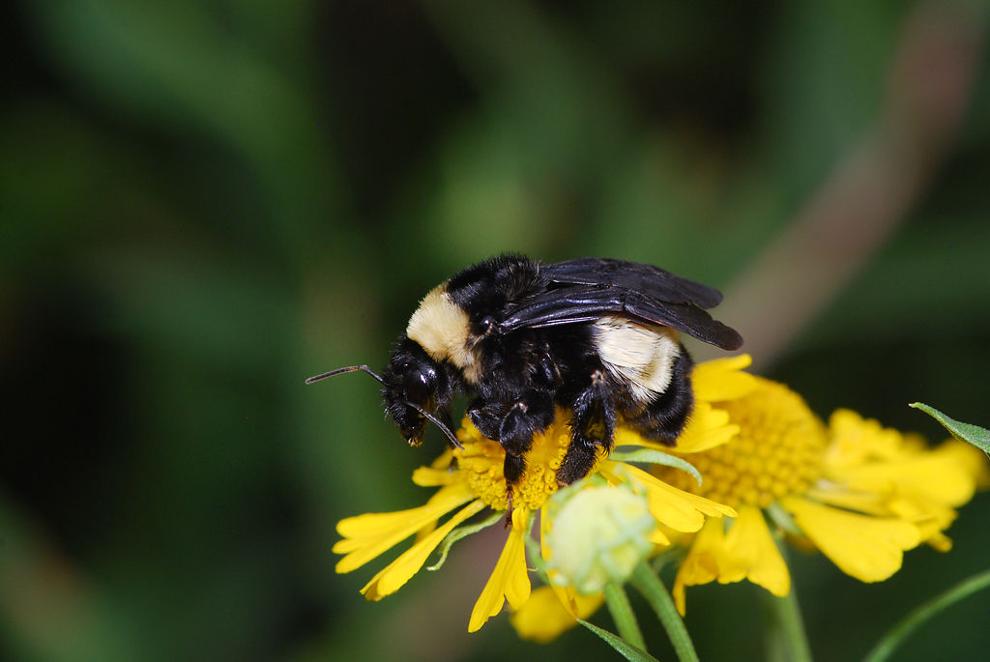 Navarrete-Tindall said her group is scheduled to release a specific action plan on Aug. 12 at the Missouri State Fair.
Several species of bumblebees are also diminishing and becoming endangered, according to the International Union for Conservation of Natures's Red List. Rusty patch bumblebees are considered critically endangered, while southern plains bumblebees are endangered. The yellow and American species are considered vulnerable.
Honey bees are domesticated but also are in decline. Gerard said beekeepers expect to lose 40 percent to 60 percent of their hives every winter.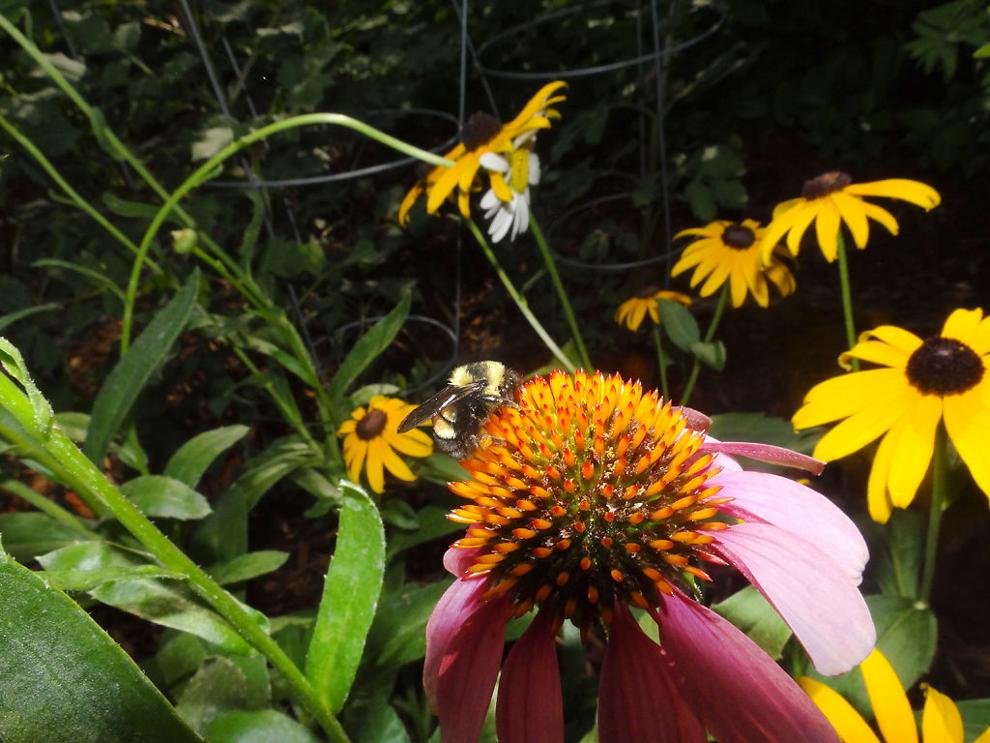 The Missouri Department of Conservation is trying to help on all fronts. It's planting milkweed and coneflowers on its properties and working with private landowners to restore native prairies, said Bill White, the department's division chief for private land services. The department has a program that offers a 50 percent to 75 percent cost share for converting lands into pollinator habitats.
"A big part of the issue with pollinators is habitat," White said. "So anyone who has a back yard, front yard, some acreage or a farm can plant wildflowers mixed with native grasses to stimulate pollinators."
White suggested planting American basket flowers, asters, Black-eyed Susans and phlox.
Function and beauty
Gerard and other local gardeners, including Melinda Hemmelgarn, are going all in on the native plant and pollinator movement. 
Both believe gardens should offer both function and beauty, sustaining people and wildlife while also providing an avenue for enjoying nature.
Hemmelgarn's garden on Thilly Avenue is filled with vegetables and flowers. Her favorites — as well as the bees' — are the passion flower tree and elderberry bushes. While strolling through the garden on a recent summer day, Hemmelgarn said children are the key to saving pollinators and the ecosystem.
The garden, she said, is "a nice place to bring kids and interact with nature. Because if you help kids fall in love with nature, they will grow up to protect it, and that's really important."