Just after 9 a.m. Dec. 11, Gentry Middle School Assistant Principal Alyssa Galbreath walked into Caitlin Cunningham's sixth-grade classroom and let the science teacher know she was needed at the school district's human resources office.
She had just a few minutes to inform the person taking over for her, and then she had to leave.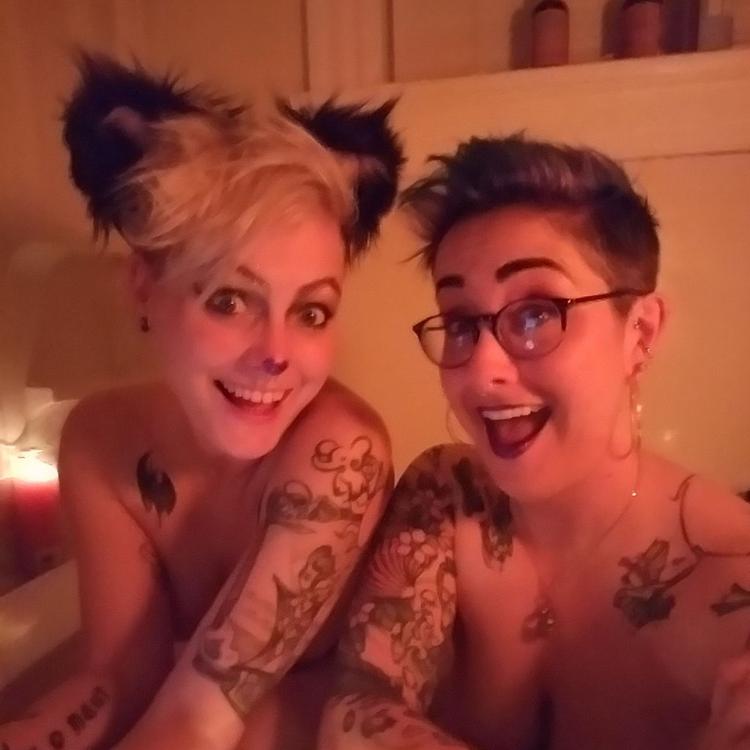 Just a few weeks before, on Nov. 18, the 36-year-old had submitted her resignation effective Jan. 3, the end of winter break.
In the ensuing days, she started a public Instagram account called "2BitchezinaBathtub" featuring videos in which she and a friend, Aubrey Berkholtz, sat naked in a bathtub and talked about current events.
The only identifying feature of the account was the name Katy, which Cunningham goes by on Facebook.
"Let's do an Instagram, like an art Instagram, where we host like guests about social justice," she said of their idea. "Things that we're interested in, culture and community, just stuff that's relevant to us as queer women who want to educate those in a funny, ridiculous way."
Within a few weeks, Cunningham began receiving comments from students saying things like "Aren't you a teacher?" and "We're going to get you fired."
Cunningham made the account private and archived the posts so they were no longer visible.
When she arrived at the office of Columbia Public Schools Chief Human Resources officer Nickie Smith, Cunningham was told she would not have the right to request a union representative as the meeting was solely for investigative purposes.
Smith then handed her a letter stating she was on paid administrative leave until further notice.
Cunningham suspects parents had complained about her Instagram account, but she said it isn't the first time she's had problems with the school district.
Cunningham, who taught at Gentry for nine years, identifies as pansexual and advocates for the LGBTQ+ community. She said she resigned to focus more on that advocacy.
She co-sponsored the program Jaguar PAWS (People Accepting Whole Selves), the school's Gender and Sexuality Alliance club, and was hoping to remain involved in that school district community after her departure.
Cunningham said she began having trouble with the school in October during a controversy over two sets of LGBTQ+ posters.
One set featured flags representing different gender identities and definitions of those identities; the other featured the name of a gender identity and two celebrities who identified with it.
Some parents complained that the posters were inappropriate.
A local conservative radio program, "The Gary Nolan Show" on KSSZ/93.9, The Eagle, criticized the school district and Cunningham personally as the co-sponsor of the club. One caller who said he was the father of one of Cunningham's students, said she had a "queer lover" and was a "pervert."
"People have been trying to get the kids removed from my class since I started teaching, because I've been queer since I started teaching."
Gentry administrators eventually agreed to take down the celebrity posters but did not remove the flag posters. Cunningham believes that administrators were trying to please angry parents without violating civil rights and that those parents didn't know about the flag posters.
"They took advantage of that loophole," she said, adding that she feels the district acquiesced to intolerance.
Throughout the recent ordeal, Cunningham has maintained her chief concern is for her students.
"What's important to me is that I get to say goodbye to my students and give them closure," she said. "I was just ripped from the classroom. I don't want them to think I'm abandoning them."
Cunningham said she was told her suspension resulted from behavior that would "disrupt the learning environment." She said yanking her from the classroom was far more disruptive than anything she has done.
"One of the most distressing parts of it is, I don't understand how it's such a disruption to the learning environment that it outweighs my absence for the last seven days of a semester, when we're getting ready to review and take a test and all of that," she said.
Cunningham said she was told the district would update her on her status by Dec. 17. That day came and went, and her calls and texts to Smith have received no response, she said.
She posted an account of the events on Facebook, along with a copy of her resignation letter. She didn't want people to think she had been fired.
She also posted a letter to her students explaining her absence and expressing her support.
"I can't wait to hear about all of the fantastic things you are accomplishing and the grand adventures you have been on," she wrote.
Cunningham held a "goodbye gathering" on Sunday afternoon at the Village of Cherry Hill. Roughly 30 of her students and their families attended.
Alexis Harper, 17, was among the first to arrive with her family. A former student of Cunningham's, Harper said that if Cunningham's Instagram posts had contained discriminatory language, then the school's reaction would be appropriate, but she didn't think Cunningham's actions warranted such a drastic response.
"I think it wasn't anything related to school at all," Harper said. "And it was like a private account on social media, and I don't think that really should have much bearing on school."
Harper's mother, Jen Harper, said the school district infringed on Cunningham's right to free speech.
Anthony Kunkler, 12, who said Cunningham was his favorite teacher, was in tears at the event. He said Cunningham's sudden absence from the classroom was confusing.
"Because of all the rumors they thought Ms. Cunningham did something that she shouldn't, but they really didn't know for sure," he said. "And so, they were just like battling in their head."
Katie Kunkler, Anthony's mother, said the school district's handling of the situation was bad for her son and his classmates.
"They were tossed around with a bunch of different teachers, and the kids don't have the right head space to learn because they didn't know what was going on," Kunkler said.
Amanda Canton, another parent who attended the party, thought the school should have completed its investigation before pulling Cunningham from the classroom.
Canton said her daughter came home from school that day very confused.
"You can't just immediately pull a teacher, not knowing, not getting her side of what was going on."
School district spokesperson Michelle Baumstark said she couldn't comment on a personnel matter and that any questions regarding district policies could be answered by looking at the website.
The staff conduct policy notes in its introduction that "The Board of Education expects every employee to act professionally, ethically and responsibly; use good judgment, and do what is necessary to maintain a safe learning environment and positive relations with students, parents/guardians, coworkers and the public."
It goes on to note that "employees will not be disciplined for speech that is protected by law."
Cunningham said she is not considering legal action, although she has been offered pro bono services.
She said any settlement she might reach with the school would likely include a non-disclosure agreement, and she doesn't want to surrender her right to discuss her experiences.
"My big message is always be kind, and don't let anyone dull your sparkle," Cunningham said. "There's enough negativity in the world that we don't need to be responsible for putting anything out there to add to it."