Columbia interim City Manager John Glascock and Racine, Wisconsin, City Administrator Jim Palenick took questions from journalists Thursday morning. Their answers shared their perspectives on community diversity, community policing, budget concerns, transit and affordable housing.
Members of the Columbia City Council were absent from the news conferences. Instead, they were interviewing the candidates in a closed meeting. Andrew Nelson of CPS HR, the consulting firm that led the search for city manager candidates, said the council could decide between Glascock and Palenick as soon as Thursday. Once the job is offered, the task of ironing out a contract would remain.
Palenick, who has been Racine's city administrator since April 2017, said he sees Columbia as a "very attractive community," one where he thinks he can make a difference. He said he would view the city manager post as the "last job in his career."
Palenick has been in city management for the past 29 years, in North Carolina, New Mexico, Michigan and Wisconsin. His experience working through challenges in many different communities sets him apart from Glascock, he said.
Glascock, who has served as the interim city manager since November, acknowledged that he initially did not want the permanent position.
"In my mind, I said no because I didn't know where I was at," Glascock said. "I didn't know if could work with council. I didn't know if I could fit what they wanted to do."
But since his time in the interim position, he said a lot of things have changed and he feels he is "adding value" to what the city was doing.
At Wednesday night's public meeting, Palenick chose "vision" as a word that best describes what a city manager should bring to a community. On Thursday, he outlined his efforts to attract infill development to Racine as an example of his visionary work.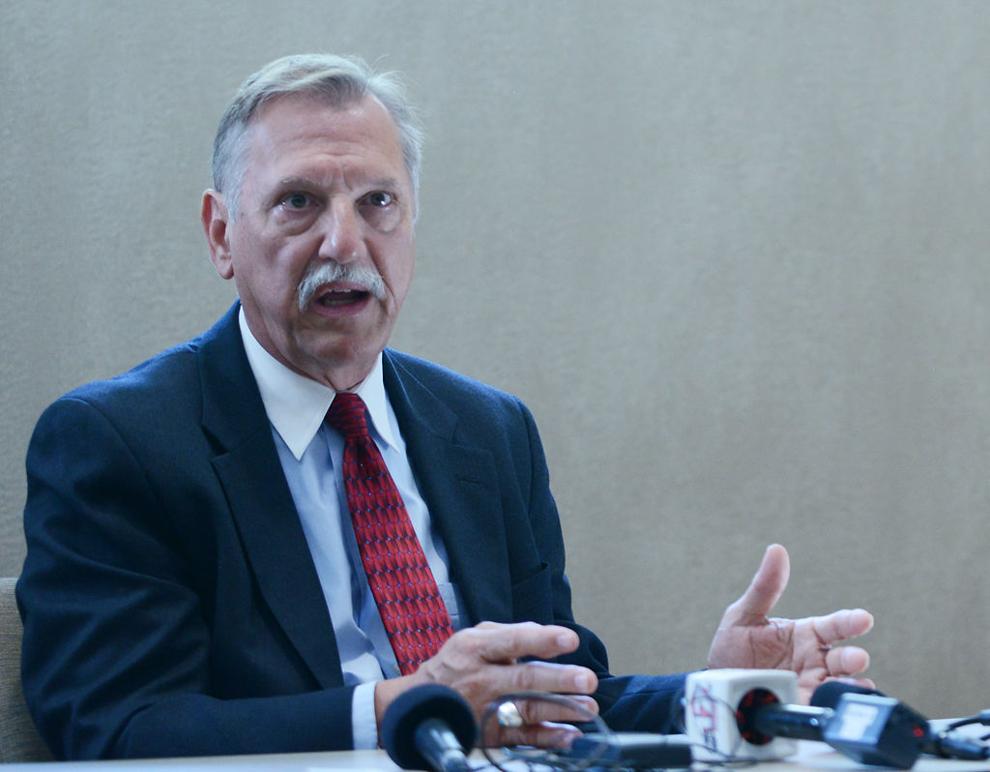 Glascock said he might not be a visionary but he's been looking for new ways to do things his whole life.
"I love trying new stuff," Glascock said. "My engineer seal is on the first roundabout ever built in the state of Missouri. When I was public works director, we got permitted for a bioreactor landfill, we were allowed to put yard waste in it because it was greener."
It's not always about being a visionary, but rather finding more efficient and sustainable ways to do business, Glascock said.
Equity and inclusion
Palenick said improving diversity and inclusion in Racine is a "legacy issue" that city has been working through.
"In the city of Racine, we're facing a lot of the same issues," Palenick said. "These are not peculiar to Columbia. They're entrenched, they're endemic, it's hard. In the last number of years, we're finally facing up to some of these things."
Glascock, who has worked in Columbia since 2003 and served as the deputy city manager before stepping into the interim city manager position, said the job is about relationships. While he doesn't believe any specific groups in Columbia have been excluded from community conversations, he does think there are voices that are not being heard.
"It's important to me that those relationships always be on a positive frame," Glascock said. "When it starts going negative, we have to start figuring out why. It's all about keeping that connection to those groups."
Race Matters, Friends, endorsed Glascock in a Thursday email. Members have been "impressed" with his "authenticity, accessibility and humbleness and honesty" during his tenure as the interim city manager.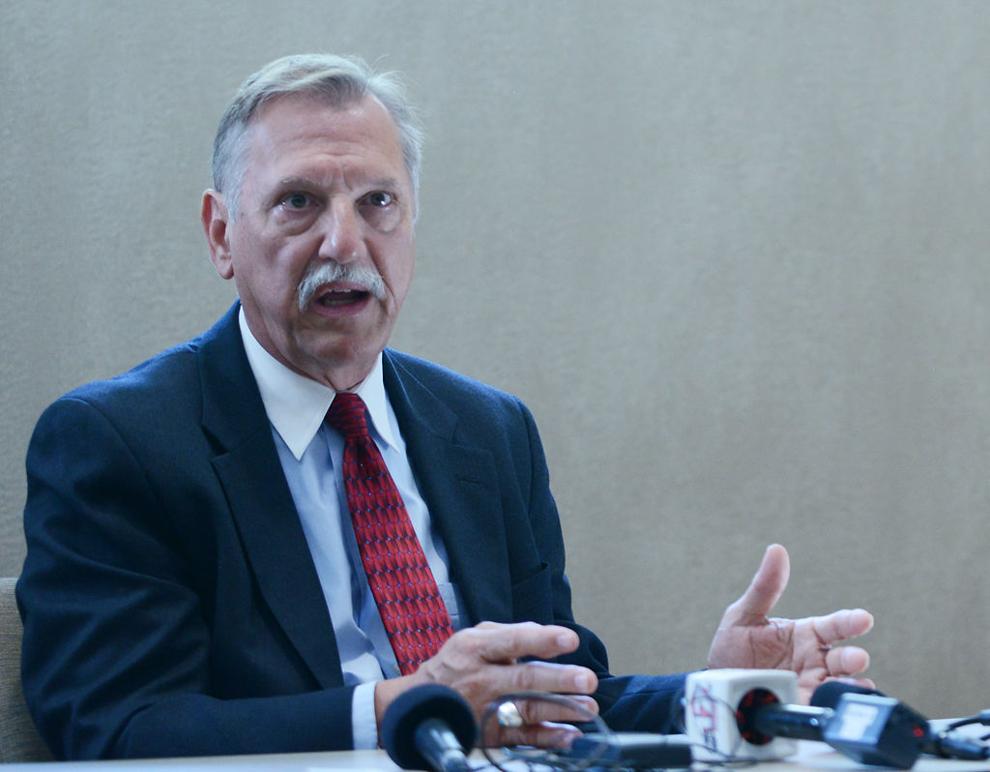 Community policing
Community policing is one of the priorities the City Council and the public say the next city manager must embrace. Palenick said Racine had already established community policing before he took his job there, but he has worked to enhance and reinforce it.
Palenick said it would be "unfair" to say how Columbia differs in community policing efforts. In Racine, he said, a community policing philosophy is established early on, when officers are being hired and trained. Police there work directly in neighborhoods and in community-oriented policing houses.
While Palenick said he has not met Interim Police Chief Geoff Jones, he has heard "good things" about his work.
"It may be great, but there may be opportunities to continue looking on," Palenick said.
Glascock, who appointed Jones as interim chief in January, said community policing in Columbia is "simple in statement" but much harder to produce. He said Jones has talked to his officers about how to approach people.
"Everything doesn't take handcuffs," Glascock said. "How do you see the violation? Is it a safety thing? Is your life in danger? If it's just a minor infraction, it doesn't take a large hammer to talk to them."
The Columbia Police Officers' Association also endorsed Glascock in a Thursday news release, saying he has "earned both the trust and the respect" of city employees and residents.
The association cited several concerns about Palenick, including the short amount of time he has spent in some cities, the fact that he's been fired three times from previous city manager positions and a lawsuit he filed after being dismissed as city manager in Rio Rancho, New Mexico, in 2006.
He was also fired from city manager jobs in Bay City, Michigan, in 2002, and in Gastonia, North Carolina, in 2011.
"In this profession, sometimes you can have major changeovers in elected officials," Palenick said. "In each of those cases, that was specifically the case."
He noted that he was fired in Gastonia after five "Tea Party" candidates for council were elected.
Palenick also addressed the lawsuit, saying it was less about trying to win backpay and more about holding city officials accountable for violations of New Mexico's open meetings law.
Budget concerns
Glascock, who is working on the fiscal 2020 budget, said the transparency of the process "worries him a lot" because the budget is complicated and difficult for the public to read. He said it's important to simplify the process.
"There's 52 budgets, and people think of it as one," Glascock said. He wants to make it "less onerous" so people can read it and know where the city's money is going.
Glascock said residents and the council need to establish exactly what their priorities are. Unless the city can find new sources of revenue, some programs and services will need to go away. When it comes to asking for tax increases, he said, it's key to get citizens involved and to begin communicating with the public long before a vote.
"You can't expect to lay it on the citizens one month and vote on it the next month," he said. "You gotta probably have a six- to 12-month window to educate the citizens. You have to be very clear about what you're going to do with the money."
Palenick said a use-tax on online purchases could boost revenue. He'd also be willing to look at utility fees.
He said he lacks experience in seeking tax increases.
"I worked really hard to never ask for tax increases," Palenick said. "We've always tried to find ways that we could go to public and say that whatever we were asking for was relatively burdenless."
Palenick called the sales tax issue a "two-fold" problem caused by moving from brick-and-mortar retail to online sales.
"There's going to be this natural, continuing erosion of sales taxes," Palenick said. "The second piece is we're moving away from a goods-sales economy to more of a service economy."
Affordable housing
Palenick said the city can continue affordable housing efforts but noted that the vast majority of housing is built by the private sector.
"What can we do to incentives when they do developments that portions of those become affordable housing," Palenick asked.
Glascock said that city fee increases over the past decade have made housing more expensive and that it's important to implement programs that bring down the initial cost.
Transit issues
Palenick said it's inefficient in a small, urban market to run a fixed-route transit system. When resources dwindle, ridership falls, even among "transit dependent" people.
"We have to recognize transportation in this era looks different and be willing to be more innovative and flexible," Palenick said.
He suggested providing vouchers for ride-sharing platforms such as Uber and Lyft rather than running 32-passenger buses that cost $600,000 to buy and is driving around town with six people on them.
Glascock said that when he thinks about Columbia's transit system, he sometimes wants to "blow the whole thing up and start over." It starts with figuring out what routes people are using most, he said.
"I believe in this budget, we've got a way to make transit stable," Glascock said. "Now what we want out of transit, again, has to be a community conversation between us, the university, the other colleges in town."