City Manager John Glascock is supporting a 1-cent tax on every gallon of motor fuel sold in the city, which would bring in $950,000 for police services and street work.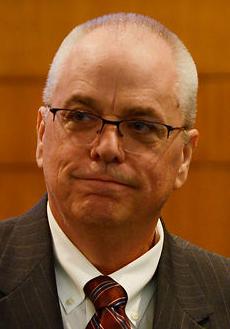 Voters, however, will have the final say.
Along with four other revenue proposals, Glascock floated the idea of a 1-cent gas tax when he delivered his budget message for fiscal 2020 in July.
"The good thing about that idea is that everyone would pay it," Glascock said in an interview with the Missourian. "Even the visitors who come to town and fill up with gas would be paying for that."
The tax would be subject to a public vote and, under the Missouri Constitution, would require a two-thirds majority to pass.
Columbia residents at gas stations around town were split on whether they would favor the tax. Eleven said they would vote for it, eight said they would not and one was undecided.
"They tax too much, and they waste it," Mark Robb said.
Marcella Day said she would approve the tax "because roads around here are in terrible condition."
Others who liked the idea said streets and police services need more money.
In addition to the gas tax, Glascock has suggested a city use tax on internet purchases, a sales or property tax dedicated to public safety, a fire property tax similar to the one that funds the Boone County Fire Protection District and a fire flow tax.
Under a fire flow tax, property owners would pay a set tax per square foot of their building. Glascock did not specify how much that tax would be, but he said it would apply to all types of buildings, both residential and commercial.
Other than park taxes, Columbia voters in recent elections have been reluctant to approve ballot measures. So the prospects of Glascock persuading voters this time might be bleak.
"We're just looking at every type of different way to fund public safety in our streets and our priorities in the city," he said.