After an eight-month process, Mayor Brian Treece announced Monday morning that the Columbia City Council has picked John Glascock to be the next city manager.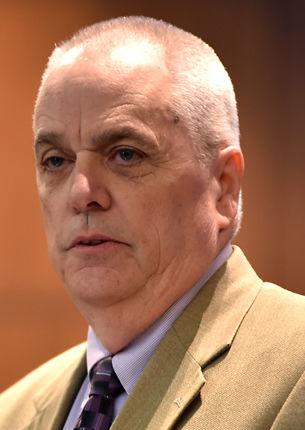 Council members unanimously voted to appoint John Glascock as Columbia's city manager at the City Council meeting Monday night. The official vote prompted the preparation of a bill that will outline the terms and conditions for the position.
Glascock, who has been interim city manager since Mike Matthes resigned in November, won the job over Racine, Wisconsin, City Administrator Jim Palenick. Matthes resigned amid criticism from council members and the public about his views on community policing and employee wages.
"It's a wild moment," Glascock said following the announcement. "I'm late in my career, so it's definitely a cap that will live on forever. ... I never thought it would happen."
Treece said he was thrilled to select a "proud son of Boone County," and his announcement drew a standing ovation in a full City Council chambers.
During short remarks before the crowd, Glascock said he is committed to supporting city employees, valuing diversity and strengthening Columbia's community policing efforts.
"I am excited to continue the journey that we have begun," he said.
In January, council members approved an agreement with CPS HR consulting firm to lead the search. It culminated in public meetings, an online survey and in-person meetings with council members and city stakeholders. By July 1, council members had whittled the list of 33 candidates to Glascock and Palenick.
The city now turns its attention to filling five leadership positions. Glascock said finding a new finance director will take first priority.
"The finance director has been open for quite some time, and we really need to get that filled," he said.
One of Glascock's highest-profile actions as interim manager was naming Geoff Jones as interim police chief after the resignation of Chief Ken Burton. Glascock said Thursday that Jones has instilled a community-policing philosophy in his officers.
"He's a native son as well, so he knows the community probably better than anyone," Glascock said Monday. "He knew what to do and stepped into it immediately."
Jones called the decision "a step in the right direction" but said he remains unsure whether the city will keep him as chief.
Glascock said Jones has done a great job but that he wants to sit down with the council before choosing a permanent chief.
"While (the council) can't hire the person, they can give input to it, and I want their input on a lot of decisions going forward," Glascock said.
Before stepping into the position of interim city manager, Glascock, a professional engineer, had served as deputy manager since September 2015. He also worked as Columbia's Public Works director from May 2005 to September 2015 and Columbia's chief engineer from March 2003 to May 2005.
Glascock has said that initially he wasn't interested in becoming the permanent city manager because he was unsure whether he'd be a good fit with council members' goals. After several months on the job, he said, that perspective changed.
During a press conference after the announcement, council members expressed their support for Glascock. First Ward Councilman Clyde Ruffin said the hiring process began with the assumption that the council would have to choose either a visionary or a more level-headed manager.
"By going through an exhaustive process searching for the most appropriate candidate, we discovered that it is possible to have someone who embodies both of those characteristics," Ruffin said.
Treece said only two women and six people of color were among the 33 who applied for the city manager position. He said the lack of applicant diversity reflects a nationwide challenge for municipal governments.
"It's a struggle that all cities face in that fight for equity," Treece said. "I can tell you that diversifying the cabinet was one of the priorities for not only the City Council but for Mr. Glascock. ... We're all unanimous that diversity yields better results."
Both Race Matters, Friends and the Columbia Police Officers Association — two groups that often don't see eye to eye — strongly endorsed Glascock last week.
Race Matters, Friends said in its release that its members have been impressed with Glascock's "authenticity, accessibility and humbleness and honesty."
The police association shared similar sentiments, saying Glascock has earned the trust and respect of city employees and residents.
Treece said Glascock will be officially appointed to the position during Monday night's City Council meeting. The council will then finalize an employment agreement at its July 29 meeting.
Supervising editor is Scott Swafford.
Reporter Brianna Taylor contributed to this report.