Jai Peal had just gotten back from celebrating her 21st birthday with family in California when her mother mentioned that her driver-side brake light was out.
After her birthday, Peal felt obligated to replace the broken light before anything happened because of it.
Peal felt anxious about spending money to fix the light after her expensive trip. This feeling was eased after she learned about a free brake light clinic.
"It was perfect timing," she said. "It really helped."
Peal shared this sentiment with others who attended the free clinic Saturday, which was held by the Mid-Missouri John Brown Gun Club. The club organized its inaugural free brake and license-plate light clinic at Columbia Honda on Saturday, where volunteers fixed brake lights and license-plate lights for free.
Volunteers replaced bulbs on 20 cars at the club's first clinic. Some cars were turned away because of wiring issues, broken light fixtures that required more than a simple bulb replacement, or because they needed expensive LED strips that were not on-hand.
"We wanted to do something community-oriented," said Fred Williams, who is a member of the club. "We wanted it to be for everybody."
Williams started planning in March, when Democratic Socialists of America sent him an inventory listing how many bulbs should be purchased for the clinic. The club prepared for the clinic by buying six boxes of brake and license- plate bulbs and bought four more boxes during the event.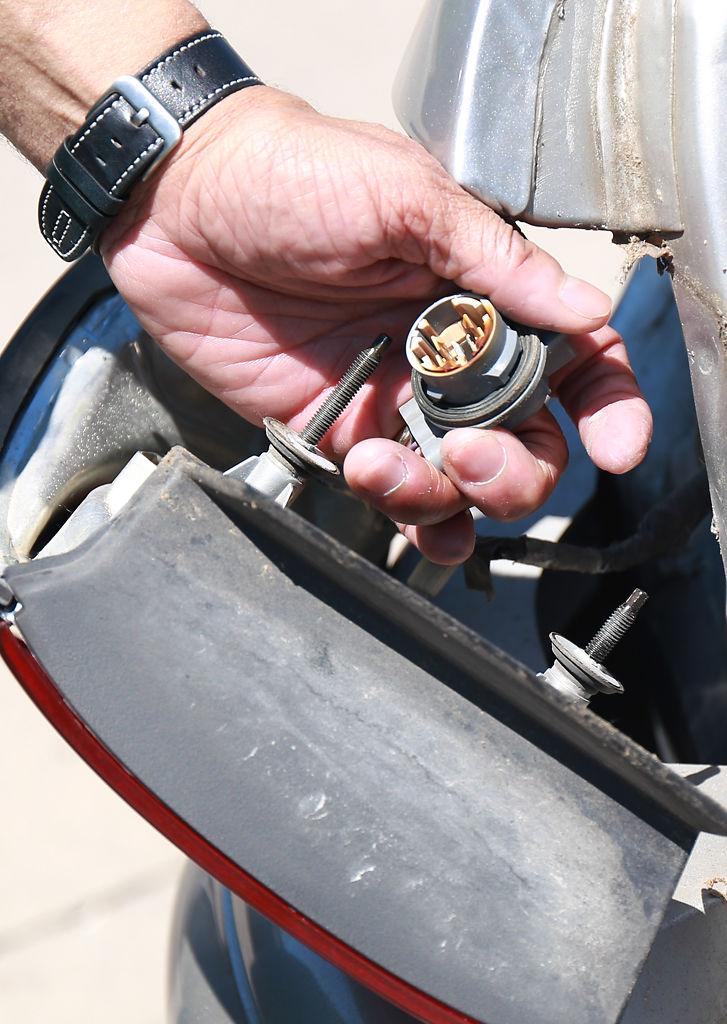 Columbia Honda agreed to host the event at its dealership.
"Any type of community service event, it's typically not something we say 'no' to," said Dorian Brownlee, who works customer support for the dealership.
Brian McClain found out about the free clinic after his sister sent him the Facebook page for the event. On Saturday, McClain pulled up to the Honda dealership in his white 1969 Buick Wildcat, grateful for the opportunity to get his driver-side brake light replaced.
"(This) gives people a chance to save financially," he said. "(I) got a 15-year-old son, so this is just one less cost I have to worry about."
Brake light bulbs can range from $4 to over $20, and license-plate light bulbs can range from $4 to $8, according to AutoZone.
"That's milk, man. That's cheese," McClain said. "It was a cost that I didn't have to come out of pocket for."
Being ticketed for having a defective brake light can be even more expensive.
A ticket for a broken light (brake, license plate, etc.) is $147, with an additional $4 for Boone County court fees. Failure to respond to the ticket can lead to a $1,000 fine, one year in jail and a suspension of one's driver's license, according to the Missouri Fine Collection Center.
Organizers wanted to prevent people from getting pulled over for equipment violations and to lower the disparity of black drivers being pulled over compared to white drivers
"We saw the report from the state Attorney General's report on traffic stops, and there was evident racial disparity," said Rob Rasmussen, a member of the club and an organizer for the event. "We felt that local authority wasn't properly responding, and we felt like we had to do something."
"We want to help everybody, but particularly minorities," Williams said.
In 2017, 32 percent of drivers stopped by the Columbia Police Department for equipment violations were black, while only about 10 percent of people in Columbia are black, according to the Attorney General's report.
White drivers accounted for 61 percent of Columbia's equipment stops but make up about 80 percent of the population.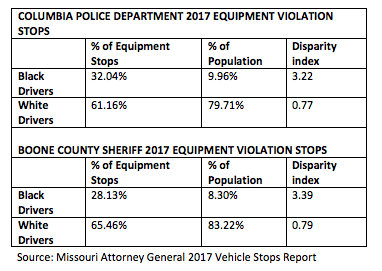 This means black drivers were 4.2 times more likely to be stopped for equipment violations than white drivers. The Boone County Sheriff's Department stopped black drivers for equipment violations 4.3 times more than white drivers in the same year.
The Minority Men's Network helped the gun club organize and promote the clinic. The network had high hopes for the first-time event.
"We want to make sure that this is one less thing that (minorities) may get stopped for," said Steve Calloway, a member of the network.
Calloway said he hopes the event can grow bigger after Saturday's clinic.
"We hope this is not a one-time thing," he said. "We hope to gain some exposure, to get some folks in the community invested in this event."
For the club's first free light replacement event, they were able to get a mechanic's discount from AutoZone for the bulbs. Along with food that the club brought for the event, Cafe Berlin donated iced coffee and offered to help provide more food.
Brian McClain believes that this clinic is something good for the Columbia community.
"Somebody did this out of the kindness of their heart," he said. "Gives me hope to see everybody come together."