Kevin Schroeder trudged between the trees at Nifong Park, finishing off a 26.2-mile journey.
The leader of Columbia's traditional Labor Day marathon had finished more than two hours before. But while Schroeder was a straggler, he crossed the finish line as one of the day's most notable finishers. The words on the front of his gray singlet said it all.
"My dad Joe Schroeder won the Heart of America Marathon in 1960."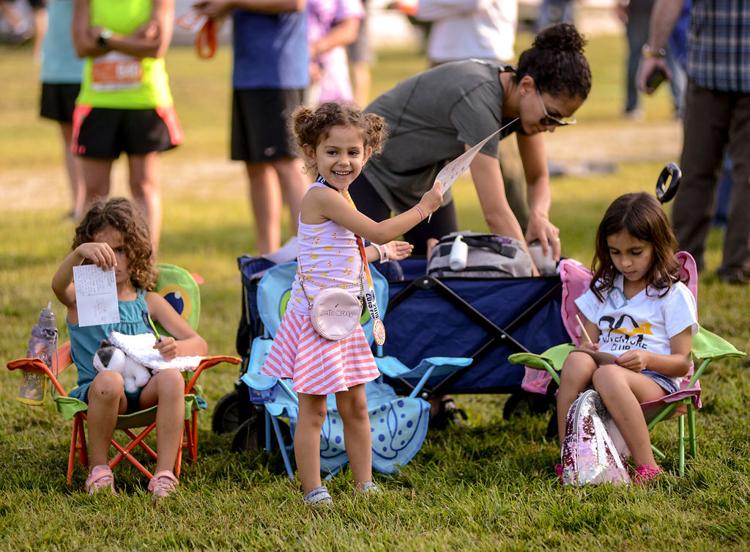 On the back, the singlet had a picture of Schroeder's late father, Joseph. An MU runner, the elder Schroeder not only won the inaugural race — he helped found what organizers say is now the fourth-longest continuously running marathon in the United States.
A record 333 runners registered for the 60th anniversary running of the Heart of America Marathon. The overall winner of this year's race was Griffin Humphreys, who clocked in with a time of 2 hours, 29 minutes and 37 seconds — 18 seconds shy of the race record that was set by Dennis Hinkamp in 1977.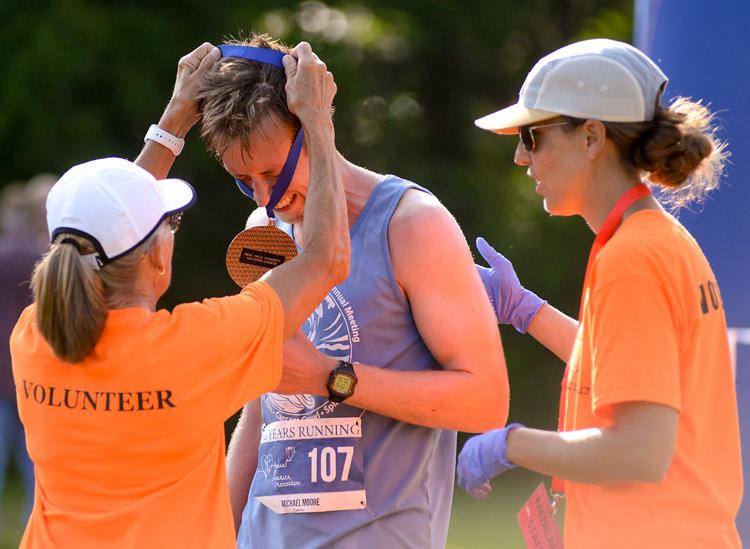 Humphreys, a college track coach in Oregon, is a 2011 graduate of Rock Bridge High School. He ran in his high school singlet and said he crossed an item off his bucket list by winning a marathon in his hometown.
"It's a really tough course, but it's a good challenge," Humphreys said. "It's something I've always wanted to do: come back and win this race since it is the hometown marathon."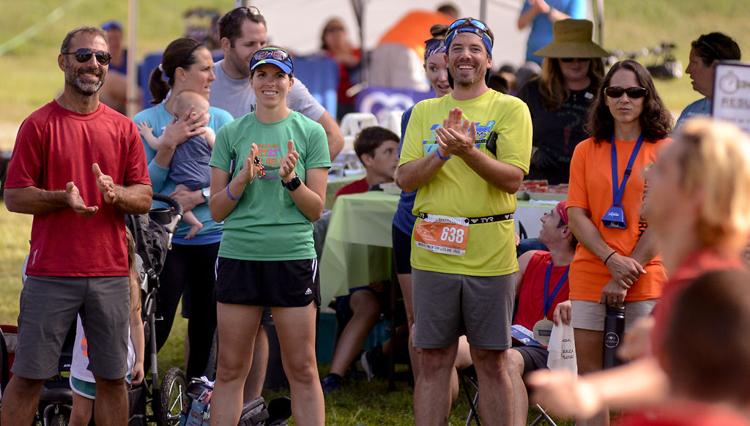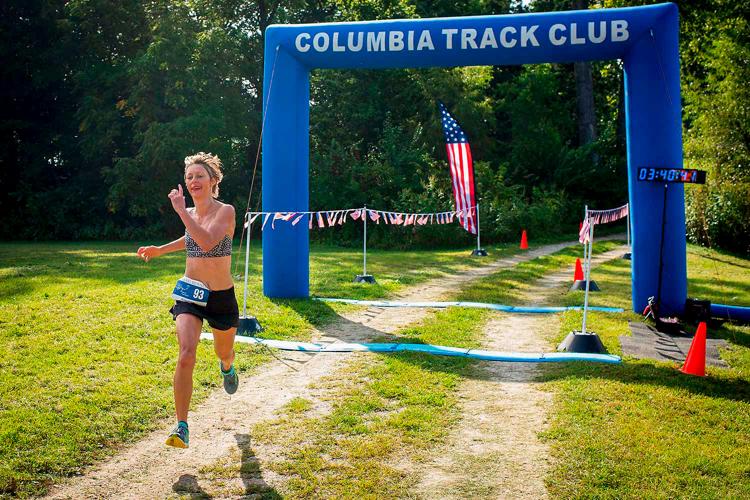 MU economics professor Oksana Loginova won the women's race with a time of 3 hours and 40 minutes. She puckishly said she plans to celebrate by teaching all three of her Tuesday classes, including her microeconomics course that starts at 8 a.m.
"I did this to challenge myself," Loginova said. "And it's also nice to be able to brag and say that I've finished a marathon."
The less elite runners in the race also won bragging rights. Schroeder, who hadn't run a marathon since the the 50th anniversary race in 2009, decided to enter this year's running. He; his brother, Jay; and nephew, Nick, decided to make this year's run as a tribute to their dad and granddad. Training for the event was no small commitment.
"In April, I couldn't run 8 miles, let alone 26," Schroeder said. He crossed the finish line in just under five hours.
"It felt good, but, just like for everybody else, it was a really hard day," he said.
Runners started in predawn fog outside the Boone County History & Culture Center at 6 a.m. They trekked through a course of mostly road, with parts on the Katy Trail and MKT Nature and Fitness Trail, before runners circled Tolton High School and finished the race under the beating sun by running through Nifong Park.
After the race, participants did some post-run carbo-loading on slices of Shakespeare's Pizza at an awards ceremony in Nifong Park.
The elaborate festivities and the Columbia-centric course are a long way from the original race. According to race organizers, it started as a wager between MU runners and boxers at the Columbia Athletic Club. Back then, the runners trained with the boxers. Some smack talk went back and forth, and the boxers challenged the runners to a marathon.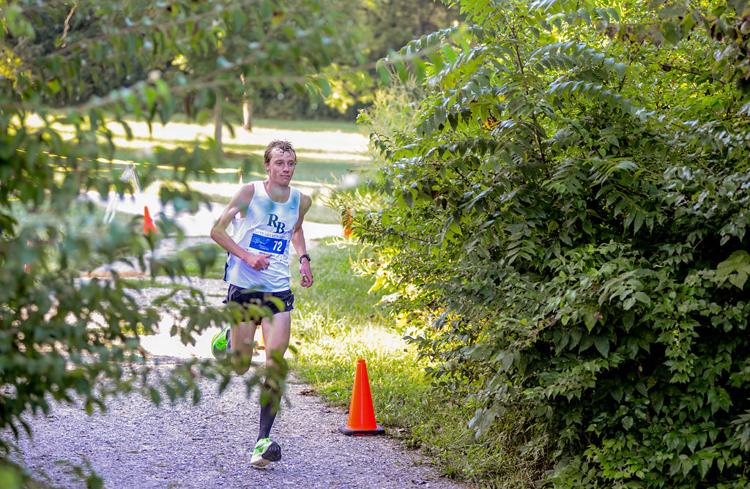 On Sept. 5, 1960, five of the MU runners toed the line, but the boxers never showed.
Even though one side chickened out, five runners started the race down Route WW to Fulton. Only two finished. Joseph Schroeder took first place with a time of 3 hours and 57 minutes.
After the race, Schroeder and his teammate hopped onto a van driven by Bill Clark, the organizer of the race, and rode back to Columbia where they celebrated with a barbecue.
"(Clark) brought the finishers back home and then he made them hamburgers that night," Kevin Schroeder said.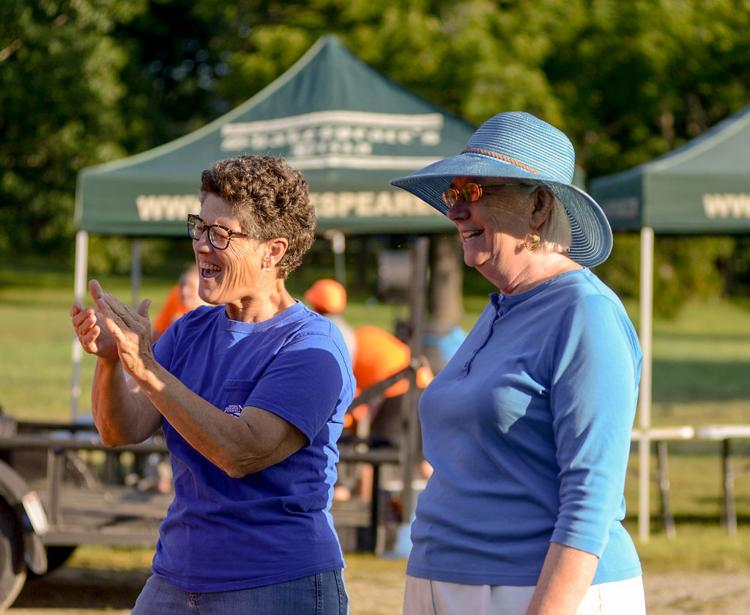 This year's race had a new feature in the Fun Team Relay, where the course was split into four legs for teams to participate in.
"It was made to include more people," race director Katherine Lee said. "Not everybody wants to or can do the whole 26.2 (miles) so, by doing a team relay, it allows people to be part of the event."
That helped push participation back up after the number of runners had dipped over the last couple of years.
"I'm thrilled with how the community has plugged in and embraced it because we've kind of been under the radar for 60 years," Lee said. "Now everybody knows we can be proud: We have a hometown marathon with a 60-year history."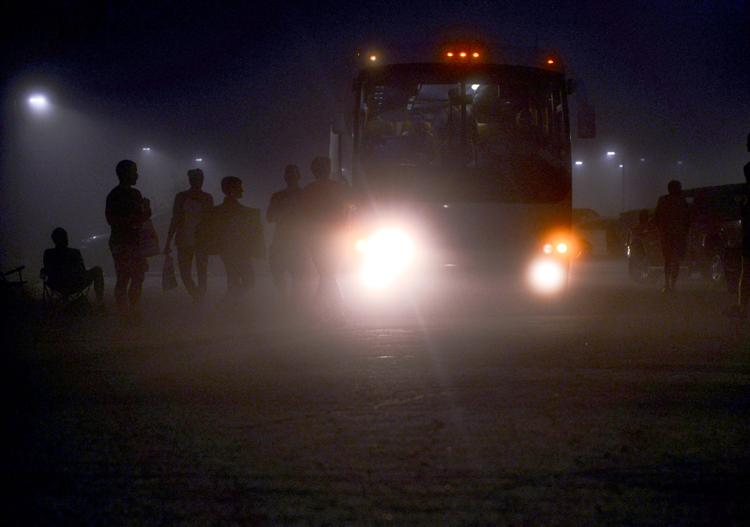 For more coverage on the Heart of America Marathon please see below.