The pathway to the camp is lined with hundreds of beaten, blemished bike tires; crushed aluminum cans and cracked bottles; frayed, dirt-soaked stuffed animals with missing eyes and tattered sheets flapping in the wind.
At first glance, it's reminiscent of a deserted battleground — torn flags flapping in the breeze, ashes from fire pits burnt down to their dying embers — but just beyond the desolate stretch of trampled land, the camp is very much alive.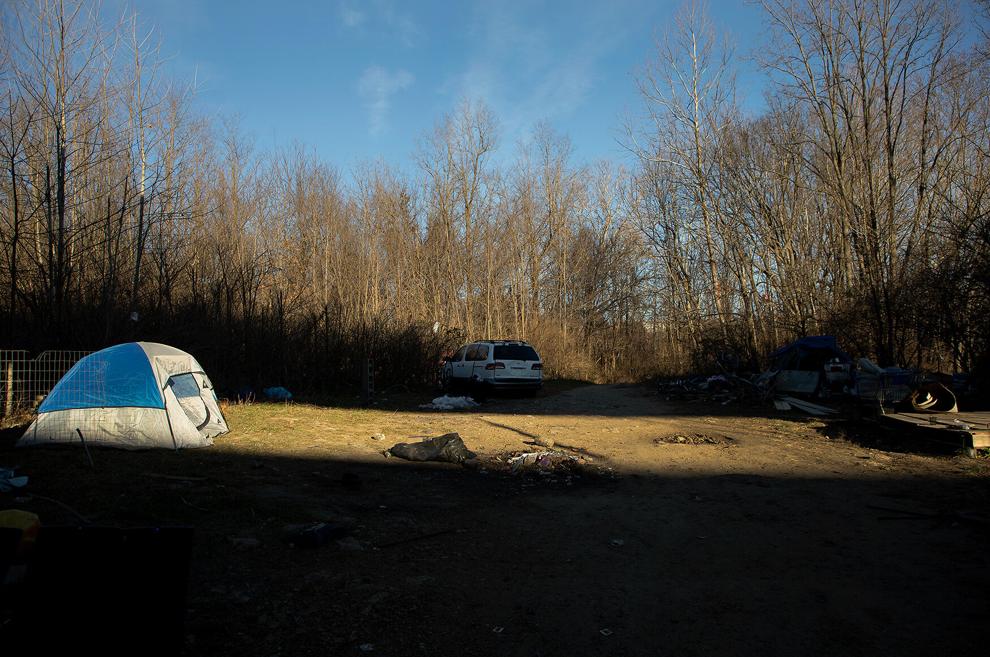 A community of around 20 individuals live tucked away in the woods beneath an overpass in Columbia, just out of sight — and, for many Columbia residents, out of mind.
To the left, the stretch of woods is dotted with tents as far back as the eye can see. To the right, a makeshift warming shelter created by a community organization lies barren, wind whipping through weathered tarps draped over wooden panels with "Trapp for Columbia" plastered across the front.
The doorman, nicknamed Savage, is a puppy with bright blue eyes, hopping along the sandy bank lining the creek, ears flapping and tongue wagging as he greets visitors. As his barks echo beyond the cement overpass, one by one, faces emerge from tents and structures, hesitantly welcoming a newcomer to their neighborhood and sharing their unforgettable stories.
The first stop is Rabbit's bike and electronic tent. Rabbit, who asked to remain anonymous except for his nickname, has lived in the encampment for about five months. Originally from Cape Girardeau, Rabbit says he served in the Air Force and has lived on the streets all over the country, in many cases by choice.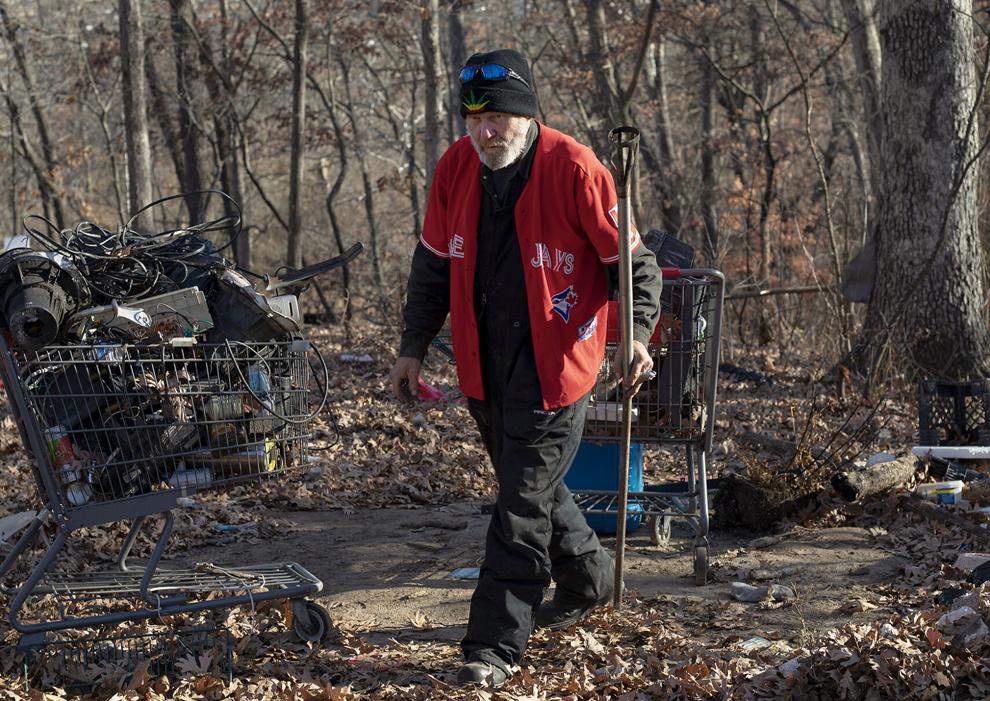 "It wasn't like, 'Oh, I want to be homeless,' " Rabbit said. "It wasn't like that at all."
The first time Rabbit found himself without a place to stay was in St. Louis. "Literally, if it wasn't for the street community — which is a community that I was really hesitant of — that community was actually the community that took me in and kind of taught me the ropes," he said.
Some of his favorite street communities were on the West Coast, he added.
"Whenever I moved here, I literally, I don't like staying in houses anymore," he said. "We had an apartment there (near Old Highway 63) and after, I don't know, seven or eight months I just couldn't really do it. So I took off and started running around on the streets at night and met this community, the community here in Columbia, and I got a lot of actually really good friends around here."
Rabbit came to Columbia in November 2019 after leaving Bonne Terre. He says he's been in and out of prison, and that during his time in Columbia he has lived in different encampments across the city.
"The communities in each area are a lot different," he said. "As long as I've got my bike, I'm safe anywhere."
His tent, near the warming shelter, is surrounded by various bikes, tires and electronics that he works on throughout the day.
His latest project is his "monster truck" — a bike he has been working on with a Frankenstein face just below the handlebars.
Rabbit says he plans to raffle the custom bicycle on Facebook once finished and use the proceeds for the community.
As Rabbit works hard on his latest project, the smell of frying bell peppers and meat wafts across the way from Lee Roy Coverdell's tent near the bank of the creek.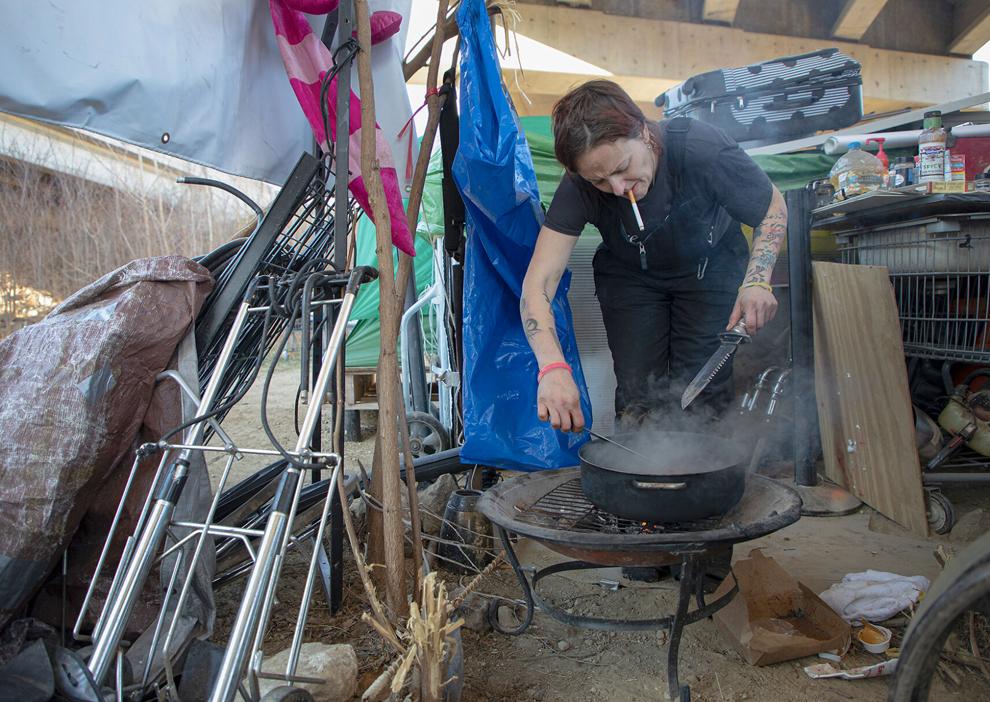 Coverdell is known for gathering food and allowing other members of the encampment to cook in his tent.
Rabbit's partner, who is manning the grill, brings him one of the sandwiches she made out of supplies from a local food pantry.
"Everybody shares their stuff, and when we go out there and make something to bring home, we're not just bringing it home to ourselves to huddle up and hide; we bring it for everybody," Rabbit said.
That sharing might involve food, a drink or something stronger. Many of the encampments' residents acknowledge that they battle addictions.
As the aroma of grilled beef fills the camp, more residents gather to enjoy the midday meal. The scene could almost be transported to a typical backyard cookout in Columbia.
Rabbit's "monster truck" is nearly complete but needs one last part to secure the brakes, so he hops on his bike and travels back into the woods to visit his friend Bryan.
Rabbit zips past other residents staying in tents and shelters, including Jaclyn Basey.
Basey came to Columbia from Indianapolis as she was traveling to Albuquerque, New Mexico, and got stuck here, she says. She has been staying in different encampments across town ever since.
"I rolled into Columbia around Aug. 14th," Basey said.
Basey likes to spend time at the picnic benches outside the EatWell grocery store on Providence Road. One day, when she was waiting outside the store to meet someone, she was approached by an elderly couple, she says.
"They get up to me, and she slaps a big turkey sandwich and a big bottle of water in front of me, which I would appreciate, but I would appreciate more if you ask me, 'Are you hungry?' " Basey said. "I find that, you know, extremely insulting because I didn't ask for it; she assumed."
Basey has made many friends in Columbia, including Paul Powell, who also stays in the encampment. Powell, who is 60, says he has lived on and off of the streets since he was 14.
Though he and other residents have made efforts to clean up the area, the camp is littered with used items and trash of all kinds, some of which, from needles to broken glass, can be hazardous.
Powell says the biggest thing that would help the community and environment would be if the highway department would bring them trash bags that would later be picked up. "We'd clean all this up here," he said.
Rabbit turns a corner past Powell's tent and speeds down a hill, taking a shortcut that runs along the highway before heading back into the woods and Bryan's tent.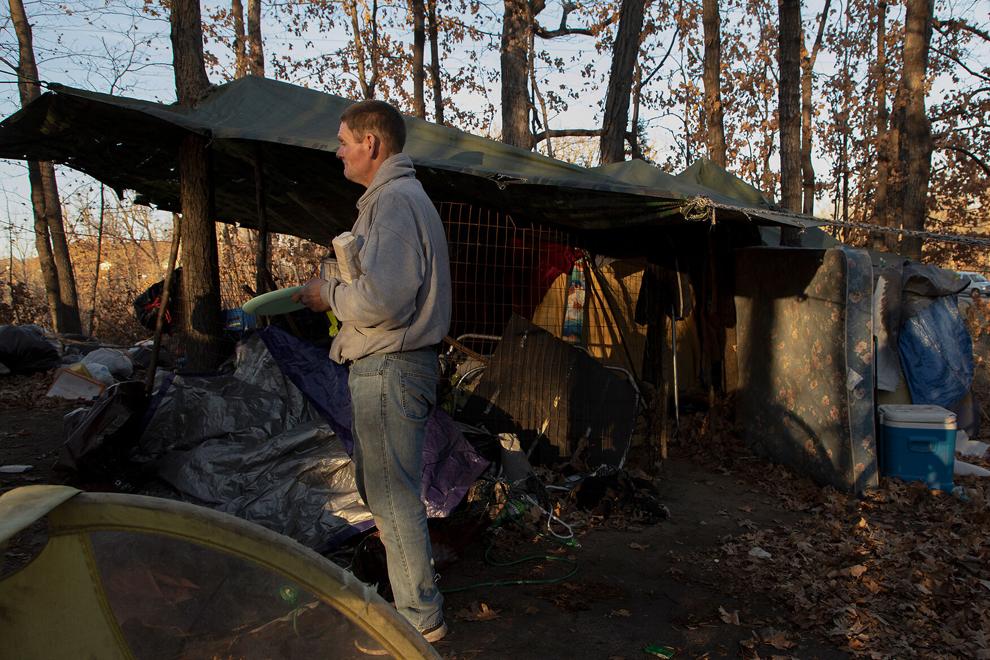 Bryan has lived in encampments in Columbia with his partner, Annetta, for over five years. The couple has chosen to live in a more secluded area in the woods, as they find it to be safer and more peaceful.
Rabbit and Bryan first met when they were living in Cape Girardeau and were delighted to run into each other again in Columbia.
"We met each other six, seven years ago," Rabbit said, adding that "we got to know each other pretty well through friends."
Luckily, Bryan has the final gear Rabbit needs, and he is able to repair the brake line before heading back to his tent.
As he turns the final corner on his newly repaired bike, Rabbit puts his headphones on and disappears down the lightly treaded pathway back into the encampment, invisible from the road filled with passing cars above.