Beverley Lake, 84, has a one-bedroom apartment in TigerPlace, an intermediate care senior community where her health is monitored around the clock.
Lake lived alone in Texas for a few years after her husband died, then moved to Columbia three years ago to be closer to her daughter.
The move into the facility gave her coordinated care with a nursing staff. It seemed like a smart choice, "just in case."
Nurses at TigerPlace monitor Lake's vital signs with a trio of sensors in her apartment. The sensors automatically track existing health problems and detect early signs of trouble. It's as if she gets a daily medical checkup.
The three sensors in Lake's apartment, as well as in apartments of other volunteer test subjects at TigerPlace, are almost invisible. One is under Lake's mattress, another is installed in the corner of the living room and a third system is along the walls.
Lake doesn't need to interact with them.
"It's like the sensors weren't here at all," she said.
The system of sensors at TigerPlace is part of an ongoing study that has been carried out by MU researchers since 2005 as part of the facility's Aging In Place program. The idea is to help residents live independently and avoid or delay a transfer to a nursing home or hospital.
Sensors at TigerPlace can detect changes in the physical, cognitive and mental health of the residents. The sensors will alert the medical staff when a change in health is identified, and a medical practitioner will then take steps to address and manage the person's condition.
The goal is to be able to recognize and monitor health changes early, said Marjorie Skubic, a professor in the electrical engineering and computer science department at MU and one of the main researchers.
What they've learned
Over the last 14 years, MU researchers have discovered that the system of sensors has yielded positive results. When comparing residents to others in similar living facilities across the nation, TigerPlace residents monitored by the sensors tend to remain independent 2½ years longer.
Because many residents at TigerPlace deal with chronic conditions, most messages the nurses see are not urgent.
Depth sensors, which create 3D silhouettes of anyone moving through the apartment, let the medical staff analyze a patient's walking speed, stride length and time, as well as other gait measurements. Data collected over time can then show early signs of health change and the risk of falling, Skubic said.
Infrared motion sensors track movement, and the bed sensor measures heart rate, respiration rate and restlessness. Both are useful as monitors and early detectors of changes in health.
For example, excessive use of the bathroom at night can indicate a urinary tract infection, among other conditions. A decrease in movement over time can help detect cognitive issues such as depression or dementia, while the bed sensor can identify respiratory and heart problems.
"Detecting changes in health and treating them early is much easier than going through a debilitating hospitalization," said Marilyn Rantz, professor at the Sinclair School of Nursing and executive director of the Aging In Place program at TigerPlace.
"The earlier you fix the problem, people can function better and be independent," she said.
Lake is in generally good health, she said, and only needs to keep a close eye on her neuropathy, a dysfunction of peripheral nerves that commonly results in numbness or weakness. Her experience with the sensors has been a pleasant surprise, she said.
"I was impressed by the depth sensor, as I didn't have to fall for it to know something had changed," Lake said. "It detected that my walking speed was a bit slower than usual, and the nurses then checked on me."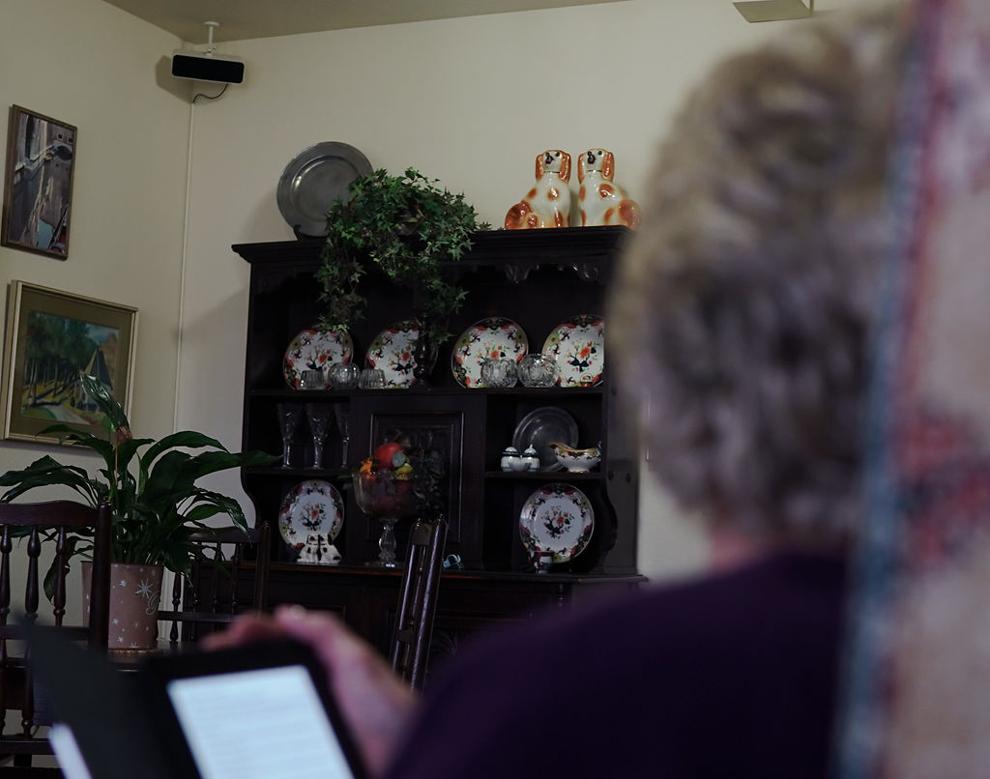 Entering the market
Over the years, researchers have improved the technology and precision of the sensors, which have become reliable instruments for medical professionals both in senior living communities and hospitals.
By the end of 2019, sensors are expected to be installed in 38 assisted living facilities and hospitals across eight states.
Foresite Healthcare, in a partnership with MU, has an exclusive license to bring the sensors to the marketplace. STANLEY Healthcare, a leading provider of solutions for senior care, is a distributor of Foresite's products with the ability to broaden the reach of the sensors.
Currently, the hydraulic bed sensor system is viewed by researchers as the one with great potential to transform health care in the future. The sensor system captures cardiovascular function through ballistocardiography, a technique that measures small body movements due to the blood flow through the body. It produces signals similar to an electrocardiogram.
While an electrocardiogram requires electrodes to the chest, the bed sensor system is placed under the mattress with no wires connected to the patient.
And while an electrocardiogram captures the heart's electrical signals, ballistocardiography captures fine movements in blood vessels. The movements allow nurses to visualize the cardiovascular function as the heart pumps and blood moves through the arteries.
Game changer
Research on the bed sensor system came to a significant turning point in 2017 when Italian American researcher Giovanna Guidoboni joined MU as a professor in the department of electrical engineering and computer science and the department of mathematics.
Guidoboni was drawn to Skubic's project and saw a way for sensors to be able to identify specific changes tracked in the cardiovascular system.
"When I joined the research, Professor Skubic showed me how she could detect changes in waveforms measured by the bed sensors associated with changes in heart rate, respiration rate and blood pressure," Guidoboni said. "But she wasn't able to identify the exact cause of these changes."
Analyzing the sensing method, Guidoboni tied the system to her previous work at Indiana University-Purdue University Indianapolis modeling blood flow to identify the conditions that lead to glaucoma.
In order to recognize and monitor particular features of the cardiovascular system, she determined that it needed to be modeled as a closed loop. She then developed a mathematical model to analyze the cardiovascular system and detect other features of the cardiac function, not just heart rate, respiration rate and bed restlessness.
Using her mathematical model, researchers can now look at signals emitted by the bed sensor system and correlate them to specific cardiovascular conditions, such as reduced contractility of the left ventricle or stiffness of arteries.
The problem is that there are several methods to capture a ballistocardiogram, such as hydraulic bed sensors, modified weighing scales and load cells, but the waveforms are recorded and analyzed differently.
Looking ahead
Laurel Despins, assistant professor at the Sinclair School of Nursing since 2014 and a nurse with 21 years of experience in an intensive care unit, said the results from a ballistocardiogram are different from what she was used to. But the resulting waveforms have valuable information that she is now able to identify and understand using Guidoboni's closed-loop model.
Once the measurements are standardized, this kind of sensor can become a game changer for how cardiovascular conditions are tracked both in the home and hospital environments, she added.
"This research and technology have great potential," Despins said. "It'll be key for catching conditions before they become serious or for monitoring an already existing heart-related disease."
In terms of hospital care, it is in a developmental stage, but noninvasive methods such as a ballistocardiogram can make life easier for nurses having to juggle numerous patients and a hectic schedule in an intensive care unit.
Despins says it would serve as a great tool for nurses, as noninvasive methods like the bed sensors can automatically keep track of the patient's heart and let them know when closer monitoring or care is required.
Looking into the future, researchers involved in the study stress the fact that it could vastly improve health care.
Rantz has no doubt that the success of Foresite Healthcare and the continuing evolution of research at MU will lead to widespread implementation of the sensors in hospitals and senior living communities in the future.
"I feel blessed to be involved in research that will benefit so many people in the future," she said.