Venture up the gravel driveway to Hickory Ridge Orchard, and you've entered a Norman Rockwell painting.
Hundreds of apple trees in 18 varieties so far — some, like Empires and Jonathans, best saved for baking; most tasting sweetest when plucked straight off the branch — grow on the 38-acre property in Mexico, Missouri, about 40 miles from Columbia. Chickens and turkeys strut and waddle freely around the lawn. Farm dogs George and Creedence chase a Frisbee near a wide pond filled with ducks and geese. Three goats are out back, and there's an inviting quiet that stretches over the trees through an open clearing.
At the center of it all are Brandt and Kelsey Schisler, a young couple with farming roots that trace back generations.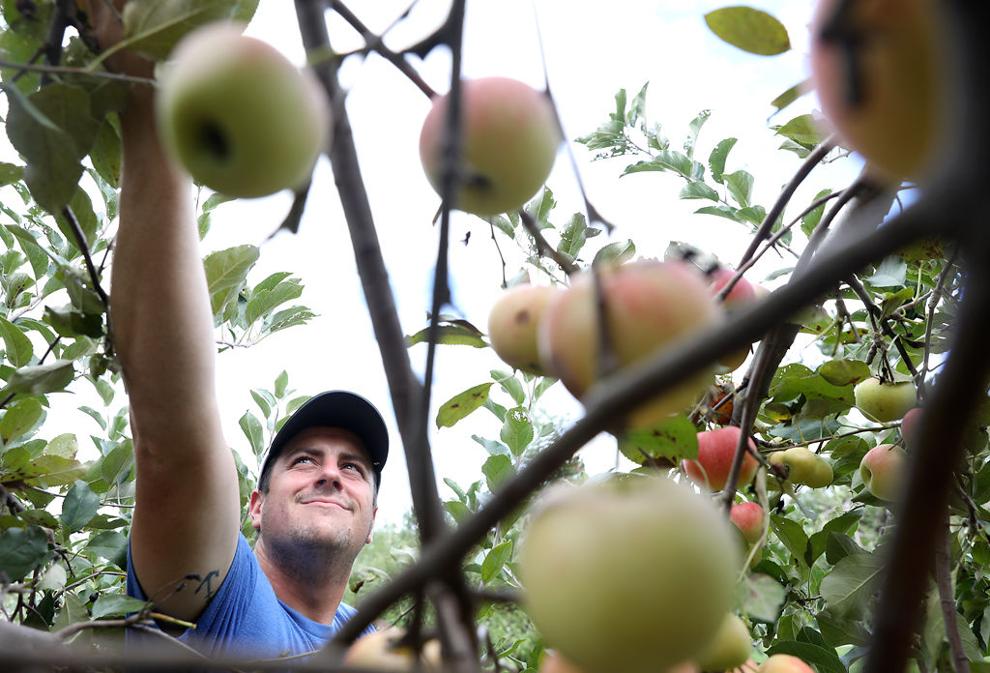 "On both sides of my family — my mom and my dad — my grandparents were farmers," Brandt said. "And their parents and grandparents were farmers."
Family is essential here. There are small touches of it everywhere — like in what will soon be the orchard's gift shop, where a piece of the metal roof off Brandt's grandfather's barn was crafted into a counter. Or in any of the welding projects, like the stands for the animal feeders, all made by Brandt's father.
Most prominently, though, are the Schislers' family members working around the orchard, helping Brandt, 29, and Kelsey, 27, turn labors into fruit.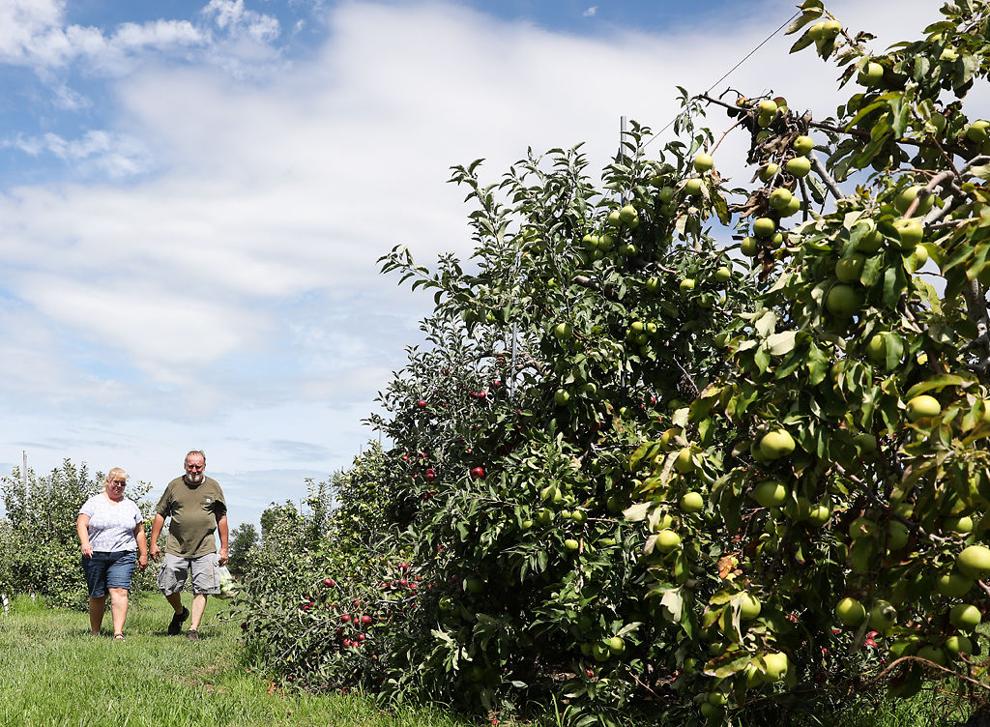 Brandt's younger sister, Sydney Sowers, and stepfather live with them to help out around the farm. Kelsey's parents visit almost every other weekend. Brandt's father, aunt and uncle drove from central Illinois on Sunday to bring over the hayrack ride they'll use at the orchard's grand opening in two weeks.
Even Taylor Schisler, Brandt's 9-year-old cousin, can be found walking out of the chicken coop, wearing an apron carefully stuffed with fresh eggs ready to go into the house.
"Our family has really come together," said Sowers, who is 21. "There's been a lot of blood, sweat and tears coming through this place."
'It was like a dream'
The Schislers purchased the farm last October, craving a return to more of a "simple life" closer to home after getting married. The couple, who grew up in small towns an hour apart in central Illinois, had moved to Fort Collins, Colorado — "She was looking for adventure, and so was I," Brandt said — but Brandt wanted to get back into agriculture.
"We knew we wanted to live out in the country and raise our family here someday," Kelsey said.
But today, Brandt said, returning to farming can be difficult and expensive. They reached out to other farmers in Colorado who owned pumpkin patches or orchards and found their ticket back in: a specialty crop, like apples.
"Truly, our business plan was over a stretch of 15 years, and we've accelerated that significantly," Brandt said.
"By finding Sandy," Kelsey added.
Sandy Binder, who owned the orchard for nearly 25 years, was a staple at the Columbia Farmers Market. In addition to her apples, she was known for her alpacas — as many as 80 of them — that she kept on the farm. She retired from the orchard last year and now lives closer to her son in Indiana, where knitting and crocheting with decades worth of alpaca fiber keeps her busy.
The Schislers put an ad out looking for land, and Binder answered.
"She would work circles around us, and she was on the go all the time," Brandt said. "First impression was, 'Holy cow; I hope I can keep up with her.' … We learned a lot from her before we took over the farm."
When they saw the orchard for the first time, Kelsey said, it felt overwhelming.
"The possibility that it could be ours, it was just — it was crazy," she said. "It was like a dream."
Kelsey remembers washing and sorting apples with Binder one evening and thinking, "She had so much wisdom to share." Since Binder, 79, handed over the reins nearly a year ago, the learning curve has been ongoing. Brandt still gets in touch with her every other day, seeking advice and asking about where certain apple varieties are planted.
"He calls me all the time," Binder said. "And one day, he said, 'I am so far behind,' and I said, 'Brandt, that's OK.' I said, 'I was always behind. You never catch up in this business.' So I think that made him feel a little bit better. … Something always happens, you know?"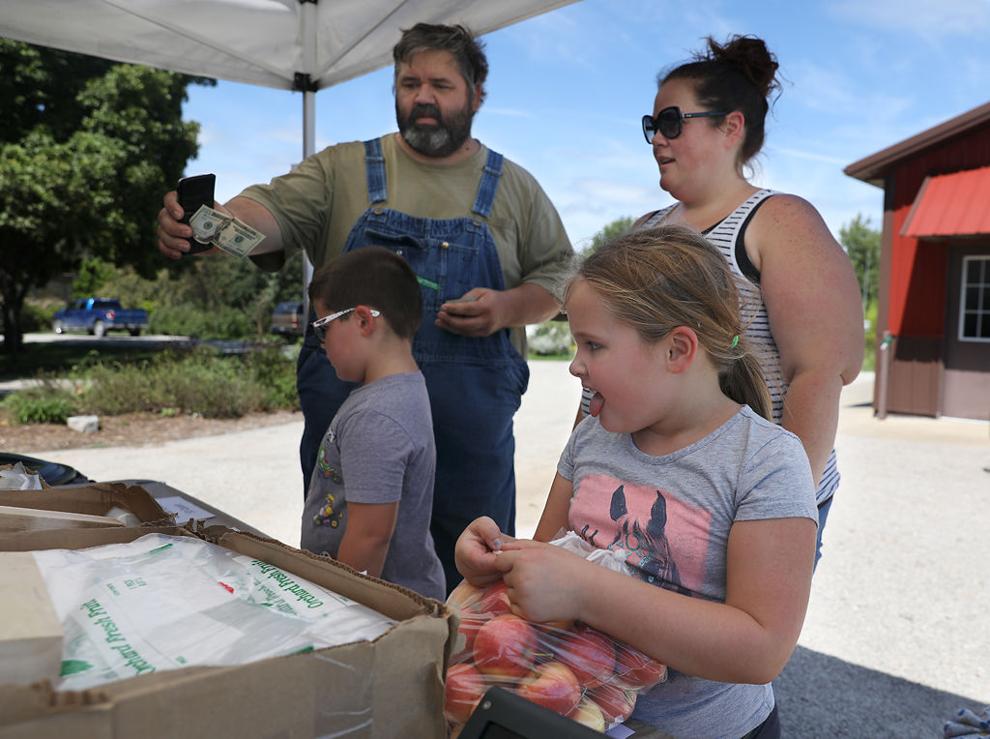 'Taking it a little bit at a time'
Running the orchard is a balancing act. Kelsey works part time as a physical therapist assistant, and Brandt works full time as a corporate logistics manager. He works close to 40 hours a week at the orchard, on top of about 50 hours at his job. The biggest hoop to jump through is finding the time to do it all.
"We're young enough where sleep isn't necessarily a necessity, but it is nice to have every once in a while," Brandt said. "Everybody we talk to, even my family who have farmed for years, it's all about pacing yourself and taking it a little bit at a time."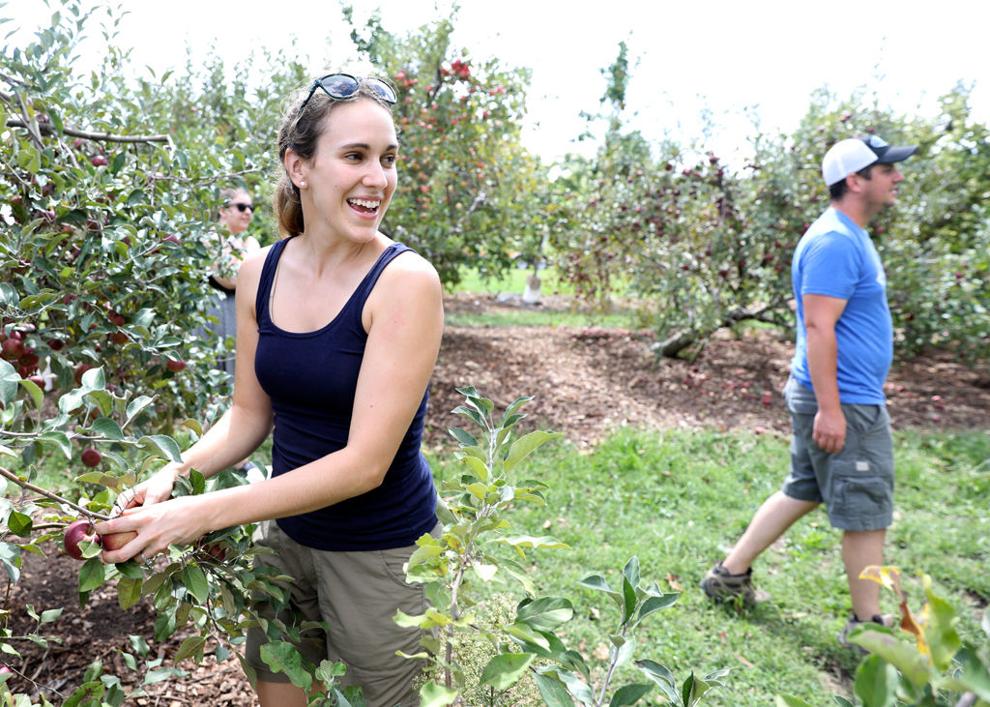 As much as taking on the orchard is about learning the ropes themselves, it's even more important for the Schislers to educate others. Kelsey gives tours for schools on her days off.
"At one time when I was younger, I always thought that I could possibly be a teacher, and now I could almost live a little bit of both worlds," Brandt said. "Our main goal is to kind of create an educational center out here for the young generation to learn."
Some traditions from Binder's ownership have carried over. Kelsey takes close to 1,000 pounds of apples to the Columbia Farmers Market each weekend, and she sold out for the first time this week.
But the orchard is still expanding and changing. In the next few years, the Schislers hope to have close to 2,000 trees on the farm, enough to start making cider on top of the existing "U-pick" option for families to pick their own apples. They're growing a corn maze and putting together a gift shop and a small bakery. They're also working on implementing more organic strategies — something their 55 pest-eating chickens are helping out with.
"You're always trying to better yourself. You're always trying to learn the best new trick to produce better fruit," Brandt said. "And for me, that challenge in itself is so rewarding that I think I could always be happy just doing this."