The truth about goat yoga is that you do your thing, and the goats do theirs.
The only big difference is the soundtrack. "Inhale, exhale... relax your body and your mind," says the yoga instructor.
"Eh-eh-eh-eh-eh-eh..." say the goats.
As I discovered at Goat Yoga of Missouri's first official class on July 19 at a family-owned farm about 15 minutes northeast of Columbia, the idea is for participants to relax in the beautiful pastoral surroundings while taking in the sunset view. And the goats.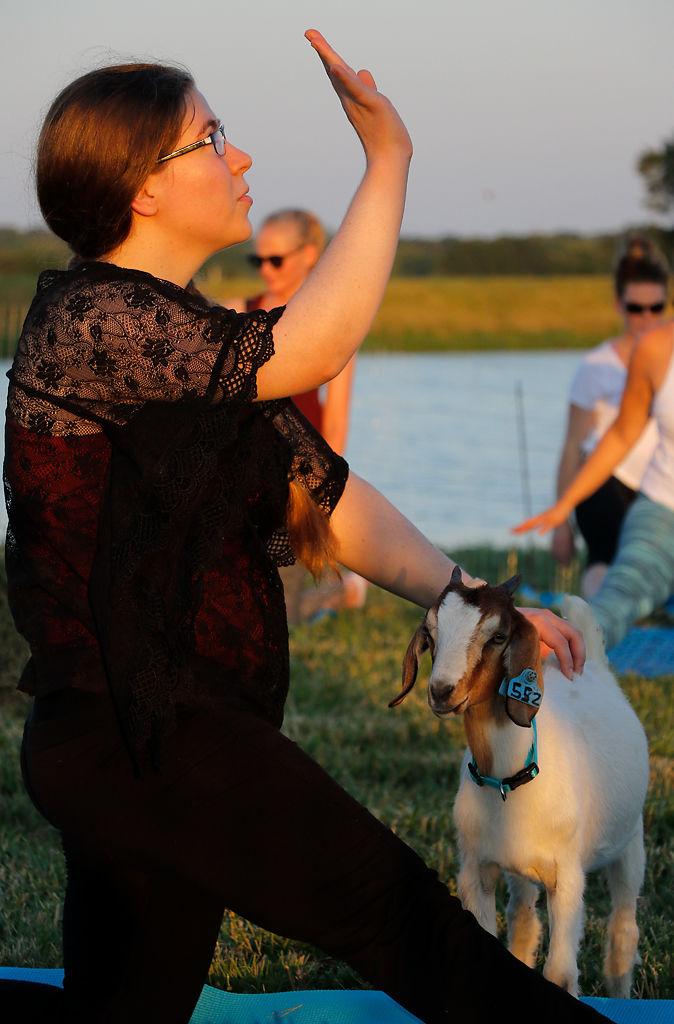 As we — more than 20 students — tried to follow along with the instructor in shaping our bodies into yoga poses, seven goats grazed and hopped around. Helpers directed them with buckets of food and treats that were intended to create more interaction between the animals and people.
At first, the goats paid little attention to our downward dogs and standing warriors. Then, halfway through the session, a couple of goats leapt onto the backs of students on hands and knees doing cat-cow. Some students were more interested in getting the animals next to them than striking yoga poses. They reached out with treats to lure the goats closer and take their picture.
It was yoga instructor Sarah Judd's first time working with goats.
"One of the hardest parts in yoga is quieting the mind, and the goats definitely help with that," Judd said. "The goats come around making people smile, helping people relax."
The only challenge, she said, was making sure everyone watched their step when away from their yoga mats because goats are, after all, animals in their natural environment.
Goat yoga is billed as "part yoga, part animal-assisted therapy," according to Goat Yoga Missouri's website. Jessica Baker, owner and founder of the company, said other than the typical physical well-being essence of yoga, the animal-assisted therapy aspect adds something unique.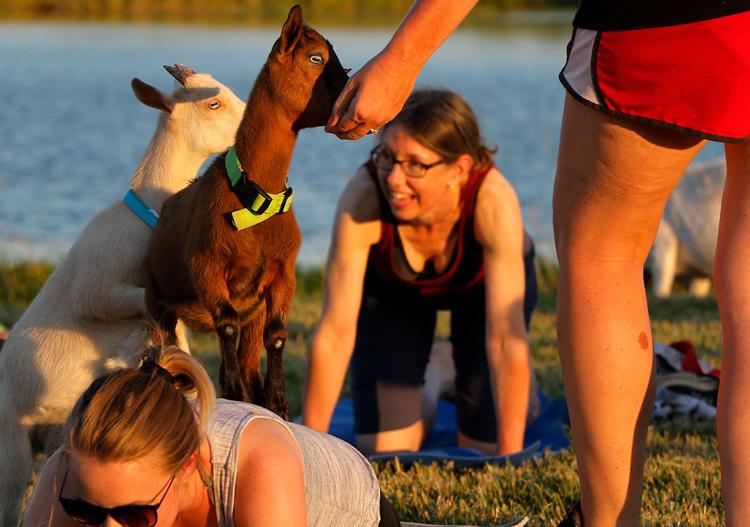 "Studies show that when you do anything, and you introduce a lovable, sweet animal into that activity, it releases all these emotions," she said. "It also lowers anxiety and helps people relax."
Baker said she was inspired after reading stories of how goat yoga helped people cope with issues they were going through in their personal lives. She connected with Lainey Morse, founder of Goat Yoga Central in Oregon, and her story inspired Baker to open the location in mid-Missouri.
Morse said the idea came to her when she was at a bad point in life. She had just been diagnosed with a disease and was going through a divorce. She would often just hang out in her barn with her goats. "And I realized that goats were more therapeutic than anti-depressants," she said.
Goats exude calm, and people take on that energy when they are surrounded by the animals, she said.
Morse first started out with a "goat happy-hour" because people would always leave happy, she said. A yoga instructor who attended one of the sessions suggested the idea of combining yoga with the animals. As crazy as the idea sounded, Morse decided to give it a try.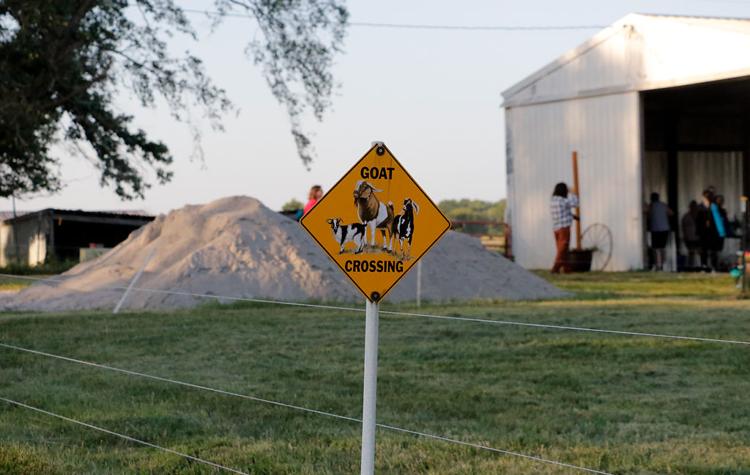 The idea later went viral in 2016 when the magazine Modern Farmer published photos of goat yoga that Morse sent them. Today, there are over 500 goat yoga businesses around the world, she said.
There have also been challenges, however, for the goat yoga industry. Morse said state zoning and liability insurance are among the two biggest challenges. Insurance companies worry about participants being injured by goats leaping onto their backs.
Back in mid-Missouri, Baker was worried about a low turnout for the first class, which took place outdoors during a heat wave. More than 20 people showed up.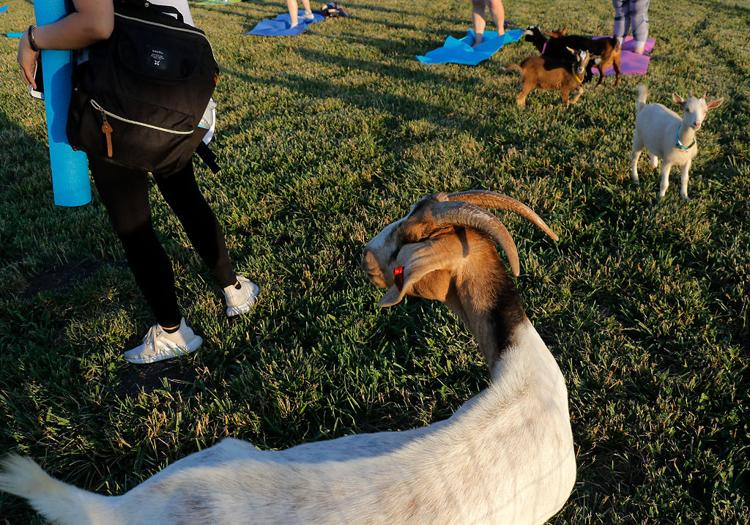 Baker said she learned a lot from the first experience, like the importance of explaining to participants what to expect and how to increase interactions between the goats and people.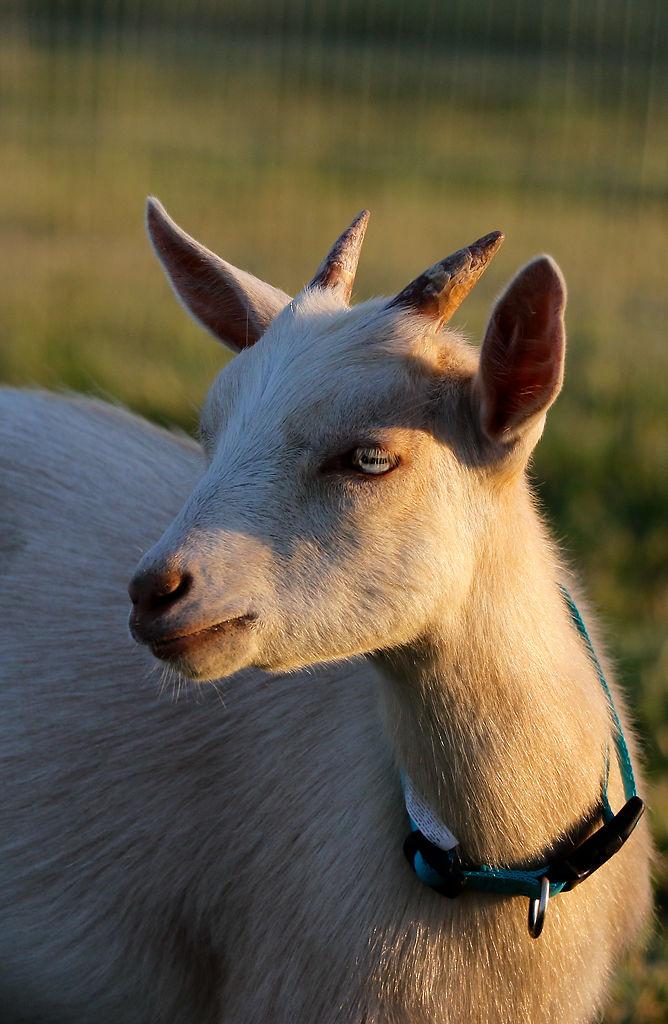 "They are very motivated by food," Baker said. She also thought about getting more of the smaller-sized Nigerian dwarf goats. "They're small, they're cute ... And, obviously, if you have a goat that's going to be climbing on someone's back, you want it to be light."
Baker said she plans to build an event space with heating, air conditioning and restrooms within the next two years. She has been working on private events for companies and organizations that want to hold a private goat yoga party. These kinds of events enhance employee well-being, she said.
My own verdict of goat yoga?
Although I wobbled a few times on the uneven patches of grass, the natural scenery made me feel at peace. The cute goats were a bit of a distraction, but they definitely left a smile on my face.
I was among the yogis who were more than happy to stay behind when the session was over for selfies with the adorable animals: a mixture of Nigerian dwarfs, Kiko and Boer.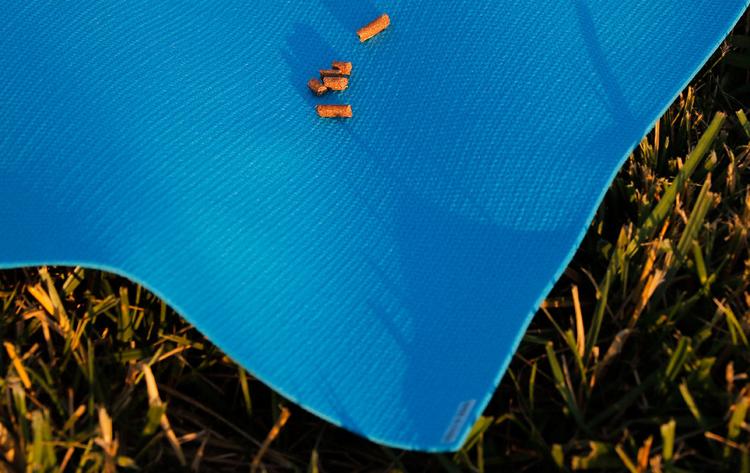 "I didn't believe it was a real thing until I saw the videos and pictures online," another participant, Helena Steele, said. It was her first time attempting goat yoga, and she found it to be relaxing and fun.
"I love yoga, and I also love animals," she said. "I will probably come back for more classes."
The 45-minute class, followed by a 15-minute meet-and-greet with the goats, costs $35.