When plans for the Hagan Scholarship Academy were announced in 2012, the news was greeted with plenty of enthusiasm. Columbia developer Dan Hagan hoped to nurture high-achieving students in rural areas through his new venture, to be located on a 4.72-acre grassy hillside on Broadway's north side between William and Ripley streets. 
But today, more than five years later, the college preparatory school commissioned by Hagan is still on the drawing board. A date to begin construction has yet to be set, and the academy's namesake has been nearly mute on the subject.
It's strange to see such unused space in downtown Columbia.
Market uncertainty
The stalled academy is yet another testament to what many local experts describe as rising market uncertainty surrounding downtown real estate in Columbia. A pause in growth dampens Columbia's reputation as a "boomtown" in the region, an uptick spurred largely by enrollment spikes at MU celebrated from St. Louis Today to The New York Times.
Despite years of work, the future site of a college-preparatory academy funded by the Hagan Scholarship Foundation is still empty. The boarding school would be for high-achieving high school juniors and seniors from rural Missouri counties.
Indeed, as students poured into MU during 2015, demand for housing rose dramatically. The surge in enrollment even prompted former UM System President Tim Wolfe to set a goal of attracting up to 40,000 enrollees by 2020, an increase of about 5,000 students.
However, with a lower student population — an estimated 30,400, 14 percent less than 2015 — and a downtown some say is overcrowded, industry insiders are split on how to characterize the slowdown, though they seem to agree that the market is no longer lightning hot. So — is the boom over? As Dan Harder, a member of Columbia's Planning and Zoning Commission, and John John, a real estate agent in Columbia, both put it: "Yes and no."
The slowdown
John attributes the slowdown to bad luck for forward-thinking developers, who planned ahead for more students in the area and then got caught in a downturn.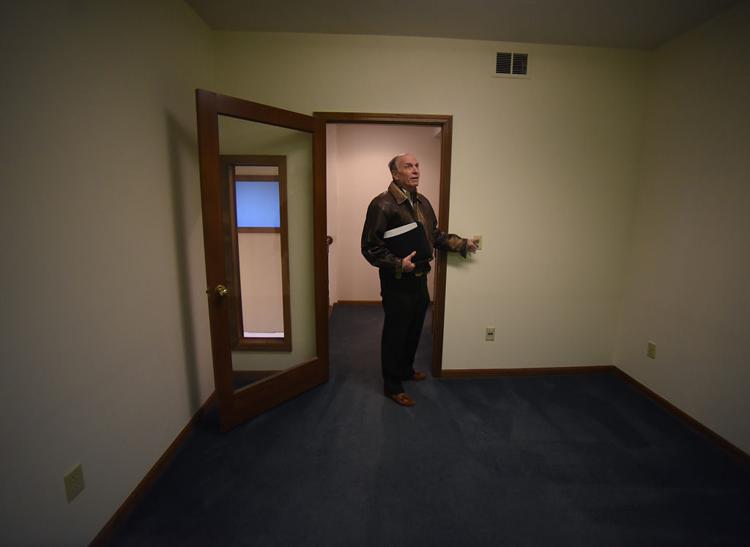 "Everyone was building in anticipation of the two- or three-year increased growth, so when it stopped and went backward; you gotta regain the momentum, not only what we lost, but get above that number," John said. "Best case scenario — five years before anything new gets started there."
Harder echoed John's analysis.
"The numbers could be down because it seems like the student housing buildings — all the ones that are gonna be built — are done," he said. "But overall, the growth numbers still show to be pretty good."
Public outcry
Columbians aren't always gung-ho about growth. In 2014, residents expressed their consternation about a plan for neighborhood development, saying it would prioritize commercial development over homeowners.
Pro-growth city leaders and non-student populations have clashed before. For example, the Columbia City Council temporarily froze downtown development in 2016 amid citizen concerns, including claims that Columbia on Saturday nights resembled fraternity row. Among the gripes: overbuilding downtown was putting too much pressure on the city's infrastructure, congesting traffic and creating unsightly views with tall apartment buildings.
Since then, despite the competing factions, the market's tempo remains unabated, said Robbie Price, a commercial architect in Columbia. 
"I think we still have quite a bit of headroom left before it plateaus, so I would say, yes, we are still enjoying the fruits of this boom we've had the last couple years," Price said.
Rampant downtown commercial real estate — and building "out" instead of "up" — has spawned new off-campus housing, such as The Reserve and The Domain, upscale student housing with perks including swimming pools and gymnasiums. Disagreements over what the Columbia skyline should look like, as well as a congested downtown, have slowed high-rise development and made commuting more common.
The downtown student apartment complex opened nine months ago. The six-story, 274-bed building is being offered "free and clear" of debt, according to the brochure.
Price pointed out that it's also less expensive to build "out" rather than "up" in Columbia.
"I'm seeing more people move out of downtown Columbia that are reestablishing their businesses on the periphery of downtown," Price said. "I think that trend will continue for a while. It's a little bit easier to build outside of downtown. You don't have the parking issues that you do downtown, so it's advantageous for a professional business to … be outside of the downtown central district."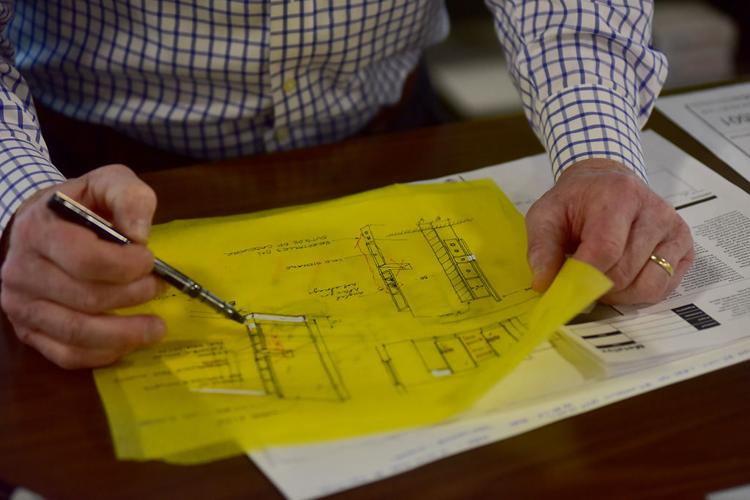 In light of the new inclination to move and build "out" from downtown Columbia, John argued that smaller communities outside of the city, like Ashland, are attracting more real estate demand because of the high price of downtown property.
"The cost of living in Columbia is going up pretty damn fast," John said. "It's becoming very, very expensive to build here. I see the little towns around Columbia starting to grow … because you can build there for 20 percent less than the cost of building a home in Columbia."
A case in point for the constant development downtown is the 2015 destruction and rebuild of Shakespeare's Pizza — a city staple — to make room for office, retail and apartment space. In 2014, The Opus Group's desire to demolish three buildings in order to make room for new construction demonstrated that, while elected officials like former Mayor Bob McDavid were in favor of widespread development downtown, many residents were not.
Despite public outcry, developers got their way both times. In fact, the historic Niedermeyer apartment building seems to be the exception to the boom rule, as it was saved from the throes of demolition by current owner Naklhe Asmar, who bought it from Collegiate Housing Partners.
A contingent of Columbia residents has been consistently against downtown development; the group Repeal 6214 went as far as to sue the city for allegedly illegally awarding construction and demolition permits during the Opus battle.
While developers have mostly won the war for downtown, the city is currently existing in a ceasefire. John tried to put the ongoing community debate over downtown development into perspective.
"Columbia thinks it's booming?" John asked. "For a small Midwestern town in the middle of farmland? Yes, it is booming. But compared to true boomtowns — growing at 1 or 2 percent is not booming — it's a nice, steady pace. People who can't manage that or are having problems grasping that just baffle me. People are like, 'Oh, we're going so fast!' No we're not! Go look around and see what fast is."
"We're the fastest growing town in a state that's not growing!" he added.
Current real estate reality
Over the past three years, the real estate development spike was a moment ripe for developers such as American Campus Communities to introduce luxury student housing to Columbia, a city full of students and starved for lodging. That explosion seems to have passed.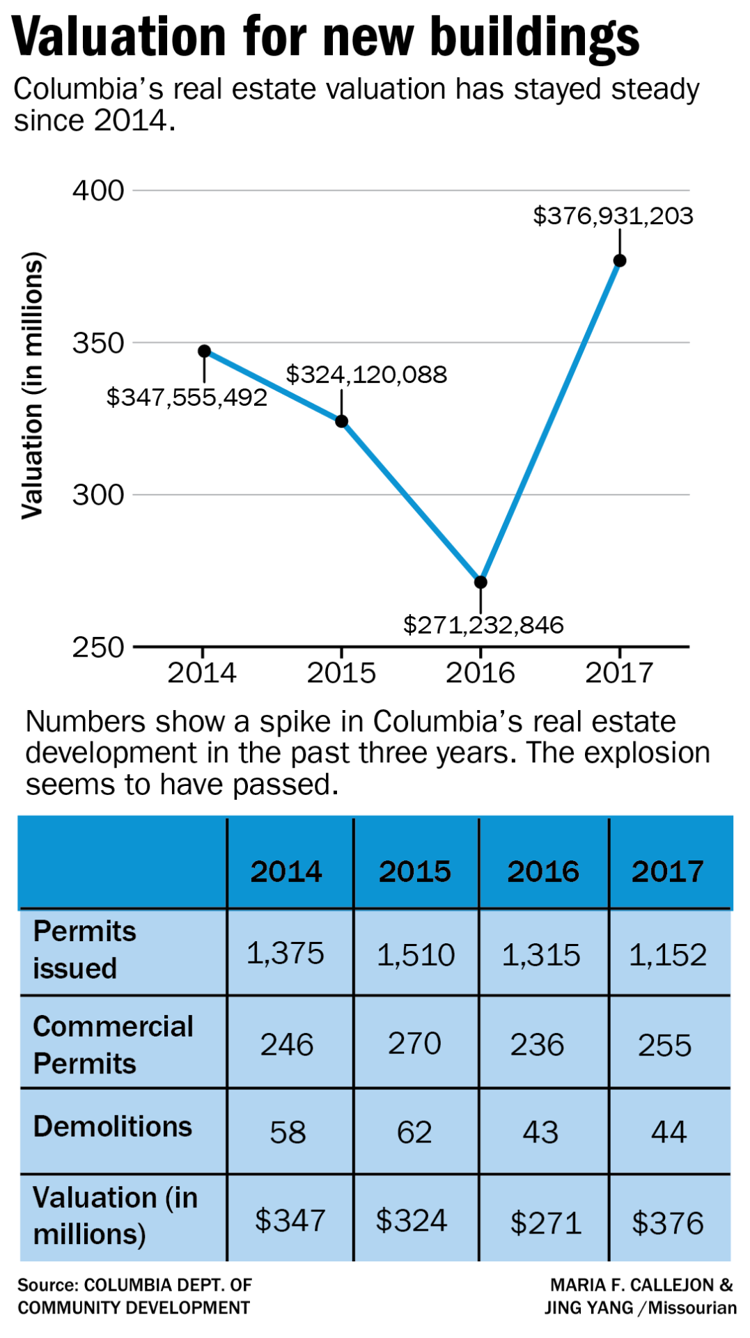 The City of Columbia's Department of Community Development Inspector Report underscores Columbia's drop from its recent boom. In 2015, there were 1,510 permits issued compared to 1,315 in 2016. The decline continued in 2017 to 1,152, an overall decrease of 23 percent from 2015 to 2017.
More permits and fewer demolitions means less building, so it is not surprising to see 62 total demolitions in 2015 as opposed to 43 in 2016 and 44 in 2017.
Overall, real estate experts say that growth, while hardly white-hot, continues at a healthy clip. Harder, Price and John each were able to come up with at least two examples of high-profile projects waiting to be approved, recently opened or in the works.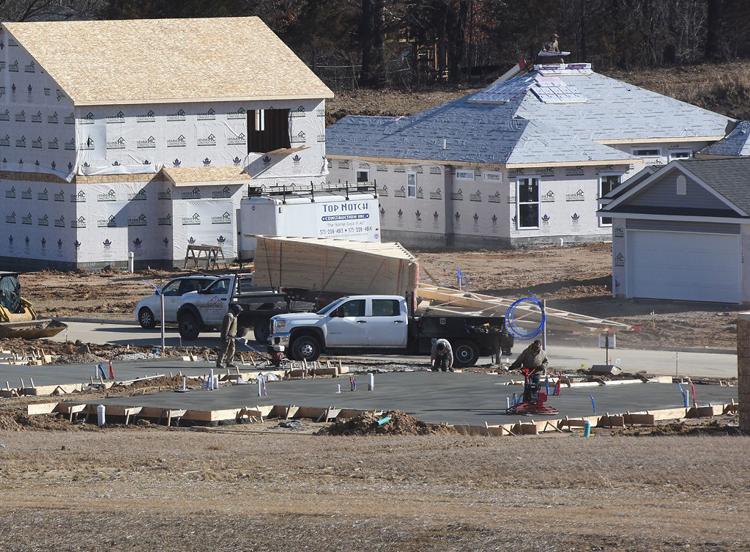 "(The market is) up and down, but I think Columbia is probably insulated enough," Harder said. "There are upturns and downturns, it's all recyclable, but I don't think the bottom would drop out; we got a pretty stable economy here."
The residential real estate market has moderately slowed, building downtown continues when possible, and the city has found various non-student avenues for growth.
"Politicos in Columbia talk out of both sides of their mouth: 'We gotta have affordable housing, and we gotta stop all this development,'" John said. "You can't do both. You either gotta let them build so that there's pressure to lower rents, or rents are gonna go up."
Future investment
Meanwhile, a timetable for the construction of the Hagan Scholarship Academy is unclear. Downtown Columbia is running out of room, but there is one certainty — if there's empty space, developers will come.
"I don't think there's been new office buildings built in Columbia in the last 30 or 40 years," Price said. "You've got people who are bullish on Columbia who are making that investment."