COLUMBIA — In November 2012, Franco Paltrinieri had a stable job and a decent salary at a marketing consultancy in Buenos Aires, Argentina, and was living close to his family. Not bad for 24.
And yet, he walked away from that perfect life. Or, rather, drove away.
For the past five years, Paltrinieri has been traveling, working and living in a sky-blue 1985 Volkswagen van that has taken him through 18 countries in the Americas, starting in Tierra del Fuego, the southernmost edge of South America. His objective is to reach Alaska by the summer.
"While I was working at the office, I had a lot of time to think about what I wanted to do," he said.
He decided he wanted to explore the world.
"But I wasn't the typical hippie either," he said. "I wasn't a musician, I wasn't a handicraft maker, I wasn't an artist. Getting a backpack and a tent wasn't going to work for me."
Paltrinieri, who is now 29, decided to make a living out of traveling by turning the van into a food truck two years after he left the capital of Argentina. He started selling "lomitos," an Argentinian steak sandwich cooked on a grill and flavored with liquor. He stores the grill on the roof rack.
But before all that could happen, he had to invest $4,000 in "Clarita" — the name he gave his 1985 air-cooled van, in honor of his little sister. The former owner had accidentally set the van's engine on fire, so it needed repairs.
Paltrinieri combs his scruffy beard as he recalls how little support his closest circle gave him, showering him with encouragement like, "You're never going to make it," or, "You don't even know how to get out of Buenos Aires."
They were almost right. After Clarita's makeover, the mechanic told Paltrinieri she was good to go. Then the clutch cable broke just 10 blocks from his house on the day of his grand exit, imperiling the dream.
But his Argentinian pride pushed him through the fear of failing. "There's no way I'm going back. If I'm humble enough, I'll survive," he said to himself. "I didn't care, I just wanted to leave, be with nature and meet people."
He got help and fixed the clutch, but the van wasn't as good as the mechanic had led him to believe. He took all of his savings — $1,500 — and left with no supplies, no tools and no mechanical knowledge. He didn't even have a mobile phone.
"To me, it was perfect," he said. "My ignorance was a blessing."
He crossed into Chile with the World Cup in Brazil marked in red on his calendar.
The Cup that made Argentina cry
On July 13, 2014, time stopped for Argentina as all eyes looked to Maracana, where the national team was playing the World Cup final against Germany.
Paltrinieri was selling beer and sandwiches on Copacabana Beach, where millions of people gathered to watch the games on giant screens. Argentina turned into a teardrop when Mario Gotze scored the goal that made Germany world champions in overtime.
He made friends, such as the people who took shelter under his van and a group of hooligans from Brazil, which has a historic rivalry with Argentina. They accepted Paltrinieri into their community and invited him to stay with them as long as he wanted. It turned into about a three-month stay.
"We're still in touch," he said.
In the first two years, he found work in marketing, construction and food service. But he was running out of money. He wanted to turn Clarita into a food truck, though he didn't have money to make the necessary modifications. He would have to go back to what he knew: marketing in an office.
"I called my mom and told her to send me a couple of jeans and shoes. I started to look for a job in an office again," he said. "I had no other choice. To me that was the worst part."
Paltrinieri found work at a publishing company. He also ran a Re/Max franchise.
In five months, he'd made enough money to have his food truck. He met a mechanic in a car shop who taught him how to modify the van for free.
"I was like the Karate Kid: wax on, wax off," he said. "My arms ended up swollen."
And along comes Olga
Nothing prepared him for the next detour on his trip: meeting Olga Khrustaleva, a former MU graduate student from Ryazan, a small town 125 miles outside Moscow.
Khrustaleva, 29, who is working on a doctorate at American University in Washington, D.C., was visiting old friends she'd made while getting her master's in journalism. They introduced her to Paltrinieri, and they connected immediately.
"It was something impossible in my mind," Khrustaleva said. "I was the serious professional in D.C., and he was the Argentinian traveler."
They ended up together, which meant Khrustaleva joined the road trip during university breaks. That sometimes entailed keeping the van's sliding door from opening on its own volition, as it did in Colombia.
Meanwhile, he decided to open his own place in Paraguay — a different kind of food truck. He created a space with hammocks, Christmas lights, Wi-Fi and jazz and retro music where kids could play and their parents hang out. Business boomed after an unexpected visit.
"Two actors from Paraguay came to the truck, posted it on social media, and a lot of people came in," he said. "I didn't even know their names."
After Paraguay, Paltrinieri traveled to 14 countries, including Ecuador, Nicaragua, Panama, Honduras, El Salvador, Guatemala and Belize. Khrustaleva joined him in Peru, Bolivia, Colombia, Panama, Costa Rica, Mexico and Cuba.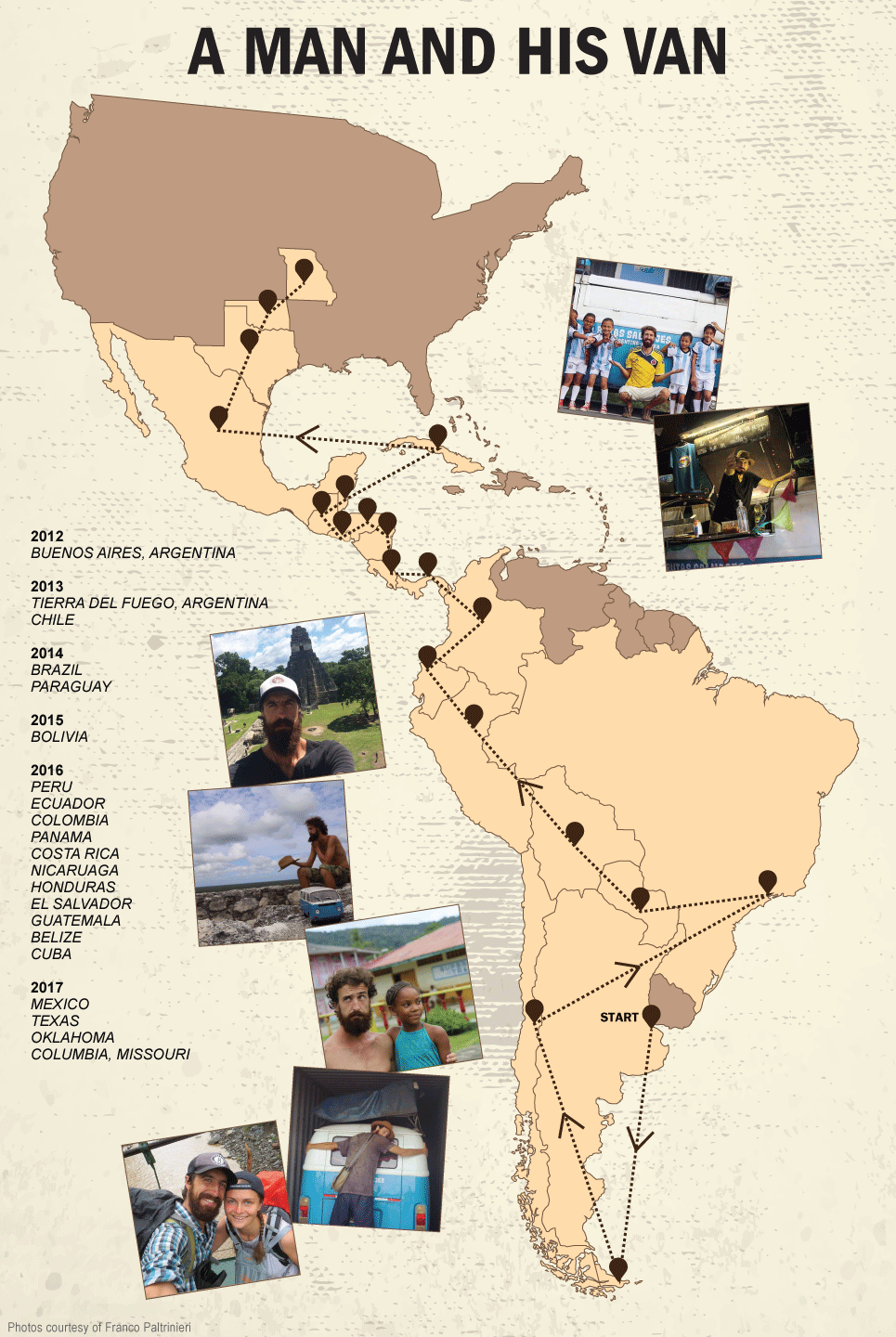 He's developed a routine when arriving in a new city: getting in touch with Volkswagen clubs, which are all over the world. In Honduras, the club organized an event in a rural area where they cooked for 350 kids.
In February 2017, he arrived in the U.S. where he and Olga traveled to Texas and Oklahoma. They decided to swing through Columbia and hold an event  at 11:30 a.m. on Saturday at 409 N. Ninth St. They'll be cooking lomitos, with a touch of Jagermeister.
The Volkswagen magnet
Although her top cruising speed is 45 miles per hour, Paltrinieri has driven Clarita through 18 countries. And he's not done. After Alaska, he's planning to somehow get the van to Russia and drive it to the World Cup in 2018. Assuming his musical tastes remain the same, he and Khrustaleva will be listening to Pavarotti, Radiohead and Calamaro, an Argentinian rock singer, among others.
The van is a monument to the miles. It's fitted with a thin mattress where the back seats used to be, and it's packed with souvenirs such as flags, bumper stickers, car registrations and indigenous rugs. 
After five years of traveling, the sleeping bags and lack of a bathroom and shower are getting a little old. "It's tiring to look every day for a place to go to the restroom, or to take a shower," he admits.
What isn't getting old is how people are attracted to the beauty of the van. He encourages them to get inside, if they want, ask questions and share "mate," a typical Argentinian tea-like beverage flavored with herbs. "This is your house," he tells the curious when they step inside.
"Every day is an adventure. You don't know what's coming, what people you're going to meet, what problems you're going to have," he said. "I'm in debt to the world. What I've done in the last five years is more than what I did in 20."