Bullies made fun of Kenneth Suttner's speech impediment and called him "asshole," "limpy" and "fat ass," according to the transcript of the inquest into his death last year.
But his friends and teachers wanted him to be remembered as a kind person who went out of his way to help others.
"He was the most kind and caring individual I think I've ever met in my life," Debbie Johnson told the inquest jury on Jan. 31, 2017. She was his individualized educational plan caseworker — the person who met with him every school day to discuss his progress and work with him.
Johnson was one of 19 witnesses called during the inquest Howard County Coroner Frank Flaspohler called into what might have caused Suttner, 17, to kill himself on Dec. 21, 2016. A six-person inquest jury heard testimony from sheriff's deputies, teachers, co-workers, friends and others to decide whether Suttner's death happened under circumstances that presented a possible public health threat.
The inquest transcript, which the Missourian recently obtained, provides a glimpse into Suttner's life and the pain of being bullied that people said he hid beneath an upbeat personality.
Witnesses described him as a wonderful young man who took pride in his job at the Dairy Queen in Fayette and was a good friend to others. His friends and co-workers also testified that his Dairy Queen manager, Harley Branham, harassed him — sometimes to the point of tears.
Branham was charged in connection with Suttner's death.
But the transcript reflects less agreement about whether school officials knew about the bullying. Co-workers and friends seemed to know about his troubles at school, but teachers and administrators testified that they never received a bullying report related to Suttner.
'I can't do this anymore'
Kenny Suttner called two of his co-workers and friends early in the morning of Dec. 21, 2016, and told them he was sorry.
"I love you," he told Hannah Elliott and Janie Ridgewell.
Then he started crying. He said that he had been drinking and that he had taken the last of his blood pressure medication and was going outside his house to smoke a cigarette.
Hearing the rising panic in his voice, Elliott and Ridgewell tried to coax a location out of him. He refused to tell them where he was. Then they were disconnected.
They did manage to get him to tell them his parents' names — Michael and Angela Suttner — before he hung up. They found the family's address on the internet and rushed to his house, where they found his parents already awake.
Suttner's older brother, Ryan Suttner, and his girlfriend also received a call from him that night and had gone to the Suttner family home to see if Kenny was there and to alert his parents.
His family began searching for him. His father called Howard County Sheriff's Deputy Bradley Young to alert him. When Elliott and Ridgewell arrived, the family found out that their boy was somewhere in the woods near his house.
It was Jackson Suttner, Kenny Suttner's brother, who found him — lying facedown in the snow with a .22-caliber pistol beside him. When Ryan Suttner found the two, he began administering CPR.
When Deputy Young arrived at the scene, he administered CPR until medics arrived and pronounced Kenny Suttner dead.
Young testified that there was a log near Suttner's body. The log was covered in snow, aside from one section that had a "perfect indention" of where Kenny Suttner had sat for nearly an hour — for so long, Young said, icicles had begun to form from the melted snow.
"He had been ... speaking to different individuals, talking to them, telling them he's sorry, he loved them," Young said.
The teen left his bed neatly made, with his health class notebook lying on top of it. After the 60 pages of class notes were multiple suicide notes for friends and family.
"I love each and every one of you guys," one note read. "It's just I can't do this anymore. I don't fit in. It will be a better place once I'm gone."
In the weeks after Suttner's death, Young interviewed the Suttner family multiple times as well as others who knew him. No family members testified at the inquest, and they have not spoken to the news media since their son's death.
Special prosecutor April Wilson asked Young at the inquest what he'd learned about Suttner from those interviews with family and friends.
"It didn't matter if he was having a bad day; he was going to make sure you were having the best day," Young said. "He wouldn't tell anybody about his problems. He would never burden anybody with his problems because he believed they were his problems."
A pattern of workplace harassment
Because he didn't often tell people his problems, Suttner's parents didn't know all the details of their son's personal life. They had heard from Jackson Suttner that their son was bullied by both students and teachers at Glasgow High School, where he was a junior. And they knew he didn't like working with a certain Dairy Queen manager — Branham.
All four of Suttner's co-workers testified that Suttner didn't like Branham, 22, because she harassed him, sometimes to the point of tears. Patricia Ray, another Dairy Queen manager, painted a picture of a toxic work environment where Branham constantly yelled at Suttner.
"There was a couple of times where he came to me, and he would keep repeating, 'Harley is here, Harley is here,' and he would say sometimes that he would want to kill himself because of her," Ray said.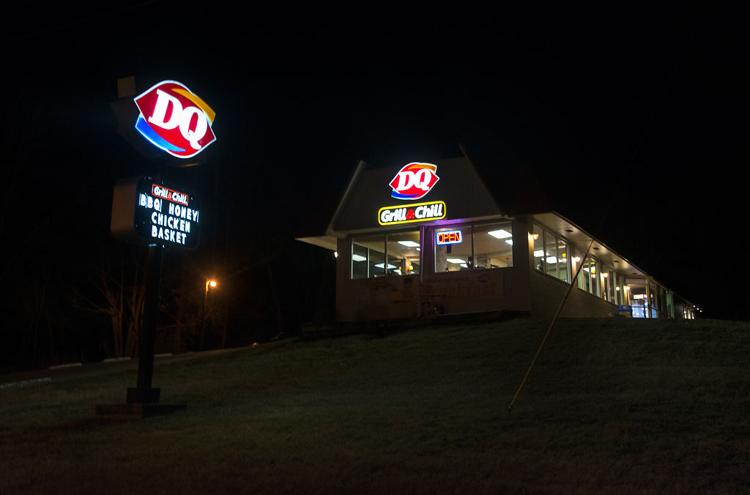 Another manager, Julie Sieckmann, said Suttner was a fast learner in his seven months of working at the Fayette Dairy Queen, 26 miles from his home. He had a good work ethic and took pride in his job, Sieckmann told the inquest jury.
But he was never fast enough or good enough for Branham.
Branham called Suttner "worthless" and "retarded," co-worker Allison Bennett said. Multiple co-workers also testified that Branham made Suttner perform humiliating acts, such as lying on his stomach to clean under tables. She once threw a cheeseburger at him, Bennett said.
"She would make him do like, excuse my language, but shitty jobs," Sieckmann said. "Make him get on his hands and knees and scrub under ice cream machines, make him do the most dirtiest jobs in the building just because she was mad."
Ray, another manager, said she tried to talk to the Dairy Queen's owners, Michelle and Ryan Reid, about how Branham was treating Suttner but never got results. Bennett said she also confronted Branham at one point, but Branham just brushed off Bennett's complaints.
Branham denied wrongdoing on the witness stand.
"As far as I can recall at all, I have never thrown a cheeseburger at Kenny," Branham testified.
She denied calling Suttner names, other than "possibly asshole, but that was in jokes" that they both found funny, she said. She also denied ever making him get on the floor to clean under ice cream machines.
Wilson at one point reminded Branham she was under oath.
"Would it be correct or would it not be correct if another employee testified that, in fact, you threw a cheeseburger at Kenneth and told him do it right or get the f- — out?" Wilson asked.
Branham said that testimony would be incorrect.
Co-workers also testified that they didn't receive training on how to handle workplace harassment. Ryan Reid told jurors that the company's employee handbook has a section dedicated to harassment policies. Reid created the handbook; he said "corporate" did not provide any materials on harassment policies and procedures.
Reid said he never heard of issues between Branham and Suttner and that she was fired for stealing and harassment, but not harassment of Suttner.
"There were other issues primarily with another employee that we had to address," Reid said.
The inquest jury recommended that Branham be indicted for involuntary manslaughter. The jury also found Dairy Queen negligent in training its employees about harassment. Branham was charged with involuntary manslaughter, but that charge has since been dropped. She still faces a felony stalking charge along with four misdemeanors, two for assault and two for harassment. An arraignment was scheduled for March.
Wilson said in an interview Friday that she couldn't comment on why she dropped the involuntary manslaughter charge against Branham.
But, she said: "I'm in possession of a significant amount of information that the coroner's inquest didn't hear."
She said the law related to bullying has affected the case, and that's why she's testifying Monday before the Missouri Senate's Judiciary and Civil and Criminal Jurisprudence Committee on Senate Bill 791. The legislation would make it possible to charge someone with second-degree involuntary manslaughter for knowingly inciting someone to take his or her life, "including through the use of telephone or electronic communications, and such incitement results in the death of such person."
A bullying culture described
Suttner endured bullying at school, too, friends testified. He towered above most other students and had a slight speech impediment and was often made fun of for his weight and the way he spoke.
"He told me that it made him very upset, made him insecure about himself," his best friend, Lexie Graves, said.
Graves at one point went to one of Suttner's teachers, Debbie Johnson, about the bullying. Johnson told Graves that she'd talk to Suttner about it and suggest he talk to the superintendent. Beyond that, she said, teachers seemed oblivious to bullying.
Graves recalled one bullying incident that directly involved a teacher bullying her friend: Suttner told her that he asked art teacher Jill Flinn how old she was. Flinn replied by saying that she was as old as he weighed. This incident took place in front of the entire class, Graves said.
But Flinn recalled the incident differently.
"I just retorted, kind of off the cuff with, 'If I tell you how old I am, I should probably ask you how much you weigh,' and, 'Do you realize those are both personal questions and they are inappropriate?'" Flinn said.
She admitted it was not the most tactful statement but said she was just trying to get a point across.
"Kenny ... would always refer to himself as a big guy," Flinn said. "It wasn't something that I thought would be offensive because of his perception."
Suttner had an individualized education program, or IEP, for math and language arts, Johnson said. She was his caseworker, and they met every day. He was in remedial classes when he was younger, but for the last couple years of his life, he'd been in regular classes aside from one.
Although he sometimes talked about problems at his job and about time management, Johnson said he never mentioned any school-related bullying problems.
*His longtime school bus driver, Helen Jones, presented a contrasting viewpoint. She testified that Suttner had been bullied since elementary school and that she was usually able to handle any bullying on the bus herself. But her own son had been bullied at school, and it wasn't until a bully poked a straight pin into several kids, including her son, that school officials punished the bully, she said.
Other parents testified that their kids were bullied and that teachers and school officials didn't respond to their pleas for change. Lexie Graves' mother, Chanda Graves, said that while her daughter had no issues with bullies, her son, Tyler Graves, had to be pulled out of school for a year because it became such a big problem. She said Flinn also made inappropriate remarks toward her son, telling him that he would never amount to anything. Flinn wasn't asked questions about that incident when she took the stand.
"Bullying doesn't exist at the school, is what I was told," Chanda Graves said.
It's a theme throughout the testimony of parents and students: Teachers didn't see bullying. When a parent would bring up bullying at a school board meeting, school officials would act as if they'd never heard a bullying complaint before, Suttner family friend Mary Korte said.
Korte said she and her husband went to the school board about 10 years ago to complain about how Suttner was treated by a teacher. Both Superintendent Mike Reynolds and Assistant Superintendent Sonya Fuemmeler said they didn't recall the event. Glasgow School District Attorney Tom Mickes said in an interview on Thursday that Reynolds investigated the complaint, took care of the problem and sent a letter back to the Kortes letting them know it had been resolved.
Fuemmeler said the district had no verbal or written bullying reports on file from Suttner or his family. While an official bullying report form had only been implemented for a year, Fuemmeler said she looked through the school district's system to see if any issue was ever recorded and found none.
Mickes reiterated that the school district had never received any reports of bullying from Suttner or his family. He said Suttner's family met with Johnson and other teachers as part of his IEP and never voiced complaints.
"It wasn't at a school board meeting, and it wasn't at one of these twice-a-year special ed meetings," Mickes said. "We have no record if they say they incidentally bumped into someone and complained. If he was bullied in school, there was no knowledge on the part of the school district. And if you don't know about it, you can't do anything about it."
Although the inquest jury found that Glasgow High School had followed its policies, it concluded the district was negligent in bullying prevention. The school district is now defending itself against a complaint filed by Suttner's family to the Missouri Commission on Human Rights.
The Suttner family could not be reached about whether they'd complained to the school district, and the Human Rights Commission said complaints are not publicly available.
Mickes questioned how the school district was found to have adhered to its policies — that over 200 schools in Missouri follow — yet had been found negligent in preventing bulling.
He has taken issue with the way Coroner Frank Flaspohler conducted the inquest — and took issue with the fact that Flaspohler convened an inquest at all, an unusual occurrence in Missouri. Mickes is right that an inquest is unusual; Flaspohler said last year that he has held five inquests in his 24 years as coroner.
Mickes further complains that Flaspohler cherry-picked evidence to include in the inquest to fit with the narrative that Suttner took his life because of bullying.
"I said, 'Frank, here's all the incident reports,' and he didn't use them (during inquest testimony)," Mickes said. "I offered to give him all the board minutes, everything."
Mickes said the bullying "narrative" is a tempting one.
"No parent wants to say, 'My kid took his life because there was something wrong with my family, there's something wrong with my kid,'" he said.
That's understandable, he said, but that makes people vulnerable to suggestion about why a terrible thing has happened. "It's easy for parents to reach out to that," he said.
Mickes also refuted claims by some inquest witnesses that the school district didn't demonstrate compassion toward the Suttner family after Kenny's death. Fuemmeler, Reynolds and teachers went to the visitation and funeral and sent the family food, Mickes said.
Flaspohler convened the inquest to determine why Suttner killed himself, but Mickes said no one can answer that question but Suttner.
Chanda Graves, the mother of Suttner's best friend, told jurors that she hoped the inquest, if nothing else, would shed light on bullying within the school district.
"Even if nothing ever comes of this, just knowing that people went far enough to have something like this ... people do notice, and they do think that wrong things are happening at school," Graves said. "It's sad that it took a child losing his life before something was done."