City Manager John Glascock appointed interim Police Chief Geoff Jones to the position permanently at a Monday morning news conference.
"I'm thankful for all the support I have received from the community," Jones said after the announcement. "This works because we work together — all of us."
Jones will receive a $130,000 salary after officially moving into the position in early September. The delay relates to Jones' request that he be allowed to participate as chief in the police pension plan. That will require approval of a bill allowing him to do so by the Columbia City Council, Community Relations Director Steven Sapp said.
Previous chiefs participated in the pension plan, but Sapp said that changed when Ken Burton became chief.
"For all practical purposes, Geoff Jones is the Chief of Police appointed by Mr. Glascock today," Sapp said in an email to the Missourian. "From a purely legal standpoint, until the council passes the change in ordinance, Jones will have to sign documents and such with the title 'Interim Police Chief.'"
Glascock, who also will have "interim" before his title until his contract is signed, said choosing Jones was a very easy decision, making a national search unnecessary.
"I know what I have. I know what he's made of."
Mayor Brian Treece praised the decision.
"I can think of no better person to lead this department at this time than Geoff Jones," he said.
Jones was named interim chief in late January, a few weeks after former Police Chief Ken Burton resigned in the wake of disclosures about his work habits.
Before stepping into the role, Jones served as the Columbia Police Department's Community Outreach Unit commander.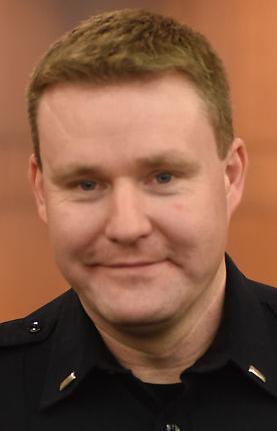 Glascock said he had been talking in the past few weeks to stakeholders about what they would like in the next police chief and whether to conduct a national search or to move Jones into the permanent position.
Jones' selection marks the first time in decades that a police chief has been selected without a search, according to longtime Columbia resident and former Deputy Chief of Police Tom Dresner.
Since his appointment to the interim position, Glascock has praised Jones' efforts around community policing and his efforts to promote transparency.
In a March interview with the Missourian, Jones discussed his commitment to transparency and equality within the department. He told the Missourian how his experience gained from years of service helped shape his policing philosophy and his plans around addressing violence in the community.
Some members of the Columbia Police Officers Association voted in favor of keeping Jones as the permanent police chief, according to a news release sent out by the association last week.
"Geoff Jones is restoring the Columbia Police Department to the position of respect the department previously enjoyed," CPOA Executive Director Dale Roberts said in the release.
The Boone County Sheriff's Department gave its support to Jones late last week. Sheriff Dwayne Carey said that Jones' leadership gave him the confidence to commission more Columbia Police Department officers to make arrests in the county in an interview Friday.