As Columbia continues to engage in the struggle for equality with weeks of protests, Friday's Juneteenth celebration took on greater significance, a time for celebration rather than mourning and remembrance.
At events throughout the day and across Columbia, community members gathered to celebrate heritage and liberation for many Black Americans.
Karis Church Under the requirement of keeping social distance, rows of cars gathered late morning in front of the Karis Church, honking instead of clapping during Como Celebrates Juneteenth.
The drive-up event celebrated what has long been an important holiday in the Black community.
Adonica Coleman, who led this year's event with Nikki McGruder and Deborah Schaefer, had Juneteenth on her mind after organizing a similar celebration in 2019. Although the pandemic has caused some operational adjustment, she said the goal remains the same with "a lot more education this year."
"We felt like we had a real opportunity to speak to people who may not have been listening," she said, referencing the national attention brought to social justice issues after the death of George Floyd.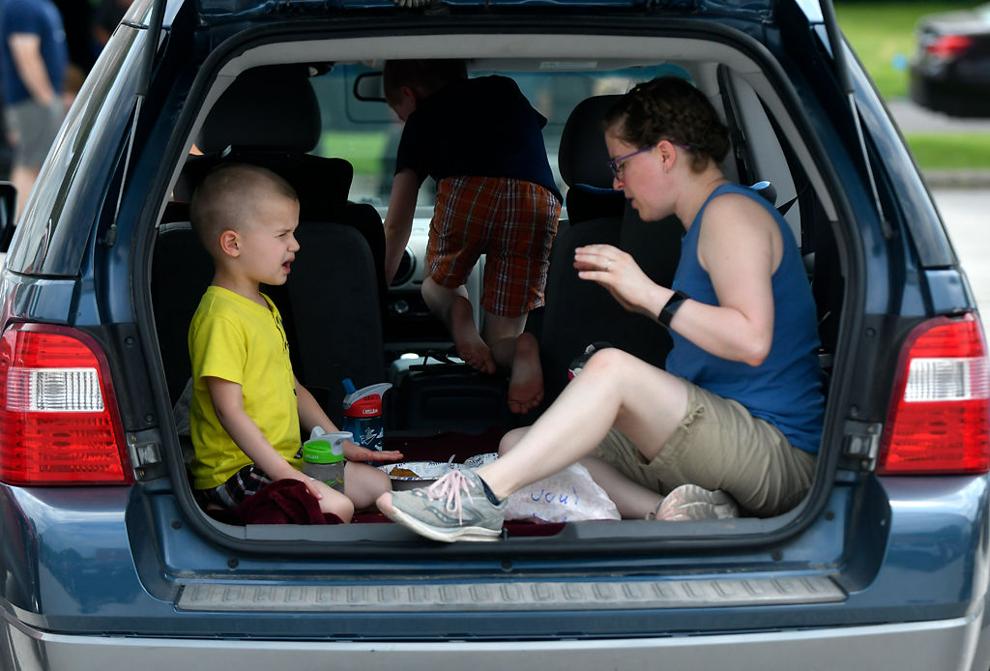 Nikki McGruder remembers dressing her family up in red, white and blue to celebrate the Fourth of July five years ago before learning more about Juneteenth and how "we weren't considered in that independence."
"So many of us organizers have talked about how us as Black people have just learned about Juneteenth in our adulthood," she said. "It's a new revelation because we don't learn about it in our history books."
"We wanted to be intentional about teaching our kids and our community about Black liberation this year," McGruder added.
Billy and Mabel Harris, who came with their children to the commemoration, said they were glad they could attend the event in person. As Black residents of Columbia, they said, they had never "officially celebrated" the day, though Mabel Harris recalls attending Douglass Park's annual Juneteenth celebrations before.
"I can write a book about it," Billy said about his experiences as a Black man in America. "It's important for the community to get together, to show unity. There are a lot of places that don't show it."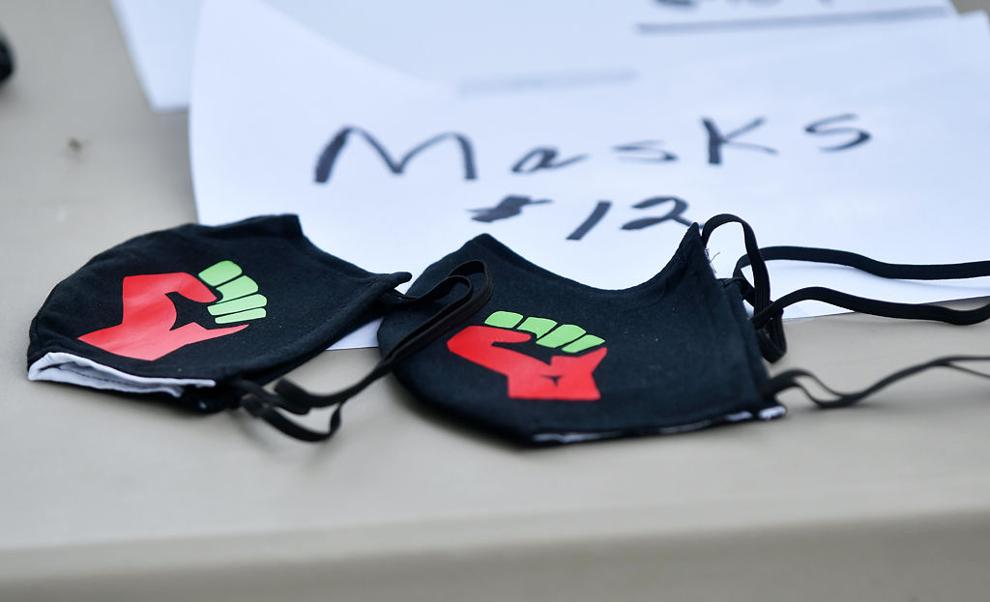 From 11 a.m. to noon, children and adults talked together, occasionally dancing in their cars and in the parking lots. Volunteers were seen giving out food, as well as goody bags, to those who had registered for a spot in advance and attended the event.
To many people who have different ethnic backgrounds, Juneteenth was not on their radars until the recent spotlight on racial injustice and demonstrations in the community and around the world.
"This is the first time I've done something like this," said local resident Sierra Michaelis. "I think it's just my white privilege that makes me ignore everything. I am here to educate myself. My little sister is here, she's 11, so just trying to educate ourselves at a younger age."
Some parents who brought their children with them to the commemoration have a similar incentive. Krystal Kaplan, a mom who came with her family, believed it's important for kids to know American history and to counteract injustice.
"I am hopeful that this would be a good tradition every year going forward," Kaplan said. "And I hope that we will continue to follow the lead of Black Americans and what they want from the event because we should defer to them in this."
The livestream portion kicked off at 3 p.m. and included a roundtable talk among a panel of community pastors, educational videos and activities, and a virtual sky lantern release as some set off real fireworks in celebration.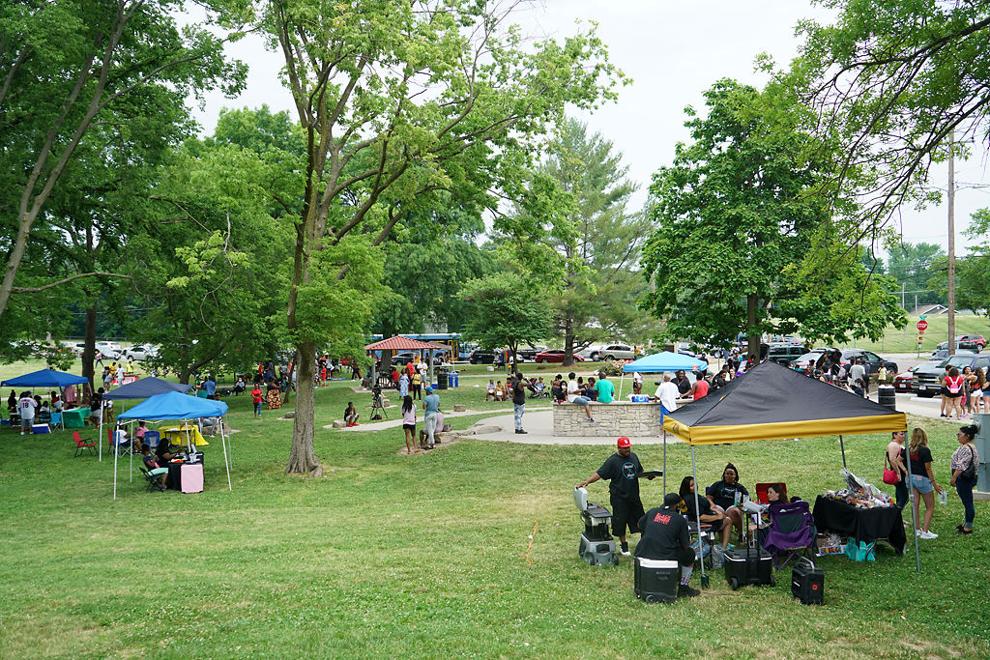 Douglass Park
Douglass Park's annual celebration of Juneteenth consisted of a mixed cauldron of festivities from 2 to 8 p.m. and was free to the public.
Organized by local residents Jaque Cox, Joshua Williams and Erik KillMonger, the three came together and networked with other residents in the community to celebrate and "educate those who may not be aware."
"I love seeing my beautiful Black people like this," Cox said warmly. "Juneteenth has not been a national celebration like the Fourth of July. It's time for our people to embrace our own culture and celebrate our freedom."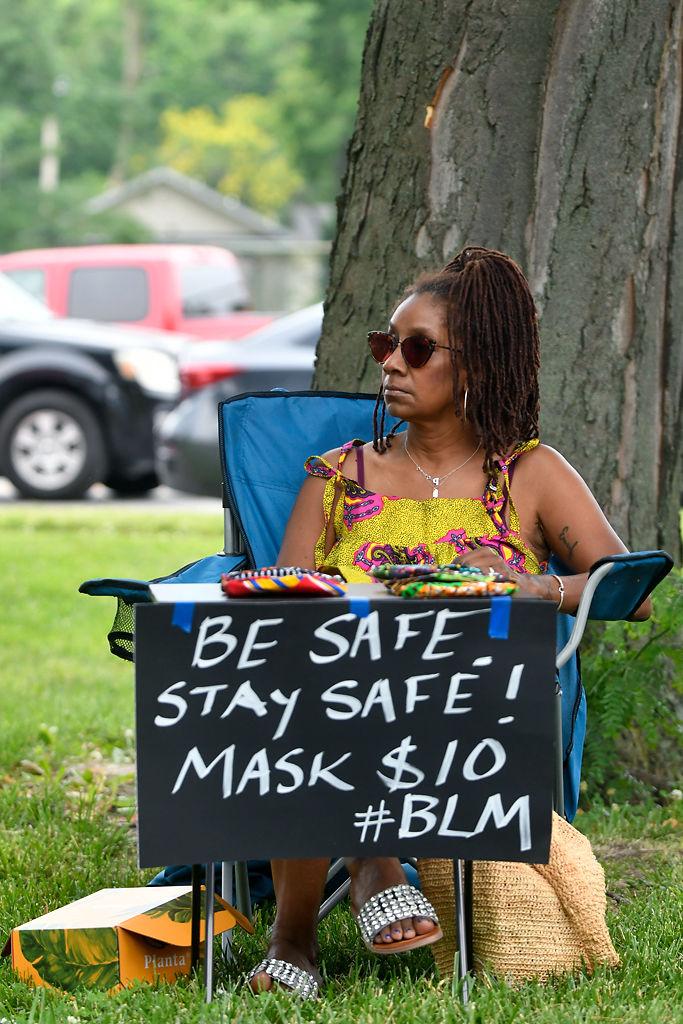 The park event consisted of socialization, singing and eating, while local residents and businesses set up booths selling homemade masks, hair accessories, books, food and clothing.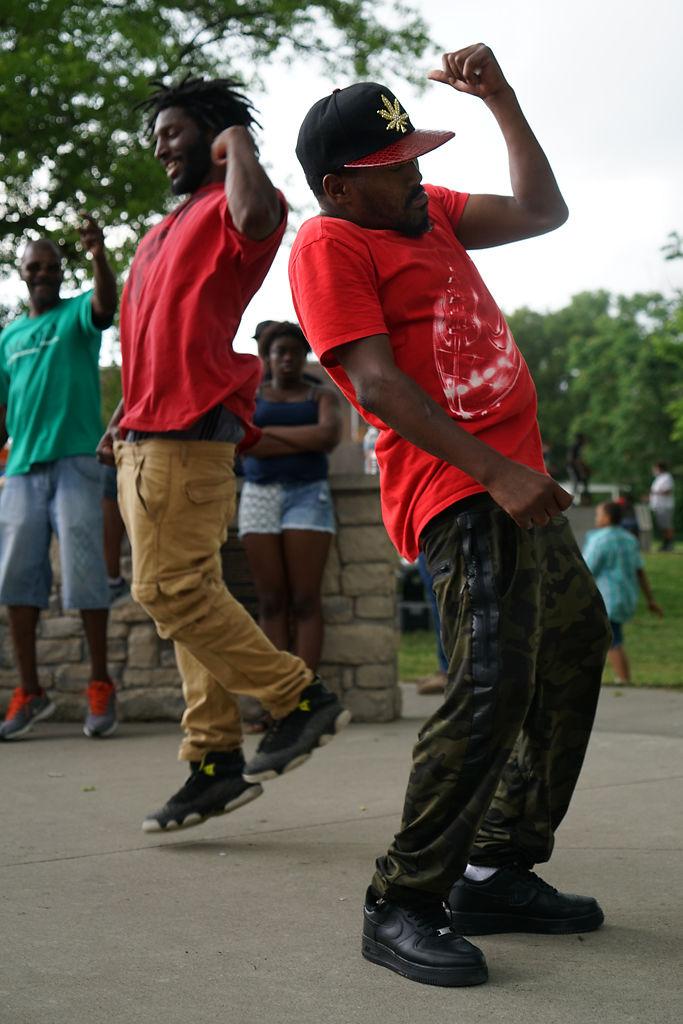 Chasney Jenkins, founder of Pink Elite's dance team, spent time at the park before her team put on a 5 o'clock show. She remarked that this year's turnout is the biggest she has seen.
"We're here to celebrate our Blackness," she said. "Juneteenth is celebrating when we finally did get free-ish, because some of us are still bounded and chained."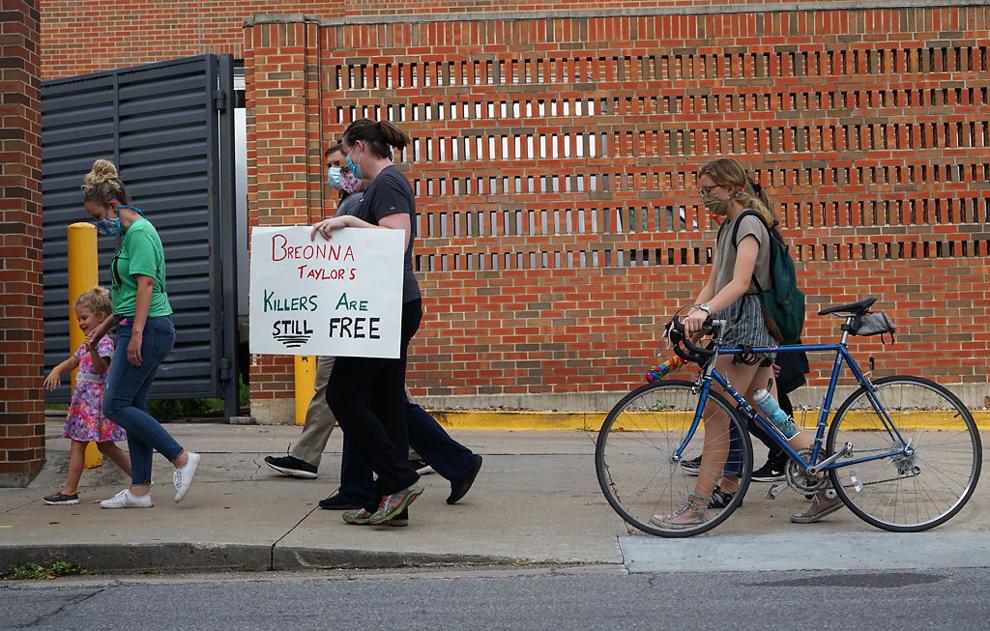 Solidarity Walk
A few MU Health Care groups hosted an inaugural Solidarity Walk from 6 to 7 p.m. in downtown Columbia. The African Heritage Employee Resource Group, Pride Employee Resource Group and MU Women of Health Care Employee Resource Group joined with Emergency Services for the walk.
Two EMTs, Wylan Taylor of University Hospital, and Will Lyons of Boone County Fire Protection District, spoke about the importance of uniting the agencies that serve the community.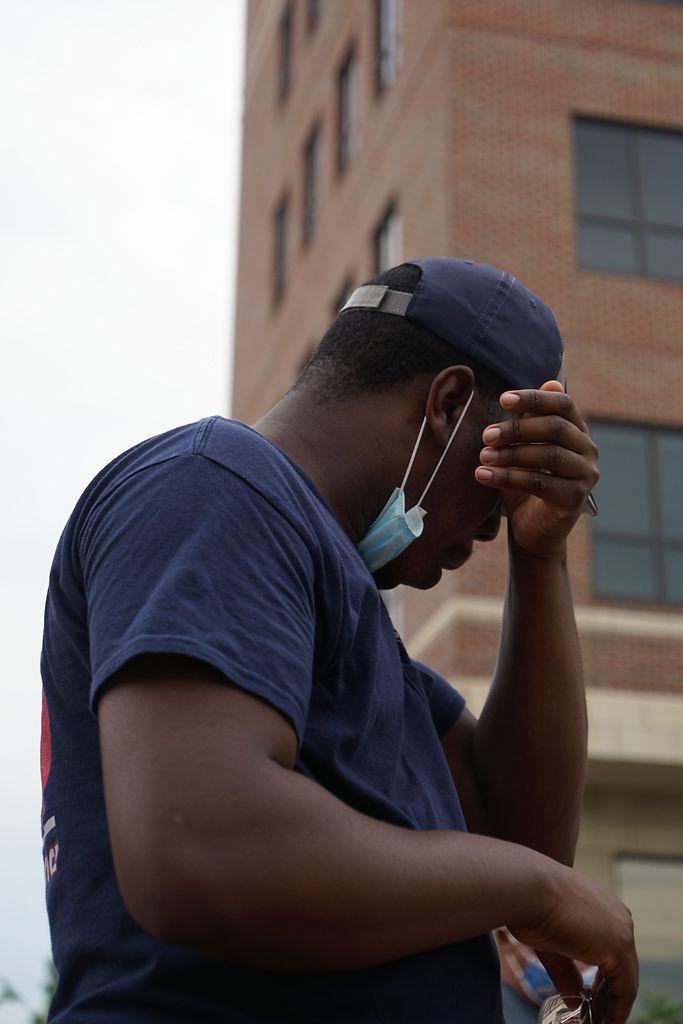 "It's good for the community to see how well we work together," Lyon said. "My prayer — that this kind of grows into something that'll be long lasting, you know, long after we're gone."
"We just want to bring all the emergency services together, just to see what we can do better as far as not only our patient care, but just our interaction and then our community involvement," Taylor added.
The walking route started at the WG6 parking lot, at Hospital Drive and Tiger Avenue, and ended at the Boone County Courthouse, as folks prayed and listened to each other's stories.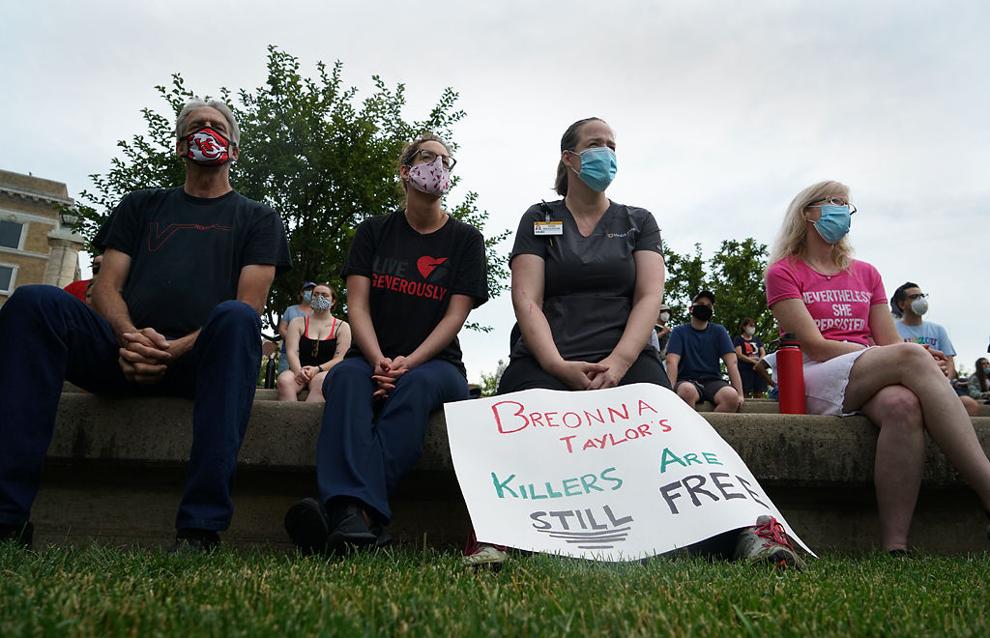 Karl Thomas, who has worked more than 30 years at MU Health Care, has been celebrating Juneteenth for many years with picnics, games, fireworks and gatherings.
"Today's celebration is a great opportunity to share something significant with me and my family with the community," Thomas said. "If we wanna grow as a community, we need to have understanding."
The understanding and attention given to Juneteenth is one benefit of the COVID-19 pandemic, he said. It allows people to focus, to shift attention from normal daily activities to share.
Thomas shares his Black pride with the community by wearing clothes of African design.
"Most people don't realize that America was built, in large part, by the contribution of nameless African Americans," Thomas said.