Sunday, July 20, 1969. One small step for man, one giant leap for mankind. One significant problem for the Columbia Missourian, which 50 years ago didn't usually publish a Monday paper.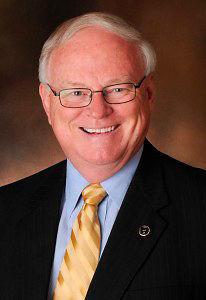 "This is the biggest story of our lifetime," Brian Brooks, who was an instructor at the newspaper in 1969, recalled telling his managing editor, Bill Bickley. "People dream for centuries about going to the moon, and when it finally happens, we don't have a newspaper on that day."
It was the summer between Brooks' graduation as a master's student and his military duty in Vietnam. Brooks taught on the Missourian's copy desk. And it was about a year after the Missourian had moved from afternoon to morning publication.
Brooks knew that a paper about the moon landing might be something readers would keep forever. So he assembled a team of student reporters and editors to put out a special, lunar-landing edition.
"I'll line up students to sell the newspaper on the streets, so all you have to do is get a couple pressmen in here to run the printing press," Brooks told Bickley.
They began work that Sunday afternoon. David Hendin was part of the crew.
"It was a very cool thing to be a beginning reporter working on that story," Hendin, who was a graduate student working as a teaching assistant in the newsroom, said.
Fifty years later, Hendin remembered the headline on his article, which made the front page: "Local Rhetoric Exemplifies Reaction of Joyous Nation."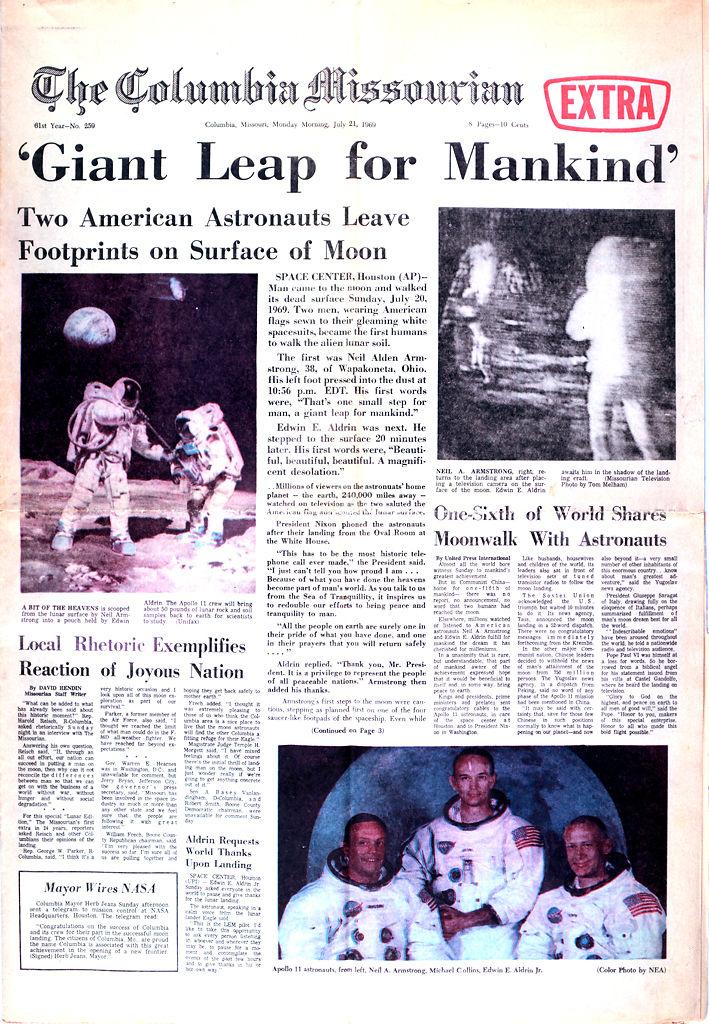 The special issue included stories from the Associated Press, United Press International and the New York Times wires. The Missourian was one of the few newspapers in the country to carry three major wire services at the time. It also included local stories written by Missourian staff.
"We had a TV on in the newsroom, and we were watching it happening," Hendin said. "We were watching Neil Armstrong walking on the moon, and the phone rang, and I picked it up, and I said, 'Missourian City Desk,' and some guy asked me the Cardinals score."
A second caller rang moments later to claim the whole thing was a hoax. But the young journalists trudged and typed on, finding local angles for the extraterrestrial event.
Missourian staff writer Tom Melham wrote about MU space science researchers Charles Gehrke, David Stalling, Walter Aue, Robert Zumwalt and Donald Roach, who worked with a team assembled by NASA to test lunar soils for organic matter. The samples were checked for amino acids and genetic code molecules.
"As these compounds are basic to all known living things, their presence in lunar dust may indicate past or present life forms on the moon," Melham wrote.
"Of course, they turned out to be just plain old rocks like you'd find on Earth," Brooks said.
Local 13-year-olds Patricia Watson and Russell Somers won tickets to Cardinals and Royals baseball games, respectively, in the Missourian's moon-landing baseball contest.
"Everybody wanted to be a part of it in some way because it was such a big deal," Brooks said.
Every item in the newspaper that day was moon-related, including ads. "If your name is Armstrong* (or even Neil), an out of this world offer" was available for customers of Easton Tire Co. on North Fifth Street.
The asterisk referred to some fine print in the ad. "Even if your name isn't Neil or Armstrong we've got a deal," it said.
Brooks said selling ads for that paper was easy. "Everybody knew that it was going to be a keepsake edition, so they wanted their ads in it."
Photos of the astronauts featured in the issue were taken from the wires.
"There's only one live photo because the only way to get a photo was to get a photo of the television," Brooks said.
Melham had to wait in front of a TV with his camera to snap the shot, which also ran at the top of the front page. The result is a blurry, black-and-white photo that vaguely resembles an astronaut, if you know what to look for. Melham went on to become a photographer for National Geographic.
Brooks said the July 21 issue was the Missourian's first color front page.
"We had just bought an offset press," Brooks said. The press, mounted in 1966, allowed the Missourian to run a 24-page paper without the need for two press runs or the labor to insert the two runs together by hand. In 1967, the paper added a device to the letterpress that allowed for color on the front and back pages of any section.
The offset press was good for Missourian staff that Sunday evening because it required fewer people.
"Getting it printed and distributed were the two biggest problems," Brooks said.
At 3:15 a.m., the presses rolled.
Five thousand copies of the special edition ran Monday, and the Missourian printed the paper again for subscribers on Tuesday. It also distributed copies to patients at the University Medical Center, the Boone County Hospital and the Ellis Fischel State Center Hospital.
"The paper was usually delivered and sold on newsstands, but a lot of students took out newspapers on the street because it was an extra," Hendin said.
The 8-page papers sold for 10 cents each. They sold out on the street corners that Monday.
"We got lots of reaction," Brooks said. "We got lots of people calling the office and saying they were going to keep it forever and that sort of thing."
After Vietnam, Brooks worked as a reporter, copy editor and night city editor at the Memphis Press-Scimitar before returning to MU. He went on to become news editor and then editor of the Columbia Missourian and associate dean of the journalism school.
"I still think of it today as the single biggest story of my lifetime," Brooks said.
A copy of the special edition that Brooks brought to the Missourian is yellowed and slightly torn, but it bears witness to a historic feat and how it was received in Columbia.
On its 50th anniversary, the lunar landing might be old news, but the paper raised questions that are not.
"What can be added to what has already been said about this historic moment?" former Rep. Harold Reisch, R-Columbia, asked rhetorically in an interview for the Missourian on that 1969 day.
"If, through an effort, our nation can succeed in putting a man on the moon," Reisch said, "then why can it not reconcile the differences between man so that we can get on with the business of a world without war, without hunger and without social degradation?"