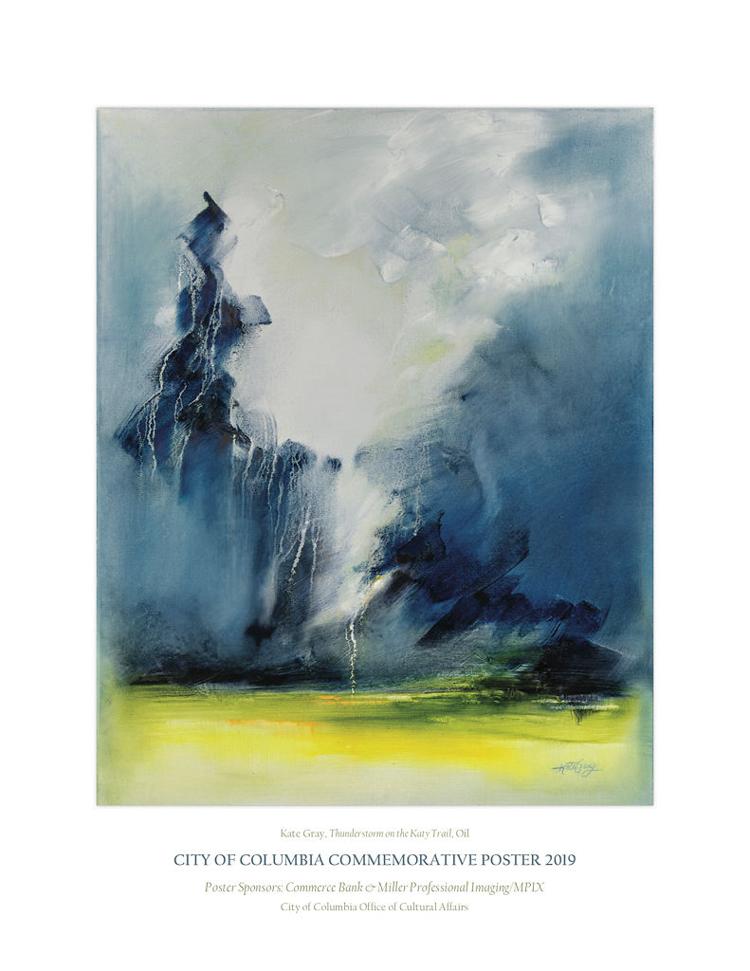 Kate Gray recalls the day she was riding her bike on the Katy Trail and found inspiration for a painting that was unveiled Thursday night as the city of Columbia's annual commemorative poster.
Titled "Thunderstorm on the Katy Trail," the poster features an oil painting by Gray, a local graphic designer and artist. She is also the gallery director for the Boone County History & Culture Center's Montminy Art Gallery and a signature member of the Missouri Watercolor Society.
Gray offered this narrative in a news release about the poster:
"Once I reached the bird preserve, I stopped, got off my bike and walked out into the open field. The sun was trying to set, but a thunderstorm would have nothing to do with it. I watched the sky light up with thunder and lightning, so powerful, it took my breath. Flash after flash, I watched as the world of nature around me became shockingly beautiful. Inspired, I returned to my studio, drenched in rain and created this painting inspired by the hidden jewel of Columbia — the Katy Trail."
Gray's painting was selected from among 40 images submitted for the poster contest by mid-Missouri artists. John and Vicki Ott hosted the unveiling celebration at The Atrium on Tenth.
The poster can be purchased for $20 at the Columbia Convention and Visitors Bureau at 300 S. Providence Road. The annual poster competition is conducted by the city's Office of Cultural Affairs and is sponsored by Commerce Bank and Miller's Professional Imaging/MPIX.