COLUMBIA — Through a tiny glass door on an unassuming wooden box atop a post in Stephens Lake Park — a little like a birdhouse — there is a small collection of books, inviting passersby to take one. And maybe leave one, too.
It's not the first time Columbia has seen a little free library; residents have set up a few of the book exchanges on their lawns. But it is the first time one has sprung up on public land.
The free library in Stephens Lake Park was established by the Columbia Community Lions Club, a community service organization. The group plans to open one more on public property; Columbia Community Lions Club President Mike Anderson said it's working with the city to choose a spot with a low chance of vandalism.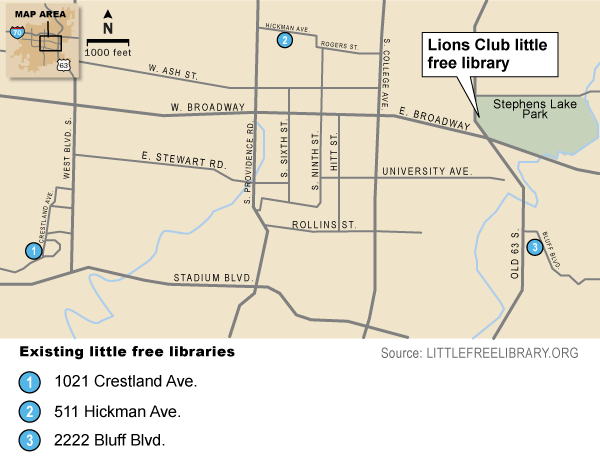 The concept grew from a Wisconsin man building a small model schoolhouse in honor of his mother, then filling it with books. Since then, Little Free Library has become an international network of small book exchanges; the group's website features a map of registered locations, which number in the thousands.
A few people gathered Tuesday evening at Stephens Lake Park to dedicate Columbia's newest little library. Amanda Connon brought her two daughters, along with a laundry basket of books to contribute. Her daughter Katelyn, 8, said she hoped to pick up "Diary of a Wimpy Kid", and Elizabeth, 9, said she was looking for historical fiction.