Matthes said the city is focusing on improving five areas for residents: social equity, the economy, public safety, infrastructure and operational excellence.
In last year's address Matthes laid down a long-term plan to improve those five areas. The city is striving for improvements across the community but is primarily focused on increasing services and improving quality of life in specific neighborhoods in north, east and central Columbia.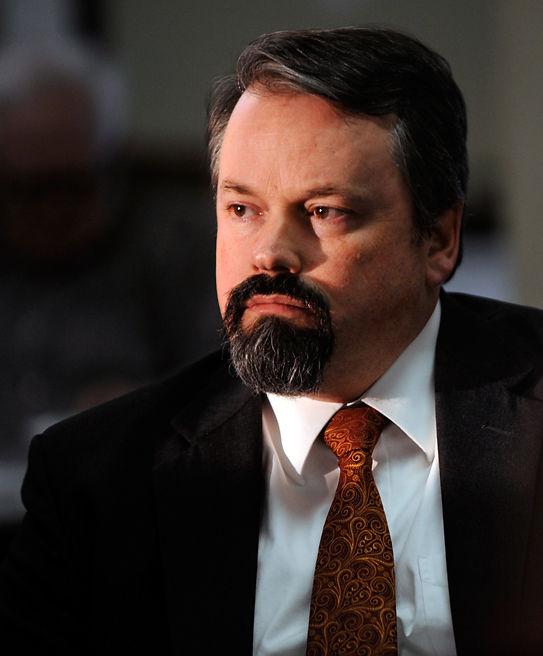 "We envision a Columbia that is the best place for everyone," Matthes said during his speech in the City Council chambers at the Daniel Boone City Building.
Matthes admitted progress has been slow but was adamant that it is progress nonetheless. While the tone of the address was primarily positive, he said the city does face challenges. First of all, the city is operating this fiscal year with a 3 percent smaller budget. It also is losing roughly $10 million a year in sales tax revenue to online retailers such as Amazon, Matthes said.
Despite those concerns, Matthes said he is confident the city will be able to meet its targets. Here are the highlights of what the city has done to address the five key sections of its strategic plan:
Economy
The city has created a long-term goal of increasing the number of people who earn an income of more than 200 percent of the national poverty line. For a family of four, he said, that would mean an annual household income of $48,600. From 2010 to 2014, 59.8 percent of Columbia residents were above that mark.
Matthes outlined some of the steps the city and others have taken to improve that number. The city has worked with Columbia Public Schools to increase the number of people who complete high school or earn a GED. Columbia public high schools now have a graduation rate of 90 percent.
The city's Career Awareness Related Experience prepares at-risk people aged 14 to 20 for future employment. Last year, 95 percent of the people enrolled in the program completed it. The city plans on expanding the C.A.R.E. program to include two-year apprenticeships for program graduates.
The city also has seen enrollment in the Mechatronics Certificate and Degree program increase, which teaches people how to work on electrical systems, hydraulics, pneumatics and computer-controlled equipment. It started the program with the Columbia campus of Moberly Area Community College and has seen enrollment rise from six students in 2014 to 35 in 2016.
"Graduates are finding jobs at 3M, Kraft, JM Eagle and Boone Hospital Center with starting wages of $16 per hour and higher," Matthes said.
Another aspect of the economic plan remains up in the air. Voters on Aug. 2 will decide whether to increase the city's lodging tax on hotel and motel rooms from 4 percent to 5 percent to help pay for a new terminal building at Columbia Regional Airport.
Social equity
Regarding social equity, the city is striving to create more opportunities for under-represented areas. Matthes said some parts of the city that are not as well-taken-care-of as others. That is the reason for the focus on the north, east and central neighborhoods.
"'Social equity' has so many meanings," Matthes said. "It's a big concept that inspires global or community action, a precise idea that moves us to be our brother's or sister's keeper and a lot more in between."
The main metric the city uses to assess social equity is a survey of residents' beliefs in their opportunity to thrive in Columbia. Currently, 74 percent of those surveyed believe they have that chance. The city's goal is to increase that number to 79 percent by the end of 2018.
So far this year, the city has implemented several new initiatives. The Columbia Police Department created a Community Outreach Unit that placed two officers in each of the three focus neighborhoods to create a sense of trust and security among residents.
Next, in cooperation with the Ridgeway Neighborhood Association and others, the city has a plan to develop affordable housing in the central city that includes new sidewalks, storm drainage and green space. It also has set aside money to assist first-time home buyers. Furthermore, it spent $500,000 to help house homeless veterans at Veterans Welcome Home and $200,000 to build four affordable homes.
Matthes has also hired consultants and part-time workers to help residents of the focus neighborhoods develop plans for addressing inequities.
Public safety
Overall, the crime rate has fallen in Columbia, Matthes noted, but he said people are less satisfied with public services. In 2005, 67 percent of residents surveyed said they were satisfied with their feeling of safety, compared to 54 percent in 2015. The Community Outreach Unit is part of the city's plan to increase satisfaction with safety.
Creating a bond between police and the community should help boost feelings of safety, Matthes said. He blamed public perceptions of crime on negative news media and said that's hard to overcome.
"Social media is our best bet," he said, citing positive feedback police officers have received from the public on Facebook.
Infrastructure
One goal for increasing infrastructure is continuing to build the public transportation service. The Police Outreach Unit and Central Missouri Community Action are handing out bus passes for CoMo Connect in order to make it easier for people to move around the city. The city also hopes to increase the number of bus routes available.
Matthes also noted that the city is attacking stormwater and sewer problems in the First Ward. It is spending $14 million to re-line sewer pipes that it doesn't plan to replace and is moving quickly on the Flat Branch relief sewer that will increase capacity downtown.
Operational excellence
The city also is hoping to improve engagement between the public and city employees. Matthes said he believes that being more connected with the community will lead to greater satisfaction. The biggest change has been the establishment of the Community Contact Center, which is intended to make it easier for people to contact the correct people at City Hall. Matthes said the city has reduced the number of phone line extensions from 154 to 70. Ultimately, he hopes the number for the Community Contact Center — 874-CITY (2489) —  will be the only number people need.