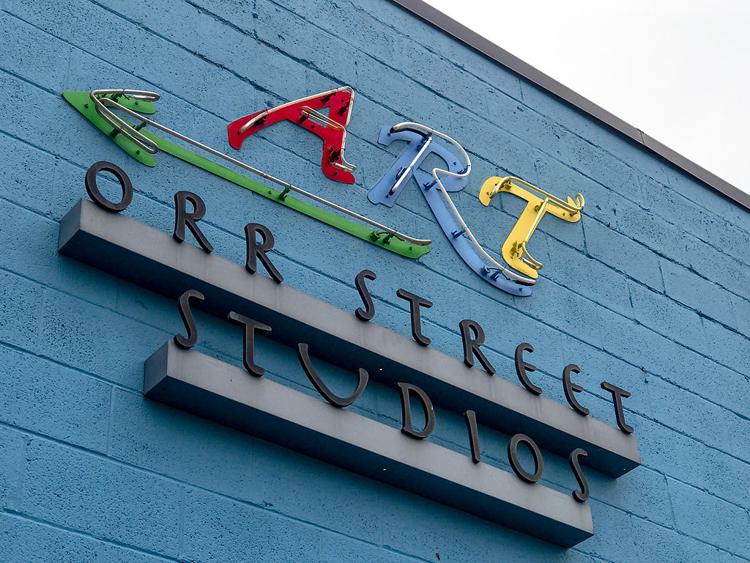 A new art exhibit that includes 22 paintings inspired by migration in America, "Travelers," opened Sunday at Orr Street Studios as a part of the 2019 One Read program.
Mid-Missouri artists were invited to participate in this year's program, which highlights the book "Nomadland: Surviving America in the 21st Century" by Jessica Bruder.
The exhibit features artwork "reflecting any expression of travel or travelers, be it in nature, on the highway or in the imagination," according to a news release from the Daniel Boone Regional Library, which sponsors the program.
"The book was in some ways sad,but also uplifting," said Lea Lichty, an artist at Orr Street Studios who submitted work for this exhibit. "The people interviewed (in the book) just made the best of the situations they had."
Lichty contributed an abstract painting called "Mini Roads" made of iridescent acrylic ink on black canvas.
"It has to do with the mini journeys people take," she said. "We move from one period of our lives to the next."
Hannah Hollister-Ingmire, another artist at the studio, also had a painting in the exhibit. Her work, titled "Travelers Through Our Planet," is a mixed media piece on canvas meant to represent a journey through different generations.
"As generations go by, we need to realize that, as we travel, we have to help where we live and where we came from," Hollister-Ingmire said. "We're responsible for what's given to us."
Hollister-Ingmire said she used materials from nature in her artwork.
"These clam shells and bark are from a lake in my backyard," she said.
Three winners will be announced and given cash prizes sponsored by the city's Office of Cultural Affairs. First place winner will receive $125, second place will receive $75 and third place will receive $50.
The awards will be given out at a reception held at 6 p.m. Friday at the studio. The exhibit will be at the gallery until Sept. 28.
Supervising editor is Kaleigh Feldkamp.