ames made more than $80,000 a year. But his wife controlled his earnings and barely let him have enough money to pay for necessities, such as household bills and gas for his car, he said. He cashed out his retirement accounts twice to pay her debts.
A case manager at Harmony House domestic violence shelter in Springfield helped James realize he was being abused and encouraged him to create a separate account to ensure bills got paid.
By the time he filed for divorce, James said he had no savings and his wife had maxed out seven or eight credit cards, making it difficult for him to leave or afford a lawyer.
And then there's Sheila, who was a stay-at-home mother to two very young daughters when she and her then-husband filed for divorce.
Her husband's behavior was abusive and erratic, she said. He once disappeared with their 7-week-old daughter for 24 hours with no plan to feed her, hit Sheila in the stomach when she was pregnant with their second child and often threatened to kill her.

But when Sheila sought assistance from a legal aid nonprofit that specializes in civil cases, including helping low-income abuse survivors, she was turned away.
Both James and Sheila asked that their real names be withheld to protect them. They were referred to the Missourian by domestic violence organizations that have worked with them, and they provided court documents that corroborate many points of their stories. James' case manager also explained how she determined he was a victim of abuse.
In the hands of an abuser, the ties that bind a married couple become tools for manipulation and control. Shared children, property and money complicate divorce and make victims more vulnerable, especially when courts don't use their full powers to protect victims and their children, hold abusers accountable, and sort out custody and finances fairly.
Studies have found that victims are at the greatest danger of violence or even death when they separate from abusers. Many victims also worry that leaving will allow their spouse to endanger the children or remove all financial support.
Those who fail to find an affordable and skilled lawyer can be at a particular disadvantage as they navigate a court system that isn't consistently attuned to abuse victims' needs.
But for many, finding a lawyer is a struggle.
An overwhelming need for legal aid
n 2018, about 36,000 people received services from domestic violence programs in Missouri, while close to 31,000 requests for services went unmet, according to a report from the Missouri Coalition Against Domestic and Sexual Violence.
The Missouri State Highway Patrol reported more than 45,000 domestic violence incidents in 2018, including more than 7,500 between spouses.
Those numbers likely understate the prevalence of abuse.
A national survey from the Centers for Disease Control and Prevention found that one in four women and one in 10 men have experienced sexual violence, physical violence or stalking by an intimate partner that had an impact on their lives. More than a third of both groups experienced psychological aggression such as insults, humiliation, threats, isolation or financial control.
Abuse victims encounter several common obstacles to finding a competent lawyer. Between the two of them, James and Sheila have faced nearly all of them.
Free legal aid programs can't help everyone who has trouble affording a lawyer. Those who are willing to pay can struggle to find an attorney due to lawyer shortages in specific areas and unwillingness to take on contentious cases. And complicated divorces, lack of legal expertise and trauma make it particularly difficult for victims to represent themselves.
Sheila turned to Mid-Missouri Legal Services, based in Columbia, after her first attorney dropped her as a client, saying she wanted her to seek free legal services instead of racking up debt.
The organization is one of four civil legal aid providers in Missouri funded by Legal Services Corp., a nonprofit funded by Congress, that together cover the whole state. The other three are:
Audits in 2018 of three of the branches show they bring in court fees from the state as well as other grants and donations that make up more than two-thirds of their funding. Some offices also recruit lawyers to work for clients pro bono and pay private attorneys to supplement their work.

But it still isn't enough to meet the need for civil legal aid.
Legal services only represents people who meet specific income guidelines — often below 125% of the federal poverty line, though some funding sources are more flexible. For family law cases, it mainly accepts victims of abuse.
Sheila met those requirements, but Mid-Missouri Legal Services turned her away. The nonprofit told her the case was already too complex, she said.
The organization's executive director, Susan Lutton, said she could not comment on a specific case but that the agency tries to represent all domestic violence victims who can't afford a private attorney, no matter how complicated the case or if it is already in progress. Funding sources for domestic violence cases such as the Victims of Crime Act funds allow the nonprofit to be more flexible with income limits, Lutton said.
However, during busy weeks, Mid-Missouri Legal Services may not be able to take all cases, she said, and might decline a case if the client has "unreasonable expectations about what we can obtain for them in court," such as not wanting the abuser to have any custody of the children.
Other branches or local offices can have an even harder time meeting the needs of eligible clients. Family law case acceptance rates are less than 25% of total applicants for Legal Services of Southern Missouri, about 40% of eligible applicants at Legal Services of Eastern Missouri, and about two-thirds of eligible applicants at Legal Services of Western Missouri.
But acceptance rates can vary greatly depending on the type of case, said Crissy Del Percio, a family law attorney in Legal Aid of Western Missouri's central office, which covers three Kansas City-area counties. It takes about 95% of requests for help with order of protection because they are the "first line of defense against abusers," Del Percio said.
Orders of protection are issued by courts to forbid someone from continuing abusive behavior. They can also include other requirements to reduce a victim's vulnerability to harm.
The office caps the number of people who are allowed to even apply for help with divorces at 20 per week, Del Percio said, all of which have already been screened for eligibility, including income under 200% of the federal poverty line.
On a good week, they accept four of those cases. More often it's only one or two.
Finding someone who will listen
hen James filed for divorce, his problems multiplied quickly.
His wife responded to his divorce petition by filing orders of protection for herself and their two sons, saying she feared he would kill them and kill himself.
James said he never made those threats and that he was hesitant to even defend himself if his wife became violent or tried to pressure him to have sex. He worried he would be accused of abuse.
On three occasions, he used his phone to record encounters with her and locked himself in the bathroom. When he wouldn't come out, his wife called the police. James said he showed them the recordings and they left without arresting him.

But the order of protection was approved. It required James leave his home, go months without seeing his children unsupervised, and stay away from his church and the kids' school. He still paid the mortgage and household bills.
James knows he was luckier than some. At least his high salary and stable job history meant banks were willing to loan him the money he needed to hire an attorney.
But as he and Sheila both learned, many lawyers aren't keen to handle high-conflict divorces.
The first attorney James contacted was too busy to represent him. The second turned him down for being too "needy" after he called her twice in one day.
A third attorney wanted him to settle for what James called a "cookie-cutter divorce," a standard plan he didn't think would give him enough time with his children to ensure they were cared for and to allow them to participate in activities.
"It was hard to find someone that would listen to me and believe me and then go to court" to fight for a divorce agreement that was actually in his family's interests, James said.
James' case manager helped with his eventually-successful search. He thinks his lawyer undercharged him out of sympathy for him and his children, though he still estimates he has spent at least $40,000 in court and legal fees.
Sheila hasn't been as lucky. After legal services turned her away, she found an attorney who seemed more focused on money than protecting the children. After she dismissed him, she had to seek a lawyer from out of town because her husband intentionally created conflicts of interest with local attorneys, she said.
Although he already had a lawyer, he scheduled consultations or paid deposits with others so they couldn't represent Sheila. True North of Columbia Executive Director Elizabeth Herrera Eichenberger said that is common practice for abusers.
Since her last lawyer resigned in July 2018, Sheila has given up on finding an attorney and is representing herself. While she is divorced, she and her ex still have conflicts that require court visits. Her case has become notorious in Columbia, she said.
"I would have lost"
ven without abusers manipulating the supply, lawyers are simply scarce in some areas.
Tressa Price, executive director of Agape House in Mountain View said there is only one lawyer of any kind, apart from the prosecutor, in Shannon County. "We had two but one passed away."
Lawyers might also be unwilling to take on a case if the abuse involves a prominent person in the community or someone associated with the courts, McKinsey Wiltermuth of Polk County House of Hope and Lisa Farmer of Harmony House said.
Often, abusers strategically file for divorce, knowing the victim will struggle to find representation, Price said.
Abuse victims sometimes focus on their immediate needs, validating cultural stereotypes that they are not truthful and just after money, said Jon Althauser, managing attorney of the Union office of Legal Services of Eastern Missouri. An attorney's job is to make sure the judge understands the full context and the history of violence.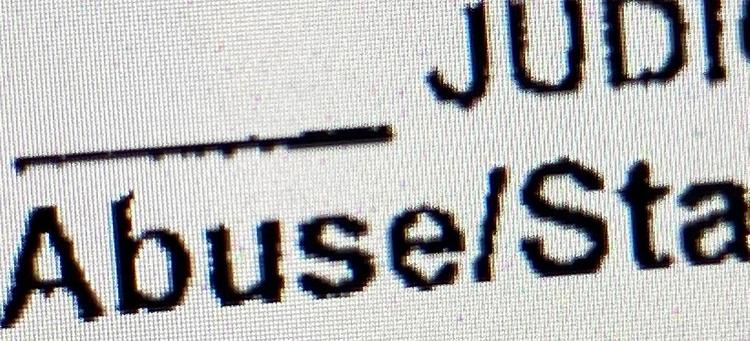 Trauma can compound the difficulties of self-representation for abuse survivors, said Brigette Walker, outreach coordinator at Harmony House. People suffering from trauma often have difficulty telling stories chronologically, Walker said, may leave out important details, and sometimes repeat abusers' excuses or interpretations.
Many domestic violence service providers have legal advocates on staff to help explain court processes, but they can't provide legal advice or represent victims in court.
Those who don't find an attorney who is skilled in domestic violence cases can run into trouble, Walker said. They may make themselves look bad in the view of the court by being overprotective of their children or trying to keep them away from the abuser, she said, while the judge may not see the abuser as a threat.
James was able to avoid those pitfalls and reach a better resolution than most abuse victims because he sought help from Harmony House early, and got advice on finding a talented lawyer, Walker said.
Without a lawyer, "I would have lost. I wouldn't have been able to handle it. I don't understand law," he said.
After a series of supervised visits with his children, the court determined James was not a danger to them and awarded him custody months before the divorce was finalized.
In the end, he received sole legal custody of his children — meaning he had the power to make decisions about schooling, activities and medical care — and primary physical custody.
James had to return to court to modify the divorce and ensure his sons spent less time with their mother after she began to abuse them, call the police on them and interfere with their extracurricular activities, he said.
He now has sole legal and physical custody of them. His last alimony payment to his wife was in May, and he marks the day as the end of the six-year struggle for freedom that began when he first sought help from a domestic violence counselor.
James knows many abuse victims aren't so lucky. He returns over and over to the ways it all could have gone wrong.
He could have gone to jail. He could have lost his children. He could have been fired. He could have lived out the rest of his life in a van by the river.
"I got a great happy ending," James said. "I think I'm in the minority."