COLUMBIA — A week before closing on a house in March, Jenn Trentham received the results from a home inspection test for radon, something she knew little about. The house she was about to buy, as it turned out, was above the safe level for radon.
"I kind of panicked," Trentham said. "I didn't know anything about radon."
After the 4.6 pCi/L radon level was found in her soon-to-be new home, Trentham's real estate agent explained what radon was. The agent also told her that the level of radon could be brought down by a radon removal process that only takes a few days.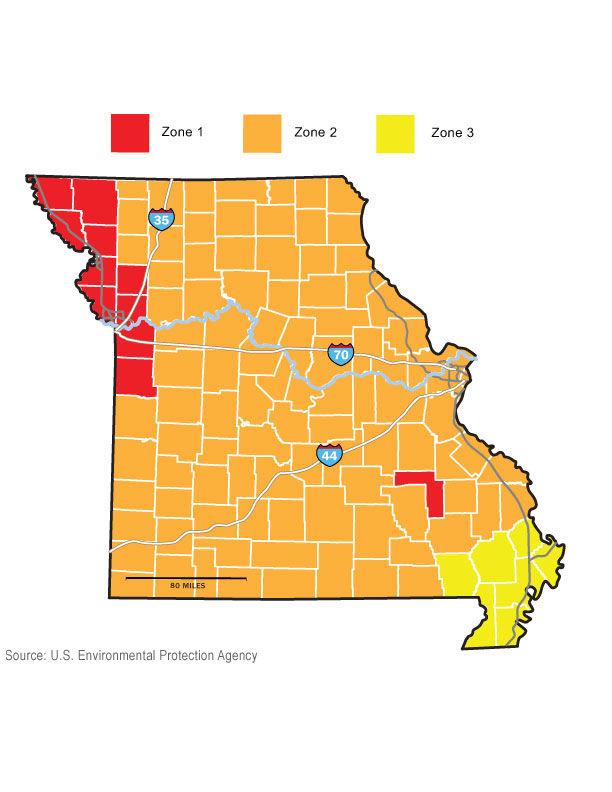 Trentham hired someone to do the work, and the radon level in her house was brought down to 1.7 pCi/L.
But if the real estate agent hadn't suggested it, she and her husband would not have known to get the test done, she said. In Missouri, real estate agents are not required to recommend testing, and home sellers do not have to disclose knowledge of high radon levels.
And there really isn't a "typical" building with an unsafe level of radon, said home inspector Scott Wilson. It can happen anywhere.
"Radon can be found in old houses and new houses, country houses or houses in town," Wilson said. "It doesn't really matter with radon."
Why is radon so dangerous?
The United States Environmental Protection Agency estimates that longtime exposure to a 4.0 pCi/L level of radon exposes non-smokers to the same risk of dying from lung cancer as in a car crash, and that's seven in 1,000. For smokers, the risk is even greater: 62 in 1,000.
Radon is the second leading cause of lung cancer behind cigarettes, according to the EPA.
Trentham admits she was freaked out, at first, by the potential danger.
"It is scary at first," Trentham said. "It is, like, 'OK, this can kill me.'"
Radon comes from the type of soil that houses are built on, Wilson said. But he cautioned that someone's neighbor having a safe or unsafe level of radon isn't an indicator.
"It just depends on what the house was built on," Wilson said.
Owner of Mid-Missouri Radon Solutions Brandon Ninichuck said radon is like carbon monoxide in that it is colorless, tasteless and odorless. Radon is different, though, because it a longer-term threat and can take 20, 30 or 40 years to show its effects, he said.
Ninichuck said sometimes people are too worried about the wrong things and uninformed about what the real problems are. He said he recently talked to a customer who was worried because he or she had been told by someone not to garden because there might be radon in the soil, which is not a concern. From a homeowner's standpoint, radon is only a risk in enclosed spaces.
Getting your house tested
Although a seller is not required in Missouri to have a home tested for radon and disclose the results to potential buyers, real estate agent Lisa Meyer says that it's a good idea to get a home inspection and specify that you want a radon test included.  
"(Buyers) ask questions like, 'Should we get a radon test?' and then we give them things like federal government statistics to help them make a determination," Meyer said.
Meyer says she's often asked about radon. The testing process is often part of negotiations during a home sale, she said.
Wilson, the home inspector, said the test for radon takes about 48 hours. The test is installed in a lower living space of the house on a wall that is not close to a window. It usually costs $125 to $150.
Homeowners can also use at-home tests that test for up to 90 days, which can be bought at hardware or retail outlets, according to the EPA.
Missouri also provides a free test kit by request. Since 2003, the Missouri Department of Health and Senior Services has offered the free test kits, department spokesman Ryan Hobart said. In the past four years, the tests have been requested on average 5,200 times a year.
Trentham said she and her husband considered not closing on the house when they found out about the high level of radon. But their real estate agent told them there was no reason to look at other houses if they liked that house.
"We found a house we loved in a neighborhood we loved," Trentham said. "Once we were more knowledgeable about it, we were like, 'OK, there is something that can be done to fix this problem. This is OK.'"
Ninichuck said that about 95 to 98 percent of his business that comes from making alterations to houses with radon is from people who are forced into it through real estate sales.
"I have a small handful of people who see a PSA and decide to get their house tested and then get it mitigated," Ninichuck said. "Generally, though, it is people who are forced into it when buying or selling a house."
According to the EPA, houses should be retested every two years.
Fixing the problem 
There are two types of mitigation systems, according to Ninichuck. An active system can be installed at any time, and a passive system can only be put in with new construction. A passive system can later be turned into an active one, he said.
The active mitigation system uses an inline fan to help reduce the radon, Ninichuck said. The way the system works depends on the type of building, though.
"We are basically creating a mechanical vacuum to put the gases back into the atmosphere," Ninichuck said.
When he's made the changes, Ninichuck arranges a post-installation test, he said. The mitigation system runs for 24 hours and then a 48-hour test is taken after the initial period.
Trentham said the mitigation system is silent and barely visible in their house.
"It gives peace of mind knowing there is something in place," Trentham said.
Radon regulation
Laws have been passed in 40 states to help regulate radon. Some require that the radon tester and mitigator be certified or that landlords get their property tested every 10 years.
Missouri has no such laws, so it falls on local governments to decide whether to regulate testing and control of radon. Columbia passed a radon ordinance in 2014 that requires passive mitigation systems in new constructions.
According to Ninichuck, the passive systems are a network of pipes designed to help reduce the radon levels through the stack effect, which is when air moves a certain way because of its buoyancy. It's not a permanent fix, but it can reduce radon levels for a while. It is still important to test houses with passive mitigation system, he said.
"It may not have reduced the radon level far enough down to where it needs to be," Ninichuck said.
Ninichuck said builders install a lot of the passive systems. He works with a handful of builders, but a lot of builders have plumbers do the work because it is not regulated.
"All the city wants to see is a passive system. A licensed radon professional does not have to do that," Ninichuck said.
Homeowners also do not need to report the installation of a mitigation system to the state, Hobart said.
"While we recommend homeowners use a certified mitigator, it is not required," Hobart said. "The EPA recommends checking the legitimacy of your home inspector or radon mitigator before hiring them."
Although a passive mitigation system is used for new buildings in Columbia, the ordinance doesn't apply to existing buildings.
The Missouri Department of Health and Senior Services has been concerned about radon awareness for 25 years, Hobart said. It uses social media, website promotion and exhibits at health fairs, home shows, conferences and county fairs to raise awareness.