Nature provides: The art of weaving and natural dyeing endures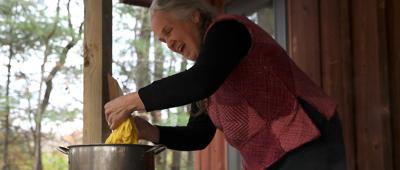 Carol Leigh Brack-Kaiser's favorite color is red — not just any red, but the dark, intense crimson that comes from a tropical bug called the cochineal.
As a weaver, Carol likes her dyes to be natural products derived from plants and insects.
In her Hillcreek Fiber Studio in Columbia, visitors can see and touch the yarn where dyes come from — elderberries, walnuts, pokeberries, red sandalwood, pomegranate rinds, safflower petals and other natural sources.
"I'm fascinated with the colors that nature provides," she said. "I really enjoy getting the colors from plants and natural materials."
Well-known in the community as a textile artist, Brack-Kaiser has been teaching weaving and natural dyeing techniques for 32 years at her studio. Now, she and her husband, Dennis, are in the process of cutting back.
She plans to keep the shop open, but instead of continuing to teach large groups, she has restricted herself to private lessons.
"We're trying to slow down," she said.
Her older daughter, Bex Oliger, is picking up the slack. Oliger opened her own yarn shop in 2003 and plans to help her mother with demonstrations at fiber shows and sell her mother's products.
From large to private lessons
Brack-Kaiser came from New York to Columbia in 1980 to pursue a master's degree in textiles at MU. At the same time, she decided to join a spinning class at the MU craft studio. Her teacher, Sandy Robertson-Smith, asked her to help demonstrate natural dyeing at the annual 19th century craft fair in Historic Arrow Rock.
Brack-Kaiser's passion for natural dyeing began that day.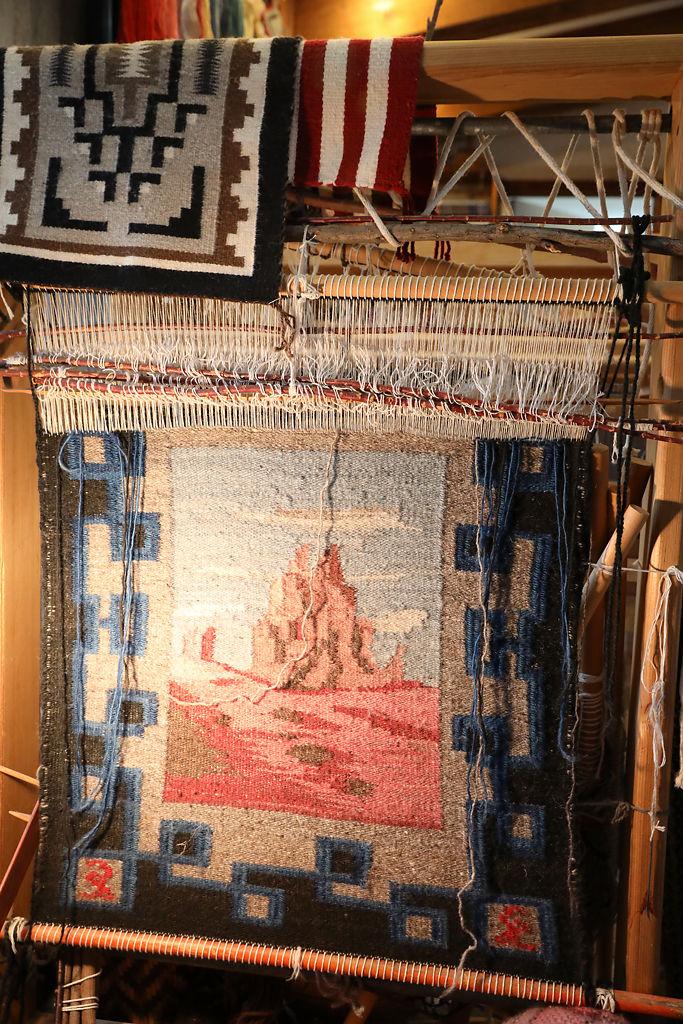 She founded Carol Leigh's Specialties in 1982, focusing on custom handwoven textiles, nature-dyed fibers and hand-spun yarns using natural fibers and dyes. Brack-Kaiser also started to travel across the country, drawing crowds who were intrigued with her techniques. She has traveled to Turkey, France, Malaysia, Mexico and Peru.
Ultimately, she recognized a need to teach her art to the public, and in 1986, she added Hillcreek Fiber Studio to Carol Leigh's Specialties in the Little Bonne Femme Creek valley. In recent years, she combined the names into Carol Leigh's Hillcreek Fiber Studio.
The fiber studio offers lessons in a variety of weaving styles — multi-shaft, Navajo, rigid heddle and inkle weaving. Navajo weaving produces tapestries while rigid heddle is a way to create scarves and runners. Inkle weaving is a technique for making narrow belts, straps and ribbons. Continuous strand weaving uses one strand of yarn for both the warp (woven across) and the weft (running in a pattern through the warp) to make shawls, jackets, blankets and more.
Brack-Kaiser also teaches spinning and natural dyeing skills. She has written two books about the subjects, "Nature Provides Dyes for Rainbows" and "Continuous Strand Weaving Method."
Weaving techniques
Weaving is a technique in textile production that interlaces two separate yarns or threads at right angles to create fabric.
This technique was discovered thousands of years ago when branches and twigs were laced together to create fences, shelters and baskets. The actual weaving in textile production began around 5000 B.C., when the most common fiber was flax. By 2000 B.C., flax had been replaced with wool, but weaving was still a manual task.
But many, including Brack-Kaiser, prefer to keep the tradition and skills of the manual artisan weaver alive.
"I enjoy working with my hands," she said.
Natural dyes enhance the organic, handcrafted look of a woven piece of fabric. These dyes were once the only source of color for textiles until synthetic dyes were developed in the later half of the 19th century, but there are still artists who stick to the old traditions.
"Back to basics, doing things naturally," Brack-Kaiser said.
Allison Potter was 13 when she started spinning classes in Michigan, but her passion for weaving began when she discovered the continuous strand-weaving method where "the loom dresses itself as the weaving progresses."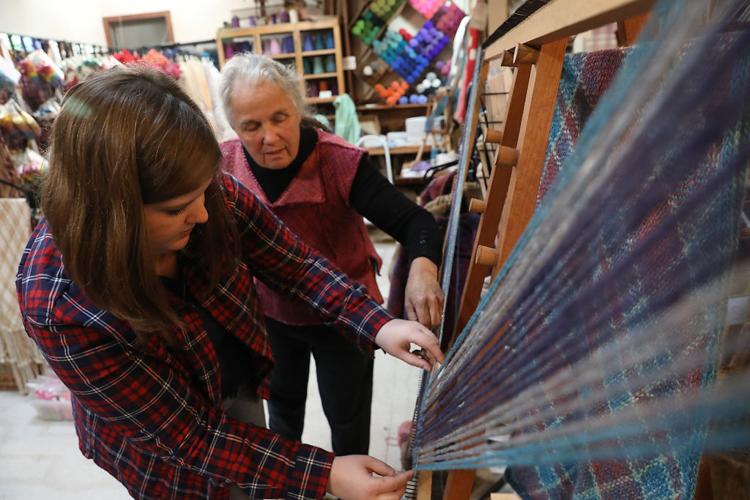 "This continuous strand weaving method is very simple, very magical," Brack-Kaiser said.
Potter began her studies in veterinary medicine at MU this fall along with weaving classes at the Hillcreek Fiber Studio. Brack-Kaiser's patience and dedication to her students motivated Potter to develop her artistic side, she said.
Potter discovered the studio at the Michigan Fiber Festival, which brings together producers and vendors of animal and synthetic fibers. It caters to knitters, spinners, felters, crocheters and dyers, and Potter often attended the festival with her mother. That's where she met Brack-Kaiser, who had a booth and was displaying her work.
"Working with fibers … your hands, being out here — it's very therapeutic," Potter said.
Passing the torch
Brack-Kaiser's daughter has been involved in her mother's business since she was a teenager, but she has settled on knitting as a passion. Although Oliger worked in the Hillcreek workshop for many years, 15 years ago, she opened the Hillcreek Yarn Shoppe on Ketterer Road, where she offers classes in knitting, crochet, spinning, dyeing, felting and weaving.
"I would never have followed fiber arts in any way if it wasn't for my mom," she said.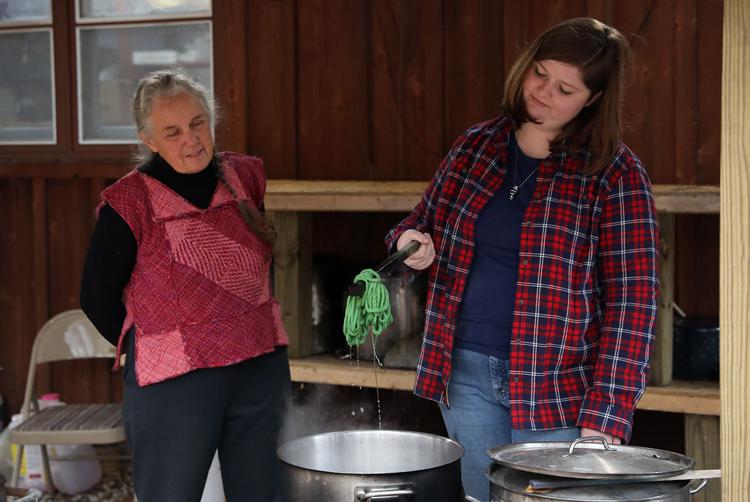 In 2008, Oliger and her best friend opened another shop called True Blue Fibers Friends and started the tradition of "blues parties." Four different pots with Indigo dye are set up, and customers bring socks, scarves, T-shirts, underwear and more to be dyed.
When the two friends closed the second shop, they decided to continue the parties in Brack-Kaiser's studio. Since then, they have held a party in the studio on the last Saturday in June every year as an informal chance for people to learn, explore and play.
"It's a fun way to have other people enjoy our knowledge," Oliger said.
She also said she sells her mother's natural-dyed yarns and her collection of natural dyes as a way of helping the process of slowing down.
This is a way to "pass on and keep alive" all of the knowledge her mother has gained over the years, she said.
"I feel a great deal of satisfaction in sharing my knowledge for other people to carry on the tradition," Brack-Kaiser said. "It's fun to get young people and older people … excited and ... to work with their hands."