COLUMBIA — A few years ago, James Mathew, 17, was walking home from school in his hometown of Hinsdale, Illinois, when a woman approached him and asked him where the nearest food pantry was.
"At the time, I didn't even know we had a local food pantry," Mathew said. "I couldn't imagine that there was anyone food insecure in the area."
This encounter made Mathew come to the realization that food insecurity exists in many different areas, even in those it may appear not to.
He decided to get involved in his local food pantry, an organization called HCS Family Services.  Hands-on interaction with patrons of the food bank inspired Mathew and his younger brother, Phillip Mathew, 14, to create an app called "Got Food?"
The Food Bank for Central & Northeast Missouri recently partnered with the brothers to add the 111 food pantries and soup kitchens the food bank works with to the app. 
Michael Yetman, the outreach coordinator for the Food Bank for Central & Northeast Missouri, said the organization is the first Missouri food bank to become involved with "Got Food?" The food bank covers one third of the state of Missouri and works with meal sites in 32 counties, he said. 
The app, available in English and Spanish, can be downloaded for free through Apple's app store or Google Play. For people who don't have smartphones, the app has a website that allows users to find meal sites by ZIP code.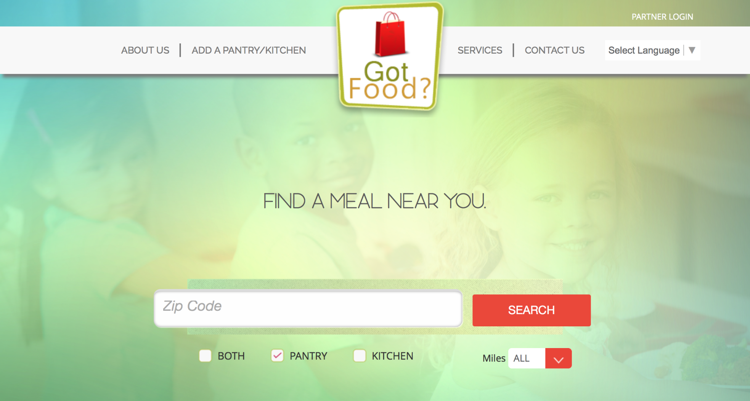 The app features over 1,300 food pantries and soup kitchens located in 10 different states that are sorted by ZIP code. When a meal site is selected in the app, users can access directions to the site's location, opening hours and phone number.
Yetman said the app is important because it helps people who move within the state to find new food sources. He said many people have easy access to the app through smartphones and the internet.
"It's such a simple way to look up information," he said. "Our goal with this is to have another way for people to be aware of how to locate food."
James Mathew said his contact with food bank leaders who use the app has been very positive.
"This type of resource is really helping people out," he said.
"Got Food?" is the first app the brothers have created. James Mathew said he was the "idea guy" and Phillip did most of the programming.
Soon to be a senior in high school, James Mathew plans on attending college as a pre-med major. He said when he goes to college, he hopes to continue to work with food resources and will continue to update the "Got Food?" app. 
James Mathew said he volunteers at HCS Family Services about once a month during the school year. During the summer, he has volunteered there as many as 7 days a week.
"When I look at colleges, I want a place that's committed to helping its people and with some interest in food insecurity so that I will be able to continue my work in a good way," James Mathew said.
The "Got Food?" app website can be accessed at gotfood.us.